RM Sotheby's returned to the Ritz-Carlton at Amelia Island Auction this past weekend for the company's 23rd annual sale as the official auction house of the renowned Amelia Island Concours d'Elegance. A single day live auction for 2021, the sale was a resounding success, totalling $42,174,340 and with an incredible 95.28 percent of all lots offered finding new homes.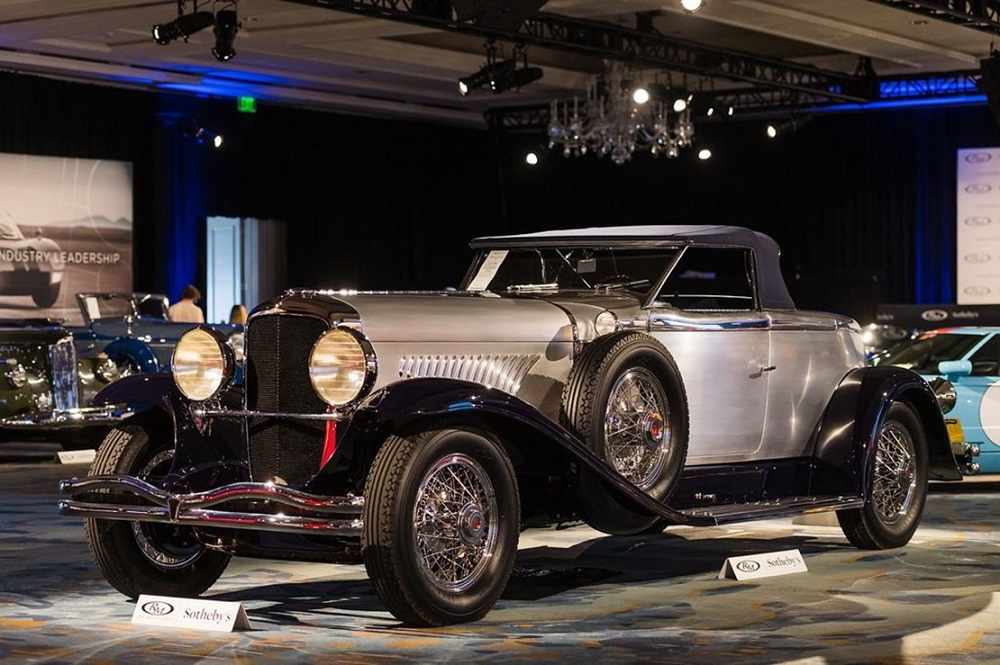 Live auction sees impressive results for best of category cars

Ten cars achieve results more than $1m

Bidders from over 27 countries competed online and via telephone with live in person audience

Complete results from Amelia Island now available at

 

rmsothebys.com
---
1929 Duesenberg Model J 'Disappearing Top' Torpedo Convertible Coupe by Murphy sold for 5.725.000 $

The undoubted star of the sale was the 1929 Duesenberg Model J 'Disappearing Top' Torpedo Convertible Coupe by Murphy. This beautifully restored example is one of two examples built with polished and brushed bare aluminum coachwork and the sole intact survivor. With a well-known history from new, 2199 passed through the hands of a few Southern California owners through its early life and in 1951, it was purchased by a long-time Auburn Cord Duesenberg Club member and remained as his prized possession until 1985. Recently, the Duesenberg underwent a meticulous restoration by RM Auto Restoration that has resulted in a Pebble Beach Concours d'Elegance award win and a Amelia Island Concours Best in Class award. Smashing its high estimate of $4,000,000, the Duesenberg ultimately hammered sold for $5,725,000.
5 of the top 10 sellers were Ferraris
In keeping with their strong market segment, five of the top 10 sellers were Ferraris, proving that the Maranello marque has lost none of its lustre. Topping that list was the 1995 Ferrari F50, a very desirable US-spec car and the 48th of 349 examples produced, being just one of 55 supplied to the US market. Built to celebrate Ferrari's 50th anniversary and the company's only convertible, manual-transmission supercar, this stunning example achieved a final price of $3,772,500. Rounding off the top three was the 1968 Ferrari 275 GTB/4, one of 330 examples produced between 1966 and 1968 and of the most purposeful-looking and effective sports cars of its era. Maintained and enjoyed by the same owner since 1973, this example benefitted from a full restoration by a leading specialist and is stunning in its Giallo Solare paint and Campagnolo alloy wheels, selling for $2,810,000, matching its pre-sale high estimate.
Also noteworthy was the 1971 Ferrari 365 GTS/4 Daytona Spider, being one of only 121 examples built and the 1972 New York International Automobile Show car. Retaining its matching-numbers chassis, engine, and gearbox, it is finished in its original colors of Giallo Fly over Pelle Nera and has covered fewer than 13,500 miles from new. The Ferrari Classiche Certified example sold for $2,452,500.
Other higlights from the sale at Amelia Island Auction
Further evidence of the strength of the market for rare, modern supercars, and demonstrating that it's not just Italian and German thoroughbreds that have such a dedicated following, was the 2012 Lexus LFA, the 430th of 500 LFA's produced between 2010 and 2012, one of only 11 examples clad in Steel Gray paintwork, showing less than 500 miles on the odometer. The car sold for a remarkable $700,000 against its pre-sale high estimate of $500,000. A homespun favourite for collectors, the 1965 Shelby 289 Cobra, originally used at a Shelby American demonstrator between September 1964 and January 1965 and complete restored by a leading Cobra authority, achieved $967,500.
Other notable highlights from the sale included the second car of the auction, a pristine 1965 Austin Healey 3000 BJ8 which sold after a spirited bidding contest for an impressive $168,000 and set the tone for the afternoon. A delightful single-family owner from new 1959 Fiat 500 Jolly exceeded its high estimate achieving a final price of $106,400 while an equally impressive condition 1965 Porsche 356 C Cabriolet smashed its high estimate ultimately selling for $280,000.
RM Sotheby's Amelia Island 2021 Top Ten Sales:

Lot 156

1929 Model J 'Disappearing Top' Torpedo

$5,725,000

Lot 181

1995 Ferrari F50

$3,772,500

Lot 136

1968 Ferrari 275 GTB/4

$2,810,000

Lot 176

1971 Ferrari 275 GTS/4 Daytona Spider

$2,452,500

Lot 151

1992 Ferrari F40

$2,040,000

Lot 185

1935 Mercedes-Benz 500K Roadster

$1,600,000

Lot 186

1961 Ferrari 250 GT Cabriolet SII

$1,490,000

Lot 191

2015 Porsche 918 Spyder $1,182,000


Lot 171

1965 Shelby 289 Cobra

$967,500

Lot 163

1958 Mercedes-Benz 300SL Roadster

$923,500
Reflecting on an exceptional afternoon in Florida, Gord Duff, Global Head of Auctions, said: "For reasons that clearly don't require explanation, the past twelve months have ve been a turbulent period for the collector car market, but during that time RM Sotheby's has demonstrated that both our online and live sales have maintained very good energy, engagement and solid results. What our Amelia Island sale has demonstrated, is that the market really is remarkably strong, with exceptional cars achieving great prices. Perhaps the most striking aspect of this sale is the sell-through rate, which at 95 percent demonstrates that cars coming to market with attractive pre-sale estimates, will always find a new home."
RM Sotheby's returns to European live sales in three weeks, when it conducts its first Milan sale, taking place at the historic Palazzo Serbelloni in Italy. This boutique sale will offer 21 stunning lots on 15 June will be a livestreamed sale with two full days of preview. Hot on the heels of Milan, RM Sotheby's will also conduct an incredible single-owner collection of the finest Rolls Royce and Bentley automobiles, called 'A Passion for Elegance'. Taking place on 19th June in Liechtenstein. the sale comprises 25 outstanding examples of some of the most desirable pre and post war cars from the two most iconic British marques. Formula 1 together with RM Sotheby's have announced a very special, single lot auction of the Lewis Hamilton 2010 McLaren Mercedes MP4-25A Formula 1 Race Car. Taking pace on 17 July during the weekend of the Formula 1 Pirelli British Grand Prix, this marks the first time any Lewis Hamilton F1 Race car, let alone a Hamilton Grand Prix winning car has ever been offered for public sale. This year our Monterey auction makes a triumphant return, taking place on 13 and 14 August at the Portola Hotel, this in-person auction and long-standing event promises to offer a spectacular roster of cars. A spectacular highlight includes the most iconic racing sports car ever, the Steve McQueen, 'Le Mans' movie legend, 1970 Porsche 917K Gulf-Racing Car. Please visit our website for details of all these and other sale highlights in 2021.
---
Interested in the Lewis Hamilton F1® Race Winner? Find more at RM Sotheby's British Grand Prix Auction here.
More Information: rmsothebys.com
---