Gordon Murray Automotive has unveiled its T.50 supercar in full for the first time, showing the finished exterior and interior design and confirming its ground-breaking technical specifications. The T.50 has been engineered to be the purest, lightest, most driver-centric supercar ever.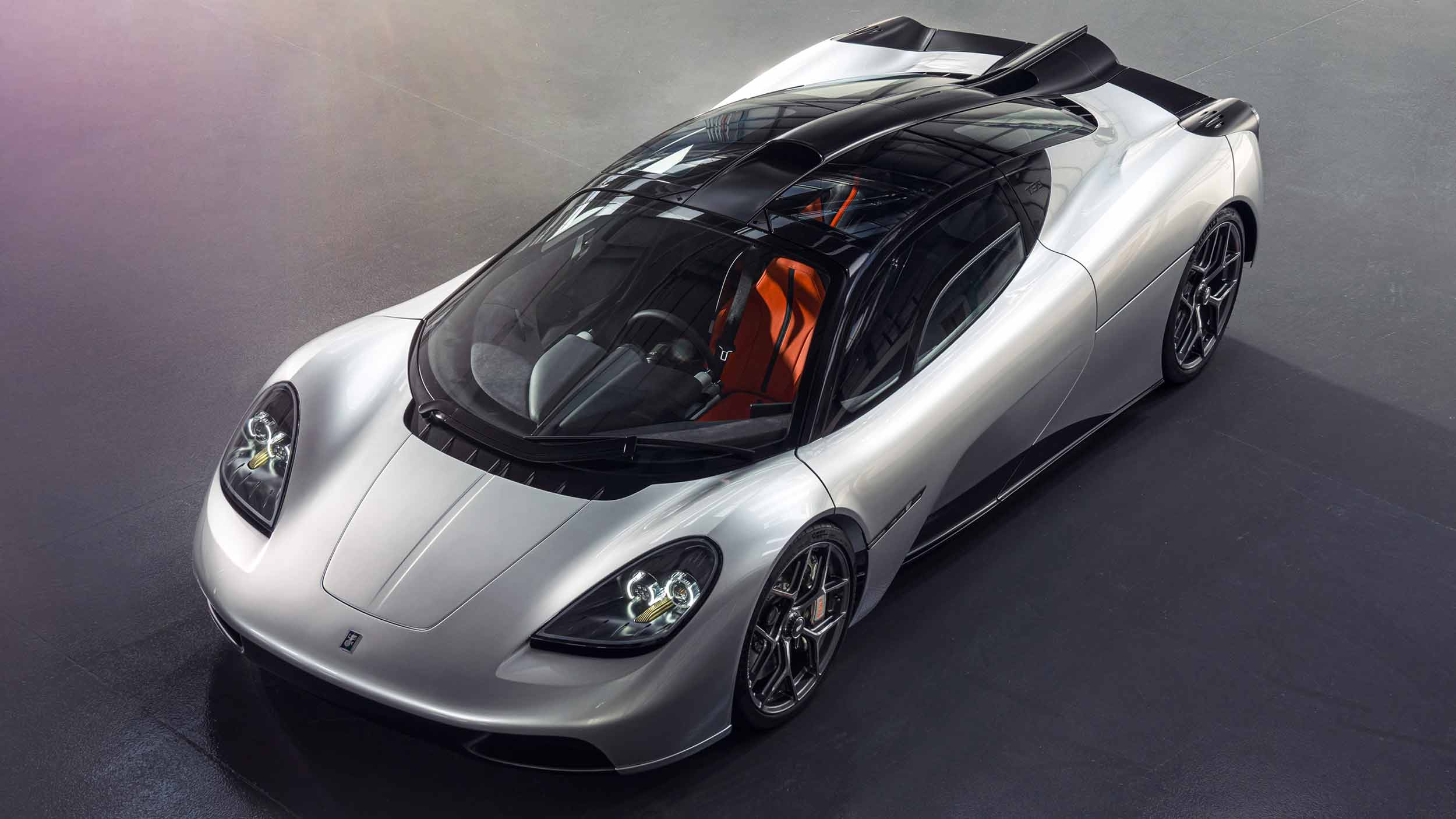 Improving on his acclaimed McLaren F1 "in every conceivable way", Professor Gordon Murray CBE is leading the team that will begin building customer versions of the 2,175 pounds (985 kilograms) supercar in January 2022. Justifying its £2.36m (before taxes) price tag, the T.50 promises to deliver an unsurpassed driving experience. It is powered by a 100% bespoke 3.9-liter, 654 horsepower V12 engine that revs to a record-breaking 12,100rpm, and features the most advanced and effective aerodynamics ever seen on a road car – aided by a 400mm rear-mounted fan.
The global premiere is the first time the clean lines of the exterior and the driver-focused interior have been seen. From his first ballpoint sketches, to every engineering and design detail, Murray has led the Gordon Murray Automotive team and briefed and overseen suppliers to drive the project forward at an unrelenting pace. Murray's design for T.50 was the 50th in a prestigious line of race and road cars he's penned over his illustrious 50-year career – both reasons combining to name the car T.50.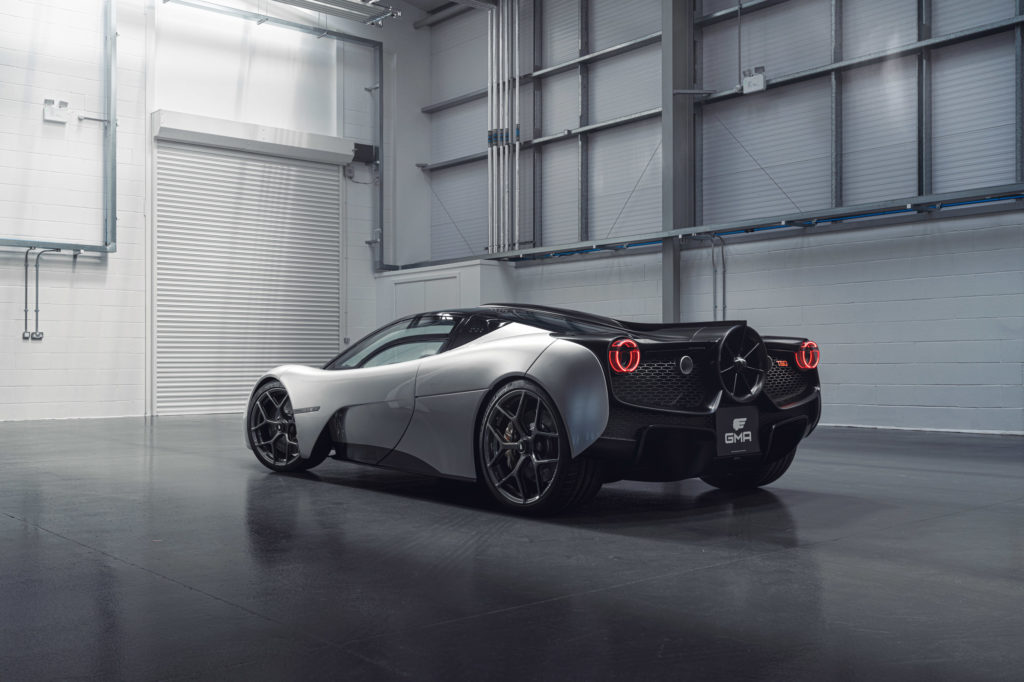 The most dominant characteristics of the T.50 exterior design are its purity and balance, free from the wings, skirts and vents that adorn most modern-day supercars. The clean surfaces are enabled by the most advanced and effective aerodynamics ever seen on a road car, resulting in deliberately simple, beautiful lines and a timeless appearance.
The purity of the silhouette is broken dramatically when the pair of dihedral doors rise up and forwards, coming to rest high above the passenger cabin. Inside, the driver-centric approach is plain to see – from the central, jet fighter-like driving position, to the aerospace-grade primary and secondary controls arranged in an 'ergonomic bubble' around the driver.
Quality of materials, the utmost precision, and simplicity of visuals define the whole car, but nowhere is this more evident than inside the cockpit. British suppliers are responsible for every major component throughout the interior, as well as every facet of the car's exquisitely-engineered underpinnings – an attribute insisted upon by Murray who was determined the T.50 would be a true British sports car.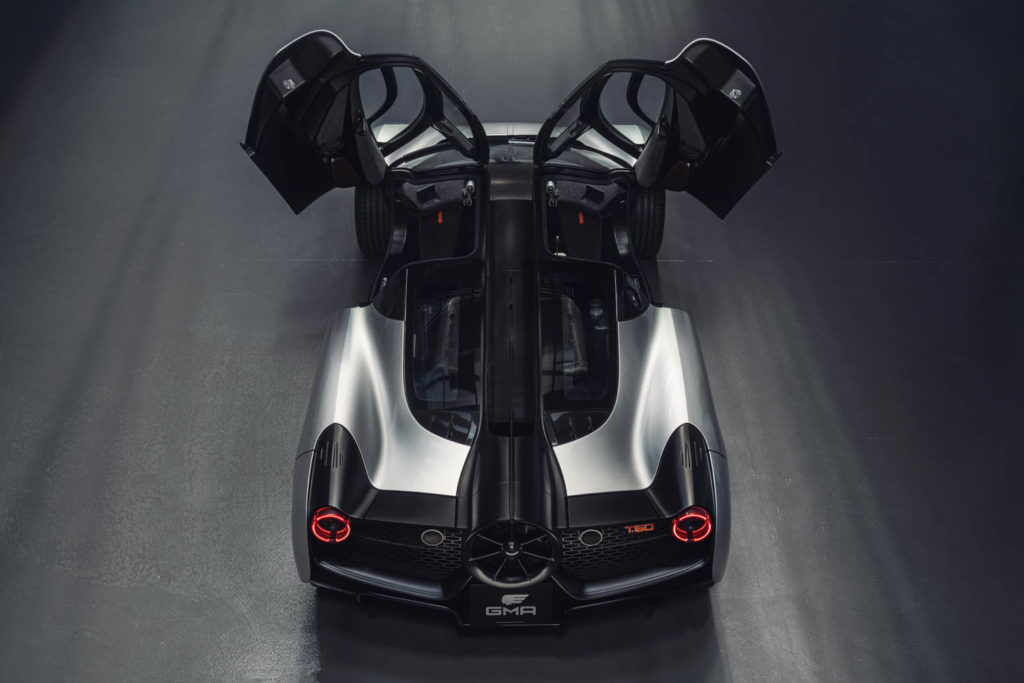 From the record-breaking V12 engine, and best lightweight transmission, to the world-first aerodynamic package and the feather-light titanium throttle pedal, every element is 100% bespoke and crafted by a British company that leads in its field. Murray pushed each supplier to their limits to deliver ingenuity, the highest quality and of course new levels of lightness.
With a vision that the car, and every element of its componentry, would be considered 'engineering art', Murray set out to create a vehicle that surpassed all others, fostering new levels of pride and connection among owners. Every T.50 customer has the opportunity to meet Murray to discuss their car and personalize it inside and out. Part of this process includes a seat, steering wheel and pedals 'fitting' session – personalized to every owner – that will ensure the T.50 is ergonomically perfect and individualized for each discerning customer.
Gordon Murray Automotive selects Bruce Canepa, Canepa Group, Inc. as North American representative of the GMA T.50 supercar
The T.50 is a masterful blend of design, performance and beauty from one of the most storied automotive designers in the modern world, Gordon Murray. Built around a hand-laid carbon fiber monocoque, the T.50 is extremely lightweight even by today's standards, weighing in at 2,174 pounds. With a bespoke 654 horsepower, Cosworth-designed and built 3.9-liter V12 that revs to 12,100rpm mated to a special H-pattern 6-speed manual transmission, the T.50 promises to deliver one of the best driving experiences in history. Fan-assisted aerodynamics, excellent driving dynamics and the culmination of 50 years' worth of experience together create one of the best driving cars on the planet, bar none.
The T.50 marks Gordon Murray's 50th automotive project and includes design influences from many of his previous projects. Murray says "We expect this to be the last, and the greatest 'analogue' supercar ever built."
If you are interested in acquiring one of the limited Gordon Murray Automotive T.50 Supercars, you are invited to send your inquiry to Bruce Canepa at bruce@canepa.com or calling (831) 430-9940. Built slots are close to being completely filled, with only 100 total examples to be built for the entire world.

Having consulted on the project in its early phase of concept and development, Bruce Canepa (Canepa Group) has been selected as the exclusive North American representative of the T.50 Supercar.
Canepa is an industry leader in the collector car world; including sales, restoration and motorsports. Located in Scotts Valley, California, Canepa is central to the Silicon Valley and WeatherTech Raceway Laguna Seca. Experienced in premium luxury and performance vehicles, Bruce Canepa was deemed the perfect fit for Gordon Murray Automotive's new supercar. As the sole North American representative, Canepa Group will handle all aspects of customer support for the new supercar from beginning to end for North American customers; including importation, service/maintenance, and warranty. Interested parties are invited to contact Bruce Canepa at (831) 430-9940 or bruce@canepa.com regarding available build slots for the T.50.
Report by canepa.com
---