GANTlights designs, produces and sells handcrafted designer lamps and concrete lights made of high-contrast materials such as copper, wood and gold. The minimalist designs are made regionally and are individually adaptable to customer requirements.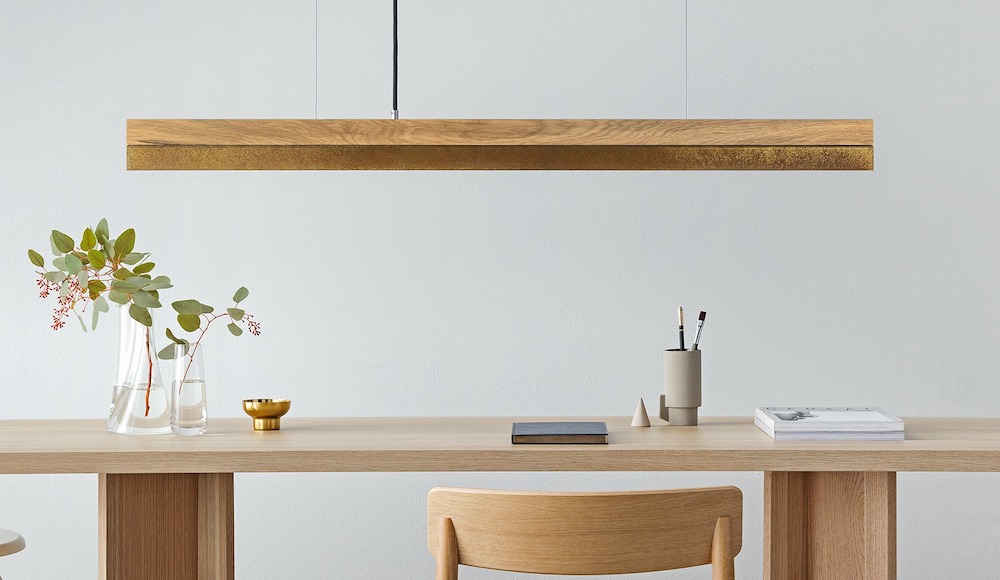 The rectangular hanging lamp [C-series]broxi combines concrete or wood with oxidised brass to create a timeless and elegant designer lamp. The different materials of the lamp shades can be changed and new combined at every time.
The light can be dimmed with commercially available LED dimmers. You can find a list of tested dimmers under downloads. Alternatively, the lamp is available with a touch-dim function. By gently touching the steel cables, the light is dimmed, touching it again makes the light brighter again.
With the edge length of 122 x 8 x 8 cm, the lamp is particularly suitable for staging it above a dining table or a long table. Due to its minimalist design and the high-contrast materials, the designer lamp can be adapted to any furnishing style. The handmade lampshade is delivered ready for installation with a high-quality LED strip, textile cable, wire rope suspension, fastening material and a matt steel canopy.
The textile cable and the wire rope suspension can be shortened to the desired length. The illuminant is not permanently installed in the lamp and can be changed at any time if necessary. Gantlights give a 4-year guarantee on the built-in illuminant.
Each lamp of the C-series is made on customer request in the workshop in Berlin. Despite the individual production, there is a full right of return. The lamp can be returned without any problems within the four-week return period. Due to the modular design, all parts of the lamp can be reused.
Click here for further information
more information: gantlights.com
---