Some people know Ewan McGregor from the Star Wars universe, others as an avid motorcycle rider. But there's another side to the Scottish actor. He also is someone who cares about the environment. Which would explain his affinity for the ID. Buzz. Though he's also sat at home in the dark because the solar power didn't last long enough.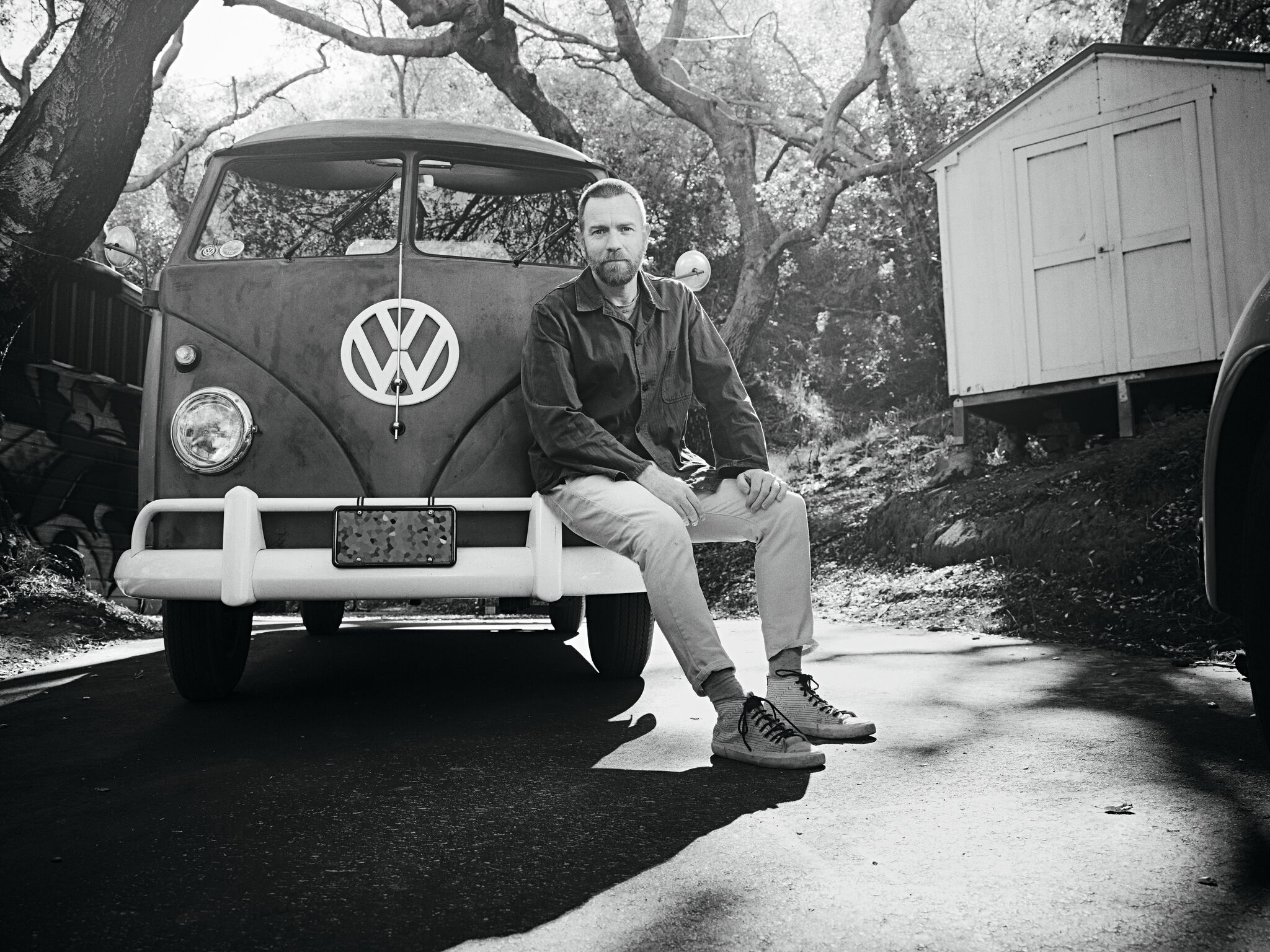 Let's start with your collection of old cars and motorcycles. How did that come about?
I've realized over the last fifteen years that if there's one thing that gives me a great deal of pleasure, it's tracking down a car that I want to buy, finding it and making it more useable. That's like a hobby for me. But I must say: Although I have this passion for classic vehicles and the look of old cars and old motorbikes, I also appreciate new technologies and have a great appreciation for change. Especially the change towards electric and more sustainable transportation. I find that entire realm to be very exciting.
What do you think will become of the car in the future?
I wonder. It certainly is different for my children's generation than for us. I was born in a time when cars were something special. It was that way in my family. I remember when my dad got a new car. That was a big day. I went to school in the morning, and it was exciting to know that when I got home there would be a new car there. I don't think that our children, that my children have the same relationship to cars.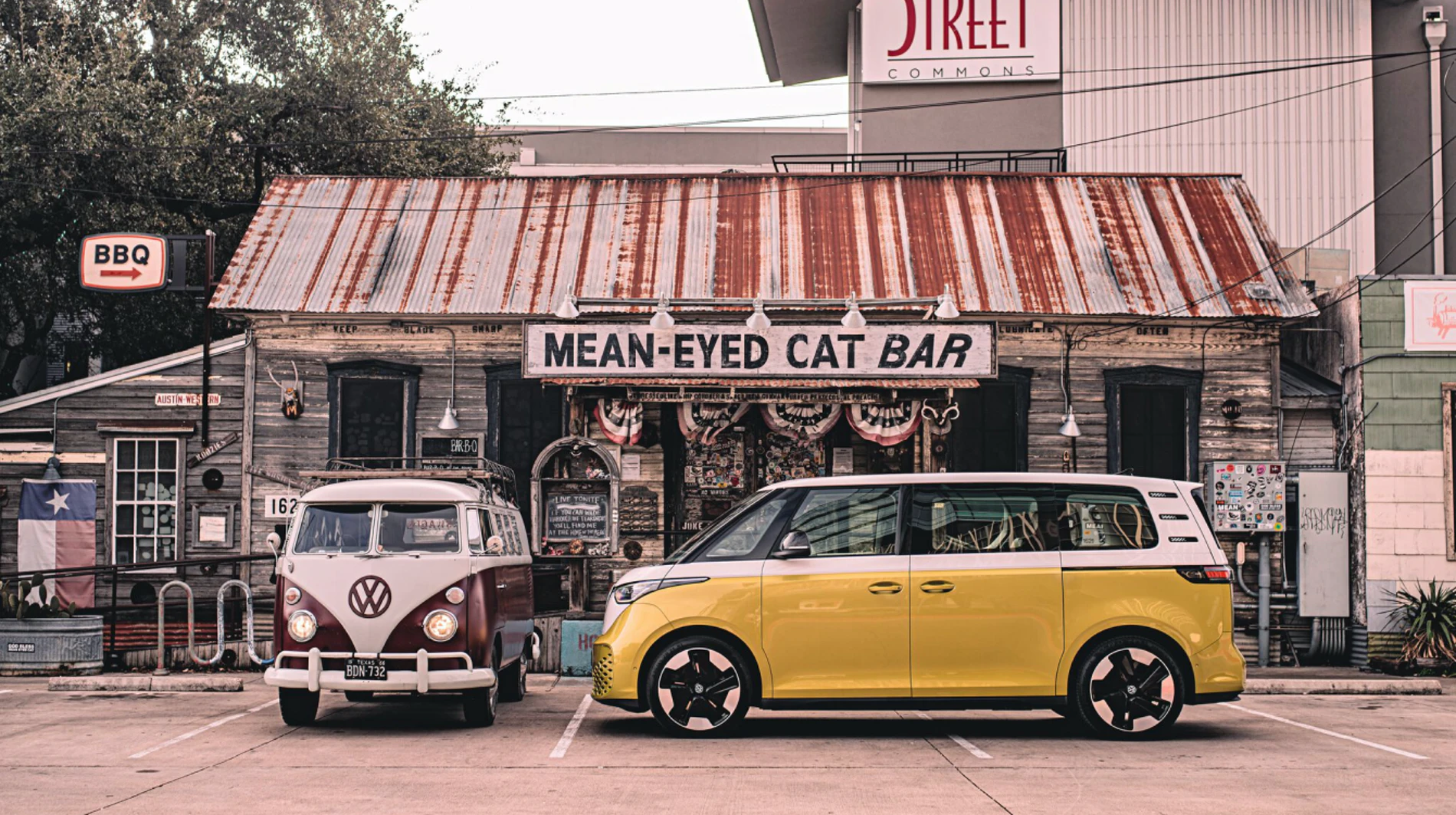 Is that a good thing or a bad thing?
Maybe that's a good thing. Maybe we don't need so many cars on the road, and maybe the next generation will be more into car sharing or there'll be autonomous cars that pick you up and take you where you need to go. I'm not sure exactly what's going to happen in the future. I just know things are going to have to change. Because in the world in general, with all the pollution and fossil fuel use and all of that, something needs to change. I think the car will evolve. Me, however, I love owning a car. I have a relationship with my vehicles.
And what kind of a relationship do you have with the ID. Buzz?
I really like it. In the VW community, we've been hearing about this electric bus that's coming for years. There've been videos – online animations of the car and such – but I only recently got to see it for the first time. We were shooting a commercial with one in Los Angeles. And then yesterday I was in Wolfsburg, visiting the factory, and I also went to Hanover where they're making the ID. Buzz. I got to see the production and I even got to sit in one and drive it a bit. It's a really happy, friendly vehicle. Like the original bus. I think in Germany you call them Bullies, right? The Bulli?
Yes, that's correct.
There's something very happy and friendly about them. When I drive my bus or my Beetle in Los Angeles, people are always smiling and waving. It makes them happy. There's something about modern vehicles that is a little too generic. But the ID. Buzz has something that makes it stand out from the crowd. It's got that happy face. It's very nice inside, very comfortable to drive. It's bright and cheerful and puts a smile on your face. And it's fully electric and has an incredible range.
Let's talk about sustainability. How do you personally define sustainability?
We have to try to look after our planet. We have got to change the practices that we've become used to in order save the world. And I think we can do that in little ways and we can do that in big ways. Driving an electric car is one way to feel that you're doing something about the problem. I have this old 1954 Volkswagen Beetle that I put several different engines in since I bought it in 2008. Two years ago I ended up converting it to be fully electric with a company in San Diego called EV West.
Really?
Yes, and I use the car now more than I ever did. It's faster than it ever was. It's fun to drive, and I can hear my passengers in the car now, whereas before, when I was driving my kids to school in this noisy old car, we couldn't really chat. But now I can hear what they're saying and I can listen to the radio. It's nice to have something old, classic and beautiful-looking but that now operates in a much cleaner way.
You're also a passionate motorcyclist . . .
That's right. Together with my friend Charley, we did these "Long Way" trips in 2004, 2007 and 2019. We rode from London to New York on the first trip and then from Scotland to Cape Town on the second one. And for the third trip, we rode from Tierra del Fuego in the south of Argentina to Los Angeles. And we decided to do that on an electric motorcycle: the LiveWire from Harley-Davidson. That was a completely different experience. I mean, it was challenging at times to find somewhere to charge the bike in the middle of Patagonia, but it was also very satisfying to travel quietly and without pollution. It felt like a step towards something good.
Is sustainability an issue in your everyday life?
I recently built a house with my partner Mary. Our first home. And we've got lots of solar panels on the roof. While we were building it, we lived in a tiny house on the property that only had solar power. There was no grid connection in that little house. And occasionally the power would run out at night. And so there we would be, watching TV, when suddenly everything went out and we would be sitting there in the dark. And we'd think: "Oh shit. Okay."
That's unpleasant.
Yes, but you become more aware of your power usage because it literally can run out. You learn to sort of manage. I've also got a well in my garden that I use to water the ground and for the landscaping. The solar panels pump the water out of the ground to water the plants and the water goes back into the ground and then the solar power draws it out again. It's like a cycle of zero waste there, you know? That feels very satisfying. And now I have my little Volkswagen Beetle, and I charge it only during the daytime, with the solar panels pulling the power from the sun straight into my car. So I'm fueling my car using the power of the sun – and it can take me a hundred miles before I need to charge it again. That's very satisfying too. I've just become aware of all these things that I can do – and so I do what I can.
In California, you are particularly affected by climate change, right?
That's right. Because of global warming there's less and less water, there's less and less rainfall. We're in the worst drought in twelve hundred years. I've become really aware of that. So when I'm in the shower, I turn the water off when I soap myself and then I turn the shower back on to rinse myself off. It's those little things that we can do.
Last question: If you could go anywhere in the ID. Buzz right now, where would it be?
I think I'd drive it to Scotland. I haven't seen my parents because of Covid for quite some time. So I would go to Scotland to see them. Plus it's beautiful up there.
EWAN MCGREGOR…
…was born in Perth, Scotland, on March 31, 1971. After leaving school at the age of sixteen, he first worked as a stagehand at Perth Repertory Theatre before going on to study acting in London at the Guildhall School of Music and Drama, which he left prior to graduation in 1993 to star in the British television series Lipstick on Your Collar. His big breakthrough came in 1996 with Trainspotting and in 1999 he starred in his first blockbuster, playing the role of Obi-Wan Kenobi in Star Wars: Episode I. The three motorcycle tours with his best friend Charley Boorman each ran as a documentary series.
Read all about it in rampstyle #25, entitled "Keep It Simple and Smart".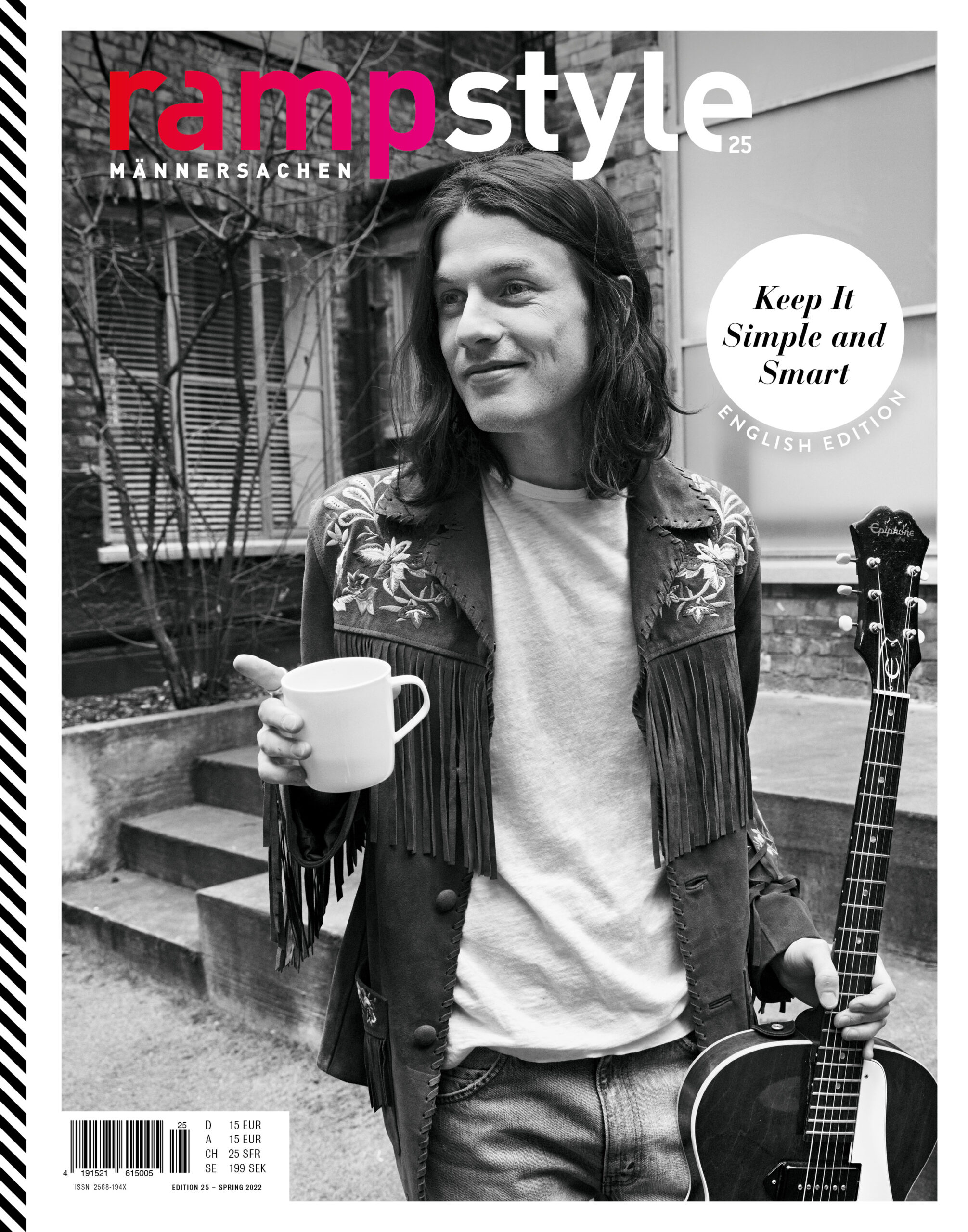 We tend to experience our world as not only somewhat complicated, but also extremely complex. And while complicated systems offer themselves to our understanding through clearly defined connections of individual elements, this unfortunately does not apply to complex systems. Here, everything is unpredictable. And there we are, more or less merrily in the middle of it all. Which is why we love minimalist solutions. In short, the KISS principle applies: "Keep it simple and smart." An entire issue devoted to the matter. So we simply asked Bryan Adams if he wouldn't like to photograph singer-songwriter James Bay exclusively for us as part of our interview with him. (He did.) We also have a great story about Tom Ford, interviews with George Clooney and the designer Sir Paul Smith, and we spoke with the director Quentin Tarantino and with author Christian Ankowitsch, who wrote a book titled "The Art of Finding Simple Solutions". The conversation turned out to be more complicated than expected. But just as entertaining as we imagined.
Text by Michael Köckritz for ramp
Photos by Ingo Barenschee for VW