A Ford GT and a Lamborghini Countach LPI 800-4. What at first seems to us like an odd couple turns out to be a surprisingly good match. How did we come to that conclusion? The cars' owner explained it to us.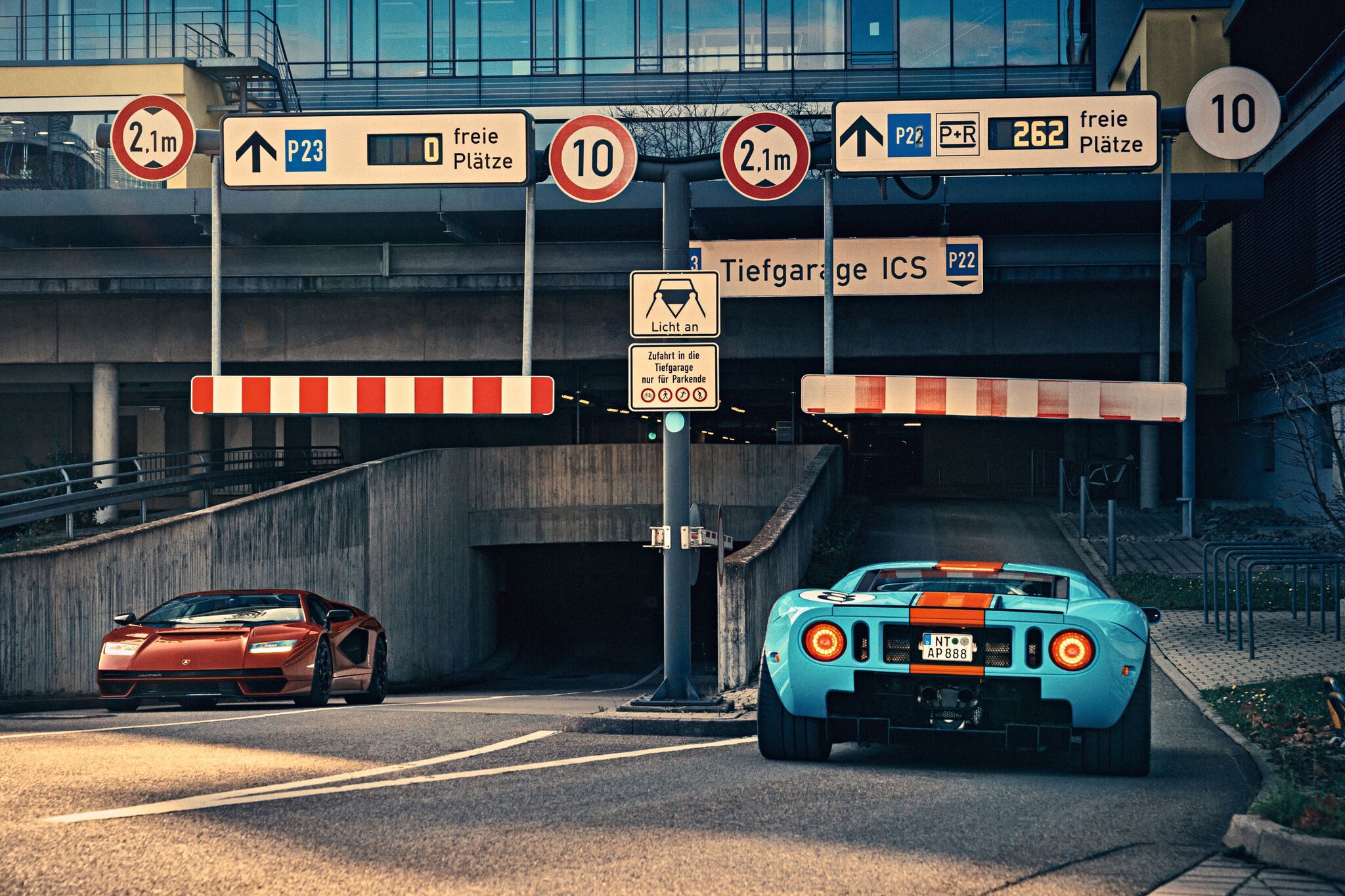 What a Ford GT and a Lamborghini Countach LPI 800-4 have in common? The first answer is: Both are modern interpretations of an iconic design, and both have made history. (Okay, so the Countach may not have made motorsport history, but it is a legend in automotive design and an important part of our shared cultural heritage.) The second answer is: They're both owned by the same person, though he shall remain nameless here. Anyway, we spoke to him about the parallels and differences between the two cars, and about his daughters, who have very clear opinions about each of them. In between, we also heard about a very special journey in the Countach from Sant'Agata Bolognese to Germany that included some surprising encounters with the law.
The end of an era
The Countach has played a key role in defining Lamborghini design: scissor doors, V12, low wedge profile. What role will the new model play?
The new Countach, along with the Aventador Ultimae, represents the end of an era for Lamborghini's naturally aspirated twelve-cylinder engine. The new engine has been mildly hybridized, but you shouldn't pay too much thought to that. All future Lamborghinis will probably be full hybrids. At Ford, the V8 era came to an end with this GT. The new GT will be powered by a turbocharged V6. I mean, what's the point of that? And it doesn't sound all that great either.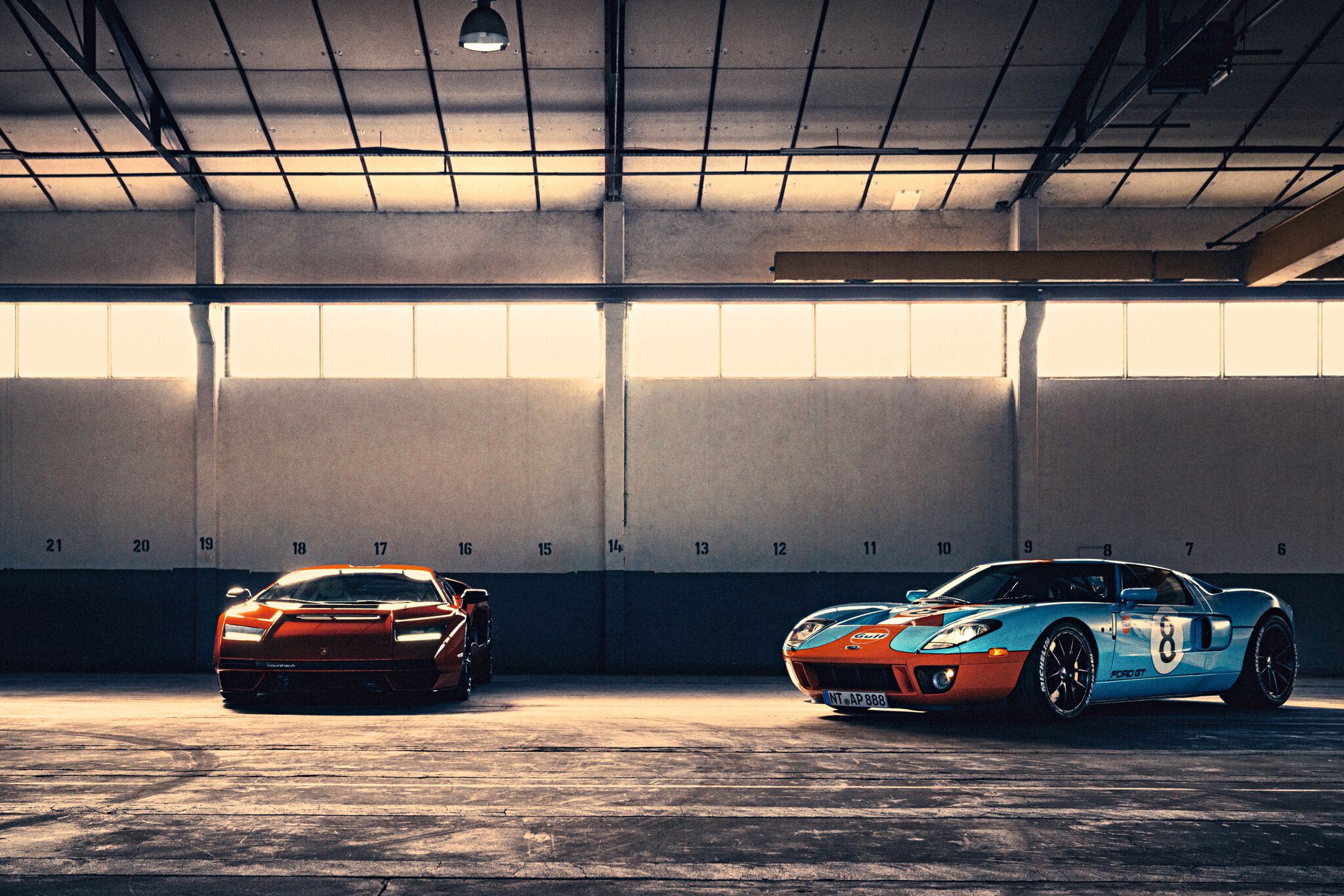 Both are real driving machines.
They really are fun to drive. There's one important difference, however: The Ford GT was produced in the '00s and is one of the last real men's cars. It shows no mercy. There's ABS, but that's about it. Other than that, you have to fly by the seat of your pants. That's what this car is like. The power doesn't really announce itself, and when it does come, you usually have a lot of trouble keeping up. The Countach is different, with all its ultra-modern driving aids, although in the end it always comes down to taking the laws of physics seriously. If you overdo it, you can kiss your ass goodbye here too. In other words, both stand for enormous driving enjoyment – albeit in different forms.
How specifically does this difference manifest itself?
The Countach has modern racing brakes. They scare you at first if you're not used to them. When they're cold, they don't really grip. Being naturally aspirated, it has a completely different response; it's not as strong at first. You wouldn't think so, because on paper it has almost 300 hp more than the Ford. The two cars weigh almost the same, but still the Countach doesn't immediately outrun the Ford. The differences only become apparent at about 250 km/h. I should also point out that the Ford produces a torque of 774 Nm. The Countach doesn't reach that level. Okay, so it gets close. But seen in this light, you could get nasty and say: Better buy five old Ford GTs than one new Countach.
You once owned an original Countach. Does the new one remind you of the old one in any way?
The design unmistakably documents its origins. Lamborghini found some really nice solutions here, for example at the front. In general, the new Countach includes some very beautiful, coherent references. The whole thing was skillfully built on top of the Aventador platform.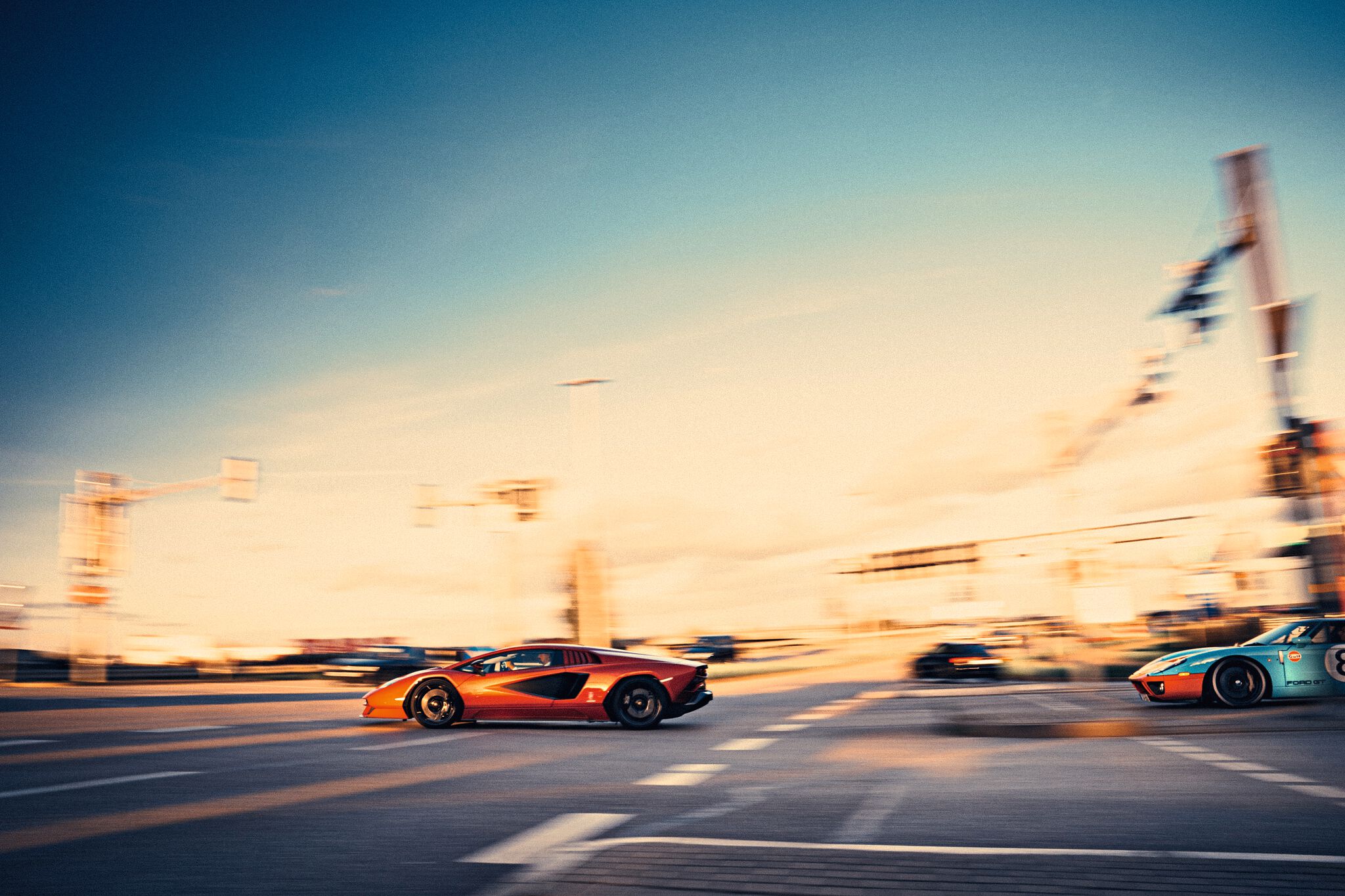 There have also been critical voices . . .
That's true. Some people have even called it a poorly made Aventador. I struggled with myself at first, too, but when I finally saw it for the first time, I said to Mitja Borkert, the chief designer, "Mitja, you've built a beautiful car." That's why I bought it. The Countach is not as visually loud as an Aventador. It's a finely tailored bespoke Italian suit. Of course, the car is way too expensive. But it is simply beautiful. There are one or two other cars in this price category, but when I look at a Pagani, it just doesn't do it for me. If you find it appealing, okay. But it's not my thing.
Is there an advantage to driving the tried-and-tested technology of an Aventador?
Absolutely. Today I even think: Thank God there's an Aventador under there! Everything works. I know enough people who own low-volume cars, and the technology is not always reliable. The Countach LP 800-4 is a limited edition of 112 units, and you can tell by looking at one or two details of the body when something is off. Though it must be said that they put a lot of effort into it, and the build quality is extremely high.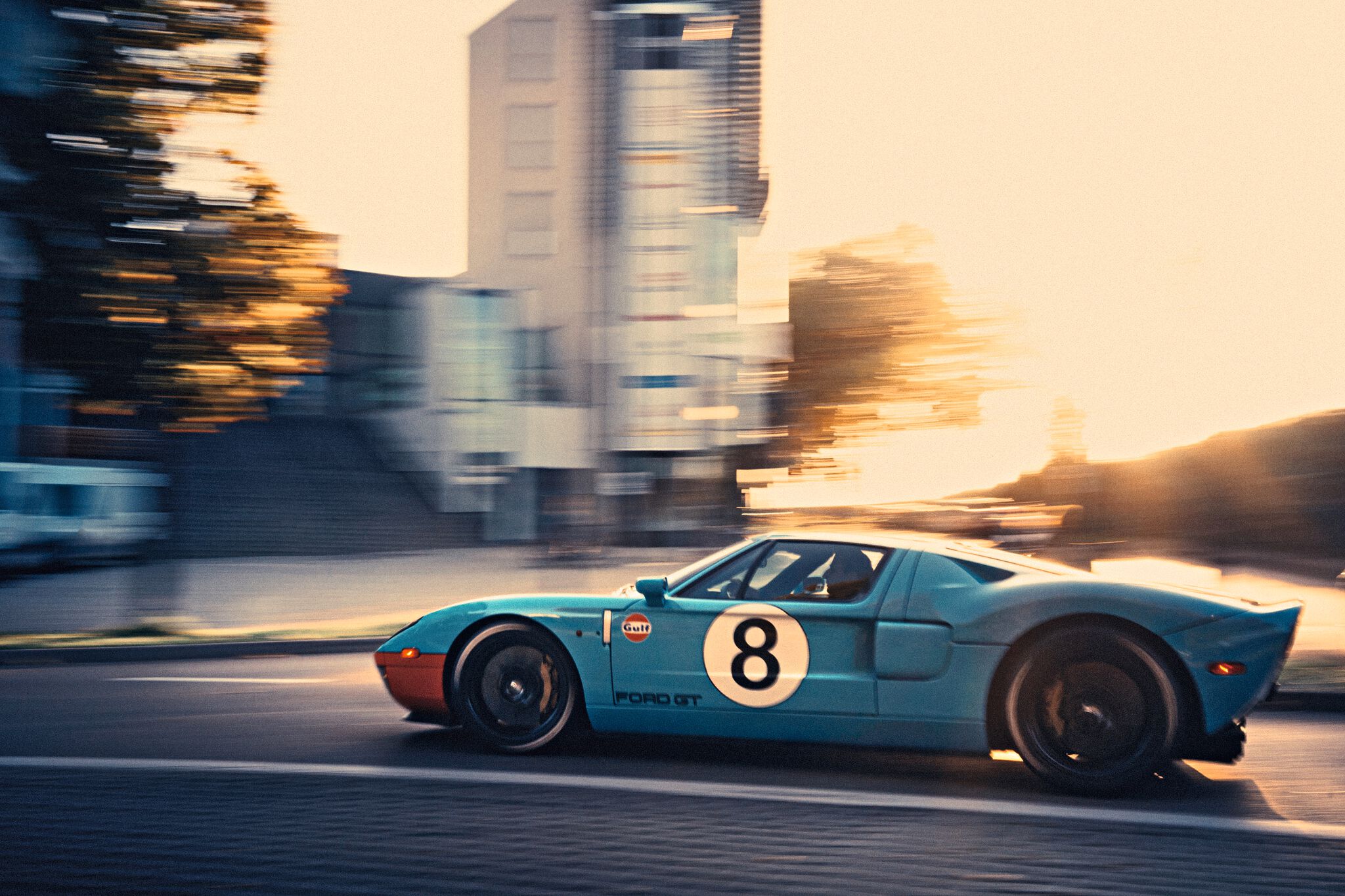 Does the driving enjoyment compare with an Aventador?
I would say there isn't much of a difference between an Aventador SVJ and a Countach LP 800. If you're familiar with an Aventador SVJ, you'll feel right at home in the Countach.
What about the fact that it's a hybrid?
It causes the transmission to sometimes pause to think for a moment. There's a delay of about one tenth of a second, then the gear kicks in so hard that the torque feels as if someone had hit you in the back with a hammer. That's probably due to the combined torque from the electric motor and the combustion engine. That's also the most noticeable difference to the Aventador. Otherwise, engine speed to vehicle speed is almost identical. We experienced this first-hand on a drive out in Croatia. There was an Aventador SV with us, and we drove the gears out in sync. It was a symphony. A kind of V12 duet.
That's Lamborghini for you.
Absolutely. Though if you consider the usual roar of a Lamborghini, the Countach is actually quite discreet. Drive up in front of the opera in a flashy SVJ, and people will turn and stare much more than with a Countach. The Countach is more sophisti-cated, more dignified, and more classic in its design.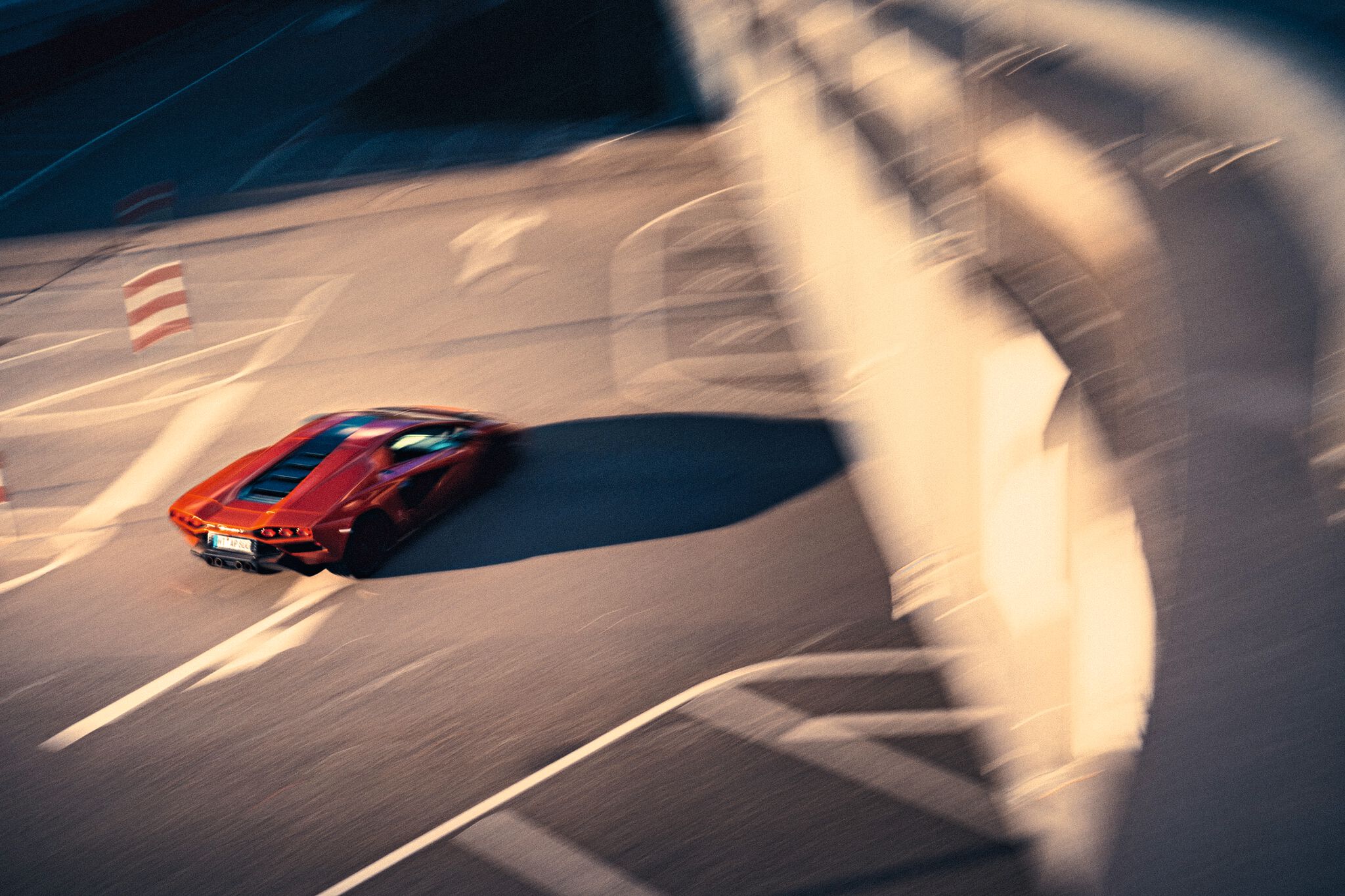 And that despite the fact that the original Countach set the bar for sound at Lamborghini back in the 1970s.
Right. When I drove my old Countach somewhere, people would literally be struck silent with shock. They just couldn't wrap their heads around it. Not to mention the avant-garde look, which still holds true today.
Does the new Countach handle like the original?
Thankfully, no. Though that's partly due to my personal dilemma with old Italian sports cars: I simply don't fit in them. But I do fit in the new one. Otherwise, you might be reminded of the old Countach when looking out through the flat windshield. There's also the sound of the V12. But beyond that I don't find any similarities.
You picked up the car directly in Sant'Agata Bolognese yourself, didn't you?
Yes, together with my daughter. I drove it straight home. It was the only Countach LP 800 that was driven straight off the Lamborghini lot. That was quite an event. They actually stood in line and applauded.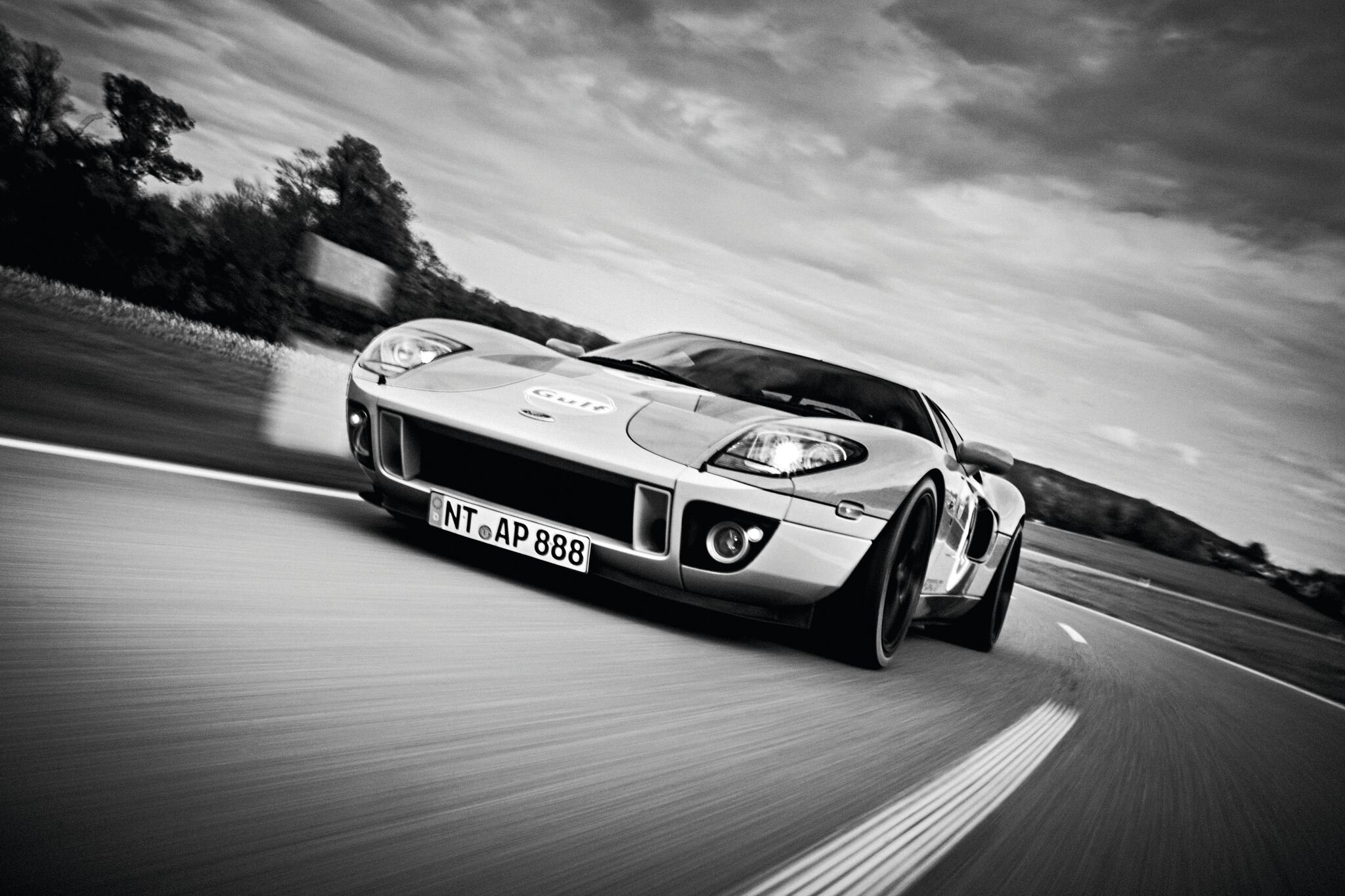 What was the drive home like?
Amazing! Of course, there's no way I can drive slowly in a car like that, so I asked around how strict they are down there in Italy with the speed limit. And they told me I shouldn't worry about that in a Lamborghini. The police would stop me, but only to look at the car. Besides, the car was new, and you don't run a new car at full throttle right away. You have to let the car warm up, and you have to get to know the car a bit first, so you push it to 180 km/h or 230 km/h tops, which doesn't stress the engine at all.
How many times did they pull you over?
Not once.
How about in Austria or Switzerland?
We didn't go through Switzerland. I can't stand driving there. We drove through Austria, and I knew I had to pull myself together there as well. So I drove 120 km/h where actually only 100 is allowed. Absolutely no traffic. Three free lanes on the Brenner Autobahn. At some point a Škoda station wagon drove up behind us and began filming us. At first I thought nothing of it, then suddenly it passed us, pulled in ahead of us: flashing blue lights, please follow and stop where safe. The policeman asked if I knew why he had pulled me over. I said: No idea, in Austria 130 is allowed. isn't it? He corrected me, no, on this section it's 100. I  pretended not to know: Oh! Sorry about that. He asked me what kind of car that was, he had never seen one like it before. When I told him it was a Lamborghini Countach LP 800, and that he  would probably only see one a second time when he pulls me over again later, he didn't think that was so funny. He then asked about the license plate in the front, because it was just glued on.
Is that legal?
I honestly didn't know, but that's the way they gave it to me at the factory so I figured it would be okay. The nice officer explained to me that it was not, neither in Austria nor in Switzerland nor Germany. Where the actual plates were? Of course, I had them with me.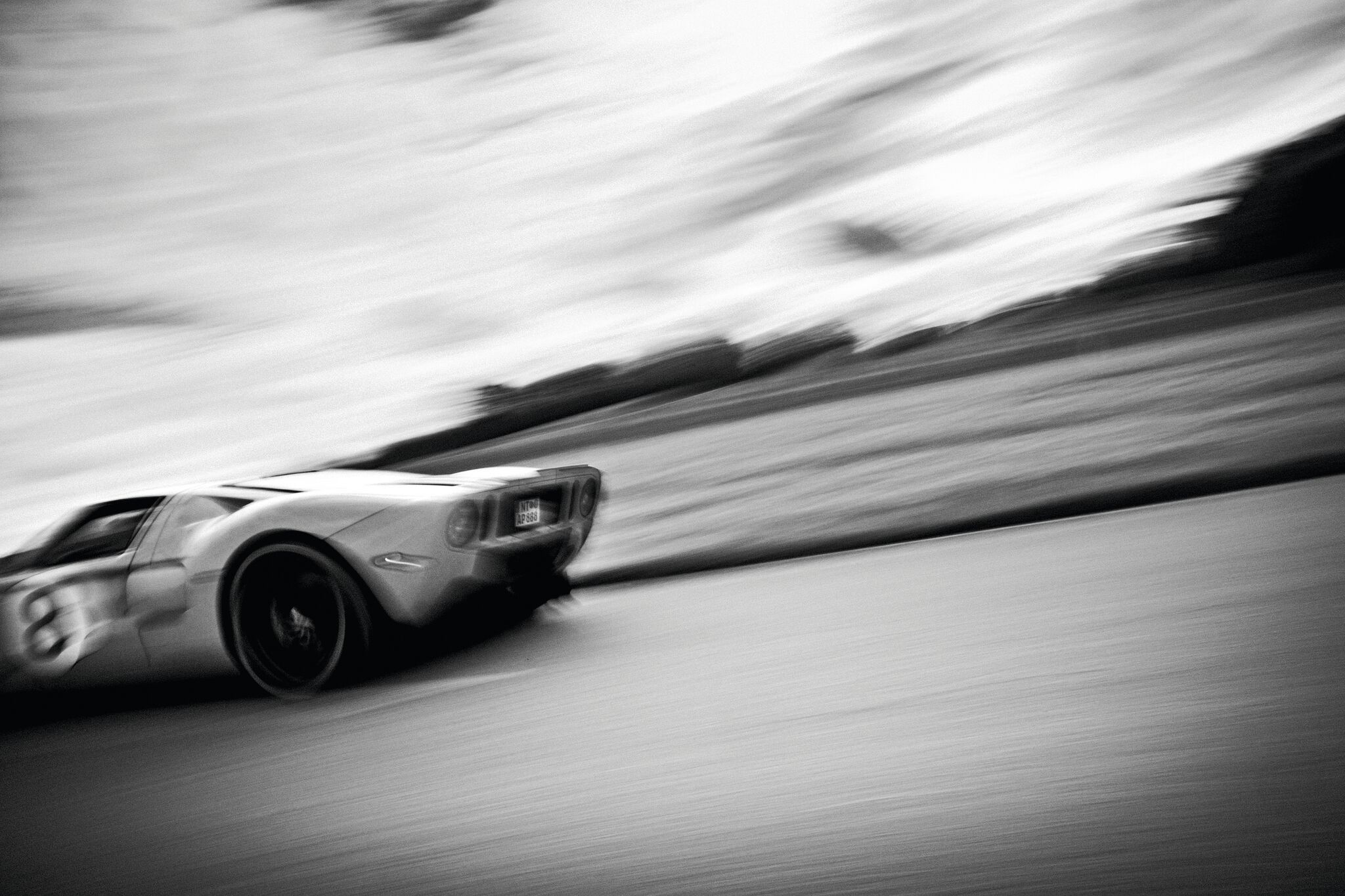 And you got away with that?
Not entirely. He was appalled that they had let me drive off like that at Lamborghini and said I would have to change that, of course. He then relieved me of fifty euros, I vowed to mend my ways and dutifully drove on. Not long afterwards, however, they were behind me again, flashing their blue lights. I was starting to think I shouldn't have said that bit about seeing me twice, when he called out to me, "Sorry, but we charged you too much before!"
Really?
They forgot to subtract the tolerance, so I was going only 19 km/h over the limit, which costs thirty-five euros. I thought it was a joke, but he gave me fifteen euros back.
Right is right.
That restored a bit of my faith in the police. Those two were really decent guys.
And the last leg of your trip?
It was already night when he got to Germany, and there was no traffic on the autobahn. Three lanes, all to myself. I figured I had warmed the engine up enough, so I punched it.
What's the top speed?
Officially 355 km/h. I believe that, too, though I have to admit that I lost my nerve at 330. That was fast enough, but it was still pushing for more. Besides, you're never completely alone on the autobahn, there's always somebody crawling along in the middle lane at 110 and the guy who passes on the left at 112. So I didn't take the Countach to the max, if only because my daughter was asleep in the passenger seat. So we rolled home at a relatively leisurely speed of 270 to 320.
You now have almost four thousand kilometers on the dial. What would you say, is the new Countach suitable for everyday driving?
Well, I once drove in the rain by mistake. And right where you look through the windshield forward onto the road there was a triangle that wasn't being cleared by the wiper. Still, except for that triangle, the ridiculously small 60-liter fuel tank, and that little cubby hole in the front that they call a trunk, the car makes a wonderful daily driver.
And the Ford GT?
Well, the Gulf livery makes it nice and colorful for the kids, and it's probably the supercar with the most positive associations that you can have. From kids to tattooed Hell's Angels types, the Ford has something that everyone can get excited about. Then there's the design that is reminiscent of, without being vulgar, certain feminine curves, while at the same time the car possesses brute elemental power. And besides the colorful paint job, it is also full of very real racing features, like an Öhlins suspension and much bigger brakes than the original, because the Ford brake system is more like a toy that burns up when you brake down from 300 km/h. You don't want that. Again, the fuel tank is ridiculously small. If you could drive the cars slowly, that might be enough, but if they're driven halfway to their intended purpose, you'll be stopping at every other gas station.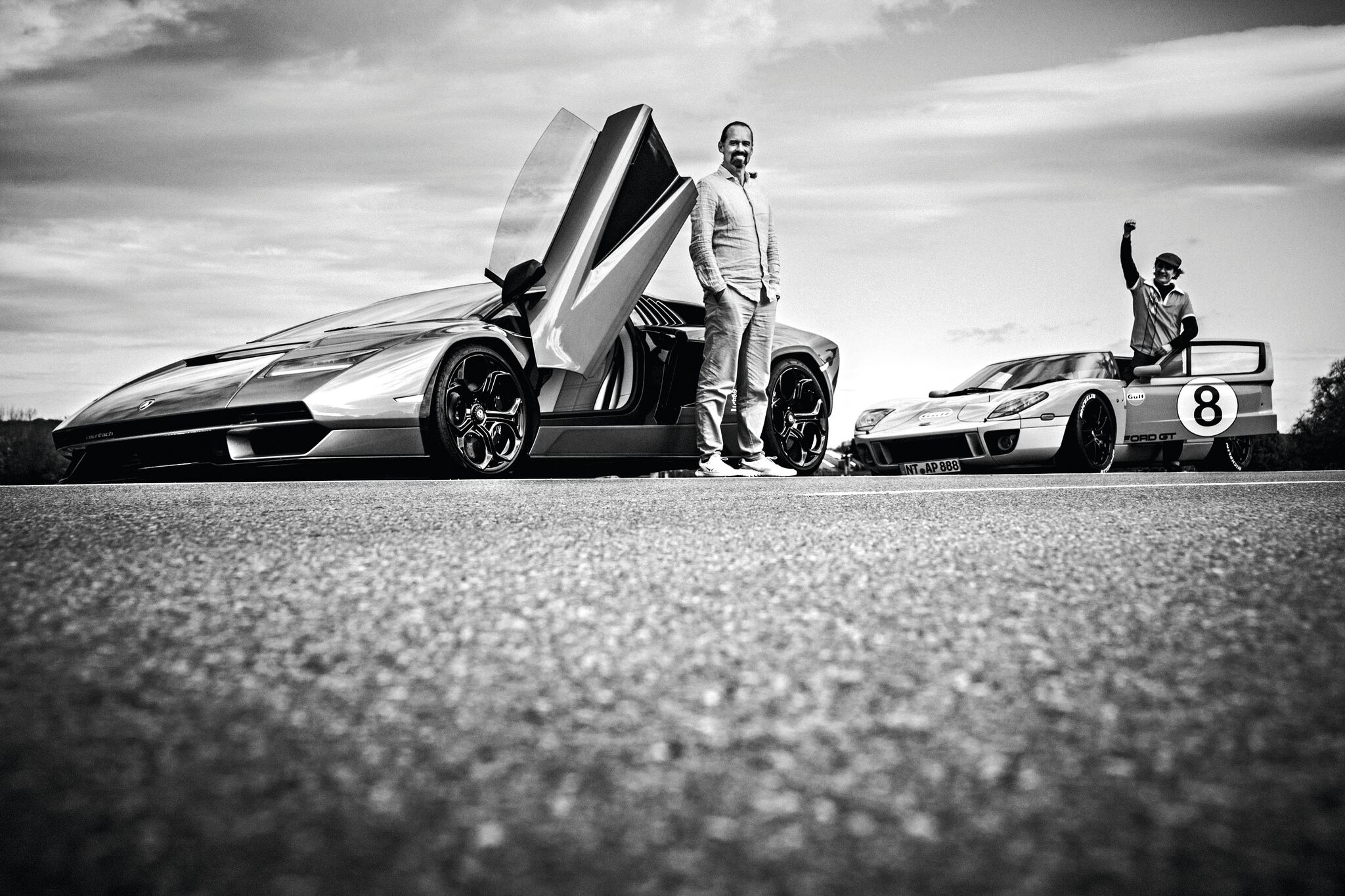 You have two daughters. What do they think of the cars?
My older daughter thinks the Ford is pretty terrifying because everything rattles so much. I explained to her that it's an American car and that's how it should be. Unfortunately, she was sitting next to me when the car skidded out in moving traffic one time when I was in second gear with cold tires and cold asphalt. That really got my heart racing, but fortunately I was able to regain control before I hit anyone. My daughter let out a piercing scream and ever since she has had her doubts about the car.
And the younger daughter?
She thinks pretty much all American cars are great, and she loves the Ford. My older daughter, on the other hand, thinks the Countach is fantastic. It has a stylish look, very classy. I think that sums up both the difference between the cars and my daughters' tastes quite well.
Interview: Michael Köckritz
Photos: Matthias Mederer · ramp.pictures
ramp #59
As a high-impact multimedia brand that takes an all-encompassing, end-to-end approach to publishing, ramp is an absolutely authentic expression of quality, integrity and excellence. Its trailblazing luxury magazines, recognized with numerous awards over the past 15 years, have been celebrated for their cool and unconventional, not to mention inspiring and pioneering style, since day one.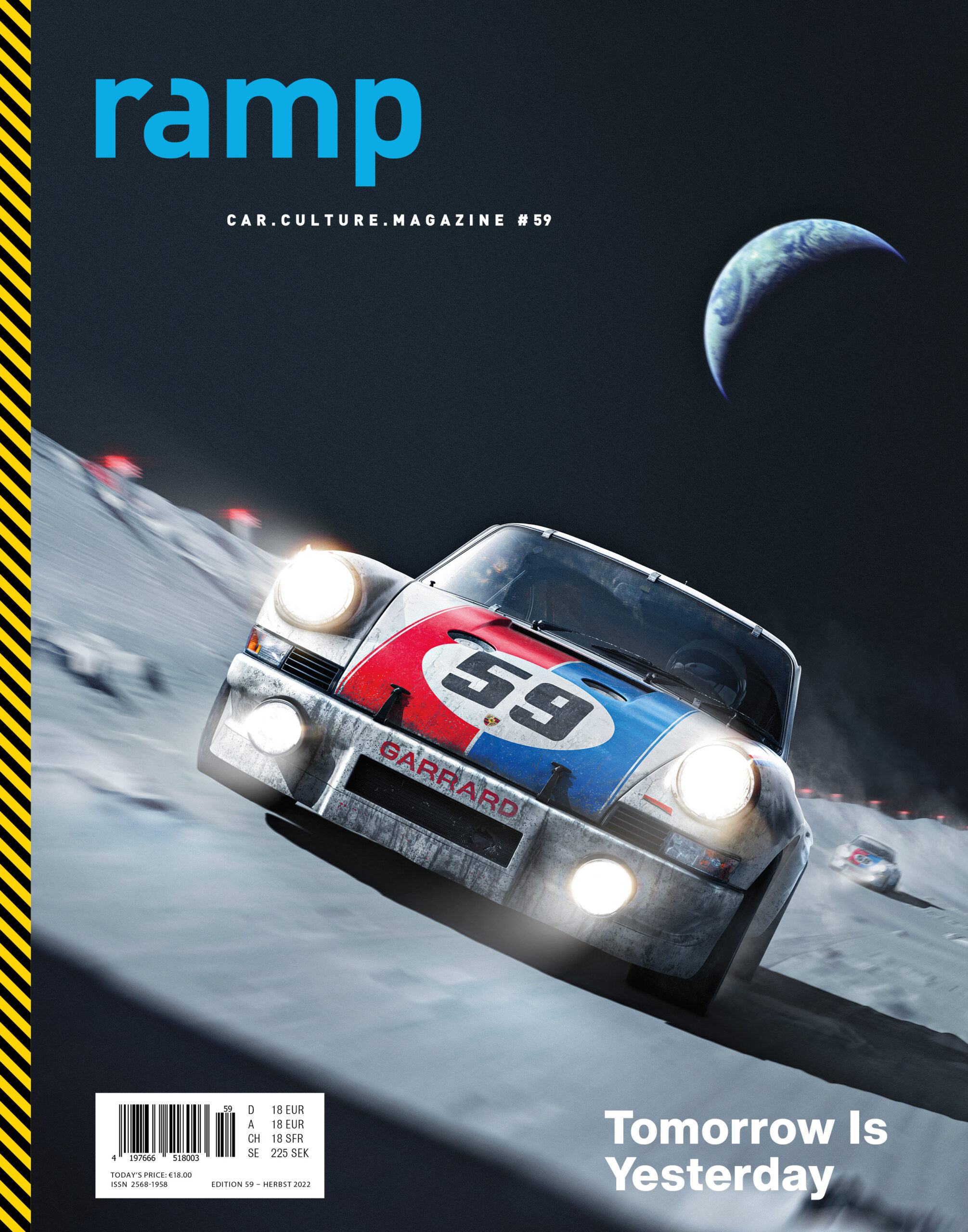 ramp, the lavish and beautifully designed coffee table magazine, celebrates the enthusiasm for cars and driving in a passionately subjective, personalized fashion.
Immediate, authentic, intense. Fresh perspectives, avant-garde imagery, with a fine feeling for nuances and the right dramaturgical mix. Always new, always stimulating. Automotive passion infused with a lust for life. The automobile in new, exciting and intense contexts, precisely tailored to the relevant target group, presented in relation to music and fashion, culture and lifestyle, design and art, science and philosophy.