When Walter Owen Bentley founded his namesake marque in London, over one hundred years ago, neither he nor anyone else could have imagined the impact his vision would have on the automotive and racing industries for decades to come. From 1919 until this very day, Bentley has always strived to follow the creed of its founder: To not only build a fast and good car, but to build the best in its class. From this principle, an automotive treasure trove of engineering supremacy has issued forth from England, forever securing Bentley as the definitive British luxury car company within the international consciousness.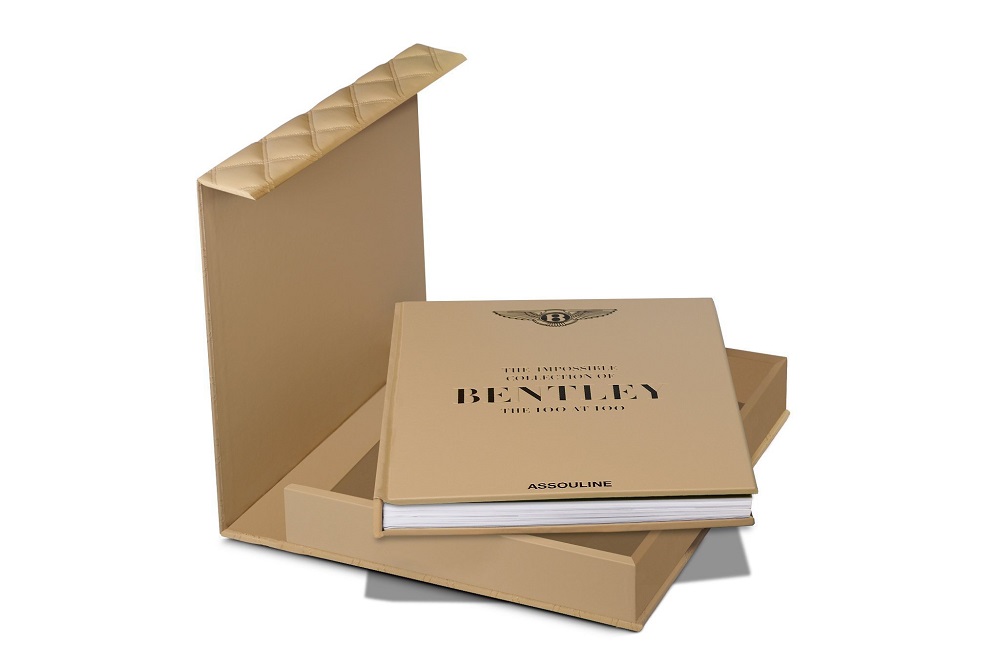 Following on the heels of Be Extraordinary: The Spirit of Bentley, which celebrated today's tribe of Bentley adherents and personalities, as well as the company's innovative ideas for the future, Assouline presents yet another fascinating volume dedicated to the preeminent British car brand—Bentley: 100. Housed in a hand-stitched leather bound, limited edition case, this all-inclusive work presents an exhaustive list of the one hundred single most important and groundbreaking Bentley models, with detailed critiques and explanations relating to each automobile's unique engineering excellence and the various creative avenues Bentley may have taken during the manufacturing process. From the 1924 3-Litre, the first Bentley to win Le Mans; to the 1959 S2, the first to feature a V8 engine; all the way up to the stunning 2018 Continental GT, this book is a decisive list of all the masterful models that have helped Bentley become the dominant and illustrious luxury car manufacturer that it is today.
Complimentary white gloves and signature canvas tote bag are included with each purchase from Assouline's Ultimate Collection 
---
Here some Details
200 pages
over 150 illustrations
English language
Released in December 2019
W 15.6 x L 18.5 x D 3.1 in
Hand-stitched leather bound limited edition
ISBN: 9781614288602
17.8 lb
---
About the Author
Andrew Frankel is a British car journalist who has contributed to Autocar magazine for over thirty years and MotorSport magazine for over twenty. In addition, he was the chief car tester for The Sunday Times newspaper for seventeen years, and he currently makes regular contributions to The Daily Telegraph. He is also a columnist for Goodwood Road & Racing, and sits on the Car of the Year jury. Bentleys have been part of Andrew's life since he was just four years old, when his father bought a vintage 41/2-litre Bentley—which still remains with his family to this day. Andrew has driven examples of nearly every car featured between these covers, and for the last ten years, he has raced a 1921 3-litre TT Bentley, the oldest Bentley racing in the world today. In 2003, he wrote the award-winning Bentley: The Story, which was hailed as the definitive history of the marque. When he is not driving cars, he lives quietly on the border between England and Wales with his wife, two daughters and far too many animals.
---
Craftsmanship
Assouline's Ultimate Collection is an homage to the art of luxury bookmaking. Hand-bound using traditional techniques, with color plates hand-tipped on art-quality paper, each page of this limited-edition series bears the unique imprint of the artisan. Treating a range of topics from jewelry and fashion, fine art and the 'Impossible Collections,' the Ultimate Collection curates culture from around the world and across the ages. Nestled in linen clamshell presentation cases, these books attract collectors, lovers of the printed page, and those who devour the culture of our time. Signaling a new level of sophistication for true connoisseurs, these unique books are works of art in their own right.
---
Report by assouline.com
---