Broad Arrow Auctions, a Broad Arrow Group Company, is thrilled to announce the single owner offering auction of Mr. Jim Taylor, taking place this 14-15 October in his hometown of Gloversville, located a short distance from Albany, New York.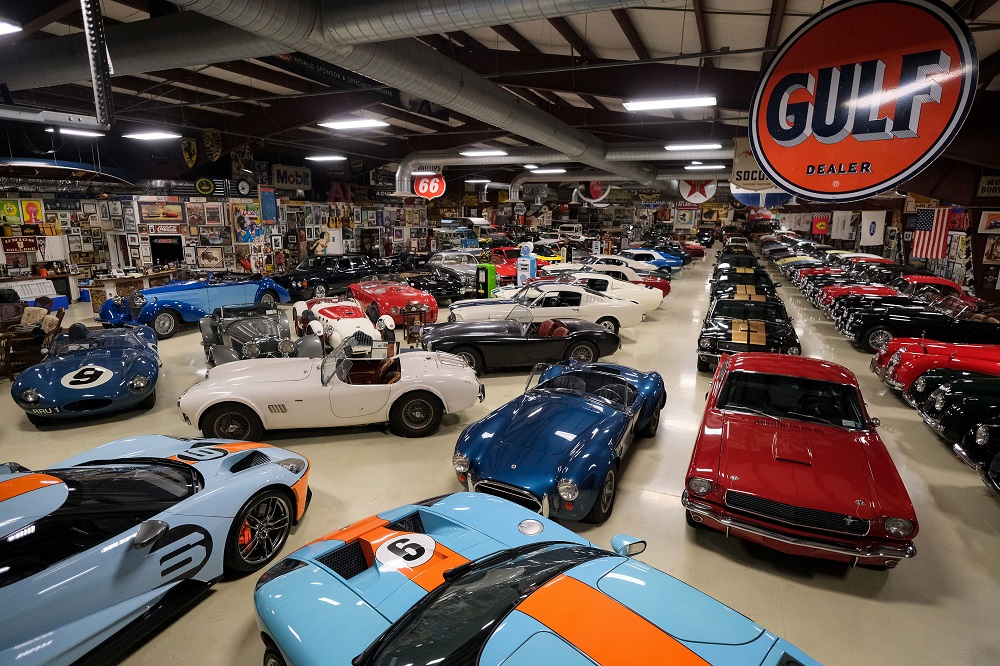 The grouping of more than 120-motor cars represents one of the finest assemblages of European, British, and American sports and vintage cars including an impressive selection of Allard, Alvis, Aston Martin, Bentley, Bugatti, Buick, Cadillac, Chevrolet, Cunningham, Dodge, Ferrari, Ford, Jaguar, Land Rover, Maserati, Mercedes-Benz, and Shelby motor cars. Perhaps even more impressively is just how many of Mr. Taylor's cars have been rallied and shown around the world.
---
The Halo Car Collection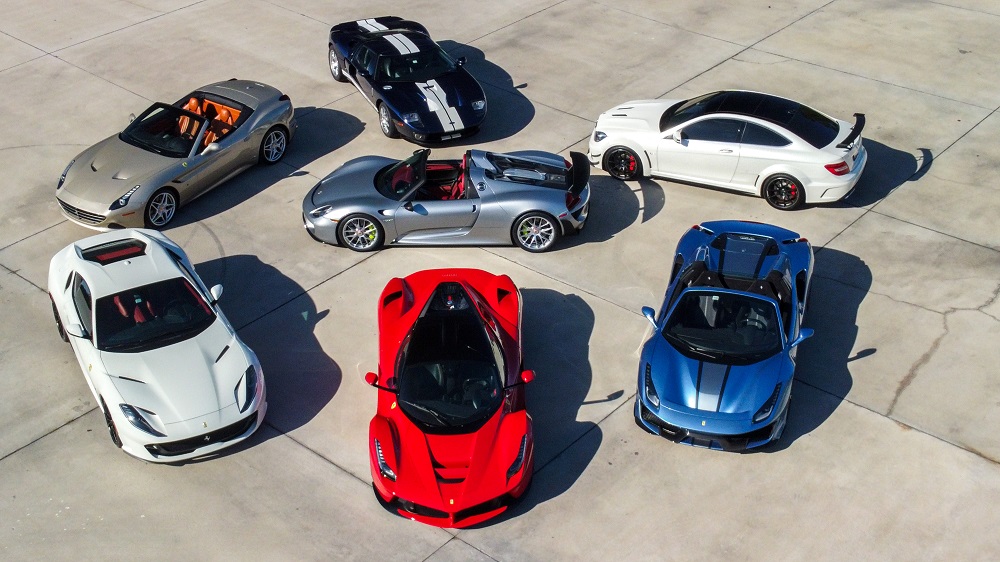 This outstanding single owner collection of seven cars represent some of the best in-category examples of mostly ultra-low mileage and attractively options supercars. The Halo Car Collection, in reference to their exalted position as supremely desired and much lauded examples of their respective marques, will be offered during the Monterey Jet Center Auction held alongside the reimagined Hagerty Motorlux event.
2020 Ferrari 488 Pista Spider
Monterey Jet Center Auction | Estimate $600,000 – $650,000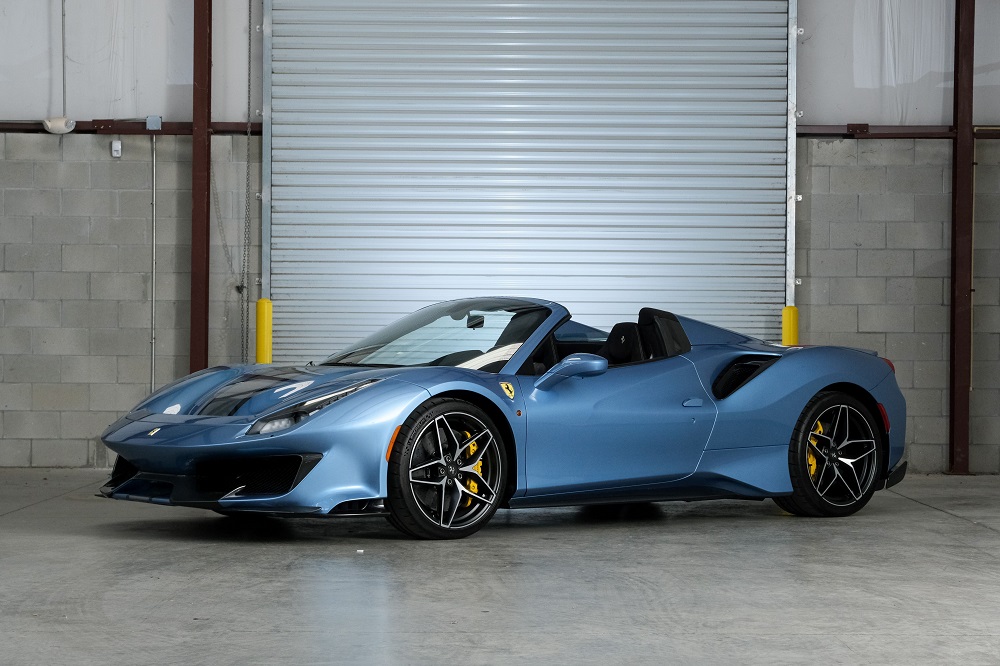 Although Ferrari has a long history of bespoke tailoring of production cars to the exacting requirements of preferred clients, it was not until the 360 Challenge Stradale of 2003 that a serious track-ready yet still road legal Ferrari was produced in significant numbers. Some 1,288 cars were constructed; the model in effect being a mildly de-tuned version of the existing 360 Challenge Race car. A significant weight reduction of 110 kilograms – not to mention ceramic brakes borrowed from the concurrent Ferrari Enzo – were instrumental in the CS beating the standard car by no less than 3.5 seconds around a lap of Fiorano, thereby announcing itself as a serious contender to other similar no-frills cars such as the Porsche 911 GT3 RS.
In 2004, the 360 series was phased out, to be replaced by the incoming F430. Once again, a track-focused (but still road legal) version was available in the shape of the F430 Scuderia; a car which largely followed the template of the 360 Challenge Stradale by benefitting from a 20 horsepower increase – to 503 horsepower – and a 100 kilogram weight loss relative to the standard F430.
---
2018 Ferrari 812 Superfast
Monterey Jet Center Auction | Estimate $300,000 – $350,000

Few, if any, car manufacturers experience the burden of expectation quite as Ferrari does. The automotive world's most fabled marque enjoys a global following – not to mention a discerning clientele – more demanding and anticipatory than any other; their new models constantly measured not only against those of their peers, but also against Maranello's own legends of the past.
Ever since the introduction in 1950 of Ferrari's first bona fide Grand Touring car, the 166 Inter, front-engined GT cars have formed a vital and charismatic component of the company's product range, and of their folklore. Indeed, successive generations of GT cars such as the 250 GT, 275 GTB, 365 GTB/4 Daytona and 550 Maranello are all natural selections for inclusion on any list of the company's all-time great cars; each of them sharing the classic Ferrari combination of a front-mounted V12 engine, rear-wheel drive and, of course, that unmistakable sound.
---
2018 Ferrari California T
Monterey Jet Center Auction | Estimate $250,000 – $300,000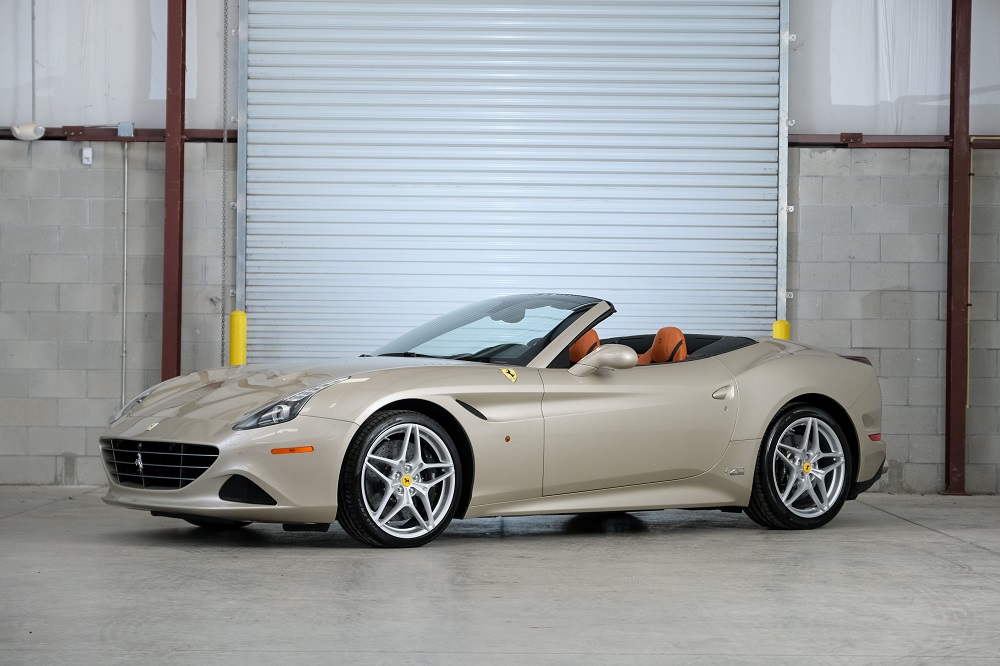 After an interlude of some 45 years, Ferrari revived the fabled California designation in 2008 with its first ever front-engined V8 car of the same name. A shared tag with the 250 GT California Spyder and the even rarer 365 California, decreed that expectations were high, and certainly in technical terms Ferrari did not disappoint.
At its heart lay a normally-aspirated four-cam 4.3 liter V8 engine which employed Bosch Direct Fuel Injection to achieve a remarkable output of 453 horsepower at 7,750 rpm, and a correspondingly healthy maximum torque figure of 358 lb-ft at just 5,000 rpm. Significantly, this specific output equated to almost 106 horsepower per liter; the figure of 100 for any normally aspirated engine having been the holy grail of many race car – let alone road car – designers for much of the 20th century.
---
2015 Ferrari LaFerrari
Monterey Jet Center Auction | Estimate $3,000,000 – $3,300,000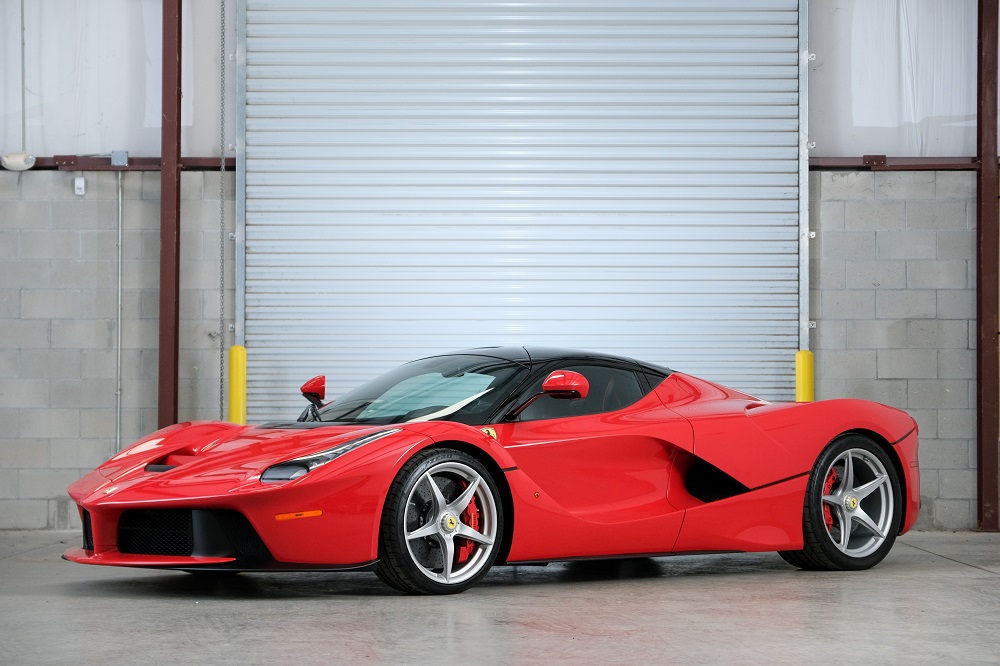 Ever since the foundation of its forerunner Auto Avio Costruzioni just 12 days after the outbreak of war in 1939, myriad factors have conspired to heap expectation and scrutiny upon Ferrari in a manner entirely unlike that experienced by any other car manufacturer. Indeed, influenced as it was from the very beginning by an overwhelming need to prove itself as an independent entity following a long and fruitful association with Alfa Romeo – and later as Italy's de facto national racing team and pre-eminent car producer – Ferrari has always been a company which has necessarily had to live its corporate and sporting existence very much in the public eye.
However, paradoxically, it was from within that arguably the greatest scrutiny originated. It is often said that success breeds success, but it is equally true that success breeds expectation. Ferrari's expansionist phase of the late 1950s and early 1960s saw road car production increase five-fold between 1958 and 1966; a period which also yielded three Formula One World Championships and seven Le Mans 24 Hours wins in eight years. Yet with this success came an escalating pressure to surpass previous achievements, whether on or off track.
---
2012 Mercedes-Benz C63 AMG Black Series
Monterey Jet Center Auction | Estimate $125,000 – $150,000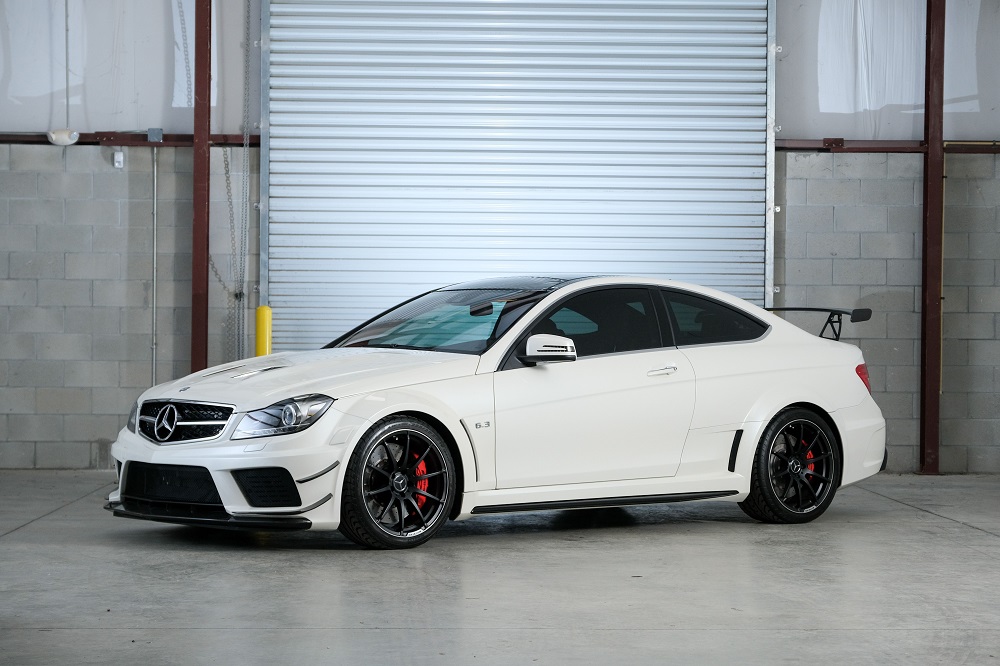 First established as a company in 1967, the acronym AMG was derived from the surnames of founders Hans-Werner Aufrecht and Erhard Melcher, and the location of their first premises in Grossaspach, near Stuttgart. Both had previously worked as development engineers at Mercedes-Benz in Untertürkheim, but had grown similarly frustrated at the company's unwillingness to commit to future racing activity.
Rapidly gaining a reputation for producing powerful, tractable and reliable engines, AMG diversified into offering performance upgrades for a wide variety of Mercedes units; their work soon encompassing areas such as transmission, brakes and suspension as well. The 1970s and 1980s heralded a period of significant expansion for AMG, and in 1988 the company was appointed as the official racing partner of Mercedes-Benz. In 1990, a landmark deal ensured that AMG products could be sold and maintained through the existing global network of Mercedes dealerships, and only three years later, both companies unveiled the jointly developed Mercedes-Benz C36 AMG; the first such car to officially share both Mercedes-Benz and AMG badging.
---
2015 Porsche 918 Spyder
Monterey Jet Center Auction | Estimate $1,450,000 – $1,650,000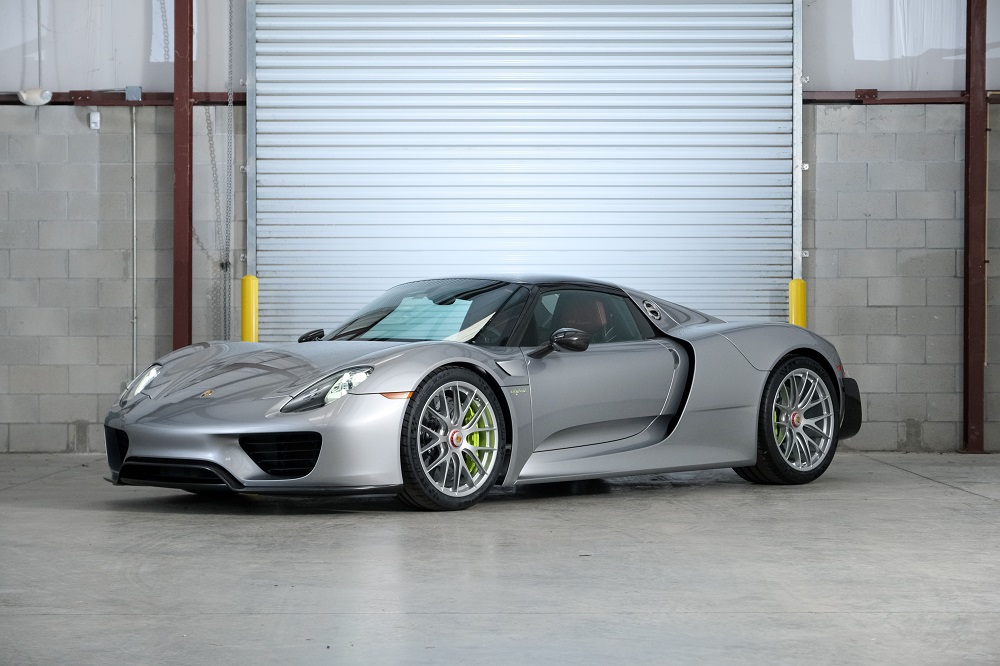 The 918 Spyder embodies the essence of the Porsche idea: it combines pedigree motor racing technology with excellent everyday versatility, and maximum performance with minimum consumption….In short, the 918 Spyder will act as the gene pool for the Porsche sports cars of the future.
– Porsche Press Release, May 2013
At the start of the 2010s, the three titans of the supercar market – Porsche, Ferrari, and McLaren – all committed to developing their own interpretations of hybrid-electric hypercars. The triumvirate were developed against the 21st century backdrop of increasing global environmental awareness and public scrutiny of the motor industry and the focus of manufacturer development needed to shift to achieving ultimate performance as efficiently and sustainably as possible. Remarkably, all unveiled their new models – the 918 Spyder, LaFerrari and P1 respectively – within the same calendar year, 2013, with each offering a unique perspective on the harvesting and deployment of hybrid energy.
If you are interested in more news click here.
---