The success of the SL models dates back to 1952, when the original SL (W 194, left) dominated a lot of races. We visited people who have an affection for the successor models, e.g. the "Pagoda" (W 113, right).

More than a nice car.
I'll confess to one thing – straight away and quite freely: I'm a Carrera Panamericana-inspired fan of the SL series, whose history began with the first test drives in the spring of 1952. And my fascination has its origins in this original model of the SL itself: the legendary 300 SL racing sports car (W 194).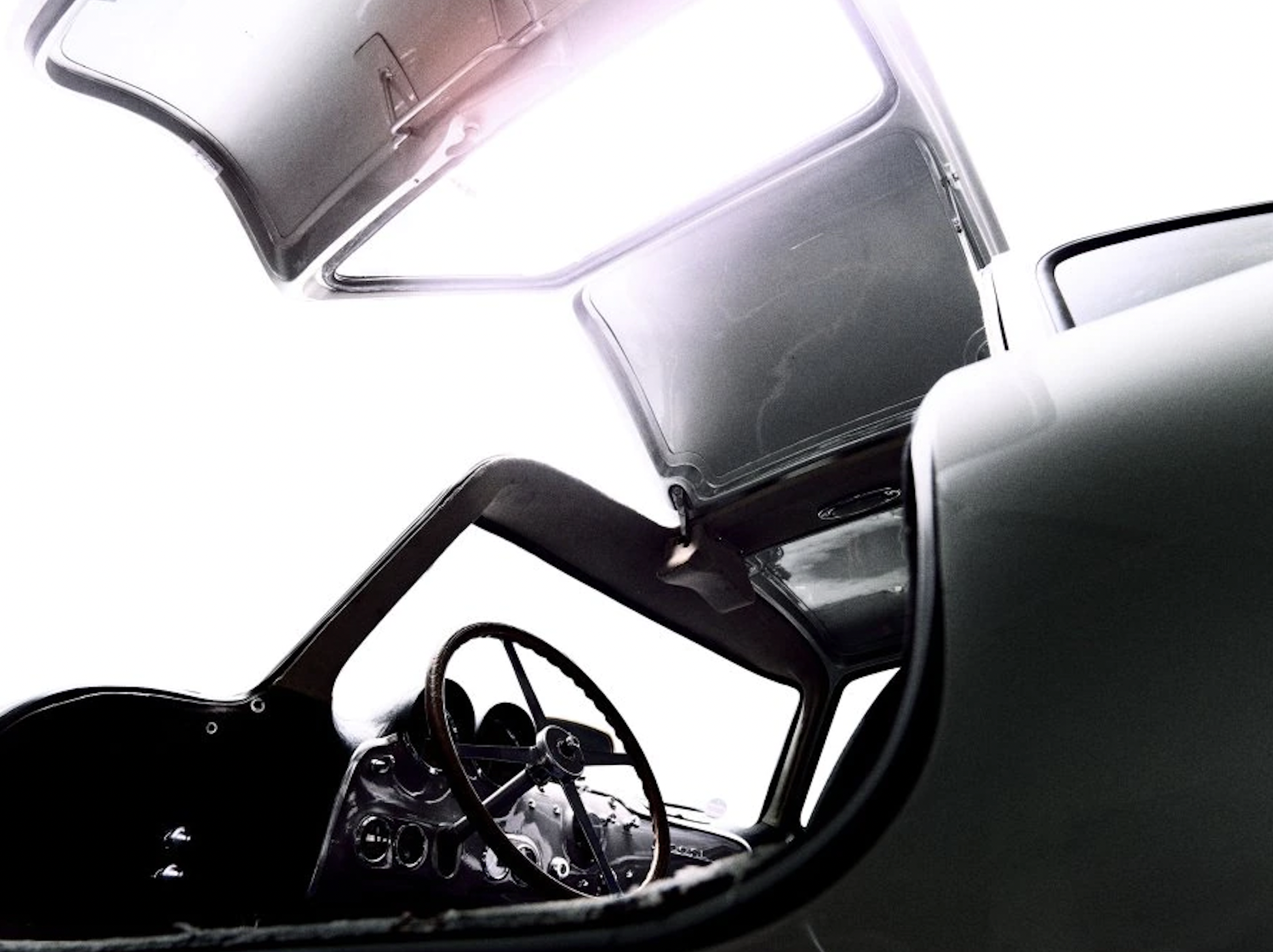 Its irresistible sporting genes and groundbreaking design set it apart from everything else. Mercedes-Benz made its reappearance in racing in 1952 with this streamlined racing car, with a drag coefficient of just 0.25 – phenomenal at the time – and which initially featured a strange flap-like entrance instead of a door. And what a reappearance it was!
A nice car? It is that and so much more! The W 194, chassis number 002 is the oldest Mercedes-Benz SL (Super Light) still in existence. The first successful outing of the new racing car was when Karl Kling finished second at the wheel of a W 194 in the Mille Miglia in May 1952. In total, only ten units of the original SL were built.
Beautifully designed racing cars with the star.
These beautifully designed racing cars with the star won almost every other important race of the year. Drivers Karl Kling, Hermann Lang and Fritz Rieß achieved a triple triumph at the Swiss Grand Prix, also in May. Race officials at the 24 Hours of Le Mans that followed in June took exception to the entry flaps. The Mercedes-Benz team had to react quickly, and so the legendary gull-wing doors were born. These cleared the way for the 300 SL double victory at Le Mans. Nothing less than a quadruple victory followed at the Eifel race on the Nürburgring in August 1952.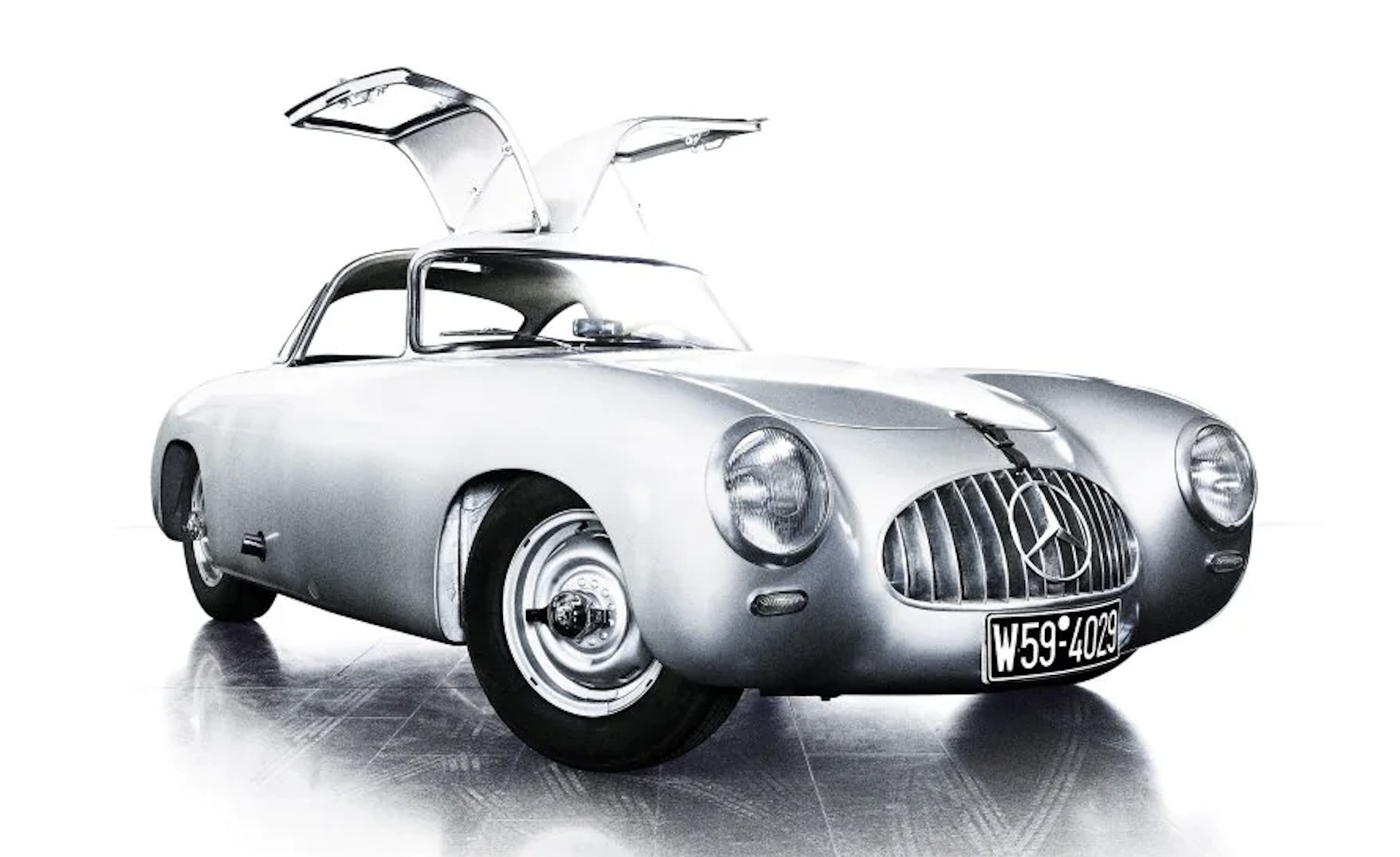 Then came the climax in November 1952: the Carrera Panamericana! Five daily stages over more than 3,000 kilometres through Mexico. On asphalt, gravel and even more arduous terrain. Curves as sharp as razor blades, potholes as deep as pits. Constant full throttle. The Carrera was acknowledged as the Mount Everest of rallies – one of the most prestigious racing events in the world. In the end, the 300 SL Silver Arrows with their spectacular gull-wing doors scored a sensational double victory, despite a vulture strike on the windscreen of the car which would later go on to win, which has long passed into legend.
"Sports Car of the Century."
The driver team of Karl Kling and Hans Klenk triumphed ahead of the Hermann Lang and Erwin Grupp partnership. The 1952 motor racing season marked the beginning of the impressive Silver Arrow era – with the racing successes arousing a worldwide appetite for a production sports car for the road. This, the 300 SL (W 198), progressed in the mid-1950s to become the economic miracle on four wheels. Automobile designers, technicians and engineers flocked to the brand with the star, which experienced a renaissance.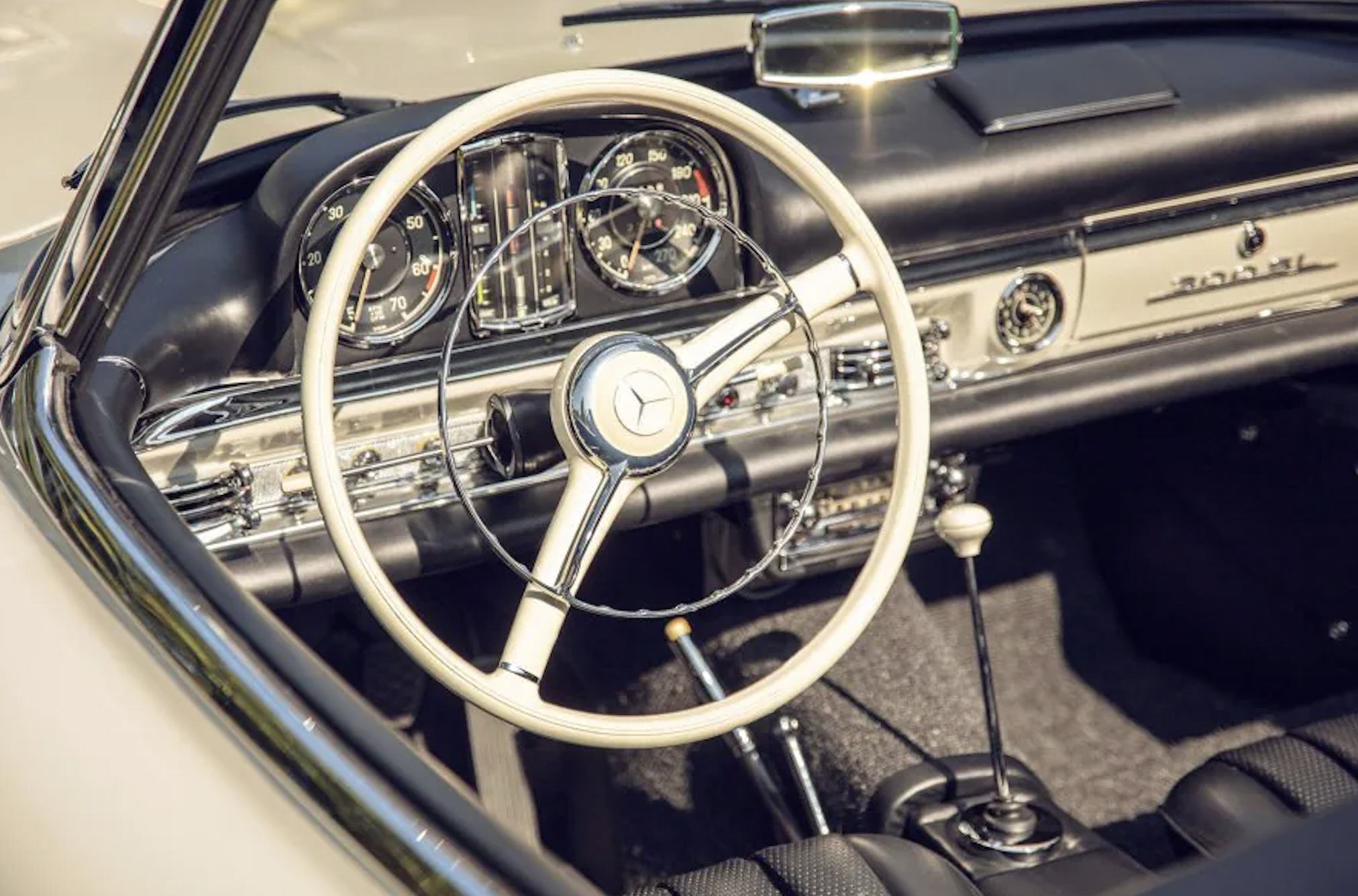 Out of the W 194 came the W 198. The 300 SL series sports car became a best-seller from 1954 (first as a coupé, then from 1957 to 1963 as a roadster too), especially in the United States and Western Europe. Some of the more prominent early owners were stars such as Frank Sinatra, Clark Gable, Tony Curtis, Romy Schneider, Aga Khan, Alfried Krupp and Baron von Thyssen. Readers of the German specialist magazine "Motor Klassik" even voted the 300 SL "Sports Car of the Century" in 1999.
The successor to the 300 SL was the "Pagoda" (the W 113 was delivered from 1963), with car designer Paul Bracq creating his own monument.
Synonymous with outstanding innovation.
It was followed by the reign of the R 107, which was built until 1989 – and celebrates its 50th birthday this year. It shattered records for all SL models, successfully keeping its place on the market for 18 years and finding tens of thousands of enthusiastic buyers around the world.
In 1989, the R 129 appeared as its successor, one of the masterpieces from Bruno Sacco, the long-time head of design at Mercedes-Benz.
All SL models have one thing in common: they are synonymous with outstanding innovation and cultivated sportiness.
The second half of 2021 will see the SL models developed exclusively by Mercedes-AMG presented for the first time. Its "face" is defined by the distinctive AMG-specific radiator grille. So we've come full circle – and there can be no doubt about it: the legend lives on!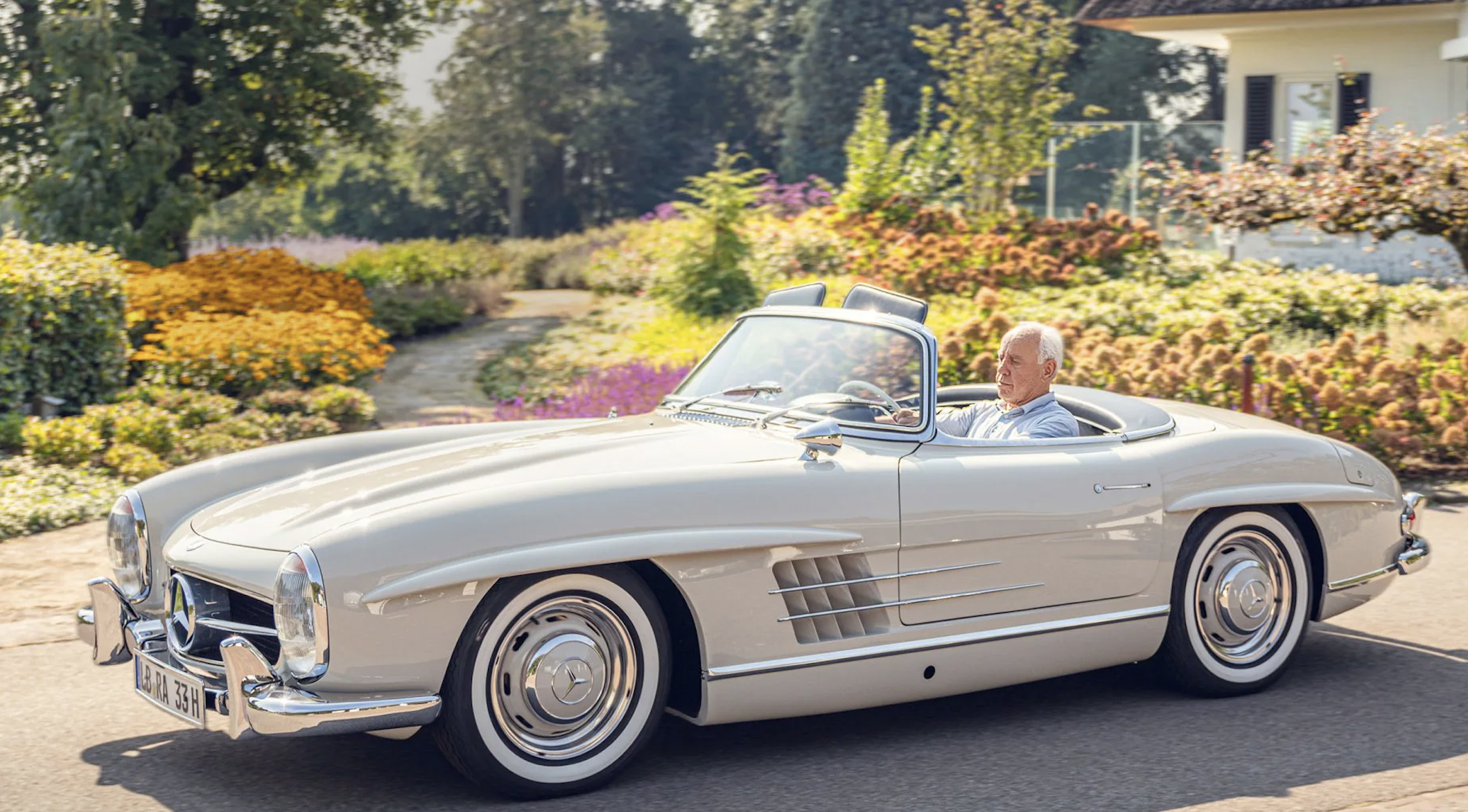 300 SL: Hans Werner Aufrecht.
Hans Werner Aufrecht has not shown his small but very select collection of classics to many other people. On this sunny day though, the AMG co-founder decides to make an exception. We are in a small town far in the east of the Netherlands, where flat land, forests, and large pastures, mostly with grazing horses, surround us. The closest well-known town is Enschede. The electric gate opens up. Straight ahead lies a white thatched holiday home. A garage is located to the right of the home, also painted white, also with a thatched roof and with the gates already rolling open for us. Two SL models are parked inside: a white-grey 300 SL Roadster and a 280 SL "Pagoda" in metallic moss green. Hans Werner Aufrecht (82) also owns a black 280 SE 3.5 "Flachkühler" (low grille) and a white-grey 300 S Cabriolet A.
And now we come to the W 198. "When I started at Mercedes in 1959, I was still driving a small Fiat," says the good-humoured "A" of AMG. "But I was already dreaming big, even back then: I swore one day I would own – and more importantly drive – a 300 SL Roadster. And 33 years later, in 1992, I was able to turn my dream into reality. Engine, transmission, frame, axles, paint, interior, everything is exactly how it should be. Perfect!"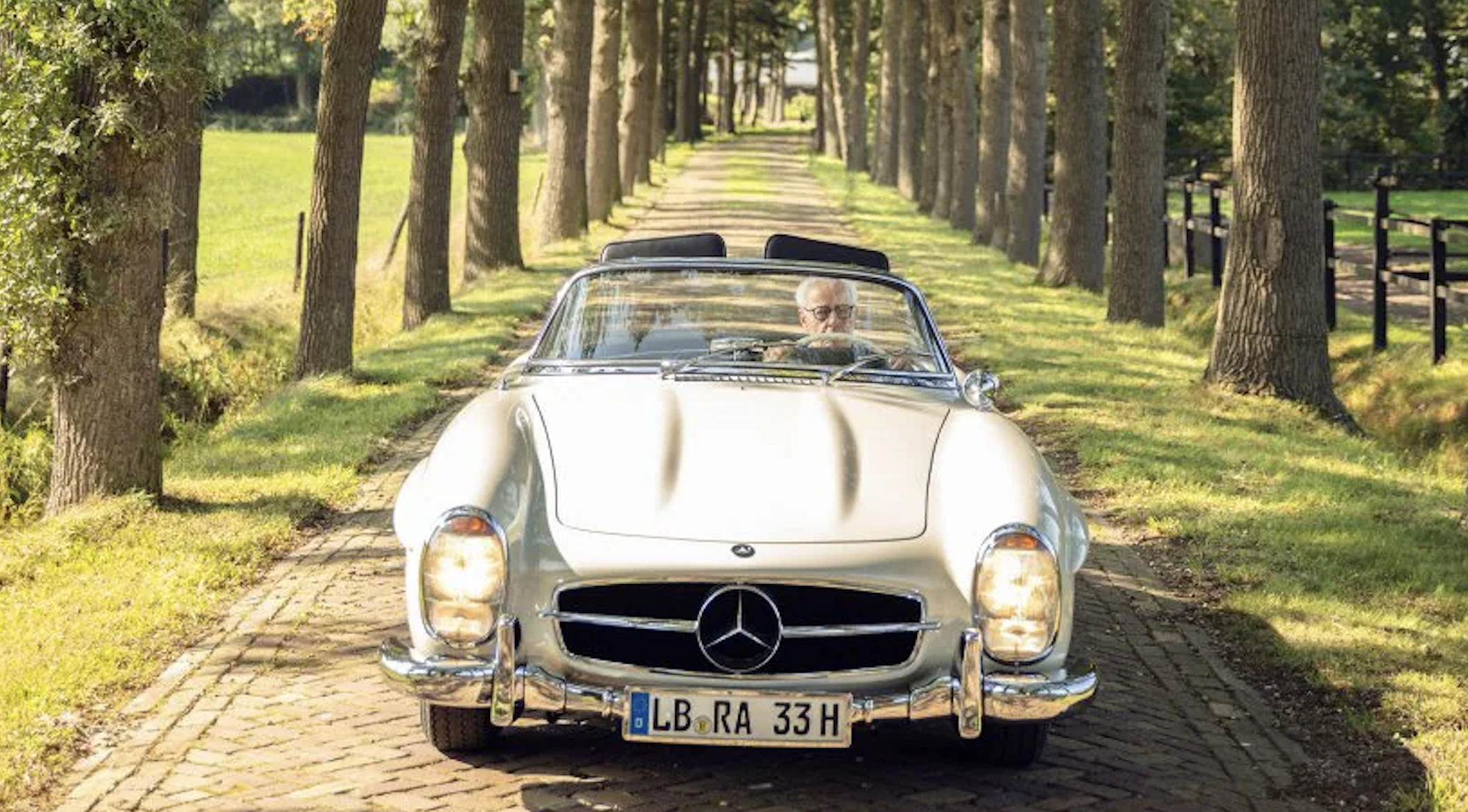 With routine ease, he folds back the soft top, ­pushes the sports car out of the garage and fires up the six-cylinder engine. Why does he own the Roadster and not the "Gullwing" model? "The Roadster suits me and what I need much better," replies the entrepreneur.
A work of art.
"I can get in and out of it easily. And the car does not heat up as much as the Gullwing in summer. The Gullwing's an icon, there is no question about it. A work of art. I value the Roadster more though." The two-hour drive unfolds under almost cloudless skies through green avenues, past large stud farms and the manicured lawns of golf courses.
The destination is a very well-known restaurant in this area, where footballers from Ajax Amsterdam and other top Dutch clubs also occasionally stop off. After finishing the meal, Hans Werner Aufrecht contentedly reaches for the car keys again. "So, that's enough for a break now," he says. "My Roadster needs the road."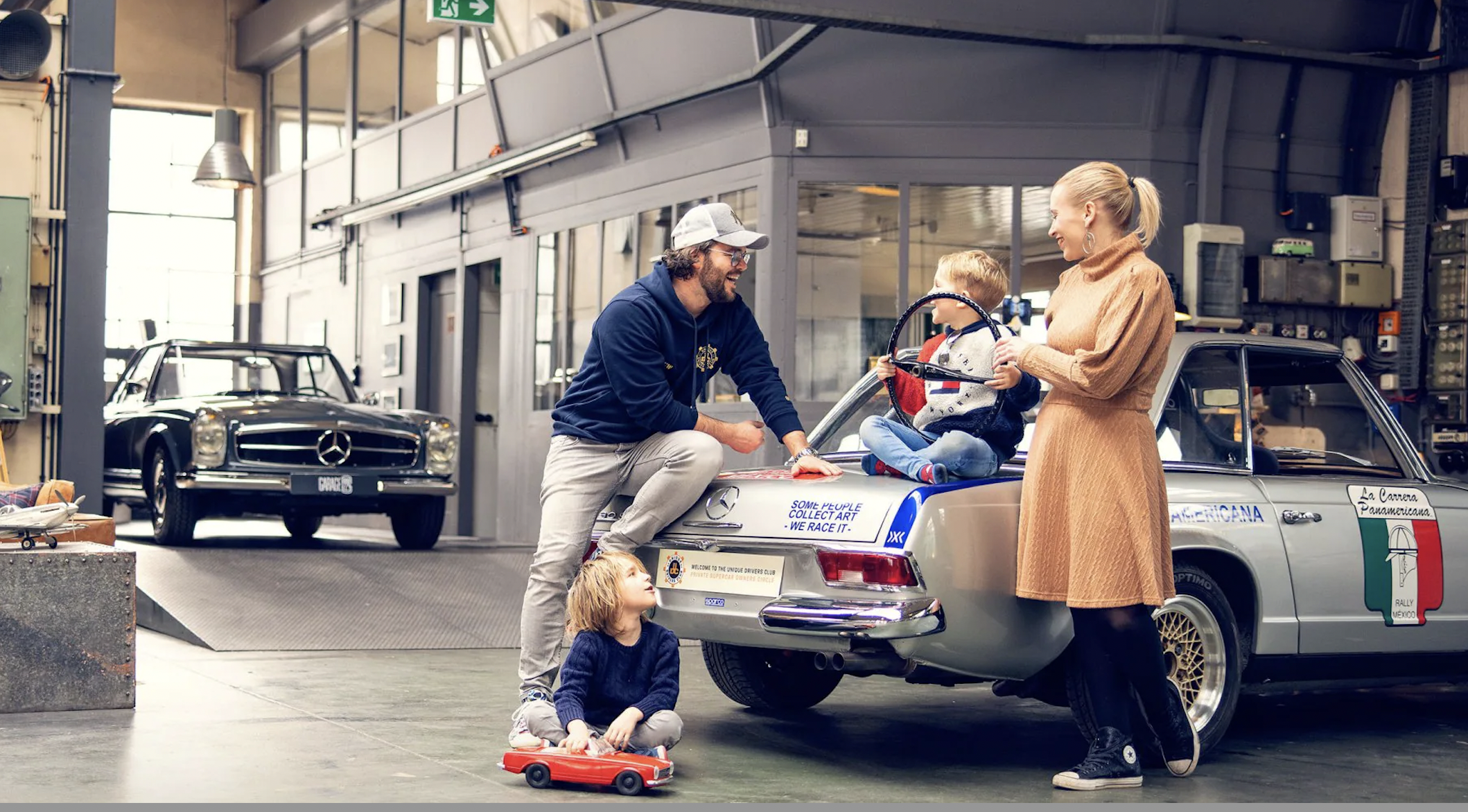 230 SL (W 113): Lilian and Christian Werner.
"This is precisely what we both loved about the car right away: seeing the Pagoda in a completely different light," says Lilian Werner (34) a business administration graduate who currently works in the Controlling department of an automotive supplier in Stuttgart, Germany. Her husband, Christian (36), an entrepreneur who is also a business administration graduate and worked as a student trainee at the Mercedes-Benz Classic Center, laughs and lifts his baseball cap: "Back when we bought the 230 SL three years ago, it already had that distinctive racing car look, including the Carrera stickers. It was rebuilt in the United States and the ownership had passed through several hands by that point. We didn't even know what the Carrera was back then.
Then we got involved with the rally and found out for ourselves: it is still very much around. A pure 3,000-kilometre-plus driving adventure every October from the south to the north through Mexico." They talked it over and made their long-term plan: "In 2022, we'll be in Mexico with our 230 SL," Christian says. "It's pretty much going to be the adventure of a lifetime," says Lilian. She is sitting at the living room table where her two sons, Felix (5) and Jakob (7), are also seated. The Werners haven't accumulated much rally experience so far. They only drove the Baltic Sea once – in their 280 SEL.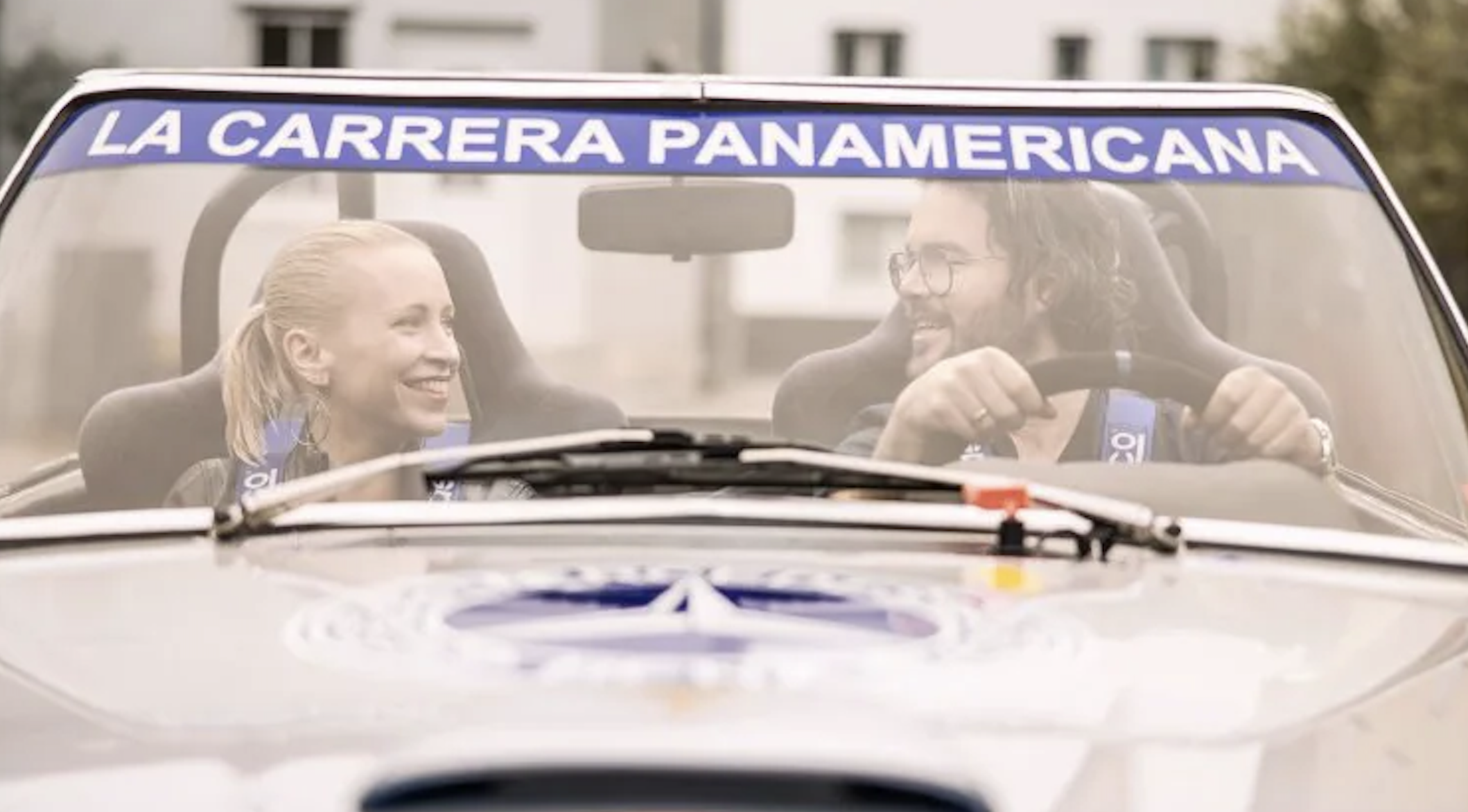 Their car is special.
For now, they are focusing on how to finance their Mexican racing adventure. And they can both do the maths: Vehicle conversion for the Carrera, including roll cage: approximately €20,000. Entrance fee: €8,000. Flight and hotel costs for themselves, their two sons, a mechanic and a cameraman they plan to take with them: €25,000. Shipping, customs, escort vehicle on site: another estimated €15,000. In addition to that, there are the fuel and toll costs, safety reserve for repairs … Lilian waves dismissively. "The financial challenge is huge too," says the bookkeeper. "But what the hell! We're driving the Carrera. End of story." "Sponsors are welcome," adds her husband. "Testing the limits together, and stretching them a bit, is something that you don't get to do every day. That makes it worth the risk." The story in a nutshell: their car is special – and so are they!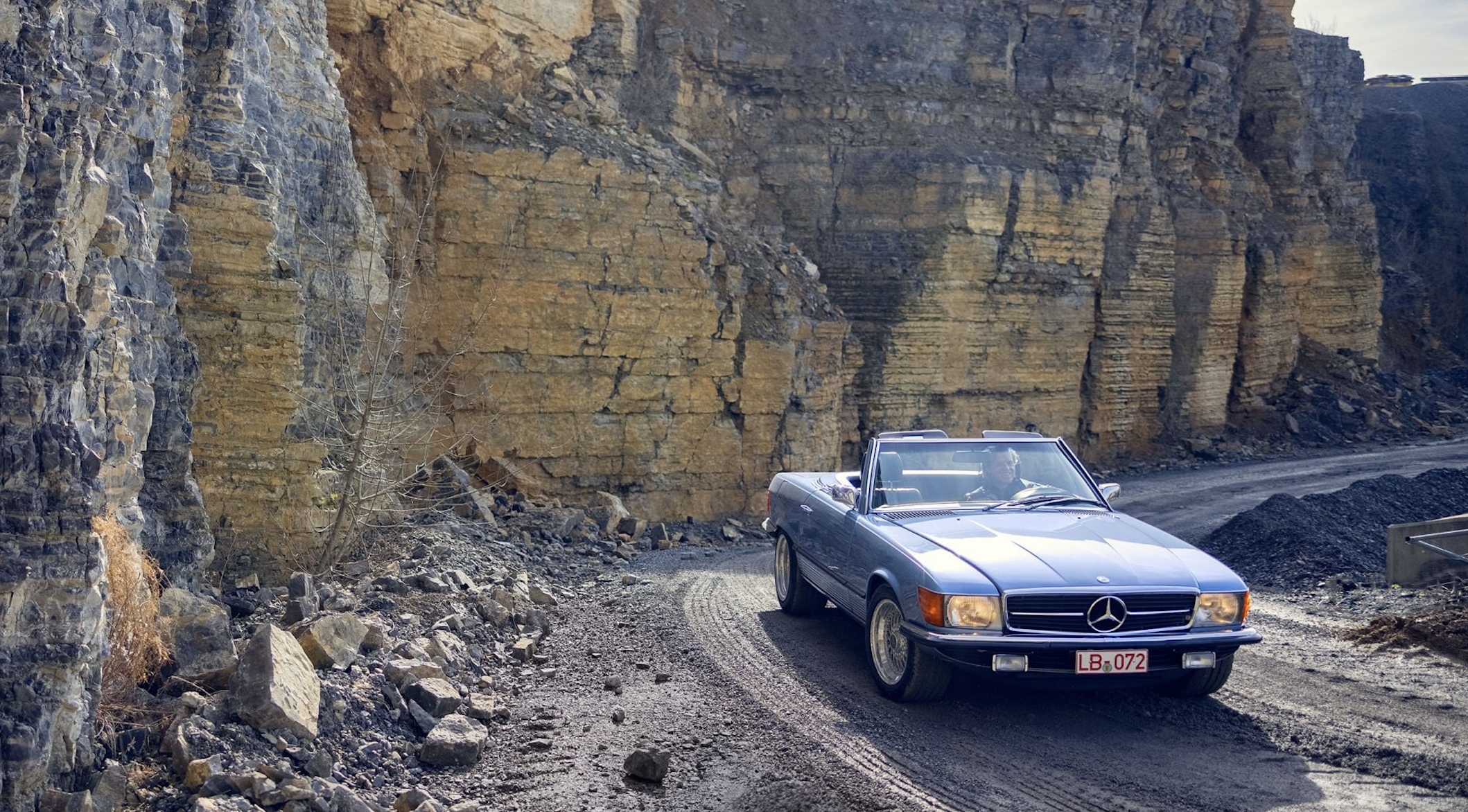 450 SL (R 107): Jürgen Müller.
"I've always been clear in my own mind about what I prefer in cars. I think it all came from the film 'Mad Max', which I first saw when I was a teenager: eight-cylinder, rear-wheel drive, long bonnet, short rear!" explains Jürgen Müller, IT specialist and family man from a small town not far from Vaihingen an der Enz in the south of Germany. "I had already bought my first classic car by the time I was 18 years old. For a long time, muscle cars were my thing. But in 1998 my focus switched over to the SL. A friend tipped me off that a disassembled 450 was sitting in a paint shop in Göppingen. Had been for several years at that point. OK, I thought, so I'll check it out. Why? Because I never take the easy route. I'm always on the lookout for a challenge."
The industrial hall in Göppingen was draughty and dusty. And right in the centre of it stood the almost completely dismembered car. Most of the parts were packed away in boxes and cartons.
Müller purchased the lot for 7,800 marks. He reassembled the R 107 gradually over time – "with a lot of dedication, heart and soul" – at home in his workshop: "It took me well over 200 hours and about 12,000 marks to bring this forgotten beauty back to life. Not everything is 100 per cent original – the BBS rims and steering wheel for example – but everything is of a piece as far as I am concerned."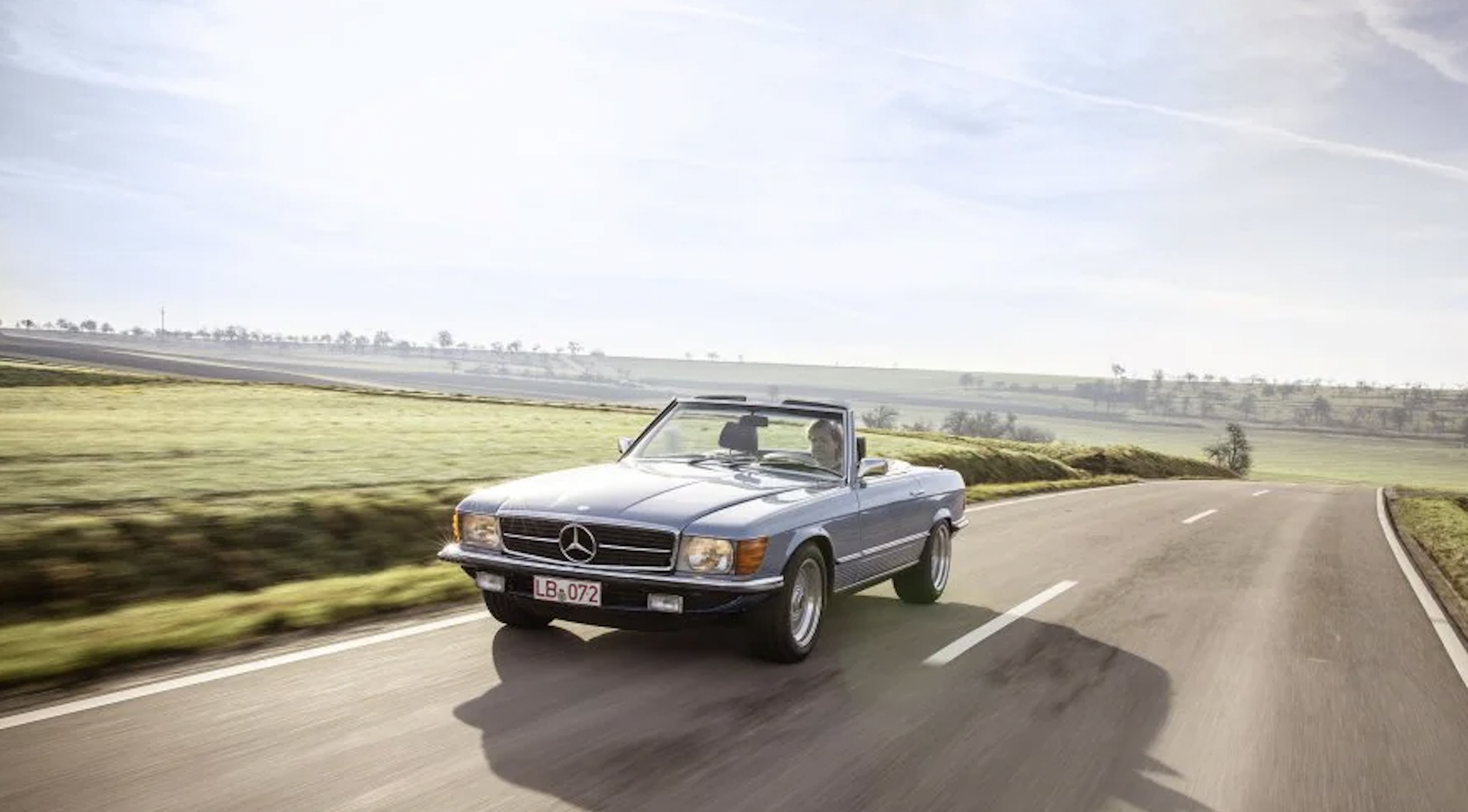 Fully in his element.
What does he particularly like about his R 107? "The face. I think my SL looks like an angry bull with a wrinkled forehead. And the star is his nose ring." In 2003, Jürgen Müller chauffeured his wife, Ulrike, in the SL to the registry office to get married. Two years after that, their daughter was born. The Müllers would often drive across the country on warm summer days with the top down. And today? Müller runs his hand through his curly hair. Searching for the right words. "In such times of great uncertainty, you look for certainty. And that's exactly what the R 107 exudes for me," he answers. "I know that SL stands for super light. But for me it's all about spritely lightness. Or even security and love of life."
Then he indicates and swings off the road onto the site of a gravel and concrete plant. This is where he is fully in his element. And so is his 450 SL.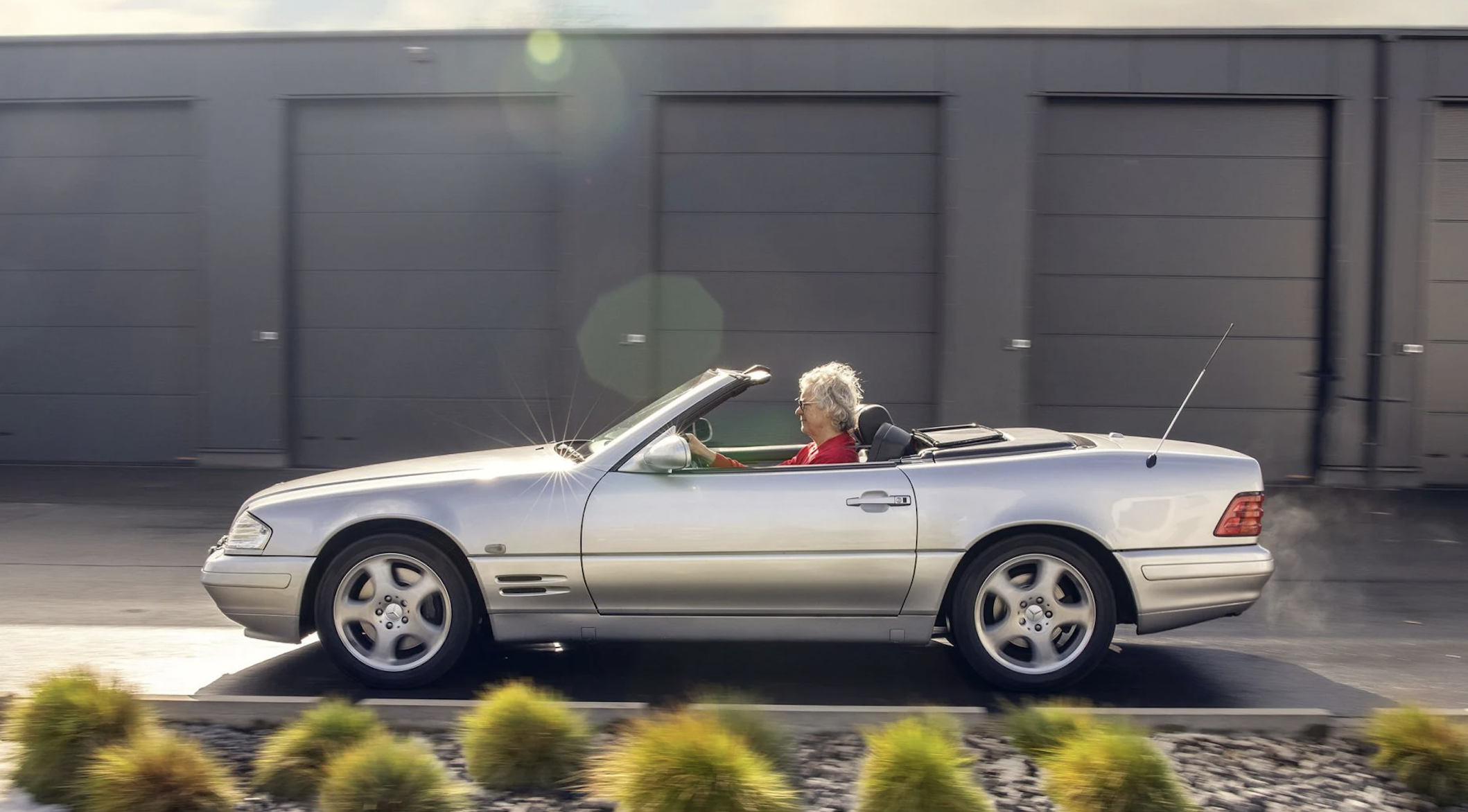 SL 320 and SL 500 (R 129): Wolfgang Rosenbaum.
Wolfgang Rosenbaum and his wife had plenty of wonderful plans for their retirement. "We wanted to get a convertible and take it easy driving down towards the sun and the sea, preferably right down to the south of Italy," says the former entrepreneur and dental technician from Hamm in Westphalia, Germany. So he and his wife set off in search of a suitable classic car, doing their research "with an open mind". Eventually they found the car of their dreams at an auto dealer in Bielefeld in January 2018: a 1995 SL 320 (R 129), brilliant silver metallic, and in great condition. "A real top-end car that was also affordable. We agreed immediately; we knew that was the one for us. We were poised to set of on our journeys in April," recalls the 67-year-old.
But before they could, fate took a hand and spoiled their travel plans: Rosenbaum's wife suddenly passed away. So instead of taking the trip as planned, he bought himself a second 129-series roadster in summer of 2018. This one – an SL 500, manufactured in 2000 – had a bigger engine, but an identical paint job. And that was the one he ended up setting off in for Italy a year later. "I spent three weeks driving and covered about 5,000 kilometres on the road in Tuscany, both on the Adriatic and the Riviera," Rosenbaum says. "Travelling in this car – mostly with the top down, of course – is just terrific."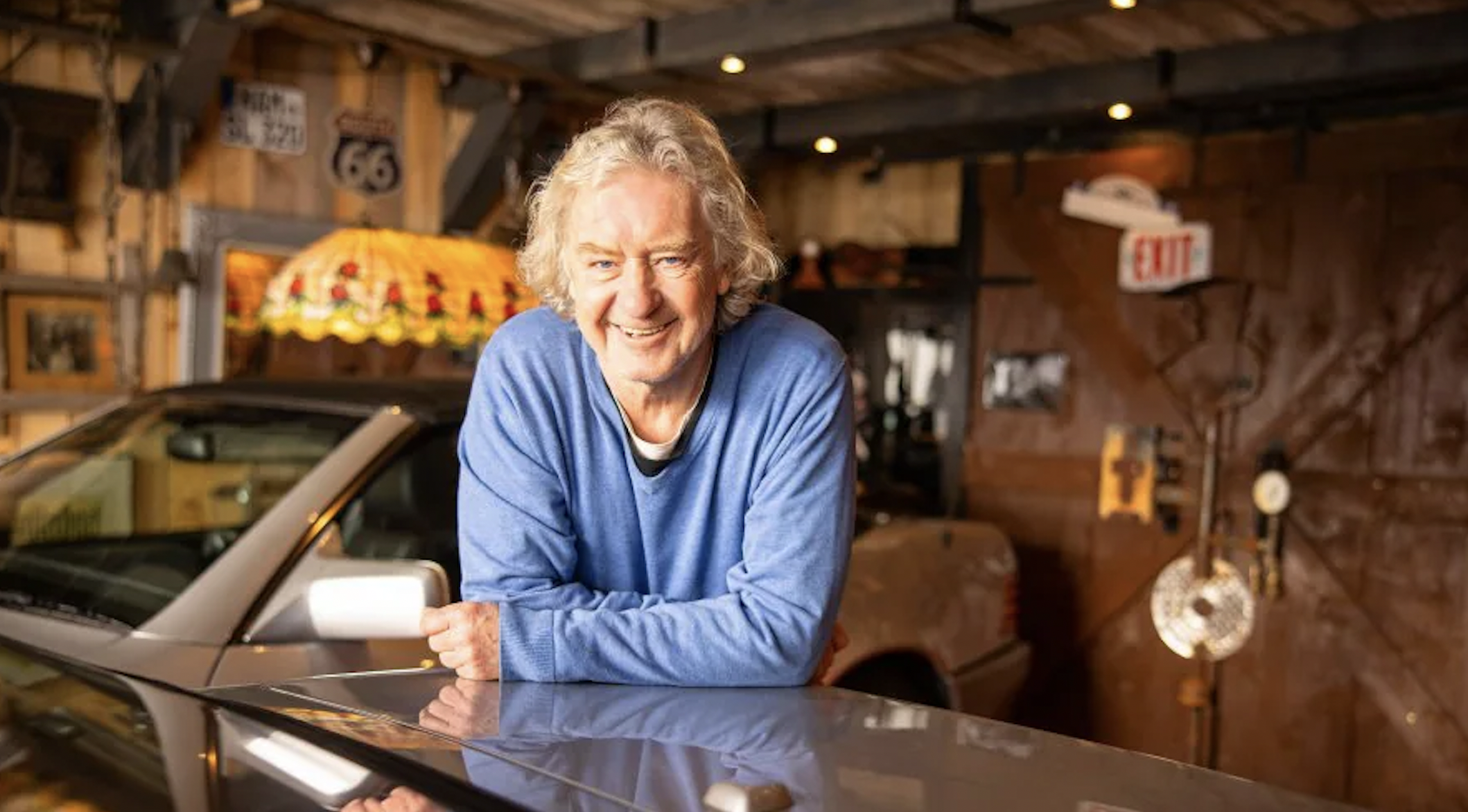 The next trip.
What does he particularly like about the SL 500? The Westphalian doesn't have to think twice to answer: "Everything! The design, the workmanship – and this sublime feeling when cruising. If you need a little more horsepower, the engine responds immediately. That's phenomenal."
He has recently given his two-car garage an extensive makeover, covering the walls with wood and tiles, installing ceiling beams, laying electric lines, hanging pictures and lamps, and painting the door signal red. He wants to have a garage party here with friends as soon as he can.
So where is the next trip going to be? "Towards the Baltic Sea island of Rügen," says Wolfgang Rosenbaum. "I'm just going to head back onto the road. If I like a place, I'll stay a while. But only if I like it. After all, I'm completely free!" More information
Report by Jörg Heuer /Source: Mercedes Benz Classic
Photos: Igor Panitz and Alexander Babic