A 1959 BMW 507, first owned by King Constantine II of Greece, will grace the elegant seaside resort of Knokke-le-Zoute as the top lot, with an estimate of €1,900,000 – 2,300,000, in the Bonhams Zoute Sale on Sunday 11 October 2020.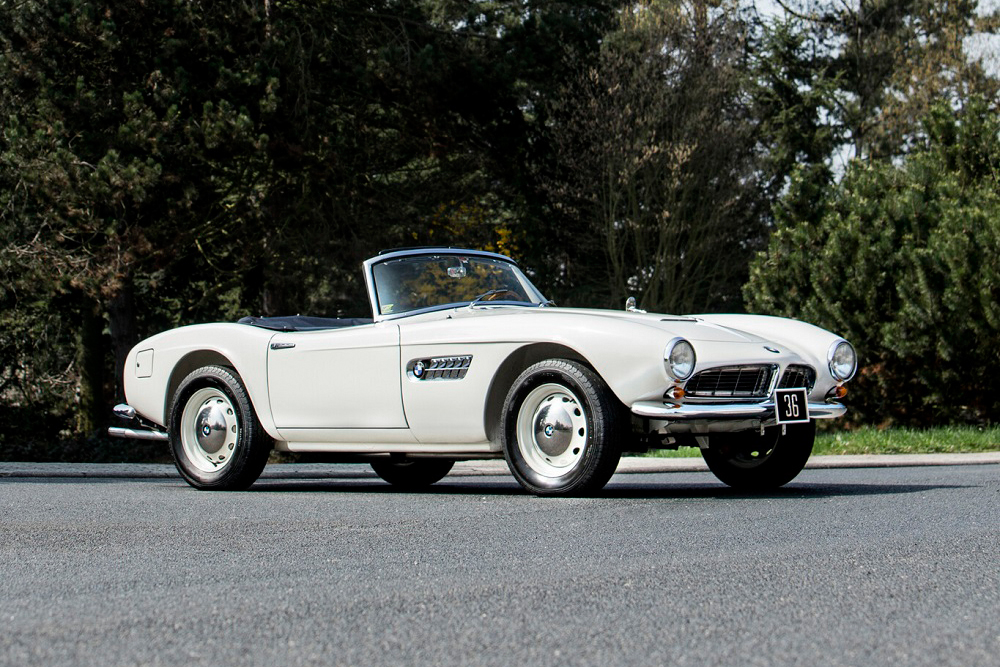 ---
King Constantine's BMW 507
(€1,900,000 – 2,300,000)
The 507 was one of the most sought-after, and indeed expensive, convertibles of the 1950s, rivalled only by the far larger production Mercedes 300SL, beloved by celebrities and car aficionados. Alain Delon, Ursula Andress, Elvis Presley, John Surtees and the Aga Khan were among the most notable of the exclusive group of 252 owners.
King Constantine's car was originally finished in metallic grey paintwork and was fitted with options fit for a king – a Nardi steering wheel and Becker Mexico radio, complete with a state-of-the-art phone aerial – and bore the exclusive '36' registration plate. 
Thirty-four years later, with the car discovered in Greece, its current owner commissioned a complete nut and bolt restoration by a renowned German 507 specialist in Bavaria, carried out over three years and costing six-figures. The bodywork was resprayed in 'Federweiss' white paint and the interior retrimmed in dark blue leather with a matching soft top. 
The beautifully restored 507 has recently taken part in the world's most prestigious motoring events including the Mille Miglia and the model's 60th anniversary celebration in 2005. 
---
King Baudouin's Aston Martin DB2/4
(€250,000 – 300,000)
The DB2/4 was also restored, in the early 2000s, to the original specification of King Baudouin, which included the aptly named 'Royal Crimson' coachwork with contrasting beige Connolly leather. 
One of the fastest British cars of its day, its 140bhp power output and close on 200km/h top speed no doubt appealed to the royal who was also known for owning a DB2 DHC, and several Maseratis. 
Aimed at the 'sports car enthusiast with a family' the elegant two-plus-two DB2/4 was also described by The Motor magazine as 'the fastest car in the world capable of carrying two people with a month's luggage'. Its occasional rear seats could be folded down to create double the luggage space, accessed by a then pioneering example of the now commonplace 'hatchback' concept.  
The King's DB2/4 was supplied by the Belgian Aston Martin concessionaire Mannès but was delivered to the Belgian embassy in Paris, for security reasons, and registered on diplomatic number plates.
This car is now returning to Zoute, where it appeared at last year's Concours d'Elégance in the 'Cars of the Belgian Royal Family' class, and is offered with the records of its royal ownership. 
---
From Kings to the Commendatore

.

The 250 GT Lusso Berlinetta

(estimate €1,600,000 – 1,800,000)

Founded by Enzo Ferrari – 'Il Commendatore' – the Maranello marque is considered automotive royalty and the Zoute Sale will offer two examples of its revered 250 series. The 250 GT Lusso Berlinetta, styled by Pininfarina and built by Scaglietti, combined racetrack aesthetics and performance, its 3.0-litre V12 engine achieving a top speed of 250km/h, with grand tourer comfort. Considered by many as the series' most elegant model, it is to this day considered a true icon of the Maranello marque. This 1963 example, delivered new to France, has participated in the Tour Auto. It was the subject of a Ferrari-certified concours-standard restoration in 2018. 

The Lusso will be joined by an earlier 1961 Ferrari 250 GTEof the first series – the marque's first production four-seater, also capable of reaching speeds in excess of 230 km/h. The GTE was officially unveiled to the world at the Paris Salon of 1960. This example carries an estimate of €360,000 – 420,000 and is concours restored with Ferrari Classiche certification and continuous known history from new.
---
1957 AC Bristol Roadster
(estimate €400,000 – 500,000)
After participating in several rallies, the car on offer was an actual challenger in the 1960 Le Mans 24 Hours, the AC sporting number 57 for the Rambaux-Boutin team, but had to abandon the race after 14 hours with engine failure. 
Having been restored, the car now performs perfectly and has been treated with care over the past 20 years by its current custodian. However, it still retains its original chassis, coachwork to Le Mans specification and accessories including a bespoke windscreen, steering-wheel and period photos. 
---
1976 Porsche 911 Carrera 2.7 MFI Targa 'Belgian Gendarmerie',
(€170,000 – 250,000)
One of only twenty 911s ordered new by the Belgian government and delivered by D'leteren in Brussels, these were the fastest-ever police cars until 1983. This car was one of the very last examples of the 1976 enhanced performance mechanical fuel injection 'Sondermodell' range, of which only 113 cars were produced. 
It was discovered in 'dry barnfind' condition after 30 years of dry storage, and it is offered mainly unrestored but in good mechanical order, with its 210hp Carrera engine freshly rebuilt and all period police accessories in working order. 
---
Report by bonhams.com
---