Is this a double-take moment or what? A classic Bentley Continental from the 1960s parked up in a posh street – with a cable plugged in to its rear flank. It's the first fully electric Continental, and the latest in the growing trend of converting the cream of classic cars to battery power to give them a green new future.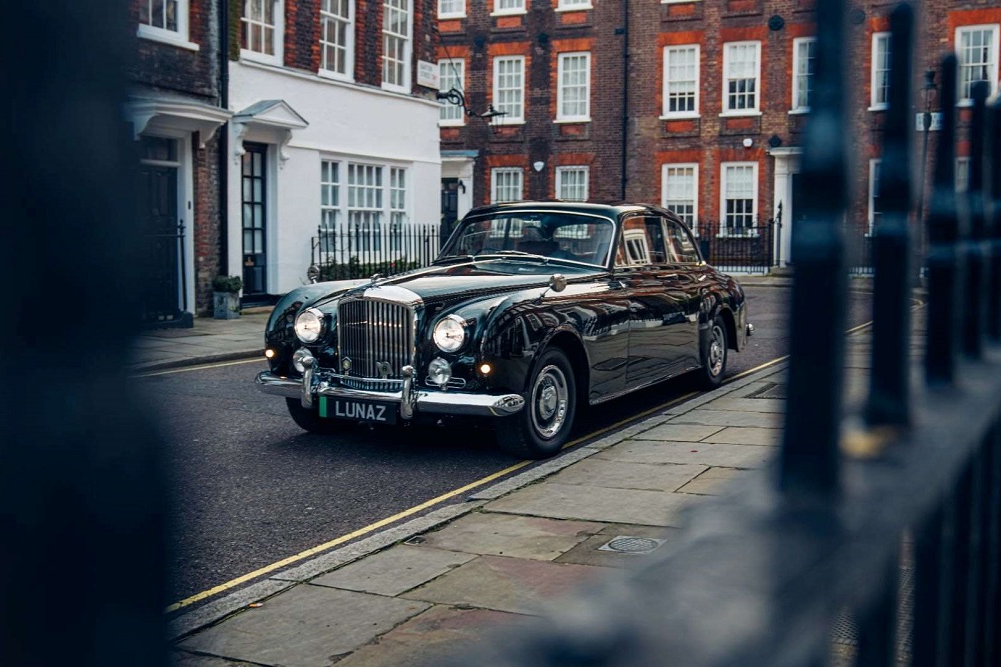 At the very top of the market, one company has specialised in these conversions: Lunaz. Founded in 2018 and based at Silverstone, Lunaz has attracted both high-profile investors, such as David Beckham, and technical brains, in the form of former Renault F1 technical director Jon Hilton.
Together they have come up with some spectacular electric offerings. In the past Goodwood has seen Lunaz conversions of classic Rolls-Royce, Aston Martin, Jaguar and Range Rover models, but the 1961 Bentley S2 Continental you see here is the rarest (and probably most valuable) classic the company has "upcycled" for an emissions-free future.
All-electric it may be, but the Conti according to Lunaz hasn't forsaken its raison d'etre: the Continental always was meant to be the high-speed tourer of the family. This one shouldn't have any concerns on that score.
Lunaz says 0-62mph takes 6.9 seconds thanks to electric motors rated at 400PS (298kW) and backed up by 530 lb ft (719Nm) of torque. Compared to its original motor, the venerable 6.2-litre all alloy V8, the Lunaz Conti has about twice the power.
There is no word on how long it can sustain its performance, however. Battery size is not specified but it would have to be massive to endow one so large and heavy with the trans-continental touring range its original makers intended it to have. There again an S2 Bentley V8 probably only does about 10mpg…
Another thing Lunaz isn't saying is who commissioned the car, and how much it cost them. Given Lunaz strips the body down to a bare metal shell before rebuilding it all with its own in-house developed electric powertrain, the bill will surely not be for the faint-hearted, and it will come on top of the cost of buying your S2 Continental.
They are nothing if not thorough though. The body and interior are brought to what Lunaz says is as-new standard, even going so far to replace the nylon cord in the seat belts. New materials used inside are of the recycled plastic bottles and olive leaf variety, reinforcing this Bentley's sustainability message.
Brakes are upgraded to six-piston calipers at the front, four-piston rear, and incorporate a regeneration system to divert otherwise wasted energy to the batteries. The power steering goes electric and the suspension is uprated with adjustable coil springs and lever arm dampers which are configurable electronically from the cabin. Quite a lot of work then but as the pictures show, the only clues from the outside are the plug socket and absence of exhaust pipe.
"This magnificent Bentley S2 Continental was already an exceptional motor car," says Lunaz founder David Lorenz. "In its new guise, it's the rarest vehicle ever to be converted to fully electric propulsion, and the most exclusive project we've ever undertaken."
Arguments about whether this is the future for classic cars, or a crime that despoils the petrol-powered original, rumble on, but one thing for sure, they are here to stay. Meanwhile, look out for the ads for a Bentley L-series V8 engine going cheap….
Report by Bob Murray
If you are interested in more news click here.
---