B.R.M Chronographes is proud to announce a limited edition of five watches in the emblematic colors of renowned motorsports brand Martini RacingTM.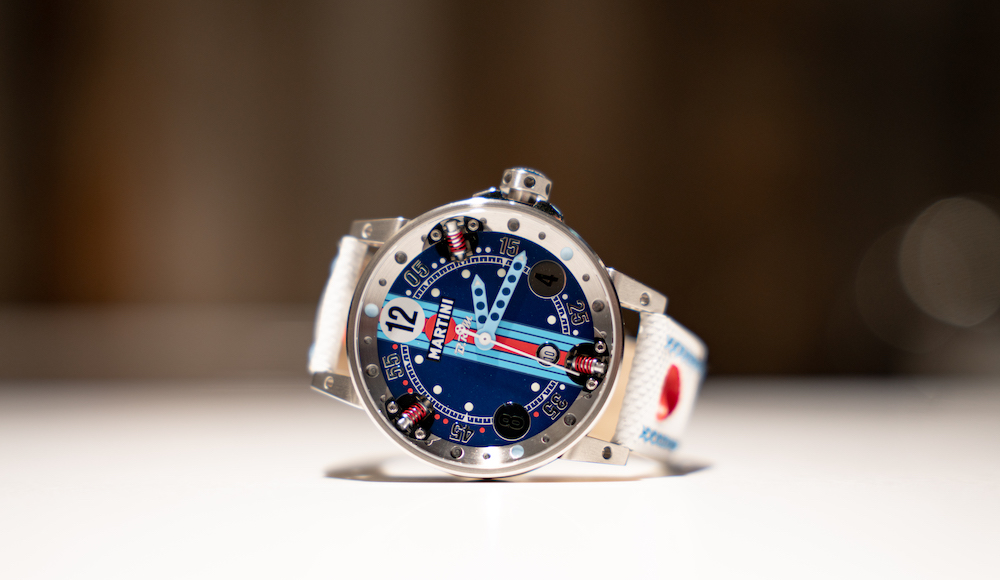 Every auto-racing enthusiast will instantly recognize the famous blue and red stripes adorning the dials of this exclusive collection, comprising two three-hand automatic watches, two chronographs, and one desk clock of strikingly brake disc inspired design.
The B.R.M Chronographes x Martini RacingTM timepiece collection combines the Italian brand's color code with it's drilled profile of lightweight hands, in-house shock absorbers technology, push-pieces and crown feature a series of drilled holes, handmade perforated straps with drilled pin buckle— all the features that have established us as the motor racing pedigree in French watchmaking industry.
---
Three – Hand Automatic Watches By B.R.M Chronographes
---
V6-44-SA-MR-02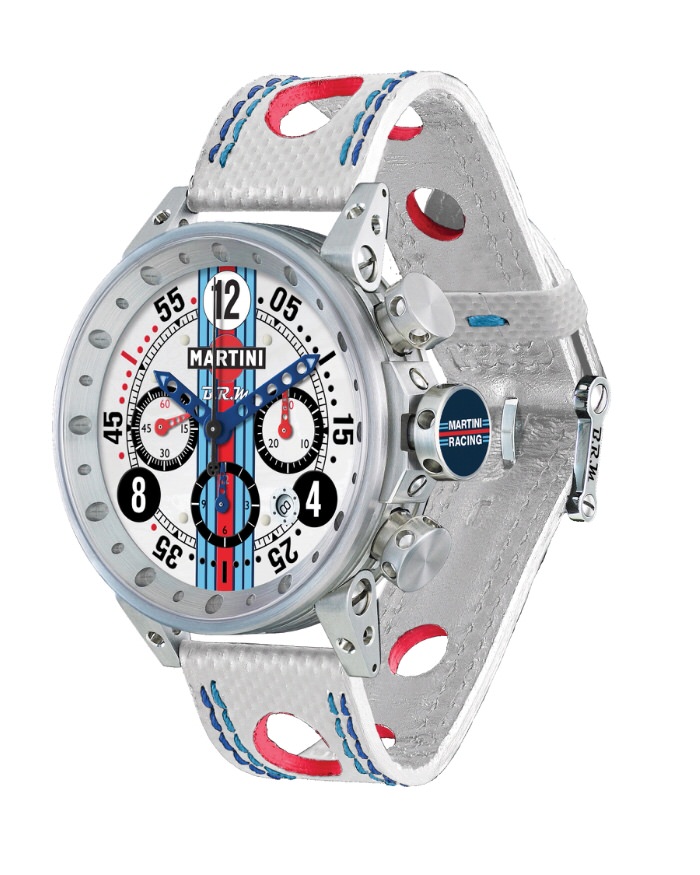 Automatic movement
Stainless-steel case – 44 mm
Screw-on stainless-steel lugs
Stainless-steel crown – Martini RacingTM logo Navy-blue dial – Martini RacingTM stripe- red springs
Blue hour and minute hands – white second hand
White technical-fabric strap with red holes – hand made blue cross-stitches with pin buckle
38-hour running time
Limited edition
---
V6-44-SA-SQ-N-MR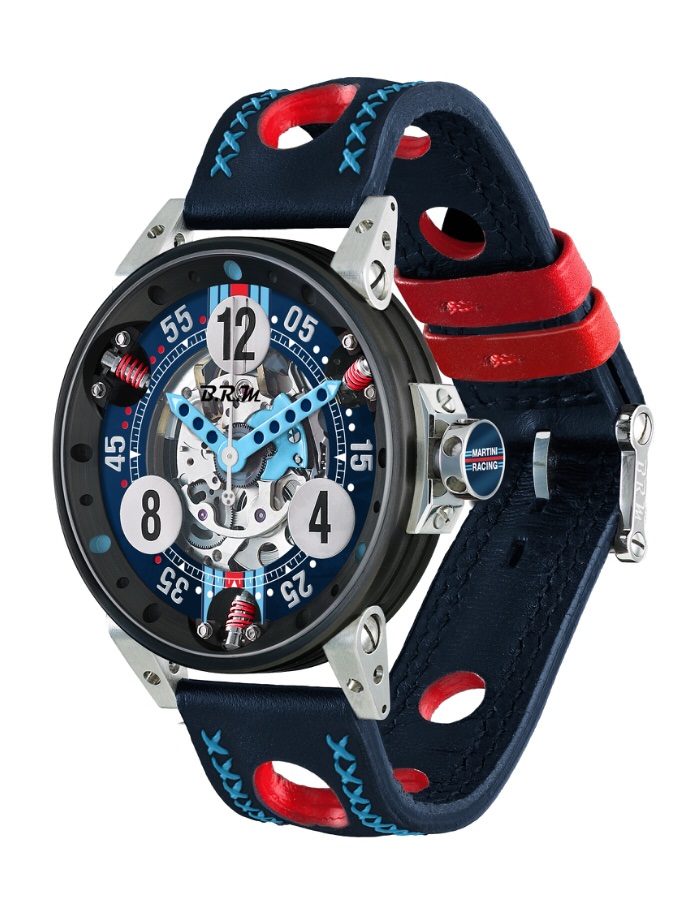 Automatic movement
Black PVD stainless-steel case – 44 mm
Screw-on stainless-steel lugs
Stainless-steel crown – Martini RacingTM logo
Navy-blue skeleton dial – Martini RacingTM stripe – red springs
Blue hour and minute hands – white second hand
Navy-blue leather strap with red holes – with hand made blue cross-stitches with pin buckle
38-hour running time
Limited edition
---
Automatic Chronographs By B.R.M Chronographes
---
V12-44-MR-01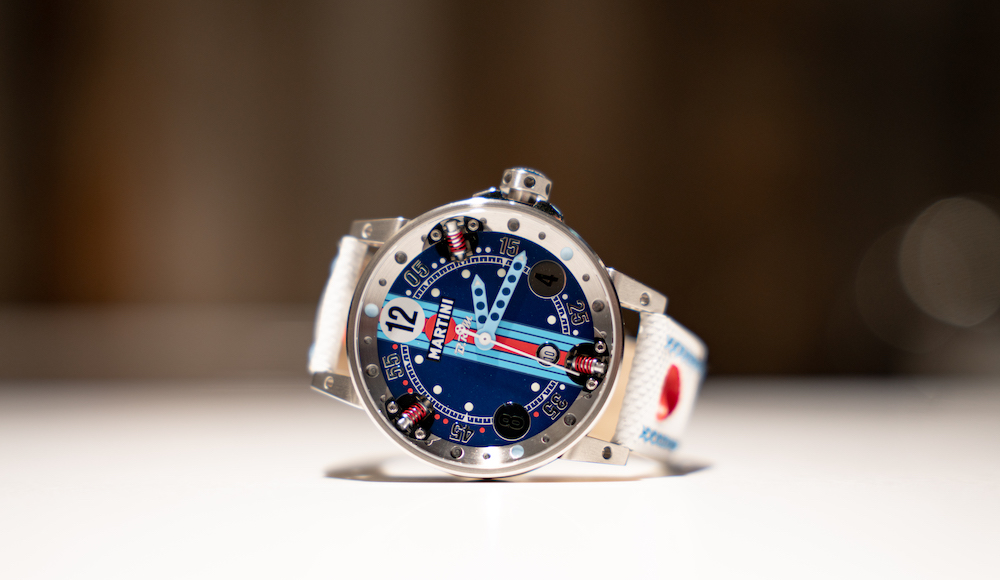 Automatic chronograph movement
Stainless-steel case – 44 mm
Screw-on stainless-steel lugs
Stainless-steel crown – Martini RacingTM logo
White dial – Martini RacingTM stripe
Blue hour and minute lightweight hands – black second hand
White technical-fabric strap with red holes – hand made blue double-stitch with pin buckle
46-hour running time
Limited edition
---
V12-44-MR-02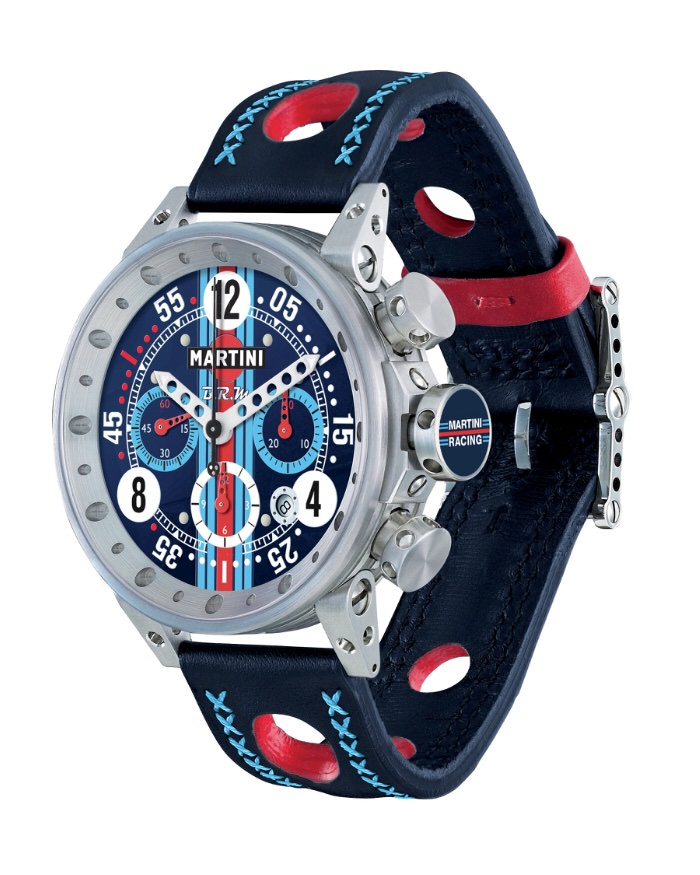 Automatic chronograph movement
Stainless-steel case – 44 mm
Screw-on stainless-steel lugs
Stainless-steel crown and push-buttons – Martini RacingTM logo
Navy-blue dial – Martini RacingTM stripe
White hour and minute lightweight hands – black second hand
Navy-blue leather strap with red holes – hand made blue cross-stitches with pin buckle
46-hour running time
Limited edition
---
more information: brm-chronographes.com
---