This 'Matching Number' LHD Austin Healey was delivered new to the United States on 11th May, 1954. It is one of the earlier examples being a BN1, as they were built between 1953 and 1955. This car is therefore fitted with the desirable 3 speed gearbox with overdrive on 2nd and 3rd gear. This Healey has been most of its life in the United States when it was imported from the USA in 2011.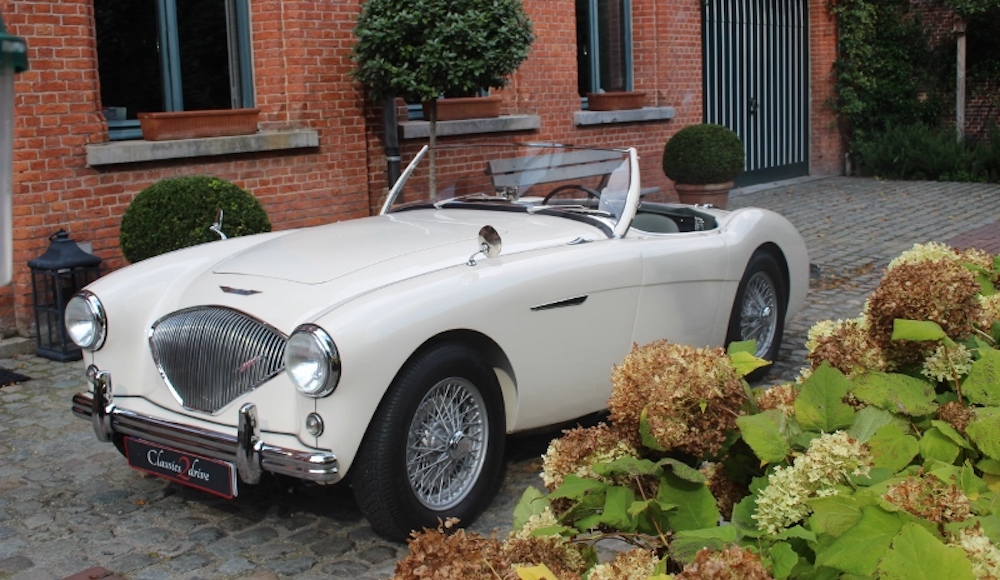 ---
• Mille Miglia Eligible
• Benefitting from a recent "nut and bolt" body-off restoration
• Superb color combination (Old English White with green leather interior)
• Extremely elegant body
• Accompanied by British Motor Heritage Certificate, many documents and complete pictures of its restoration
• Beautiful shape and very elegant car/fitted with the desirable performance-enhancing 'Le Mans' kit
---
This specific car with chassis number BN1L155863 underwent a complete "nut and bolt" restoration for almost 8 years with no costs and expenses saved. This car has been restored with abnormal love for details. Parts and components of the car were refurbished and re-installed and wearing parts all renewed. This car is better than new, vehicle is in fantastic state and condition. Built and restored by a German restoring specialist. This Austin Healey is fitted with the desirable performance-enhancing 'Le Mans' kit and delivers therefore extra 20 hp.

www.classics2drive.com
8000 Bruges, Belgium
+32 (0) 485 442 410 Sandra Hermsen Kowalski
info@classics2drive.com
Body
Straight body, great panels, great paintwork, gap dimensions fantastic, original type signs all present.
Paintwork
excellent but not original colour. Car used to be black with red trim but had been adjusted to buyer's own taste. This car presents itself now in very elegant style Old English White exterior with green leather interior, very tasteful.
Parts & decorative parts
are all original and have been re-used, nice polished and cleaned. Original steering wheel which has been extensively restored. Dashboard with all instruments are all original (except one small one), original radiator grill, original windscreen, original doors, fenders and wings, bonnet and aluminum parts!!
Drum brakes all around. Separate battery de-connector, spare wheel in trunk.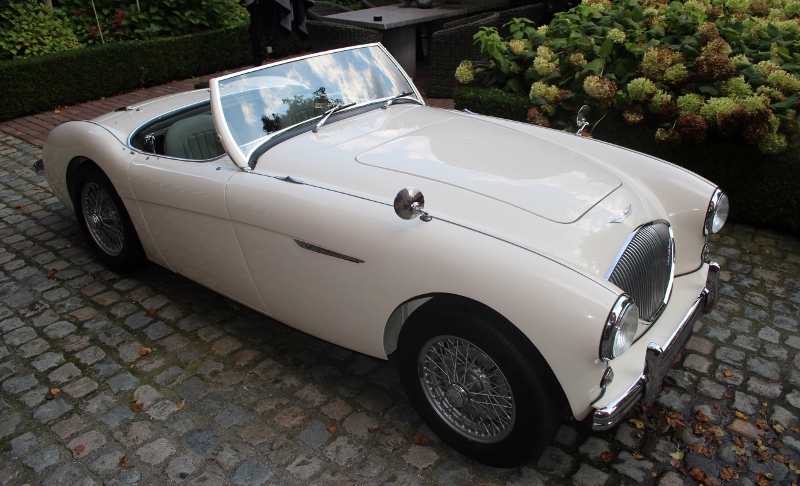 Windows
these are the original side screens, these are very rare and by most cars they are replicas. These are completely original and a real rarity!
Persenning/Tonneau
great state and condition, color green
Instruments
all original and became dismantled, cleaned and repaired by a specialist company.
Seats
in green, great state and condition, became padded and fitted with new leather.
Electric
lines, complete wiring harness, fuse box, relay, alternator renewed, work perfectly.
Engine
matching number, completely overhauled by a engine specialist
higher compression pistons, sports camshafts and 2H6 SU carburetors and the Le Mans Airbox were installed to increase performance. Original plate with engine number available.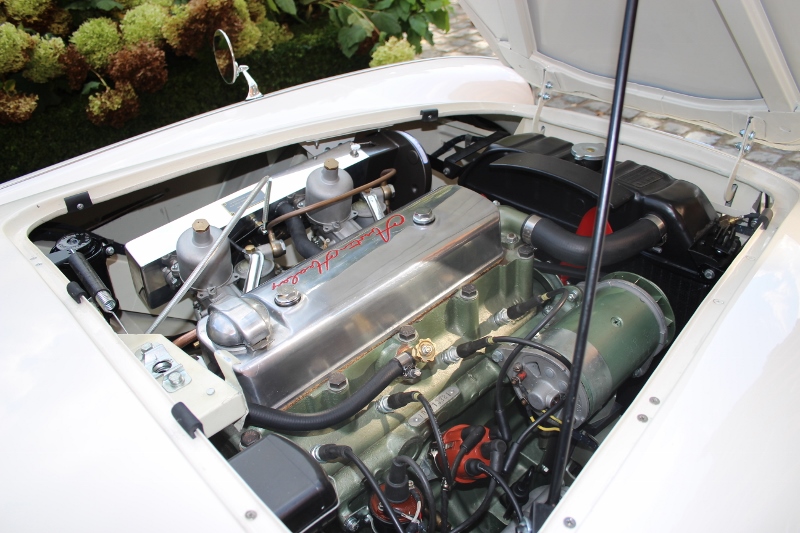 Cooling system
all hoses and clamps were replaced. Original cooler was repaired and equipped with a new cooling network and repainted.
Exhaust system
was not authentic. The complete exhaust system including the manifold was replaced by a stainless steel exhaust system. Exhaust system was rebuilt with new parts.
Transmission
Original 3-speed gearbox completely dismantled, cleaned and overhauled. All wear parts renewed, gearbox with overdrive, this was also overhauled.
Front axle and rear axle
all wear parts renewed, shock absorbers renewed, axle parts painted.
Invoices of all works and pictures of its complete restoration are available and come with the car. The Healey is now registered in Germany on German number plates. The car is still in its "run-in-phase" and since restoration the car has driven about 350 km's. Driven in different speeds the engine runs smooth evenly round and fine. It changes gear very precisely. The car is a real driving pleasure and an absolute highlight. You can participate in the Mille Miglia and of course in any other major classic car event. Enjoy the upcoming next season in it!
Report by classics2drive.com
---