Taking inspiration for the 1998 24 Hours of Le Mans race-winning livery, Sean Bull Design has designed a fantasy rendering 2022 Porsche GT1 endurance racer. The whale-tailed Le Mans fighter wears its flowing, carbon-like striping in a similar spirit to the white-and-blue 1998 Porsche 911 GT1 driven by Laurent Aïello, Allan McNish, and Stéphane Ortelli against an onslaught of GT and Prototype cars.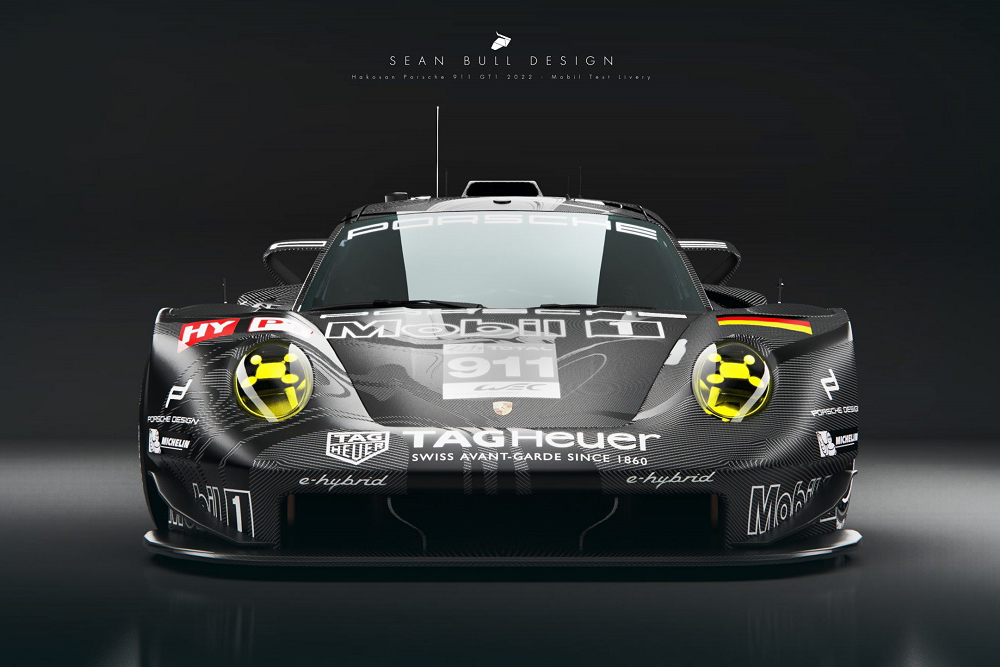 1998 was a high water mark for OEM involvement in Le Mans' top classes, with the likes of BMW, Chrysler, Ferrari, Ford/Roush, McLaren, Nissan, Panoz, and of course, Porsche, who twisted the rules as much as they could to introduce the full-aero 911 GT1. That ambitious racer would've otherwise fallen into the Prototype class, but instead qualified as a GT-class racer thanks to Porsche's batty decision to homologate and produce road-going versions of the purpose-built endurance racer.
The move was spurred by the need to link Le Mans back to road-going cars, though the 911 GT1 barely shared any hardware under its silhouette. Despite the loose connection to the road car, it began to chisel away at the Porsche WSC-95 LMP cars that had been carrying Porsche to the top of the podium the prior two years, finishing second overall in its GT1 debut in 1997 behind the WSC-95.  The following year, Nissan, Mercedes, and Toyota responded with their own street-homologated GT-class race cars, but by then there was little their newly-built missiles could do. The Mercedes CLK GTR and Toyota GT-One were quicker but proved to be mechanically troubled early, leaving the door wide-open for the persistent Porsche to count laps while their rivals solved teething issues. In fact, it was Nissan who gave Porsche the biggest shakedown with its R390s, whose fleet took 3rd, 5th, 6th, and 10th overall.
---
Report by hagerty.com
---