The history of Sports Car racing in Portugal (Algarve) is defined by those of venues such as Oporto, Monsanto, Montes Claros and the breathtaking Vila Real road circuit, an extraordinary test of car and driver first used in 1931. Subsequent circuits came much later, Estoril in '72, followed by Braga in 2003 and, in '08, the magnificent Autodromo Internacional do Algarve, now a popular rendezvous for the GTSCC family's traditional seasonal finale.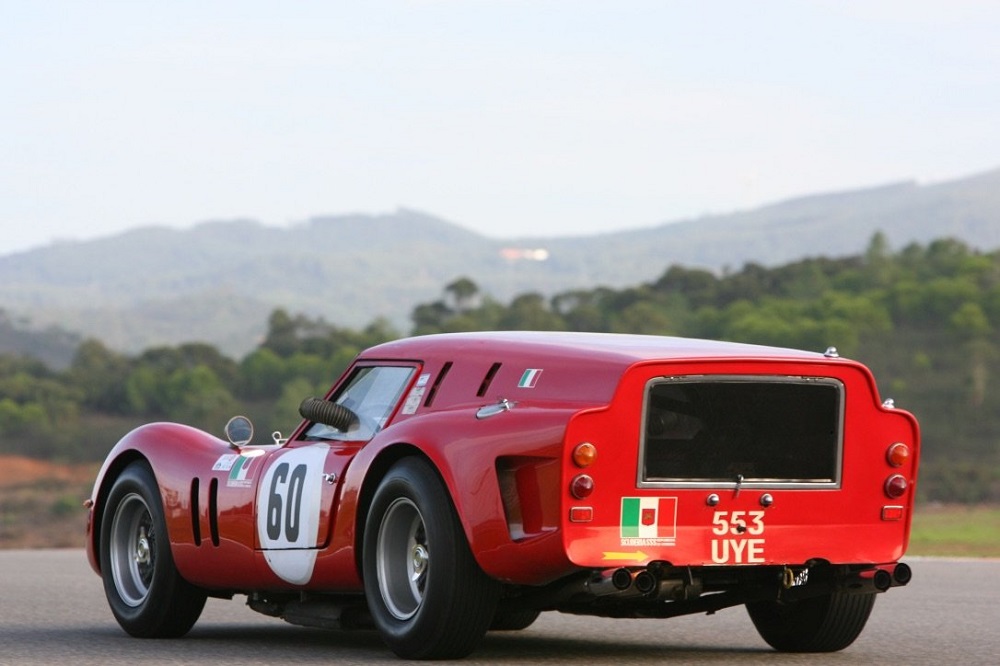 The beauty of southern Portugal, with its unspoiled landscape and temperate climate, has attracted golfers for decades, but the spectacular AIA has drawn historic racers to this peaceful corner of continental Europe since the first Algarve Classic Festival was staged more than a decade ago. The 2.9-mile circuit itself is a sensational switchback, carved into the hills inland from the Atlantic coastal resort of Portimao. It played host to Formula 1 for the first time last October, bringing the Portuguese Grand Prix back onto the World Championship stage for the first time since 1996.
Our International entry is headed by the unique Ferrari 250 GT 'Breadvan,' created by former works engineer Giotto Bizzarrini and his cohorts for Count Volpi from the ex-Olivier Gendebien SWB Berlinetta in response to Enzo Ferrari's refusal to sell the Venetian nobleman a GTO in 1962. The distinctive kamm-tailed machine, bodied by Piero Drogo for greater aerodynamic penetration than the now hallowed GTO, was debuted at Le Mans in '62 under the count's Scuderia Serenissima banner. Driven by1959 Mille Miglia winner Carlo Maria Abate and Italian-domiciled Briton Colin Davis, the three-litre V12-engined machine retired early with a broken propshaft. A few weeks later, in August, Abate/Davis won the Gran Turismo class and finished an impressive fourth overall in Brands Hatch's Guards Trophy race. Abate repeated the result at the Ollon-Villars hillclimb in Switzerland, a European Championship round.
Part of Austrian Martin Halusa's stable for several years, and no stranger to the GTSCC, the rampant prancing horse is saddled by his rapid and increasingly versatile sons Lukas and Niklas. Indeed Lukas, who has impressed in an F1 McLaren M23 this season, won the Earl Howe Trophy at Goodwood's Members' Meeting in a Bugatti T35B.
Castle Combe winners Mark Holme/Jeremy Welch have hopefully dried out and will (Austin-Healey 3000), Mark Pangborn/Harvey Woods in a similar car, John Emberson in his ex-Pip Arnold Morgan +4 SLR – to be co-driven by peripatetic racer and rally driver Nigel Greensall – and former HSCC Historic Road Sports champion Colin Sharp (Triumph TR4) join the Breadvan in the GT3 division.
The strongest opposition to the scarlet Ferrari will come from the GT4 class in which no fewer than four AC Cobra derivatives and the fast Jaguar E-type of triple Spa Six Hours winner Jon Minshaw and Phil Keen – still smiling from his Lotus 30 win at Goodwood's Revival meeting – will also relish the exceptionally long start straight. Vastly experienced father and son Chris Chiles Sr/Jr have previous Algarve form to draw on, while Healey graduate Richard Hywel Evans has drafted Andrew Smith in to share his car. Charlie Allison/Peter Thompson drive another hard-topped snake, while UK/North Borneo pairing David Smithies/Chris Clarkson pilot the former's Daytona Coupe evocation.
Belgians Christian Dumolin and Pierre-Alain Thibaut – national Touring Car champion in '92 – have the same 4.7-litre Ford V8 engine as the Cobras under the bonnet of their Shelby Mustang GT350. Seven 26R-spec Lotus Elans will come into their own in the track's twisty section, which writhes through the hills. Andrew Haddon/Andy Wolfe (our 2020 Castle Combe victors) will take some beating. Multiple historic champion Dan Cox, Radical titlist and 2015 Spa Six Hours winner James Littlejohn and Nurburgring GT lap record holder David Pittard – partnering John Watson, Simon Evans and Graham Wilson respectively – are pacy pedallers too. Gentlemen racers Stephen Bond/Cliff Gray and Steve Jones/Chris Atkinson will show a good turn of speed too.
Veteran GT2 contender Simon Orebi Gann makes the trip south again, with Billy Bellinger in the ex-Gordon Spice two-litre Morgan +4 SLR this time. Morgan specialist Billy finished a superb second in the Ronnie Hoare Trophy race in Keith Ahlers' ex-works 2.1-litre SLR at the Goodwood Members' Meeting earlier this month. Stephan Jöbstl and preparer Andy Willis are taking Stephan's two-litre Lotus 15 which runs in SP2.
The entry is still building, with trios of Pre-'63 sportscar and GT2 teams currently finalising logistics to attend what will be another sociable GTSCC event before the long winter break.
If you are interested in more news click here.
---