In March 1971, a club meeting made use the full Brands Hatch 'grand prix' circuit which effectively doubled the length of each lap. A full grid for the sports car race saw the AC Cobra of Keith and Wendy Hamblin take on numerous rapid Ginettas that were well suited to the circuit. As the cars passed South Bank prior to entering the grand prix loop, one of the Ginettas slowed unexpectedly causing the Cobra to hit it from behind.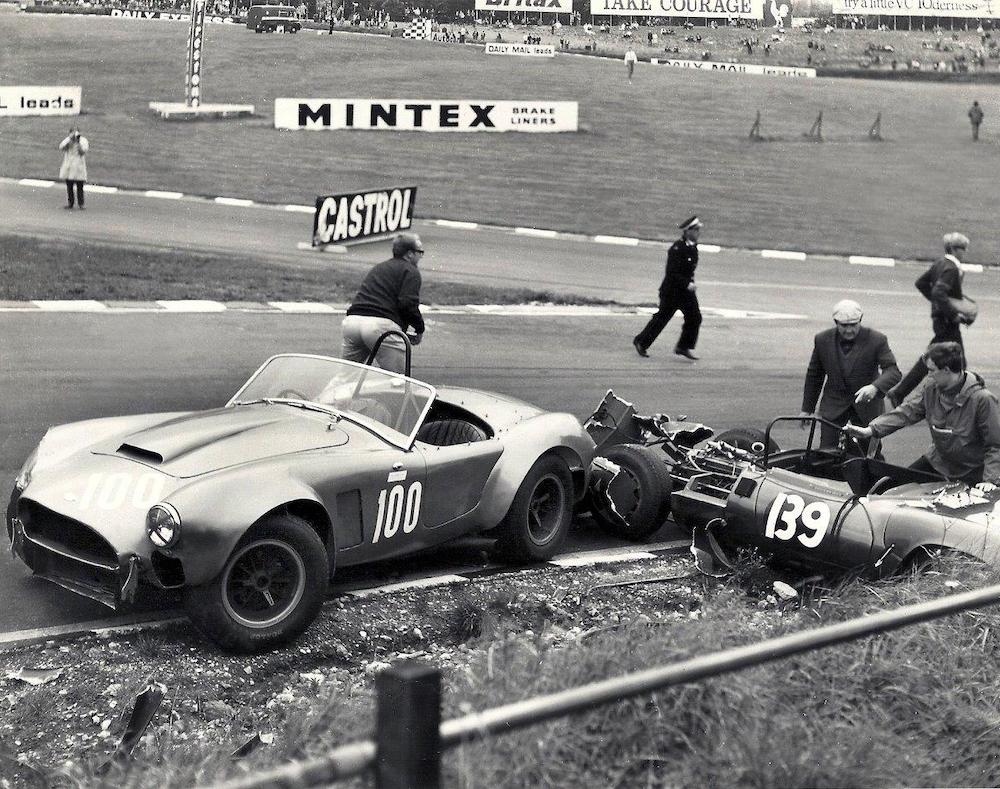 The AC ran up the back of the Ginetta G12, ripped off the roof and became wedged on the rollover bar. Both cars ran together for several metres while four other cars took evading action and spun. The Cobra balanced on the rollbar before sliding sideways off the Ginetta and the aftermath is shown in this photograph.
Ginetta Crash, Brands Hatch
In 1964 AC Cars sold the Cobra as a collection of parts to High Efficiency Motors, owned by C.T. "Tommy" Atkins, where it was built to race specification and registered as chassis HEM-6. It first raced at the 1964 British Grand Prix meeting driven by Chris Amon and in subsequent races by Roy Salvadori. It was sold to the Chequered Flag team and was raced extensively in period and by its subsequent owners to this day, being a regular competitor in historic motorsport and is better known by its UK road registration number GPG 4C.
From 'Moments in Motorsport' by Trevor Legate. To purchase a copy contact tlegate@btinternet.com for details.