Extremely appealing design, the range of today's gasoline engines and impressively good space conditions – the ID. BUZZ¹ inspires. From 2022 it will be built in Hanover. Thomas Sedran, CEO of Volkswagen Commercial Vehicles, on the new Bulli, the car factory of the future and new mobility offers.
Volkswagen Commercial Vehicles will begin to produce the ID. BUZZ family in Hanover starting in 2022. Will the new e-bus be able to fill the shoes of the Bulli microbus?
The ID. Buzz will be the Bulli of the future. With it, we will enter a new age of driving: The fully electric and digital Bulli will not just facilitate autonomous driving and product deliveries, even amid restrictions on vehicle access. Positioned between the Caddy and T-model, it will also create new markets and opportunities for our brand. The world is in motion. New technologies will enable new forms of mobility. What remains will be our need for the safer, more efficient and more comfortable transport of people and products. The ID. Buzz will stand for this, too.
The VW bus is a worldwide legend and a symbol of freedom and individuality. Will e-cars be able to take on this emotional role – or will they remain a purring, lifeless vehicle?
Not at all. The ID. Buzz is pure emotion! The vehicle set off a wave of excitement around the world when it was presented as a concept car in Detroit in 2017. This enthusiasm continued to build after we presented the cargo version this year at the IAA Commercial Vehicles in Hannover and at the motor show in Los Angeles. There is a good reason for this: The ID. Buzz represents a new generation of fully connected electric vehicles. It has the range of today's gasoline-powered vehicles and impressive amounts of room to go along with a really eye-catching design – it appeals to you on both a rational and visceral level! A real Bulli – just electric.
The ID. BUZZ will lead to fundamental changes in terms of production in Hannover. The location will be turned into a factory of the future – just like Emden and Zwickau. How do you plan to win the support of the workforce for this far-reaching transformation process?
Let's get one thing straight first: We do not just simply want to become a factory of the future, we also want to be a factory with a future! There is a big difference here – and a huge job awaits all of us. We now have a unique opportunity to take the future into our own hands. As part of this, we shared our plans with employees at an early stage and informed them about these plans during works meetings. I have to admit: We had some intense discussions and loud debates. This is all a part of the game. I can understand workers' worries. But all of us have to understand one thing: Our previous business model has no long-term future. For this reason, we are not just modernizing our location – we are also securing it. For the long term. Together with Emden and Zwickau, we will form the largest e-production alliance in Europe!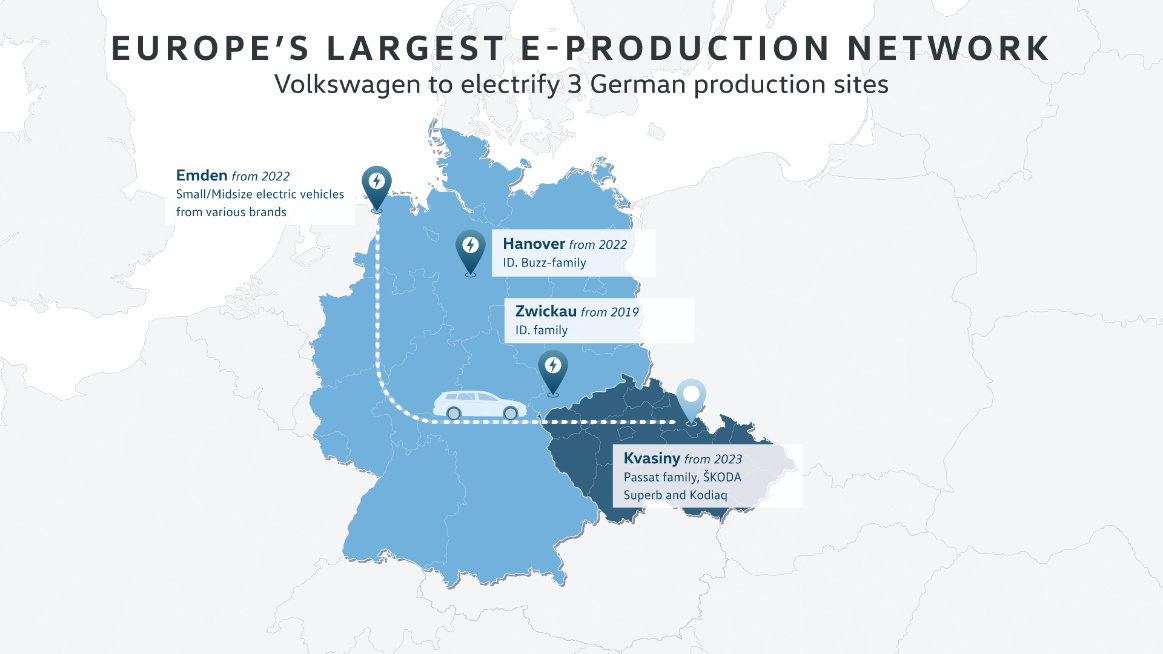 It will take fewer workers to produce e-vehicles than it does to produce today's cars. How many people will work for Volkswagen Commercial Vehicles in Hannover in the future?
First of all, I want to stress that we are securing jobs for the long term. We have even given a job guarantee that runs through 2028. Where else will you find this in Europe and the world? This is something unique in our industry today, a tremendous success! We have committed ourselves to the Hannover location. And when we eliminate jobs – we will do so along the so-called demographic line – by taking such steps as partial retirement programs. We will also see the transformation lead to the creation of new, highly skilled jobs
What do you expect from the partnership with Ford that is being pursued in the area of light commercial vehicles?
Negotiations with Ford are being held right now. They are making good progress. For this reason, I can only say this much at the moment: Such a partnership will create sensible synergies in terms of costs, technologies and market presence. We are also seeing increased collaboration in individual areas throughout the entire automotive industry for this reason. And we want to initiate it.
Once Hannover has been converted into an e-plant, do you intend to transform Volkswagen Commercial Vehicles in other future mobility areas such as autonomous driving for example?
We will transform ourselves fast, really step on the gas. In the process, we will keep an eye on our customers' needs. We are systematically designing our business areas to meet these needs. Autonomous driving is certainly one aspect of this. We will definitely not concede interesting markets and innovative technologies to others!
MOIA has launched a first major test of ride hailing in Hanover and produced some very successful results. Shared taxis and small buses fit together perfectly. When they begin to drive autonomously, we will enter the future of mobility. Have plans been drawn up for closer collaboration?
Volkswagen intends to become one of the world's leading providers of mobility services. No matter whether you want to use only on-demand services or purchase your own car, we plan to have the right service available for every customer. The way that people move about will change as a result of mobility-as-a-service options. Right now, we are seeing in Hannover how this works. We will soon launch the idea in Hamburg and then see where we are heading. One thing is certain: Our models are perfect for this job.
---

Report by volkswagenag.com
---