At the 70th Concours d'Elegance in Pebble Beach, California, the Lamborghini Countach, a model this year celebrating its first half century, was honored with its very own dedicated class. Eight Countachs were present at the event: six were brought by international collectors, while the other two, brought by Automobili Lamborghini and not to be judged in the Concours, were the very first and the last Countachs manufactured.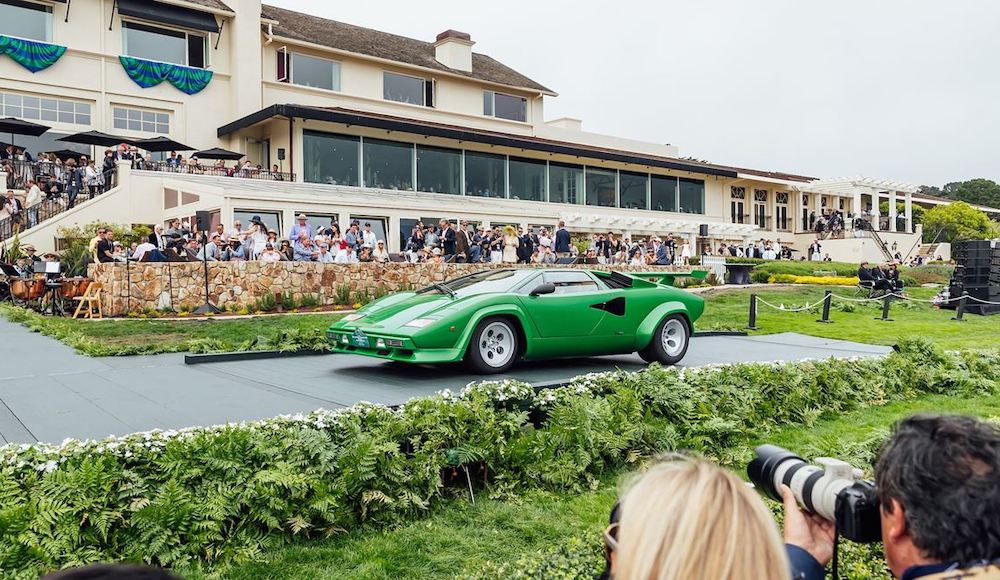 "The Countach redefined the high-performance car sector and it has become an iconic representation of the style features that, still today, guide the creation of contemporary Lamborghinis. The Pebble Beach Concours is the perfect setting to celebrate the 50th anniversary of this legendary car," said Stephan Winkelmann, President and CEO of Automobili Lamborghini, who, just a few hours earlier, had unveiled the brand-new Lamborghini Countach LPI 800-4, a car directly inspired by the 1971 Countach LP 500.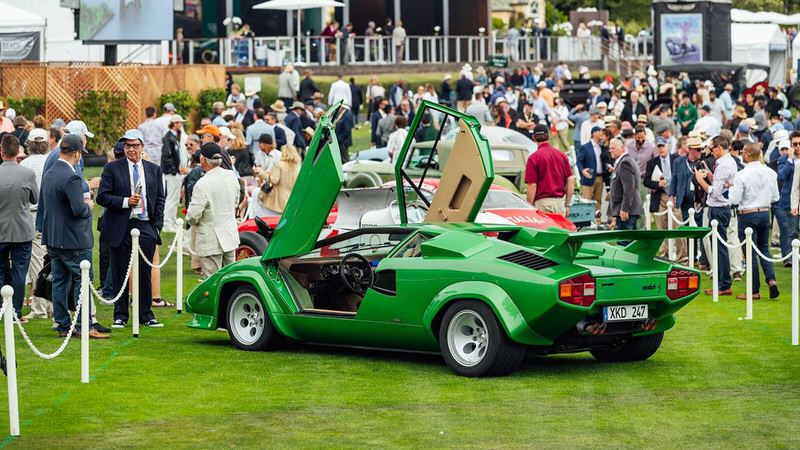 A special Countach class and the presentation of the brand new Countach LPI 800-4
"We are delighted to have attracted such a rich Countach class," added Sandra Button, Chairman of the Pebble Beach Concours d'Elegance. "These cars played a key role in defining the stylistic and technical concepts of modern sports cars. It is really hard to believe that the Countach's lines, which are still so cutting edge, date back 50 years!"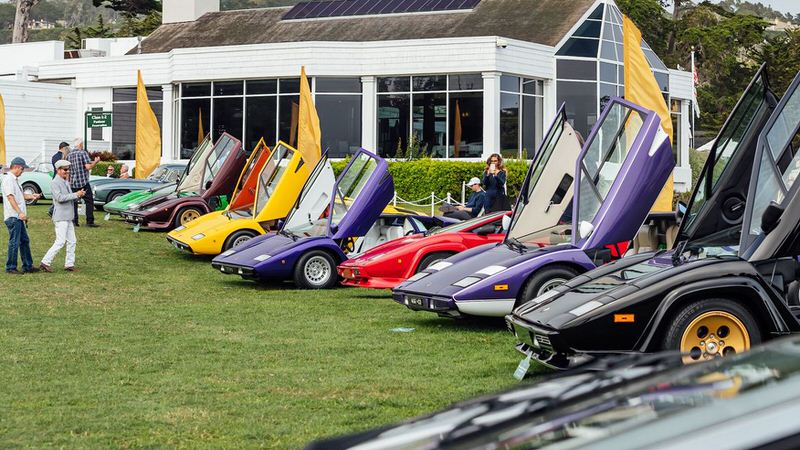 The Countachs present at Pebble Beach included the oldest surviving specimen, an LP 400 (chassis #1120001). The second prototype built and the first example of the LP 400 series, this is the car that — initially wearing red over black interiors — was unveiled at the Geneva Motor Show in March 1973. After being used in model development tests and featured in various magazines of the time, it was repainted in its current shade of Verde Medio (medium green) and fitted with Verde Chiaro (light green) interiors before being shown, still in 1973, at the Paris Motor Show, the IAA in Frankfurt, and the Earls Court London Show. Sold shortly afterwards, it ended up abandoned in a barn in Switzerland for several years, before being found and purchased by Automobili Lamborghini in 2004. Ever since, it has been exhibited at the Lamborghini Museum of Technologies (MUDETEC) in Sant'Agata Bolognese.
As mentioned, it was accompanied to Pebble Beach by the last Countach manufactured, an example of the 25th Anniversary model (chassis #KLA12085), which rolled off the production line on 4th July, 1990. Also coming from the MUDETEC, this car, in metallic silver with gray leather interiors, has never been sold and always been the property of Automobili Lamborghini.
A very special way to celebrate 50 years of one of Lamborghini's most iconic models
Six Countachs owned by private collectors were entered in the Pebble Beach Concours: three LP 400s (two from 1976 and one from 1977), one LP 400 S (1981), and two examples of the LP 5000 Quattrovalvole series, one built in 1985 and the other in 1986.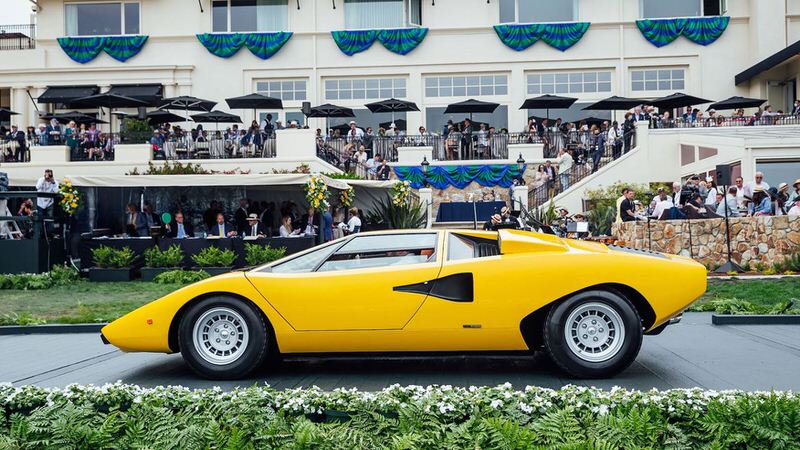 First in Class went to the 1981 Countach LP 400 S (chassis #1121316) owned by Robert Bishop (FL, USA), a car representing the 82-strong third series. Originally sold in the Middle East, in the unusual color scheme of metallic green (Verde Metallizzato) over khaki (Kaki) interiors, it remained unregistered until, some years later, it was sold to a Swedish enthusiast. After being carefully restored in Italy, where it was also exhibited at the MUDETEC in Sant'Agata Bolognese, it now lives in the USA and is regularly driven. Second place was taken by the 1976 Countach LP 400 "Periscopio" (chassis #1120192), currently owned by Mouse Motor (IL, USA); this car, one of the only 152 "Periscopio" units ever produced, is still in completely original condition, wearing its very first yellow paint. Sold new in Italy in August 1976, it was immediately exported to the USA, where it was purchased by a Chicago enthusiast who used it very little. It is rumored that this first owner, treating it as a splendid work of art, kept it in his living room for 14 years, before selling it back to the dealer from which he had purchased it, and that the latter exhibited it, static, for a further 14 years. However, from 2003, the car's life changed as its next two owners got it running again, for use on special occasions. Finally, the "bronze medal" went to the 1985 Countach 5000 Quattrovalvole (chassis #ZA95005AOFLA12820) in Seville Red (Rosso Siviglia) with Champagne interiors and a dark brown (Marrone Testa di Moro) dashboard, currently owned by American collector Jeffrey Ajiuni (MD, USA). After rolling off the production line on 30th May, 1985, this car remained for many years in Italy, with a single owner, who always had it serviced by the manufacturer. Finally, in 2019, it was imported into the USA by Ajiuni, an equally passionate owner. At Pebble Beach it was shown fresh from a careful restoration, meticulous down to the smallest details.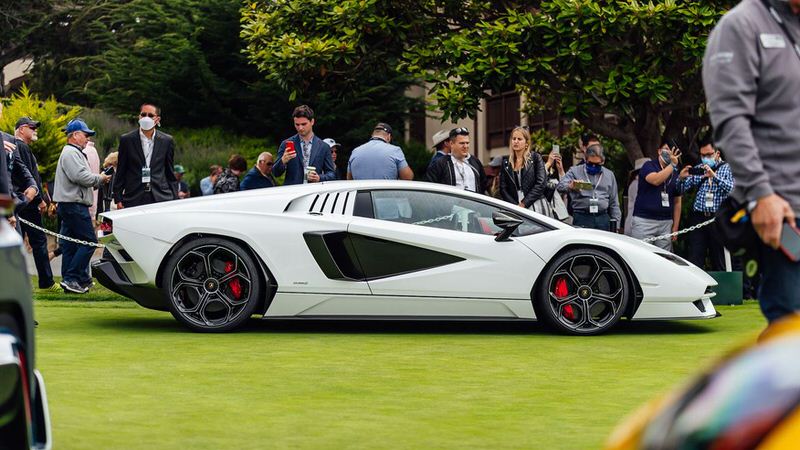 The area of the Pebble Beach Concours d'Elegance given over to contemporary prototypes provided the stage for the public debut of the new Lamborghini Countach LPI 800-4, 814 Hp, 12-cylinder hybrid, equipped with a supercapacitor. This prototype, of which 112 pieces are to be produced, has been specially created to offer a modern take on the innovations introduced by the Countach 50 years ago.
Also taking part in the Concours d'Elegance, as Honorary Judges, were Stephan Winkelmann, President and CEO of Automobili Lamborghini, and Mitja Borkert, Director of Centro Stile Lamborghini since 2016. "For Automobili Lamborghini, the special highlight of this year's Monterey Car week was the unveiling of the Countach LPI 800-4 at The Quail,"said Stephan Winkelmann. "At Pebble Beach, the special class celebrating the Countach's 50th anniversary was a great honor. It allowed me to see that car enthusiasts are full of energy, champing at the bit to get going again, and to get back to normality as soon as possible. It also allowed me to see that, as always, our brand generates a lot of enthusiasm, and this applies both to new and classic cars."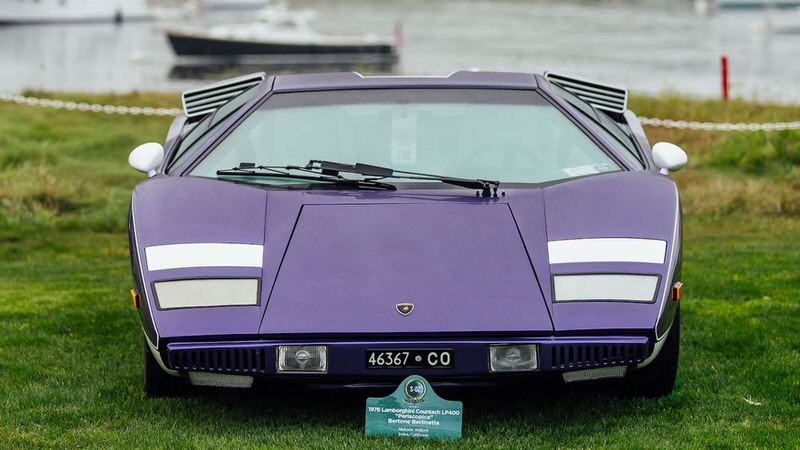 Lamborghini Polo Storico
Opened in 2015, Lamborghini Polo Storico is the department of Automobili Lamborghini responsible for preserving the heritage of the Sant'Agata Bolognese-based car maker. Restoration and certification of all Lamborghini cars produced up to 2001 are only part of what it does. Indeed, it also manufactures spare parts for classic Lamborghinis, introducing around 200 new codes each year, and preserves and manages the archive, activities that the Polo Storico sees as a means of supporting the preservation of all classic Lamborghinis.