The 31st Palm Beach Cavallino Classic, organized by Canossa Events and held on the lawns of The Breakers in Palm Beach (Florida), will go down as a very special edition. This well-established event, devoted to Ferrari classics, saw a great turnout, of both cars and visitors, and there was also a hefty dose of Italy in the mix. Indeed, in addition to the cars, the awards, food and wine were all examples of Italian excellence. The event also provided the perfect opportunity to unveil the new "Cavallino" logo.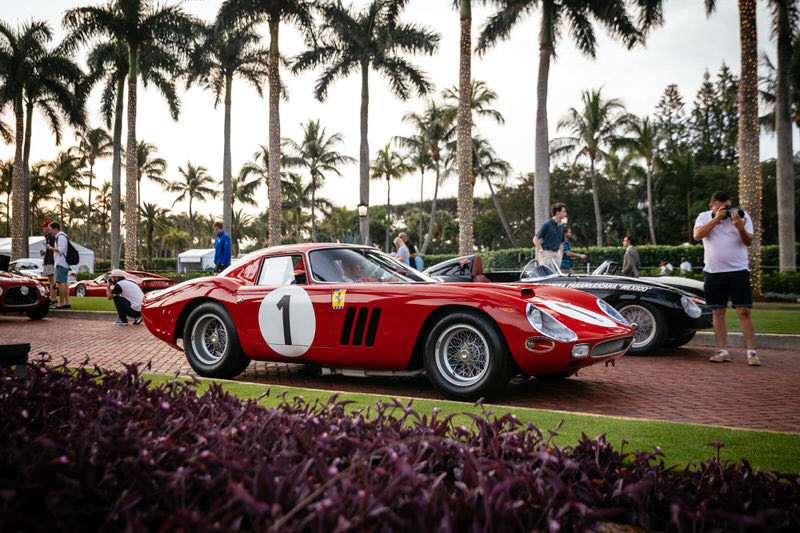 After the Track Day at The Concours Club on the Thursday (20 January), which was open exclusively to the Concours participants and marked 30 years of the Ferrari Challenge, and the Tour d'Eleganza on the Thursday (21 January), which saw the participants driving from Deerfield Beach to Palm Beach, along route A1A, one of Florida's most scenic, the Saturday (22 January) brought the eagerly awaited Concorso d'Eleganza, which saw over 150 vehicles gathered on the lawns of The Breakers. The special line-up of cars celebrating the 75th anniversary of Ferrari, one car for each year of the company's life, was a quite extraordinary spectacle: 75 cars representing the years from 1947 to 2021 plus a sample of the current 2022 production models (one per model), brought along by Ferrari Automobili.
It was a huge thrill, during the award ceremony, to see the 1964 Ferrari 250 GTO making its way through the crowd followed by the 166 Spyder Corsa representing production year 1948: a fantastic display of Ferrari history in a single glance.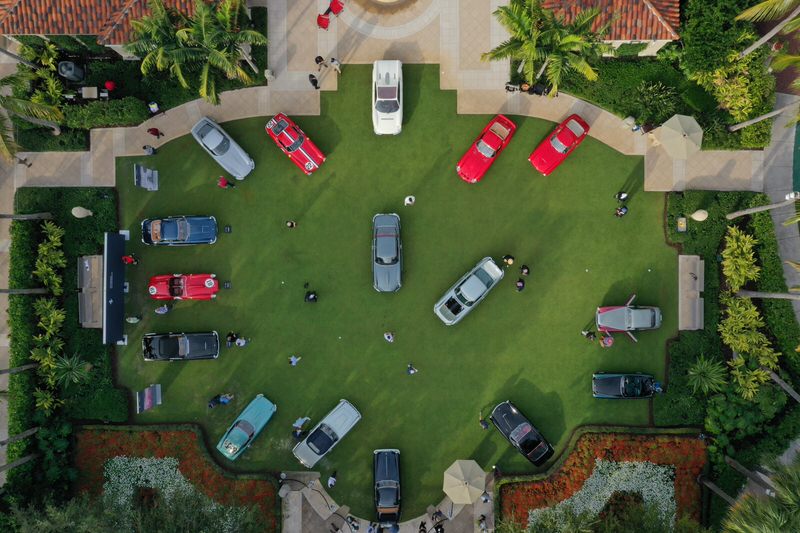 "It was such a thrill to see all these extraordinary cars on public view, and that in itself was extraordinary" remarked Luigi Orlandini, Chairman and CEO of Canossa Events. "The number of visitors who came along to enjoy the show was probably the highest we have had in 15 years, and I saw that people were having a really great time, enjoying the day to the full and being truly wowed by the parade of prize-winning cars. Even during the judging phase, which is obviously the most crucial and tense for them, the participants never lost the relaxed sense of fun that characterizes the Cavallino Classic. Having Ferrari North America actually present at the event was a further and unequivocable sign of the importance attached to the Cavallino Classic and the esteem in which it is held. The judges, led by Chief Judge Chris Current, did an absolutely splendid job and I wish to offer them my personal thanks for their fundamental contribution. I also wish to thank Pininfarina, Bacchelli & Villa, The Breakers, the municipality of Palm Beach, the Ferrari Club of America, and our friend John Barnes, founder of Cavallino Magazine and of the Palm Beach Cavallino Classic who, still today, makes an invaluable contribution to the staging of the event."
The cars were not all. Cavallino also unveiled its new logo and the event trophies, designed by Pininfarina and hand crafted in Italy. The tortellini on the menu of the gala dinner were also handmade, by the famous "Sfogline" (specialist pasta makers from Reggio Emilia). These were cooked freshly on the night by an Italian chef who is also grandson of the woman who was Enzo Ferrari's personal chef in the 1950s and '60s.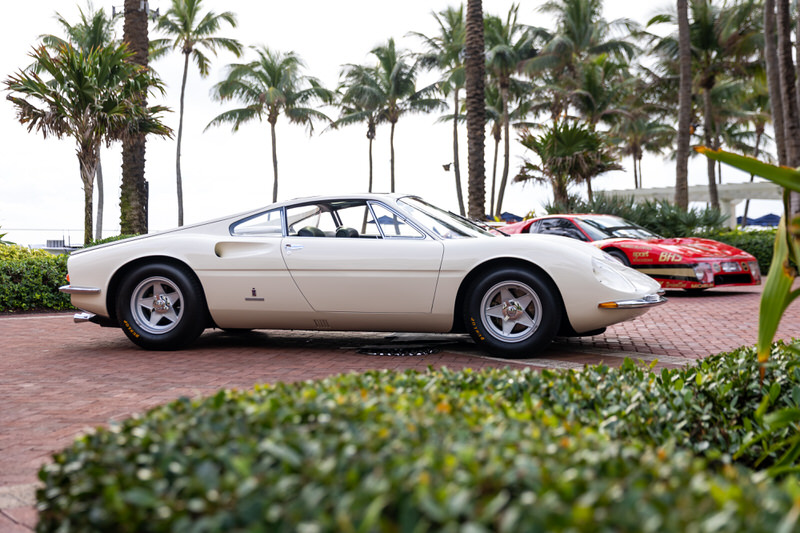 As far as its charitable endeavors are concerned, the Palm Beach Cavallino Classic continues to support the American Council of the Blind, and this year also extended its support to the Dreyfoos School of the Arts of West Palm Beach, whose students entertained the diners at the gala dinner by singing arias from Italian operas. The Cavallino Classic, in collaboration with the Piston Foundation, has also created a fund to finance internships in the workshops of Motor Valley for youngsters wanting to learn the art of car restoration. Finally, to support the local community, a donation was made to the Police and Fire Department Foundation of Palm Beach.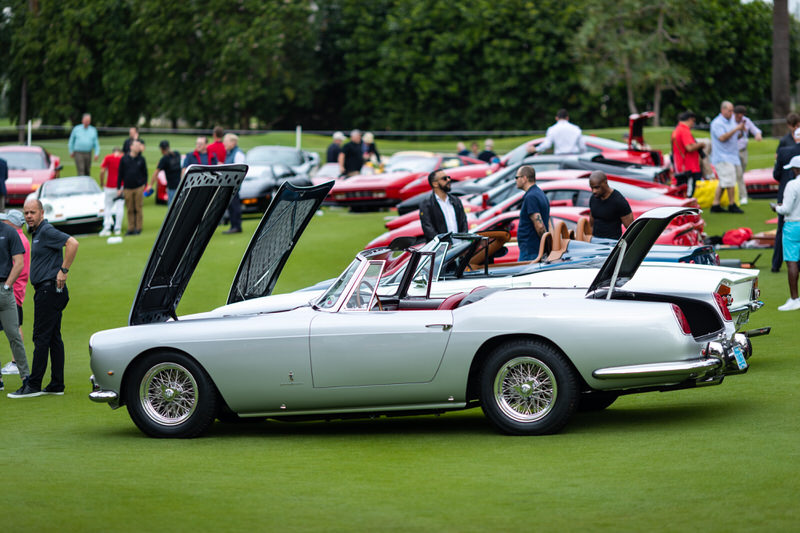 The guests included Cristiano Musillo, Consul General of Italy in Miami, who, addressing the public, said: "We are here to celebrate the extraordinary bond that exists between Italy and the United States, and this is the perfect venue. Italy is known all over the world for its 4 Fs: Food, Fashion, Furniture and Ferrari. And of course, Ferrari stands for beauty, perfection, and innovation, the quintessential of Made in Italy. It's a pleasure to share with you these values and principles and to enjoy this fantastic atmosphere with you."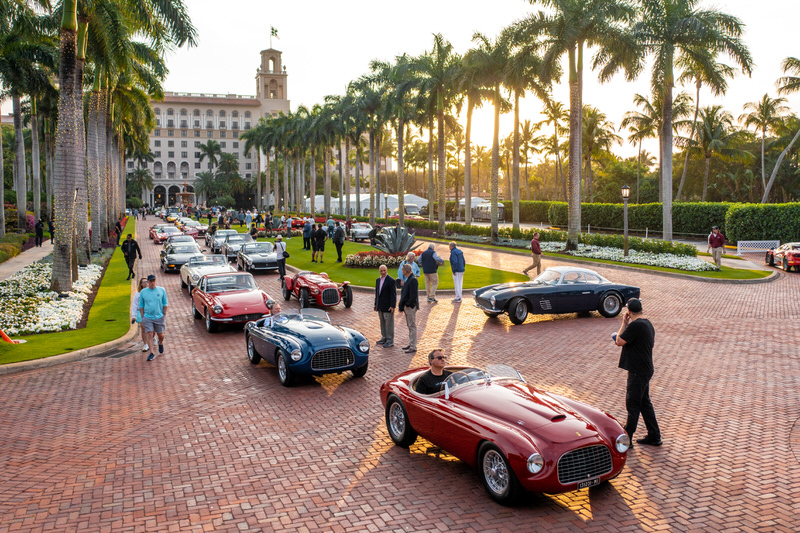 The 1966 Ferrari 365 P Speciale s/n 8971 owned by Mexican collectors Roberto and Jami Quiroz took home two awards: Overall Outstanding Ferrari Granturismo and The Ferrari People's Choice Award. Based on the revised 365/P2 racing chassis and nicknamed "Tre Posti" (three-seater), it is the first of the only two examples of the 365 Speciale ever produced. Designed by Aldo Brovarone, one of the most brilliant car designers of all time, its body, by Pininfarina, is both unusual and spectacular. Its shape, characterized by rounded volumes, a short front and a long tail, is striking; it has very narrow pillars, and a central driving position flanked by two passenger seats, therefore a single row of three seats, hence its nickname. It was first unveiled at the 1966 Paris Motor Show, followed by several other events for which it underwent a series of minor modifications. These included the Earls Court Motor Show (London, UK) and the Salone Internazionale dell'Automobile (Turin, Italy) in 1966. It made further appearances as a show car in the course of 1967, at the Salon de l'Automobile in Brussels (Belgium), the Geneva Motor Show (Switzerland), the Concorso d'Eleganza di Sorrento (Italy), the Concorso d'Eleganza di Firenze (Italy), the Los Angeles Imported Automobile Sports Car Show, and a promotional event for Johnson Wax, with Sir Stirling Moss, in Bridgehampton, NY, USA. After being sold to a private owner, who was quickly followed by another, it was returned, as a normal used car, to Luigi Chinetti, official Ferrari importer for the United States, and it remained in the ownership of his family for the next 48 years. It was sold to its current custodian, with just 8000 km on the clock, in need of careful restoration. This work was masterfully carried out, taking great care to respect the car's originality, by the Paul Russell Restoration Shop in Essex (MA). It was shown the Pebble Beach Concours d'Elegance in 2021, where it won its class and was one of the four nominees for Best in Show.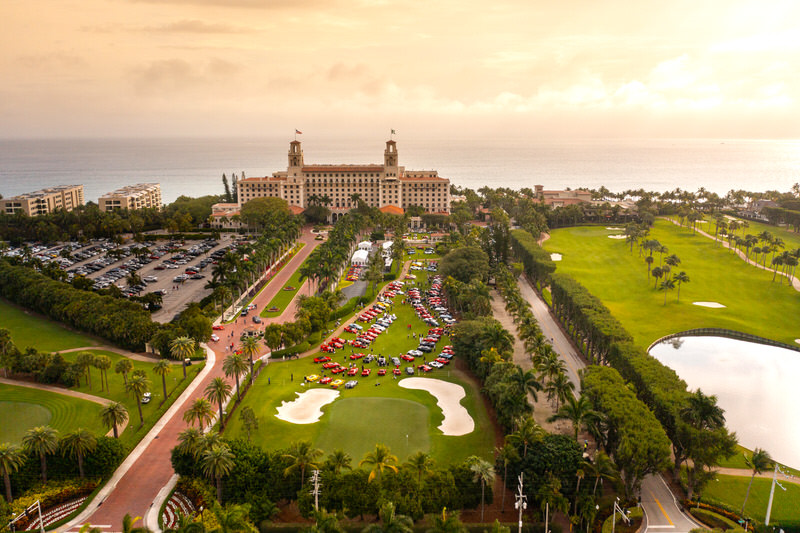 The Overall Outstanding Ferrari Competition award went to the 1964 Ferrari 250 GTO s/n 5573 owned by American collector Aaron Hsu.
In 1964, this 250 GTO (s/n 5573 GT) was driven by all Ferrari's F1 drivers, including John Surtees (world champion and the season's leading driver), Lorenzo Bandini, Ludovico Scarfiotti, and Pedro Rodriguez. It was also raced by the 1961 world champion, Phil Hill, by Jean Guichet (1964 winner of the 24 Hours of Le Mans), and by future member of the works Ferrari Formula 1 team Mike Parkes. A total of six Ferrari Formula 1 drivers raced this car in World Championship competitions. It is the second GTO originally manufactured with the "1964" body design. Acquired in 1972 by the legendary collector Pierre Bardinon, s/n 5573 joined his fabled Ferrari collection at Mas Du Clos. In reference to his GTO 64, Bardinon readily remarked "if I could only keep one car, it would be this one." (Cavallino Magazine, issue no. 50, page 32). In 2014, by which time both Bardinon and his wife had passed away, the car, meticulously maintained, was purchased directly from the family by its current custodian.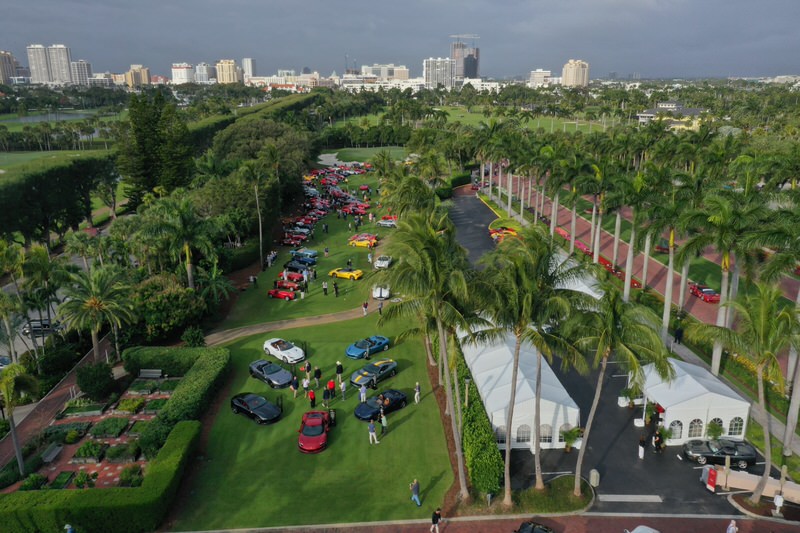 The Palm Beach 2022 Chairman's Award, assigned by the Chairman of Canossa Events Luigi Orlandini, went to the 1993 Ferrari F40 LM (s/n 95449) belonging to Tom Cabrerizo (USA). One of a series of around 10, it was originally delivered in the United States. It has never raced, but has always been much admired.
On the Sunday, the Cavallino Classic moved to the Mar-A-Lago Club, for the day open also to other car brands, especially (although not only) those based in Motor Valley, whose collectors joined Ferrari enthusiasts for a day devoted to their shared love of Italian cars.
"Mar-A-Lago Club is a great location, with a breathtaking view," commented Luigi Orlandini. "Being able to bring the cars here is a unique opportunity, because in this setting the numerous guests get to admire beautiful cars presented as true works of art."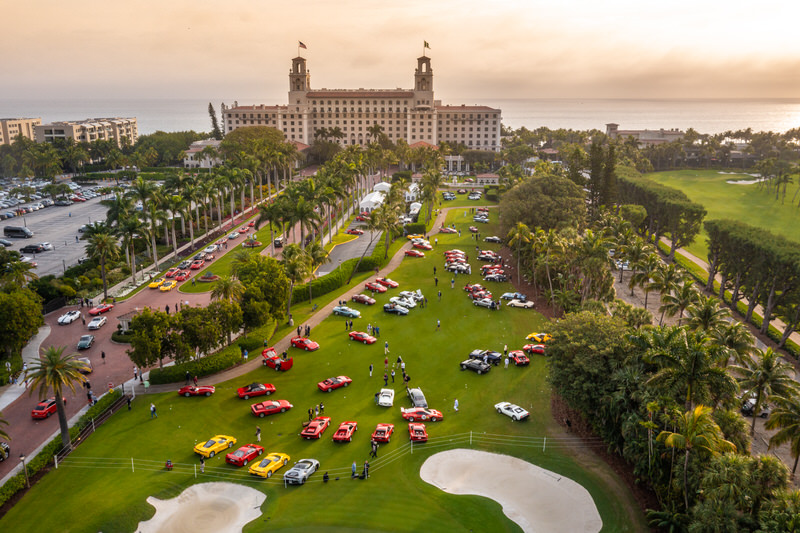 Palm Beach Cavallino Classic 2022: prize winners
Best in Show Granturismo: Overall Outstanding Ferrari Granturismo
1966 Ferrari 365 P Speciale s/n 8971
Best in Show Competition: Overall Outstanding Ferrari Competition
1964 Ferrari 250 GTO s/n 5573
The Ferrari People's Choice Award
1966 Ferrari 365 P Speciale s/n 8971
The Chairman Award
1993 Ferrari F40 LM s/n 95449
The Ferrari Supercar Award
2003 Enzo Ferrari s/n 133512
The Finest Twelve Cylinder Ferrari Award
1965 275 GTB s/n 06437
The Finest Eight Cylinder Ferrari Award
2008 F430 GTC s/n 2608
The Finest Six Cylinder Ferrari Award
1974 Dino 246 GTS s/n 07746
The Ferrari Vintage Preservation Award
1969 365 GT 2+2 s/n 12519
The Ferrari Classic Preservation Award
1989 328 GTS s/n 82125
The Ferrari Vintage Preservation Award
1961 365 GTB4 s/n 14135
The Ferrari Classic Preservation Award
1981 512 BBLM s/n 38179
The Ferrari Spirit Award
2008 F430 GTC s/n 2608
The Ferrari Elegance Award
1956 250 GT Berlinetta Zagato s/n 0515 GT
The Ferrari Competition Award
1981 512 BBLM s/n 38179
The Ferrari Research Award
1954 121 LM s/n 0484 LM
The Ferrari Restoration Award
1967 330 GTC s/n 10061
The Chief Judge Emeritus Award
1949 166 MM s/n 0006 MM
The Ferrari Honorary Judges Award
1948 166 Spyder Corsa s/n 016
The Ferrari 250 GTO Award
194 250 GTO s/n 5573 GT
The Ferrari F40 Award
1990 F40 s/n 86746
The Ferrari 365 Award
1972 365 GTS4 s/n 16573
Platinum Award winners
PLATINUM AWARD
1948 166 Spyder Corsa s/n 016 I
PLATINUM AWARD
1949 166 MM s/n 0006 MM
1954 121 LM s/n 0484 LM
1955 250 GT s/n 0405 GT
1956 250 GT Berlinetta Zagato s/n 0515 GT
1963 400 Superamerica s/n 4251 SA
1965 365 P Speciale s/n 8971
1964 250 GTO s/n 5573 GT
1994 F333P s/n 001
1965 275 GTB s/n 07085
1967 275 GTB/4 s/n 09677
1968 330 GTC s/n 11271
1967 330 GTC s/n 10061
1972 365 GTS4 s/n 16573
1972 365 GTB4 s/n 15299
1972 365 GTB4 s/n 14999
1973 365 GTS4 s/n 16545
1961 250 GT 2+2 s/n 2531 GT
1965 330 GT 2+2 s/n 5749
1969 365 GT 2+2 s/n 11703
1971 365 GTC4 s/n 14949
2010 612 Scaglietti s/n 170438
1975 365 GT4 BB s/n 18321
1993 512 TR s/n 94175
1995 F 512 M s/n 100540
1996 F 512 M s/n 105054
1993 512 TR s/n 096992
2001 550 Barchetta Pininfarina s/n 124334
2011 599 GTO s/n 182494
1989 238 GTS s/n 81932
1998 F355 GTS s/n 110491
1999 F355 Berlinetta s/n 112977
1999 360 Modena s/n 118191
2003 360 Modena s/n 152672
2004 360 Spider s/n 136182
2007 F430 s/n 155251
2009 Scuderia Spider 16 M s/n 116279
1970 Dino 246 GT s/n 01016
1974 Dino 246 GTS s/n 07916
1989 Mondial T s/n 81551
1985 288 GTO s/n 55727
1990 F40 s/n 86746
1995 F50 s/n 104248
2003 Enzo Ferrari s/n 132650
2005 Enzo Ferrari s/n 131241
About Canossa Events
Canossa Events was formed in 2010 and its name is synonymous with excellence in road touring events. The company organizes almost 300 events a year, including the legendary Modena Cento Ore, which sees participants driving through some of Italy's most stunning scenery, and also includes races on some of its most famous circuits. Canossa is best known for its classic car rallies and its supercar motor touring events that, set in some of the world's most picturesque landscapes across Europe, the US and the Middle East, combine exotic collectible cars and road adventures with world-class hospitality. Canossa has also acquired Cavallino, publisher of the famous eponymous magazine since 1978 and organizer of the world's most important Concorso d'Eleganza devoted entirely to Ferrari.
Casa Canossa, Canossa's headquarters, is located in Quattro Castella, Reggio Emilia, Italy. Canossa has offices in Milan, Miami, Greenwich and Dubai. Since 2019 Canossa Events has been part of the Motorsport Network.
For any further information request:
francesca.azzali@canossa.com or nicolo.montanari@canossa.com
For more information visit: https://cavallino.com