Back in January, we wondered if any Mustang could beat the Bullitt's momentous $3.74M sale. Six months later, the first-ever GT350R prototype answered that question with a resounding yes. With a final price of $3,850,000, the Wimbledon White fastback became the most expensive Mustang ever sold at public auction.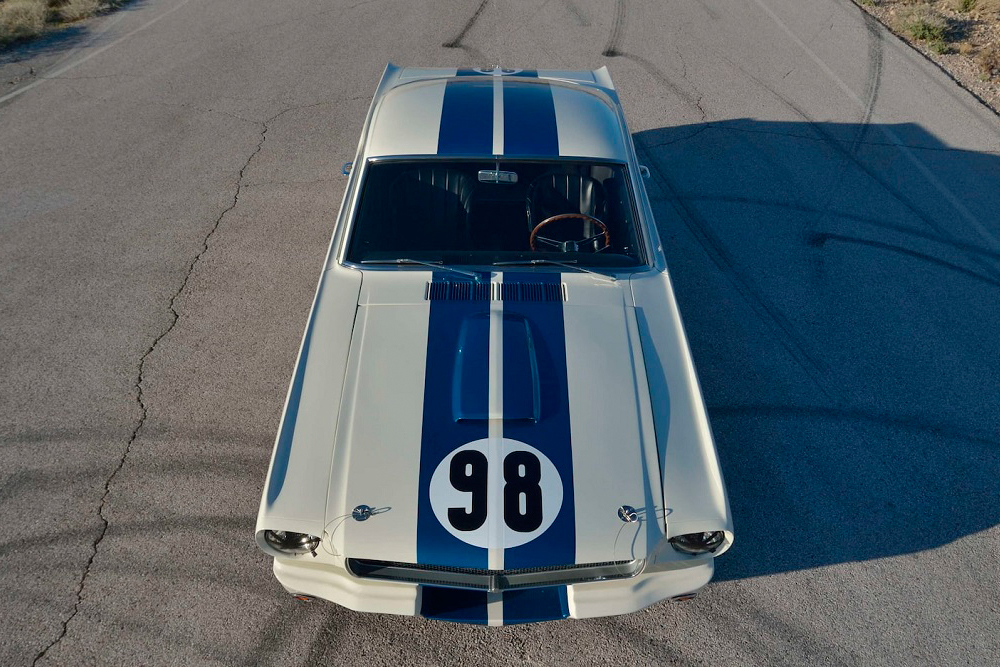 What possible provenance could propel this GT350R to an all-time auction record after six months of economic turbulence? Here's the short version. This car, s/n SFM5R002, is the first R-Model GT350, the father of 36 GT350R Mustangs bred by Carroll Shelby to take the SCCA by storm. Its descendants took to the streets—barely tamed—in the GT350. Ken Miles, one of the drivers who would help dethrone Ferrari at Le Mans in 1966, spent hours in this car's leather bucket seats during testing and development, as did Bob Bondurant, Chuck Cantwell, Pete Brock, and Jerry Titus. Thanks to their help, s/n 5R002 notched the first-ever win for a Shelby Mustang, on its way to becoming one of the winningest Mustangs ever.
As Mecum's president and founder Dana Mecum said back in March, when announcing the car would head to auction: "This is the exact car [that] put performance in the Mustang … Without this car there was no Super Snake; without this car there is no Bullitt."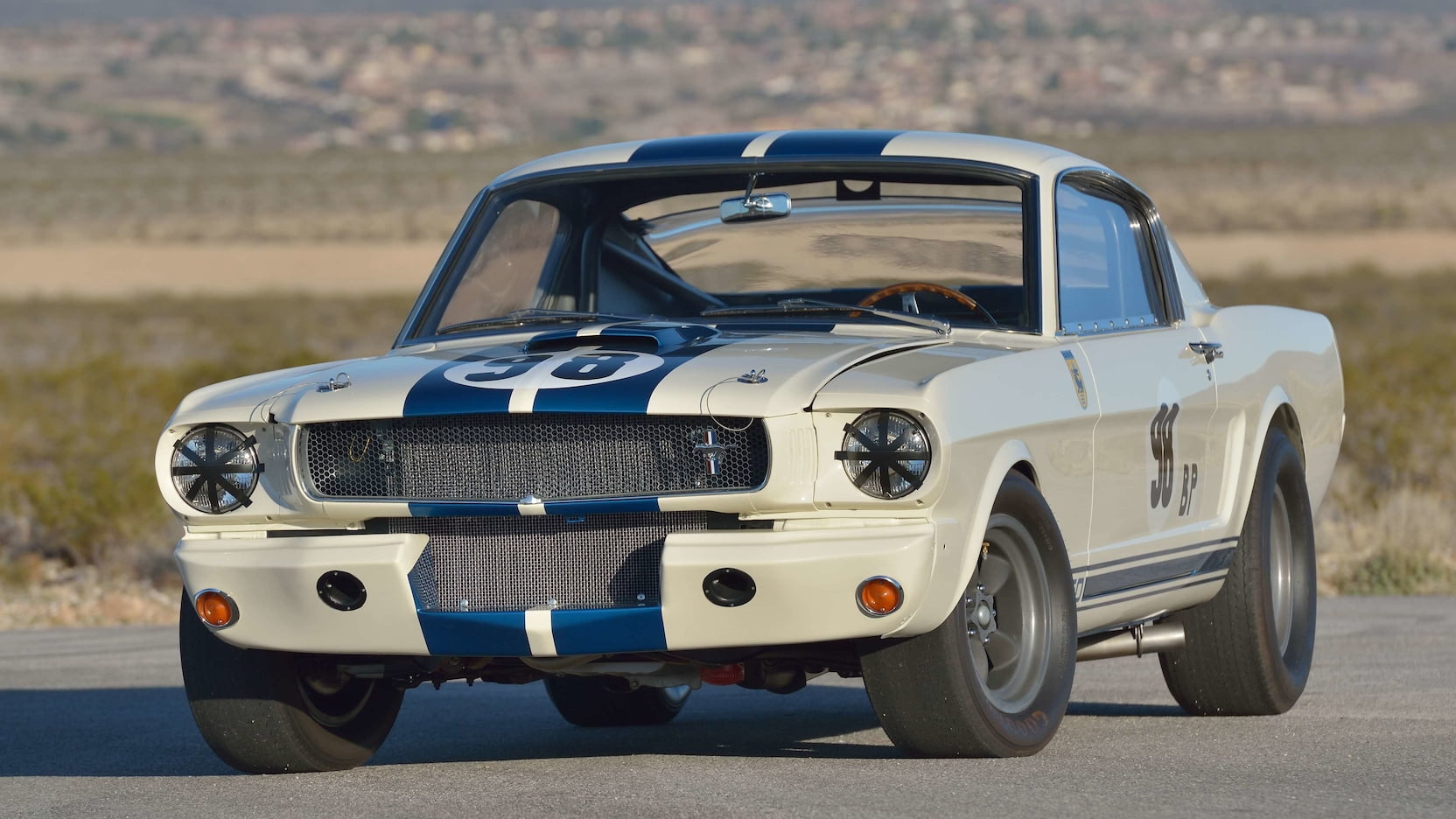 Colin Comer, Hagerty marketplace expert and author of The Complete Book of Shelby Automobiles: Cobras, Mustangs, and Super Snakes and Shelby Mustang: The Total Performance Pony Car, says that s/n 5R002 more than merits its eye-watering auction result. "In fact, I wouldn't have been surprised at another million dollars. As for it beating Bullitt—well, as a Shelby guy and also as someone very familiar with the significance of s/n 5R002, I saw no reason why it shouldn't have."
Though their places atop the Mustang auction record board tempts us to compare the GT350R and the Bullitt Mustang, Comer is quick to point out the nuances between the two.
"From a collectibility standpoint, Bullitt is a cultural icon, a tangible item that is more about its connection to history—and to one of the most revered celebrities of our lifetime—than a sum of its parts or even its status as a vehicle. S/n 5R002, on the other hand, is a hugely significant competition car that will be forever linked to these incredible drivers, and to a team and a man who changed the car world forever.
"Without 5R002 it is quite possible the Shelby Mustang program could have faded into obscurity rather than cement Shelby American as a true manufacturer. This car and its contributions to the success of the Shelby Mustang make it not only the most important Shelby Mustang, but also one of the most important Shelbys of all."
In a style that would come to characterize Shelby's products, s/n 5R002 (also known as "The Flying Mustang") delivered fire-breathing performance with a dose of drama. Shelby capitalized on a black-and-white shot of the first GT350R with all four tires off the ground at Dallas, Texas' Green Valley Raceway, Ken Miles at the wheel. That image was splashed across subsequent marketing materials with the declaration: "See, our Mustangs really fly!"
This GT350R proved that statement wasn't cute marketing, either. It dominated SCCA's B-Production class for the next five years. This pony is a true battle veteran, boasting more than 10 first-place finishes in its 1965 and stacking up much of the points that its sister car, s/n 5R001, used to win that year's B-Production National Championship. In 1966 and '67, "The Flying Mustang" got plenty of race time at tracks across Ohio, Michigan, and Indiana before traveling south in 1968 to terrorize tracks in Texas. After two more years in the Mexican Trans Am series, s/n 5R002 sat in a yard in Monterrey, Mexico, covered in grey primer and resting on a trailer, for nearly 20 years. Mark Gillette of Dallas uncovered the Shelby legend in 1989 and immediately grabbed his checkbook.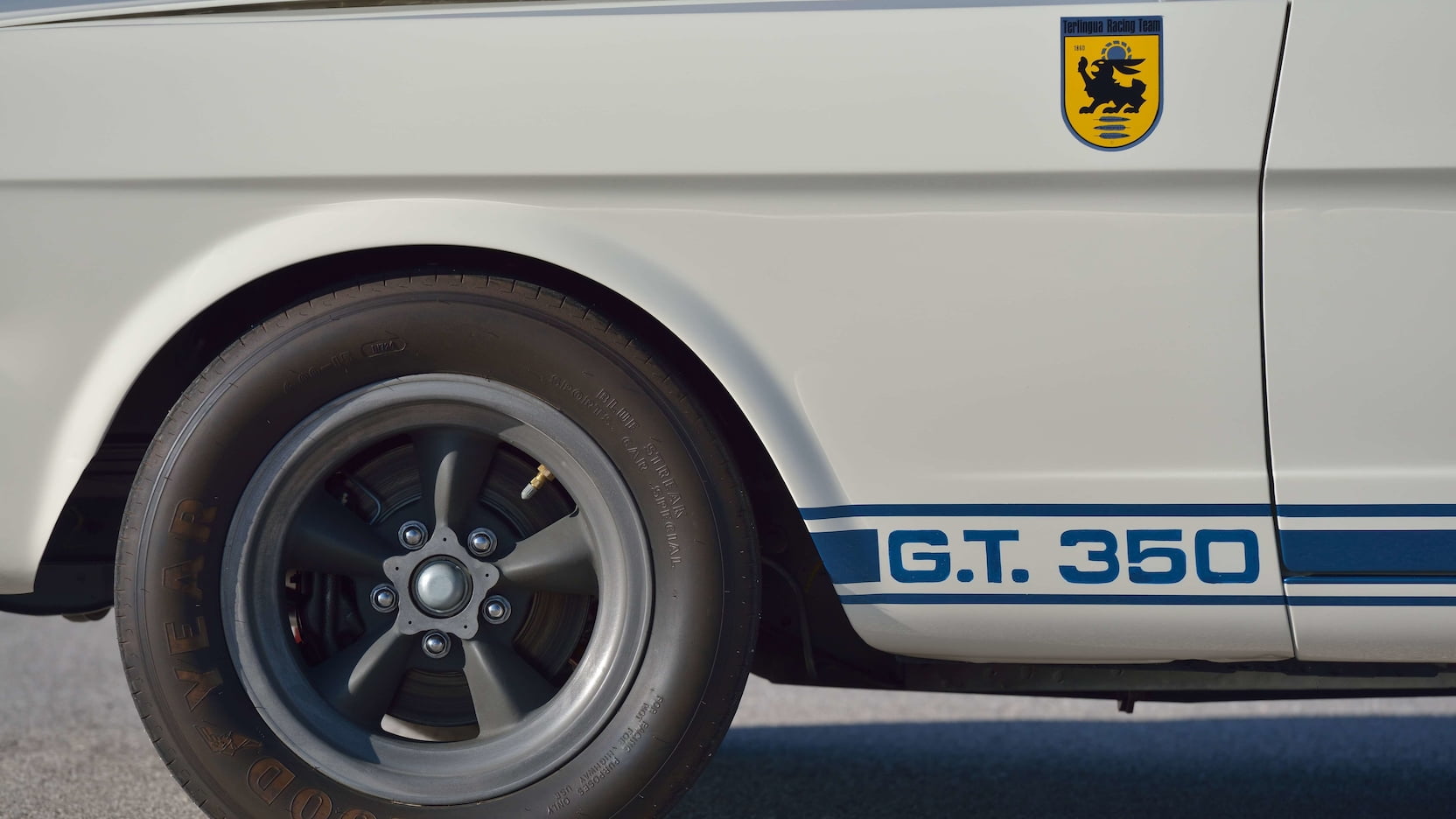 From there, s/n 5R002 led a more relaxed life, displayed in the Shelby American Museum for 14 years in Boulder, Colorado, in "as-found condition" before being sold to John Atzbach, from whose collection it was offered this past Friday.
Remarkably, the GT350R remained in grey-primered, as-found condition until 2010, when Atzbach commissioned a four-year restoration to return the venerable Shelby to its original racing configuration. However, Comer notes that, unlike "some other important competition cars that have been reconstructed from a few insignificant parts and some pixie dust," s/n 5R002 "was all there." The extent of the car's originality likely weighed heavily in its favor among collectors. "The widespread knowledge that it has so much of its original DNA intact, that it was on display for years in its as-found state and then restored to extreme historical accuracy by John Atzbach's team—both of those factors really resulted in a historical artifact with no stories or skeletons, which is not often the case in this world," Comer says.
For the rest of the 2010s, the freshly restored car toured the country, resplendent in the same livery and setup in which it earned the title of "The Flying Mustang." Now, though its days of fire-breathing championships and greasy pitstops are over, this GT350R has made history once again.
---
---