Canepa is offering this ultra-rare McLaren Senna Can Am for sale. 1 of only 3 ultra-rare Senna Can-Am hypercars. Chassis #1 will be the most collectible and most important of the 3 cars produced. STREET LEGAL. 814 Hp, 4.0-liter, twin-turbo-charged V8. McLaren Heritage Orange exterior. Black Alcantara interior. 24-Carat Gold Heat Shield. Only 528 miles.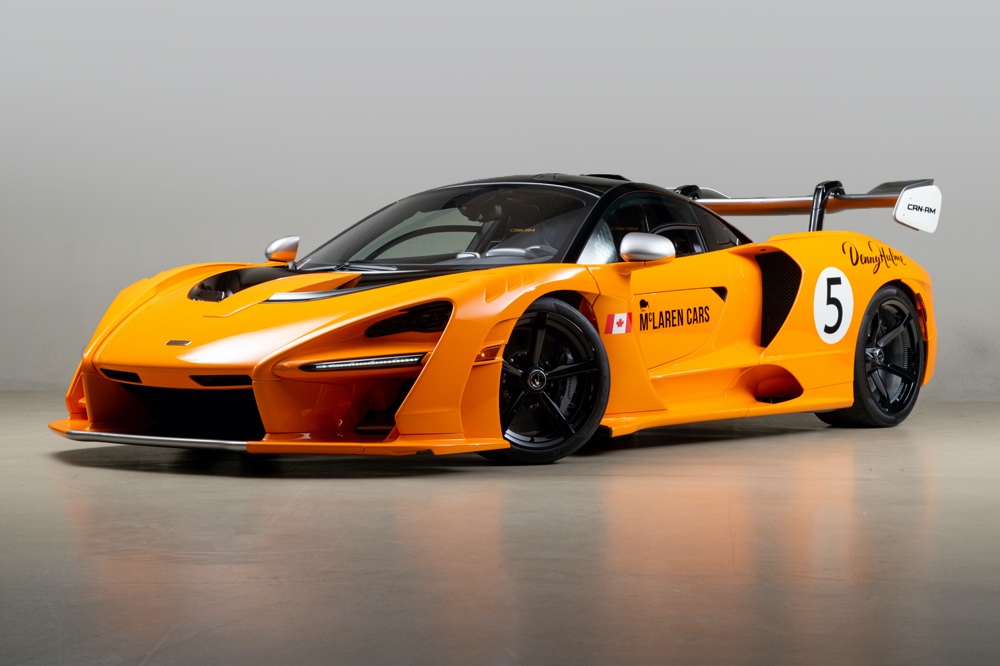 In the late 1960's, the McLaren team was unstoppable in Can-Am, a North American race series with very few regulations, that saw some of the most extreme designs in motorsports history. The 1969 season was all about the orange McLaren Can-Am cars, with the McLaren M8B starting on pole and winning all 11 races that season (three in Canada, and eight in the U.S.). To pay homage to the all-conquering M8B, McLaren Special Operations (MSO) built a limited run of just three "street legal" Senna GTR's, named the Senna Can-Am.
The McLaren Senna is, without a doubt, one of the most extreme creations to roll out of any automotive production line. From its copious amount of power to an aggressive and aerodynamic design, the Senna is a tour de force. After launching the Senna and dropping jaws, the Senna GTR was released as a race-ready track-only version. If you wanted to experience the Senna GTR on the road, you couldn't. That is, until the Senna Can-Am. With just three examples produced, the Can-Am is the rarest of all Senna variants, and a love letter to the McLaren M8B race car.
Exterior options
McLaren Orange Exterior Paint
25 Horsepower Upgrade
Unique Louvered Fender Design
Carbon Fiber Engine Surround with MSO Logo
Unique Can-Am Coolant Cap
Bruce McLaren and Denny Hulme Signatures on Rear Fenders
Race Numbers in White Circle on Rear Fenders
Unique 5-Spoke Wheels
Unique 4-Exit Exhaust Pipes
Satin Anodized Titanium Look Brake Calipers
Etched Laurels through White End Plates with Can-Am Logo in Carbon Fiber
Heritage Badge on Bonnet
Racing Wheel Center Locks in Liquid silver
Rear Air Brake in Liquid Silver with White End Plates (as per M8B)
Liquid Silver Wing Mirrors
Painted Speedy Kiwi and Mclaren Cars Vintage Logos
Painted Canadian Flag on Front Barge Boards
24-Carat Gold Heat Shield
Interior options
Bespoke Black Alcantara Trim with Can-Am Embroidered Logo in Headrests
Bespoke Paintwork on Extended Carbon Fiber Door Sills (Three Canadian Victories)
Black Anodized and Etched Accelerator Pedal with Can-Am Logo
MSO 6-Point Harness in Black with Orange Pads
Pull Straps on Doors in McLaren Orange
Dedication Badge with Can-Am Logo – #1 of 3
Pin-Striped DNR and Paddle Shifters
Brightwork in Zircon Finish
Liquid Silver Door Struts
The Can-Am received a plethora of unique features that set it apart from the standard road going Senna. Built on the Senna GTR's track-only chassis, it received an increase of 25hp to match the GTR's 814hp. In reference to the all-conquering M8B, Bruce McLaren's signature and #4 racing number adorn one side of the heritage orange bodywork, while Denny Hulme's signature and #5 racing number appear on the opposite side, along with vintage McLaren Cars and Speedy Kiwi logos.
The rear air brake is finished in liquid silver with white end plates, again in homage to the original M8B ace car. Other unique details include a 24 carat gold heat shield, distinctive wheels, four exhaust pipes exiting the tail end, a louvered fender design, and dedicated badging notating this car as Can Am #1 of the three produced.
Inside, the cockpit features bespoke black Alcantara trim with a Can-Am logo embroidered into the seat headrests, bespoke paint on the extended sills with details about the original race car's victories, a black anodized accelerator pedal with the Can-Am Logo, liquid silver door struts, orange door pull straps, and a badge with the car's production number.
Never tracked, never driven in the rain, and completely wrapped in clear paint protection film (PPF), this sensational hypercar presents a unique opportunity to purchase the first of the three Senna Can-Am street cars. The rarest of all McLaren Senna production, and a bona fide investment, this is a track-proven weapon that can be legally piloted to any event nationwide.
Click here for further information 
---
collectorscarworld is partnering with the most renowned classic car specialists and dealerships in the world. We always offer selected rare and sought-after collectors cars and supercars for sale and every day a special car is featured for one of our partners. The passion for classic cars is diverse, sometimes it concerns the beauty of forms that can be admired at a concours, sometimes it is the smell of rubber , old leather and gasoline at a racing event or trip in the sunset.
Or its a classic car you have great memories with or which your parents owned a longtime ago. Classic cars and supercars are an expression of the lifestyle that someone shares with other petrolheads, and which is immortal, enduring and always a lot of fun. If you are looking for a special car or need support in the evaluation and history of cars, please contact us at info@collectorscarworld.com
---