Canepa is offering this stunning Ford GT for sale. One of two paint-to-sample Gold Yellow Metallic examples. 647 horsepower, 550 lb/ft torque 3.5-liter V6 engine. Getrag 7-speed dual-clutch transmission. Carbon fiber monocoque structure. Includes all items as delivered – Ford GT sample box, original window sticker, build photos, and promotional materials.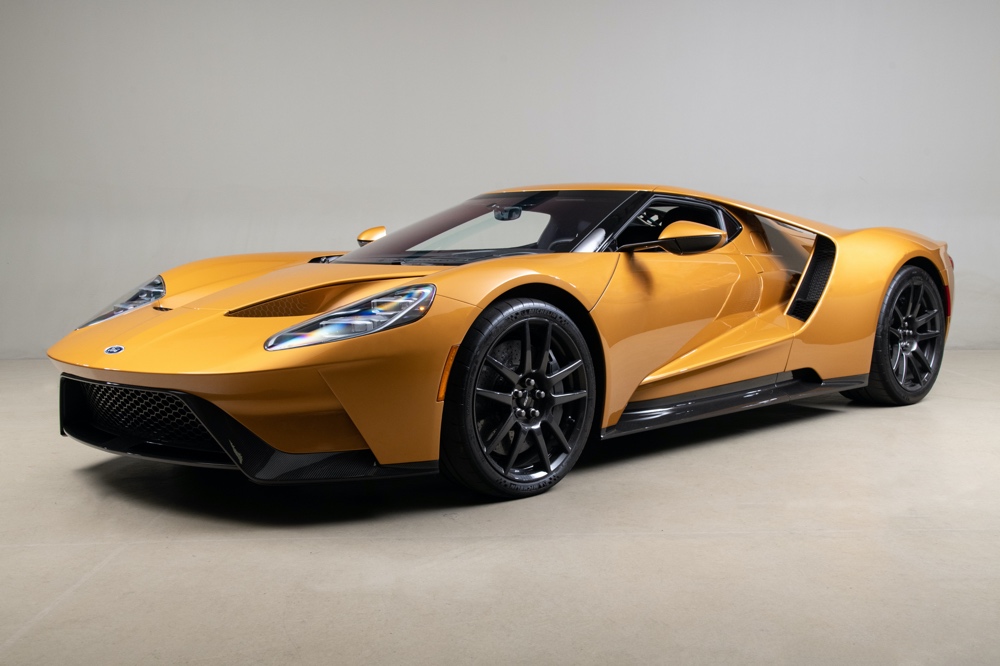 The Ford GT40 legacy is a story that follows a 50+ year timeline. The original Ford GT40's were built to break Ferrari's seemingly unshakable grip on the 24 Hours of Le Mans race. In 1966, they took 1st, 2nd, and 3rd place at Le Mans justly proving that Ford, an American manufacturer, could run with the European contenders and beat them. The Ford GT40 would continue to dominate Le Mans for the next 3 years, leaving a 4-year winning streak between 1966 and 1969. After their final race the Ford GT name would lay dormant for almost 40 years, seeing its revival in 2004 with the new Ford GT road cars. These were developed to be street cars first, comfortable and easier to drive, with 550 horsepower on tap.
Fast forward to the 2015 Detroit Auto Show where the all-new Ford GT was revealed. It was later announced in the summer of 2015 that the Ford GT was set to go racing in both IMSA and the World Sports Car series, spearheaded by the Chip Ganassi Racing team. Much like the fateful race at Le Mans over 50 years earlier with Ford's triumph, the new Ford's GT under Chip Ganassi Racing would go on to take 1st in class at the 24 Hours of Le Mans in 2016, cementing the modern GT in legend as its predecessor had done before it.
The new Ford GT road car application process saw a flooding of applicants who wanted to get their hands on one of the new cars, despite only 1,000 being announced to be built initially. With over 8,000 applications in the first week, many went home empty handed only to dream of what it would be like to own Ford's most advanced supercar. A small number of lucky individuals would learn that they would be receiving their very own Ford GT, one of the most advanced sports cars available today.
The owner of this Ford GT was one of the lucky few. He chose a stunning specification of Gold Yellow Metallic sans racing stripes, and carbon fiber wheels. This color closely replicates the #5 GT that finished 3rd at the 1966 24 Hours of Le Mans. This color option alone cost $30,000. Additionally, the Ford GT was spec'd with the optional Akrapovic titanium exhaust system, along with exposed carbon fiber wheels and titanium lug nuts. Completing the checked items were 6 point harness anchors, and outdoor and indoor covers, for a total in excess of $90,000 in options. Protected since new with Paint Protection Film, this spectacular Gold Yellow Metallic example is one of just two Ford GT's produced in this color.
Included with the car is the original Ford GT sales kit, factory metal print of the GT, both keys, its window sticker, both car covers, and an original painting of the car by designer, Gareh.
Boasting advanced technology throughout, the Ford GT saw numerous improvements since the prior edition was made available to the public over a decade earlier. A trick suspension system that changes geometry depending on if the car is lowered or not, increasing the level of handling in track mode. The Eco-boost twin-turbocharged 3.5-liter V6 engine is a mega powerplant, pushing out 647 horsepower and 550 lb/ft of torque, paired with a Getrag 7-speed dual clutch transmission. This equates to a 3.2-second sprint to 60 mph, and a top speed of 216 mph.
A lightweight carbon fiber monocoque and aluminum substructure helps keep the weight down to a mere 3,054 pounds when dry. Advanced aerodynamics help ensure that the car stays firmly planted to the ground, via advanced adjustable suspension, and a hydraulically-actuated rear wing. The sum of all of its parts has created one of the most engaging and rewarding driving experiences that you can have in a modern day road car. With an incredible amount of feedback, connectivity to the car, and directly linked to Ford's motorsport heritage, there is no doubt that the Ford GT is one of the most exciting cars on the road today.
Click here for further information 
---
---