Canepa is offering this amazing Porsche 911 GT2 RS for sale. Black leather and Black alcantara interior with Bose surround sound system. Weissach Package. Only 906 miles. Front Axle Lift system. 7-speed dual clutch PDK transmission.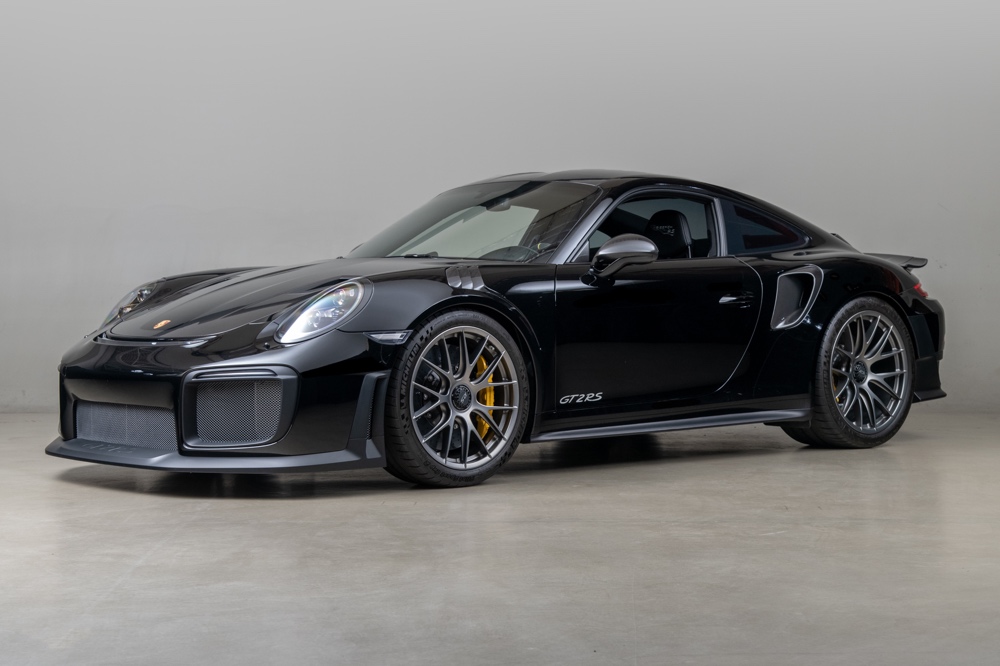 This Porsche 911 GT2 RS name laid dormant in Stuttgart for almost 10 years, last used in 2009 with the 997. Then in 2017, the 991 GT2 RS was announced. With a stupendous 700 horsepower from its 3.8-liter twin-turbocharged engine, this dual-clutch, rear-wheel-drive "the most serious 911 ever" was an instant sensation. Adding on top of its already resounding positive press, it set a production car lap record at the Nürburgring with a 6:47 minute lap time, cementing this car as the "baddest" street-legal car in the world, bar none.
The Porsche 911 GT2 RS is perfectly optioned from the Porsche factory in Zuffenhausen. This Stealth black, over Black leather- Black Alcantara with platinum gray stitching complimented throughout with silver grey seat belts and yellow calipers magnified by the addition of the $18,000 Weissach package. With a carbon fiber hood and roof, and numerous other parts for lighter weight and aerodynamic modifications, this transforms the already potent car into the ultimate road and track 911. Other options include the must-have 20/21 911 GT RS magnesium wheels painted in Satin platinum ($13,000), front axle lift system, BOSE surround sound, air vent surrounds painted and air slats in leather, extended deviated stitching interior package, Porsche's light design package, automatically dimming mirrors, and chrono package.
The original owner of the GT2 RS took delivery in late 2018 from Porsche of North Scottsdale. All current service has been performed by Porsche North Scottsdale and remains in pristine, original "like-new" condition, showing just 906 miles on the odometer. The GT2 RS is protected by XPEL clear guard including front bumper, hood, fenders, and side rear view mirrors. As an option included, are the Canepa Design carbon winglets replacing the factory wing, giving it a subtle but big transformation in style. Both winglets and spoiler will come with the delivery of the GT2 RS.
This GT2 RS represents the pinnacle of Porsche 911 performance that will certainly not be matched for years to come. With its motorsport-derived nature, the driver can live on the ragged edge of performance whenever desired yet comfortable enough to use within daily life driving. The duality of a daily driver and optional track monster and is not often met in a balance such as this, but in the GT2 RS Porsche has delivered such a masterpiece. The power is relentless, the handling sublime, and the styling could not have been better executed.
Click here for further information
---
collectorscarworld is partnering with the most renowned classic car specialists and dealerships in the world. We always offer selected rare and sought-after collectors cars and supercars for sale and every day a special car is featured for one of our partners. The passion for classic cars is diverse, sometimes it concerns the beauty of forms that can be admired at a concours, sometimes it is the smell of rubber , old leather and gasoline at a racing event or trip in the sunset.
Or its a classic car you have great memories with or which your parents owned a longtime ago. Classic cars and supercars are an expression of the lifestyle that someone shares with other petrolheads, and which is immortal, enduring and always a lot of fun. If you are looking for a special car or need support in the evaluation and history of cars, please contact us at info@collectorscarworld.com
---