Based on Eric Broadley's Lola GT, the original Ford GT40 was spawned by the Dearborn giant's ambition to beat Ferrari at Le Mans, a feat it duly achieved for the first time in 1966. The GT40 project had commenced three years previously, following Ford's failed attempt to buy into Ferrari, and was based at the Ford Advanced Vehicles plant at Slough, England. That first sweet Le Mans victory would fall to the 7.0-litre Mark II, with victory the following year going to a US-built Mark IV 'J' car. (The GT40 Mark III was the British-built road-going version).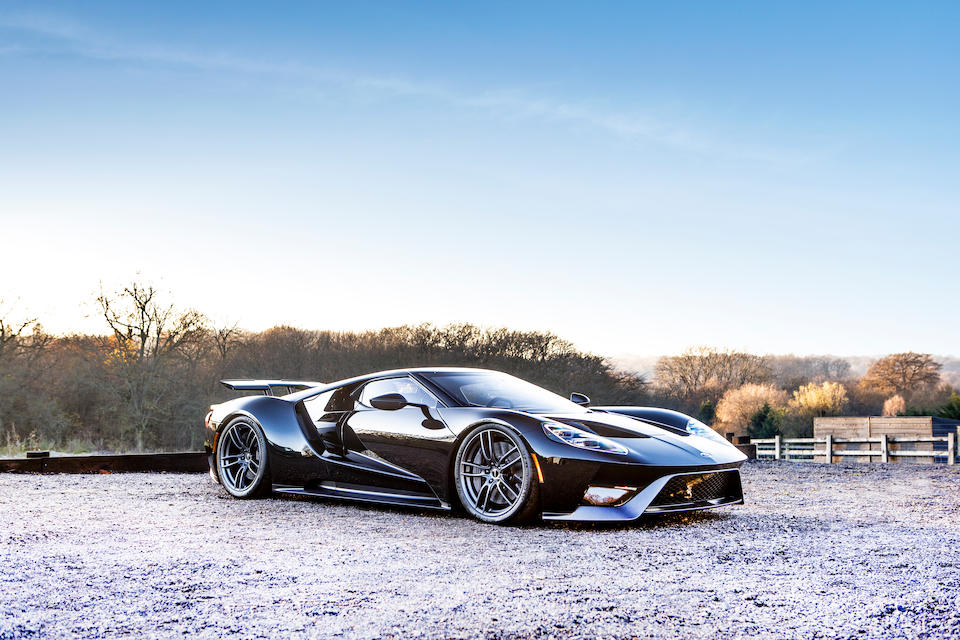 ---
2018 Ford GT Coupé
Registration no. 1966 GT
Chassis no. 2FAGP9CW8HH200121
*Modern reworking of an iconic racing GT
*One owner and only 609 miles from new
*Shadow Black with matt exposed carbon fibre exterior
*7-speed dual-clutch gearbox
*647-horsepower, mid-mounted 3.5-litre twin-turbocharged Ecoboost V6 engine
*Active aerodynamics and Brembo Carbon Ceramic Brakes
---
A decade later and the GT40's status as an all-time great classic sports car had been firmly established, leading to an increased demand for unmolested originals and the start of a replica-building industry. Perhaps the only surprise concerning the emergence of a reconstituted 'official' version is that it took Ford the best part of 40 years to get around to it.
The company's flagship model, the 'new generation' GT was developed by Ford's Special Vehicle Team Engineering department. The composite body panels were unstressed, as on the original, but instead of the monocoque chassis construction used in the 1960s, an all-new aluminium spaceframe was developed. In defeating Ferrari's more highly stressed V12s, Ford proved that the traditional American V8 possessed all that was necessary to compete at the cutting edge of international endurance racing. A far cry from the simple pushrod units of the 1960s, the newcomer's supercharged 5.4-litre V8 produced 550bhp and 500lb/ft of torque – figures on a par with those of the 7.0-litre engine that won at Le Mans in 1966 and '67.
Back in 1966, the Ford GT40 endurance racer became the first car to exceed 200mph along the Mulsanne straight at Le Mans. Matching that would be some achievement for the production road car, even allowing for nearly 40 years of technological progress. Tested for Motor Trend magazine by Indycar racing legend Bryan Herta, the new Ford GT duly topped 200mph at Ford's Kingman test facility in Arizona, emphatically demonstrating that it was indeed worthy of that famous name. A total of 4,038 cars had been completed when production ceased at the end of 2006, over three quarters of which were delivered in the USA.
In 2015 a second-generation Ford GT was unveiled at the North American International Auto Show. Technologically a far cry from its predecessors, the new Ford GT features a 3.5-litre twin-turbocharged V6 engine, a carbon-fibre monocoque chassis, carbon-fibre body panels, pushrod suspension, and active aerodynamics. Producing 647bhp, the twin-turbo V6 drives the rear wheels via a Getrag seven-speed DCT gearbox. The factory claims a sub-3.0 second 0-60mph time and a top speed of 216mph, which makes the Brembo carbon-ceramic brakes a necessity rather than a luxury.
In fact, Ford's new supercar had been created with GT racing in mind, hence the presence of an integral roll cage and a host of other competition-car technologies. Yet despite its state-of-the-art track-focused suspension, the GT has a ride quality rivalling that of a luxury saloon. Autocar's Matt Prior was obviously impressed: "the GT… has a level of composure – that balance between ride and handling – that I'm not sure I've better experienced in 20 years of road testing. It's so compliant, yet there's so little roll, and body movements are so well controlled, that is genuinely astonishing". All of the planned 1,000 road models had been sold before deliveries commenced in 2017.
The immaculate Ford GT we offer was ordered by the current owner in 2017 and is one of very few of these fabulous cars to be delivered to the UK, first being registered on 12th January 2018 as 'LB67 VOO'. Now carrying the registration '1966 GT', the Ford GT on offer here has covered a mere 609 miles since it left the factory and is presented in effectively 'as new' condition. Specification highlights are as follows:
Exterior colour: Shadow Black
Exterior finish: Matte exposed carbon fibre (£15,000)
Interior theme: Dark Energy
Wheels: 20″ Satin Graphite with black lug nuts in gloss
Brakes: black Brembo callipers
Six-point harness anchors fitted
Indoor car cover in black
Offered with its original order confirmation, purchase agreement, deposit invoice, and a V5C Registration Certificate, the stunning example we offer represents a not-to-be-missed opportunity to join the select band of Ford GT owners.
---
Report by bonhams.com
---