Bonhams offers this wonderfully historic 2-litre sports-racing car with a uniquely compelling early history. This Lister-Maserati was the works-entered sports-racing car campaigned by a hugely admired, enduringly well-respected and – perhaps above all – much-loved motor racing character of the 1950s: the unique, the quite extraordinary, Archie Scott-Brown.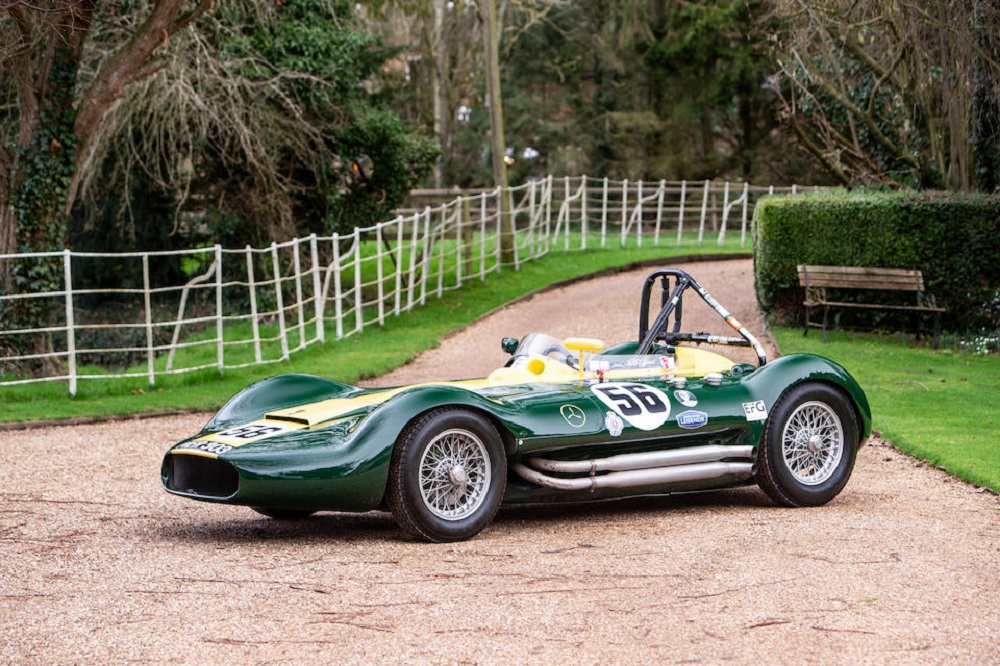 Today all sports enthusiasts are well aware of the term 'paralympian' for describing a competitor who is in some way proscribed or hampered in pursuing whatever sport they might embrace. The term was first coined in the 1950s and although it was never in period applied to this now renowned British racing driver, Archie Scott Brown is certainly remembered within the motor racing world as having been a magnificent example of a tremendous sportsman who had to overcome physical deficiencies which might have defeated the sporting ambitions of any lesser man…
William Archibald Scott Brown was born in Paisley, Scotland on 13th May 1927. From birth he had a malformed right arm with no proper hand, having merely a vestigial forearm with a partial palm and thumb proving him with a little grip. His shoulders were broad and muscular – at the dinner table he sat as tall as most men – but his legs were short. He stood barely five feet tall, but all that knew him would recall Archie as a giant among men.
He was a cheerful and engaging extrovert. Nobody within the motor racing world ever had a bad word to say about him – which is immensely rare. He worked as a salesman for Dobie's 4-Square tobacco; he loved cars and had begun racing his own MG TD – and he could drive like the wind. He was living in Cambridge, England, in the early 1950s and became an extremely popular member of the local motor club. There he met like-minded Brian Lister, whose family business was light engineering. Brian Lister began building sports-racing cars, and his friend Archie began driving them – with considerable success. Other enthusiasts began placing orders for similar cars, and Brian Lister (Light Engineering) Limited was launched to supply the demand.
Of his diminutive works driver Brian Lister would recall: "Nature always compensates, and in Archie's case I believe it had given him the most incredible sense of balance which is what made him such a superb driver… He always used to say that he'd won all the slow-bicycling races at school – just by balancing there completely stationary while everybody else fell off. I never doubted it…"
Archie Scott Brown's budding racing career was threatened as soon as he enjoyed success and gained prominence. In April 1954 he was poised to drive the works Lister-MG sports-racing car at Oulton Park when, on the Friday practice morning there, the RAC Stewards declared him "unfit to drive owing to a disability". Gregor Grant – the Scottish Editor of the weekly Autosportmagazine – supported his fellow countryman, pressing the RAC governing body to restore Scott Brown's licence. They found a powerful ally in aristocratic pre-war racing driver Earl Howe, who had been deeply impressed by seeing Archie race. Former 'Bentley Boy' Dr J D Benjafield became another influential supporter. The RAC medical board finally confirmed his unrestricted driving ability, and on Whit-Monday 1954 Archie Scott Brown returned to the fray in his works-entered Lister.
Through 1955 Archie Scott Brown continued to carve out his place in British motor racing record books, campaigning Brian Lister's latest 2-litre Lister-Bristol works car. His great rival on track proved to be Roy Salvadori in an imported Italian Maserati A6GCS, owned and entered by Syd Greene – himself one-armed – and powered by a 2-litre twin-overhead-camshaft 6-cylinder racing engine.
During the latter part of that 1955 season, Brian Lister completed the design of a brand-new works car for 1956. He and Archie had always been impressed by the evident power and torque of Salvadori's Maserati engine. Now he was determined to combine those attributes with his provenly effective tubular chassis design, which was considerably lighter than the standard Maserati's.
The car resurrected the identity of a previous works Lister, chassis 'BHL 1', combined with its UK road registration number 'MER 303'. The Lister équipe's engine development and preparation partner was an engineer named Don Moore. He had found a model of Colonel 'Goldie' Gardner's famous record-breaking MG 'EX179', and having great regard for the Abingdon-built record-breaking cars, Brian Lister adopted a similar body form for his new Lister-Maserati – now offered here.
Brian Lister: "We modified the shape to fit the chassis and engine we had to use and to comply with the regulations". Frontal areas was exceptionally low with an overall body width of some 4ft 7ins and a scuttle height of just 2ft 3ins – a 20 per cent frontal area reduction from the original Lister works body. Weight was claimed to be less than 10½cwt, and adoption of 10-inch diameter Girling disc brakes (instead of drums) alone saved 40lbs. The disc brakes were carried outboard at the front and inboard at the rear.
Archie Scott Brown was to achieve three 1st place finishes with the Lister-Maserati, plus 2nd places at Brands Hatch at Oulton Park. Archie's utterly spectacular driving style, with 'MER 303' shimmering around circuits on the absolute limit of its tyre adhesion, dancing, twitching and sliding through every corner, remained a crowd-riveting delight – but the contemporary reliability of its customer Maserati engine left much to be desired. Of course, in modern Historic racing this is no longer the case. Decades of experience and loving specialist attention do pay off…
At the end of that 1956 season 'MER 303' was sold to private owner Ormsby Issard-Davies for 1957-58 when it was driven by bearded British driver Allan Moore. Brian Lister, meanwhile, had adopted the Jaguar XK twin-overhead camshaft 6-cylinder engine for his developed Lister-Jaguar sports-racing model. In the fully-fledged Archie Scott Brown's hands the works Lister-Jaguar then destroyed nearly all opposition and became one of the most successful sports-racing cars designs of all time through that season. Overall the combination contested 14 races, won 11, finished second in the 12th, retired just once and set fastest lap after a long pit stop in the remaining one. Archie Scott Brown would go into the 1958 season as a diminutive racing driver with truly towering stature, experience extending even into Formula 1 and with a huge enthusiast following. Indeed, even the great Manuel Fangio conceded that Archie was 'the King of Drift and a tremendous driver'.
Tragically, he would be caught out by a rain shower when locked in wheel-to-wheel combat with American star Masten Gregory – driving a rival Lister-Jaguar – in the Spa GP in Belgium. His works car crashed, overturned and burned out, and little Scott Brown suffered fatal injuries.
Meanwhile, his Lister-Maserati – 'MER 303' as offered here – was part-exchanged for another Lister and subsequently survived in storage for many years. In the mid-1970s it was purchased by prominent Historic-class racer John Beasley, who is understood to have retained it until its sale to well-known American collector – and tremendous Lister enthusiast – Syd Silverman in 1993. Mr Silverman retained this historic sports-racing car until 2007 whereupon it passed into the ownership of fellow American John M 'Chip' Fudge. In his hands 'MER 303' ran in the 2009 Monterey Historics race meeting at Laguna Seca, and in 2012 it starred in the annual Amelia Island Concours in Florida. In 20-plus races it finished every time.
Purchased from JD Classics for £1,350,000 (invoice on file) the car returned to British ownership in 2017 and was driven by John Young into 5th place in the Silverstone Classic Meeting while its late owner competed with it in that year's Goodwood Revival Meeting. In 2018 Ben Short finished 2nd with the car in the Monaco Historique event, and it also finished in the Le Mans Classic before finishing a strong 2nd in its class back at Silverstone. Bonhams is advised that the Maserati A6GCS engine produces consistent power up to the redline, and that the car is very sophisticated from a suspension perspective considering its age; when oversteering or drifting it is said to be very forgiving and easily controlled on the throttle.
The car is currently fitted with an overhauled and dynamometer-tested Crosthwaite & Gardiner 2.0-litre Maserati engine, but importantly is accompanied by the original engine as used by Archie Scott-Brown. It also comes with an MSA Historic Technical Passport (valid until 31.12.2027) and a substantial quantity of spare parts (detailed list available).
This singularly historic sports-racing projectile offered here is not only an eminently useable and entrancingly interesting Anglo-Italian sports-racing car, but also as an entirely fitting memorial to the wonderful 'little big man' of British motor sport, for whom it was originally designed and built.
Report by bonhams.com
---