Girardo & Co. is offering this Aston Martin AMR-One LMP1 for sale. A Works Aston Martin Racing entry in the 24 Hours of Le Mans in 2011.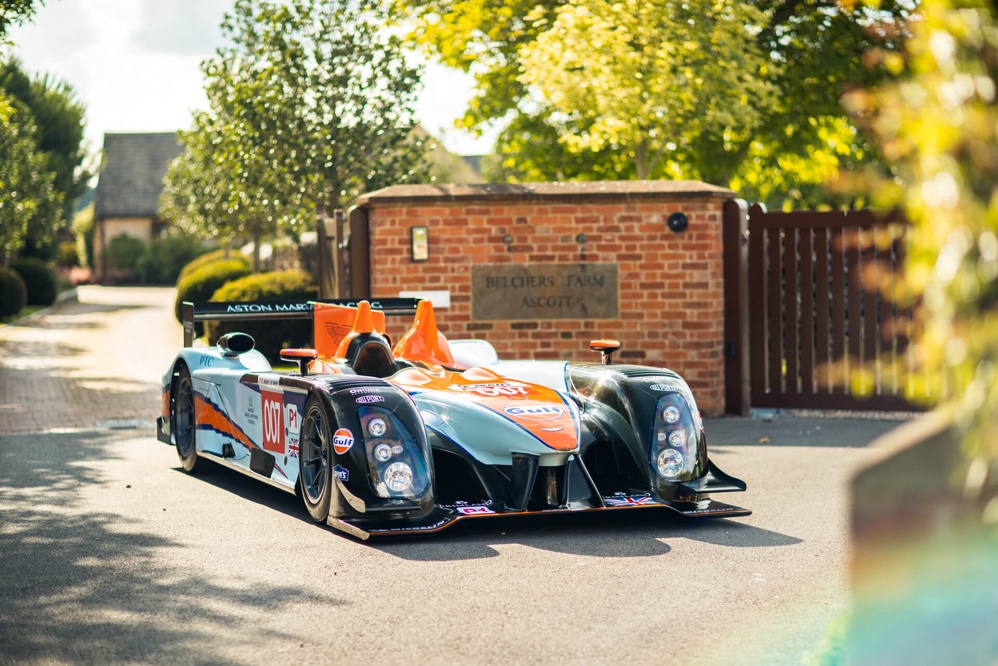 A top-flight Le Mans Prototype (LMP1) designed and built from the ground up by Prodrive, Aston Martin's de facto motorsport arm
Highly eligible for the popular Endurance Racing Legends series from Masters Historic Racing
Resplendent in the legendary colours and sponsorship of Gulf Oil
Accompanied by a wealth of spare parts including a complete spare engine, wheels, brakes and carbon-fibre body panels
The Aston Martin AMR-One
There are few things more synonymous with the 24 Hours of Le Mans than the fabled Aston Martin wings and the duck-egg blue and marigold orange of the Gulf oil company. The mere mention of the two brands evokes kaleidoscopic images of Carroll Shelby broadside through the Esses in a DBR1 or the achingly pretty DBR9 strafing the Mulsanne Straight, its soul-stirring V12 singing in its wake.
On the back of the success of both the DBR9 GT racer and the gorgeous Lola-based B09/60 closed LMP1 prototype and in the face of drastically changing regulations, which were aimed at increasing efficiency and balance of performance, Aston Martin Racing took the daring decision to develop its own ground-up LMP1 car ahead of the 2011 Intercontinental Le Mans Cup. It was the British marque's first attempt at winning Le Mans outright with a self-built car since the ill-fated AMR1 Group C of 1989.
It was of little surprise that Prodrive was chosen to undertake the audacious project. The decorated Banbury-based outfit had garnered Aston great success with the DBR9 and had helped to develop the B09/60, which was often the quickest of the petrol-powered LMP1 prototypes.
Bold decisions off the bat included opting for an open-cockpit design, which was considered to be lighter, simpler and better for quick driver changes, and a inline six-cylinder engine. Developed from scratch in less than six months, the bespoke powerplant was made from billet aluminium, featured a one-piece liner cartridge and direct injection, and was turbocharged. Power was rated at circa-540HP.
Time constraints required Prodrive to adopt a then technologically innovative means of developing and building the brand new car from the ground up, which was christened the AMR-One. Advanced digital software was used and rapid prototyping was completed using 3D printing.
Shrouding the engine, six-speed semi-automatic Xtrac gearbox and the bespoke carbon-fibre chassis was a pretty high-waisted carbon-fibre body, which, while less aerodynamically fussy than its rivals, boasted some novel details such as the straked side radiator outlets and the high nose suspended by two flying buttresses and dividing the two clever 'through-body' air tunnels.
Aston Martin's original intention was to build six AMR-Ones to contest the 2011 season and take the fight to Audi and Peugeot. However, as a result of the short test and development window, just two were completed, finished in the legendary blue and orange colours of Aston Martin Racing's title sponsor Gulf Oil. The first of the two AMR-Ones, chassis number 01, is the car Girardo & Co. is offering for sale.
This car was pressed into competitive action in the 24 Hours of Le Mans, endurance racing's Mount Everest. Running the race number 007 and piloted by the decorated line-up of Darren Turner, Stefan Mücke and Christian Klien, this Aston was forced to pit after an agonising four laps, the team officially retiring the car four hours later, despite their best efforts to address the issue.
The root of the problem on race day was the car's auxiliary drive pulley, which drove the alternator and the water pump. The two AMR-One chassis racked up some 2,500km between them over the course of the preceding practice and qualifying sessions on the Circuit de la Sarthe. During this time, the engineers learned that the auxiliary drive pulleys, which were crafted from billet aluminium and drilled with holes, were cracking after a few hours of running.
The decision was taken to produce a pulley crafted from heavier-duty steel back at the factory in Banbury and fly them out to Le Mans in time for the race. What the team hadn't envisaged was that the heavier steel pulleys, which were not drilled with holes, impacted the torsions of the engine and threw the mechanics of the car out of kilter, forcing both cars to retire. Suffice to say, chassis 01's engine is now in the practice/qualifying specification with the aluminium pulley – a part which is straightforward to replace.
Aston Martin Racing's top brass took the difficult decision to withdraw the AMR-One from competition and cease all development. The AMR-One was a glorious case of what could have been. Had this great looking and technologically fascinating Le Mans prototype been afforded the time and budget to be developed, its promising potential would have realised.
Chassis 01 was acquired by its current owner directly from Prodrive in 2013. Prior to the car being delivered, the car was run by Prodrive and demonstrated on track by the multiple Le Mans winner and Aston Martin Racing Works driver Darren Turner. This AMR-One joined a sizeable collection of historically significant road and racing cars and has been carefully stored ever since. Upon receiving the car, Girardo & Co. arranged for chassis 01 to be returned to Prodrive for a thorough technical inspection in September of 2021.
Today, with interest in modern-era endurance racing cars showing no sign of let up and a growing number of great series and events around the world for which they're eligible, this AMR-One is an electrifying proposition. Not only is it a Works Aston Martin built and run top-flight prototype which contested the most famous endurance race of them all, the 24 Hours of Le Mans. But it's also sponsored by Gulf Oil and resplendent in arguably the most famous motorsport livery of them all.
What's more, this Aston Martin AMR-One is accompanied by an extensive spares package, comprising wheels, brakes, carbon-fibre body panels, an Xtrac gearbox and a complete engine. The Endurance Racing Legends outings in 2022 are calling. Who's going to return this car to the circuit and share this fascinating piece of Aston Martin history with the world once again?
Accompanying spares package
Spare wheels x 17
Engine stands x 2
Complete engine
Complete gearbox
Nose cone
Left and right floor panels
Wheel hubs x 4
Carbon brakes (discs and pads) x 4
Coil springs x 2
Headlight covers x 7
Upper and lower control arms x 4
Driveshafts x 4
Box of alternator parts
Steering rack and motor
Box of Xtrac clutch parts
Wooden boards x 3
Front headlight housing
Carbon-fibre rear end incl. lights
Carbon-fibre centre cover
Carbon-fibre rear central fin
Carbon-fibre box ducts x 2
Carbon-fibre end plates and uprights x 2
Carbon-fibre top rear quarter body panels x2
Carbon-fibre rear tub
Carbon-fibre side body panels x2
Carbon-fibre finned body panels x 2
Click here for further information 
---
collectorscarworld is partnering with the most renowned classic car specialists and dealer-ships in the world. We always offer selected rare and sought-after collectors cars and supercars for sale and every day a special car is featured for one of our partners. The passion for classic cars is diverse, sometimes it concerns the beauty of forms that can be admired at a concours, sometimes it is the smell of rubber , old leather and gasoline at a racing event or trip in the sunset.
Or its a classic car you have great memories with or which your parents owned a longtime ago. Classic cars and supercars are an expression of the lifestyle that someone shares with other petrolheads, and which is immortal, enduring and always a lot of fun. If you are looking for a special car or need support in the evaluation and history of cars, please contact us at info@collectorscarworld.com
---