Fiskens is offering this Aston Martin DBR9 GT1 for sale.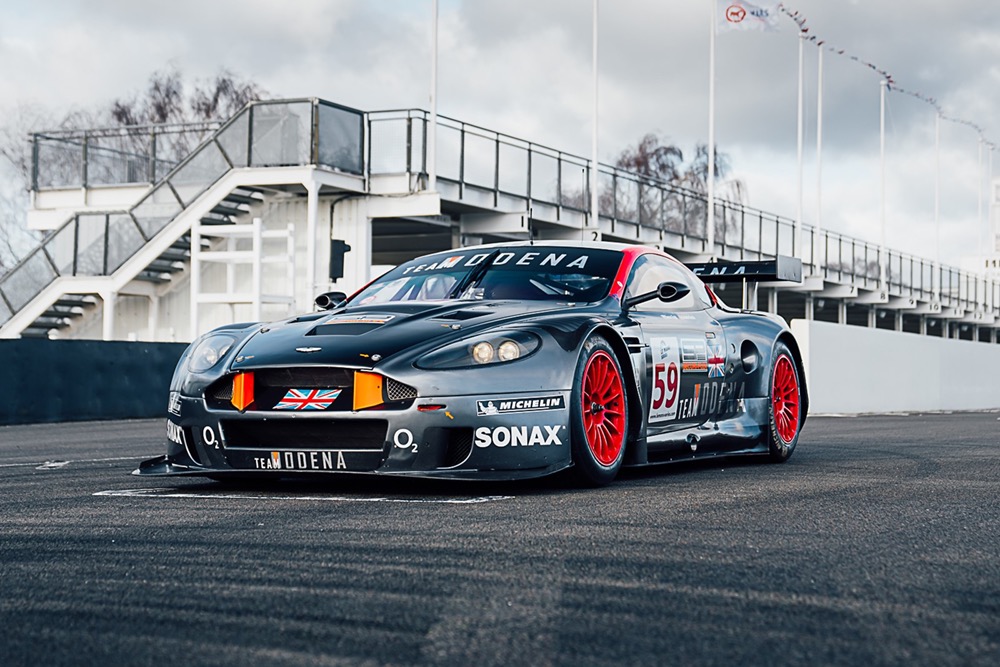 2005 Aston Martin DBR9 GT1
DBR9/101 – The most successful privately-campaigned Aston Martin in the company's history
Triple Le Mans 24 hr veteran, 4th in GT1 and 9th overall in 2006
Period wins at Nürburgring, Silverstone, Monza, Bahrain, and Interlagos; podiums at Sebring and Spa
Offered directly from first owner and former period team sporting director
DBR9/101 was the first DBR9 customer car and is famously regarded as the most successful DBR9 GT1 ever. Veteran of three Le Mans 24 Hour races where she finished as high as 4th in GT1 and 9th overall in 2006, she gained period wins at Nürburgring, Silverstone, Monza, Bahrain and Interlagos, and podiums at Sebring and Spa across four seasons of competition.
Assembled by Prodrive and delivered in July 2005, she had her competition debut weeks later at the Silverstone 1,000 km finishing 4th in GT1. Cirtek-prepared and in blue livery she notched up her first GT1 victory at the Nürburgring 1000 driven by AMR works diver Darren Turner and Bob Bell, followed by an outright win in Bahrain in November with Christophe Bouchut and Antonio Garcia, DBR9/101's most successful driver.
In 2006 the DBR9 was race-prepared by Team Modena, and made her Le Mans debut, finishing 4th in GT1 and 9th overall with Garcia, David Brabham and Nelson Piquet Jr. She won the 1,000-mile Mil Milhas at Interlagos Brazil with a star line-up including triple Formula One world champion Nelson Piquet, two-time Indy 500 winner Helio Castroneves, and Le Mans victor Christophe Bouchut.
2007 saw former CART and Formula One driver Christian Fittipaldi join Garcia for most of the season, with DBR9/101 again achieving various poles and podiums in Le Mans Series 1,000 km races. Her second Le Mans finish was an exercise in true grit, Team Modena earning the Prix Escra for pitwork getting the DBR9 back into the fray after a tangle with an LMP2 car, battling back to finish 10th in class.
In 2008, her final season, now campaigned by newly works-affiliated Aston Martin Racing Team Modena, 101 had great success, winning three 1,000 km races at Monza, the Nürburgring and Silverstone. Her third Le Mans resulted in a 7th in class finish, after a long stop for a gearbox rebuild at 12 hours. In a final flourish to her outstanding period career, DBR9/101 won her last race at the Silverstone 1,000 km with Garcia and Tomas Enge.
Since the close of front-line competition, DBR9/101 has been returned to 2006 spec and prominently displayed at locations and events including the Aston Martin Headquarters in Gaydon, at the Aston Martin Heritage Trust, and the British Motor Heritage Museum. She was a star attraction of the Le Mans display at the Aston Martin Centenary in Kensington Palace Gardens, and has appeared at Hampton Court.
Offered from the collection of her original owner and former sporting director for her period team, this DBR9 with extraordinary competition history is coming to market for the first time. She would be a significant addition to any collection of racing Aston Martins, and is eligible for the Masters Endurance Legends series and other outstanding events.
Le Mans 24 Hours
2006: 4th in GT1 & 9th overall (Brabham/Garcia/Piquet Jr)
2007: 10th in GT1 (Garcia/Fittipaldi/Menten), Prix ESCRA winner
2008: 7th in GT1 (Fittipaldi/Menten/Borcheller)
Sebring 12 Hours
2007: 3rd in GT1 (Turner/Garcia/Halliday), International Motor Sports Association (IMSA) Cup winner
Mil Milhas (Interlagos)
2006: Winner (Piquet/Piquet Jr/Castroneves/Bouchut)
EUROPEAN LE MANS SERIES

2005 Nürburgring 1000km, 1st in GT1 (Turner/Bell)
2006 Spa 1000km, 2nd in GT1 (Garcia/Lyons)
2007 Nürburgring 1000km, 2nd in GT1 (Garcia/Fittipaldi)
2007 Silverstone 1000km, 2nd in GT1 (Garcia/Turner)
2008 Monza 1000km, 1st in GT1 (Garcia/Enge)
2008 Spa 1000km, 1st in GT1 (Garcia/Enge)
2008 Nürburgring 1000km, 1st in GT1 (Garcia/Enge)
2008 Silverstone 1000km, 1st in GT1 (Garcia/Enge)
FIA GT CHAMPIONSHIP

2005 Bahrain 500, 1st (Bouchut/Garcia)
Click here for further information 
---
and dealer-ships in the world. We always offer selected rare and sought-after collectors cars and supercars for sale and every day a special car is featured for one of our partners. The passion for classic cars is diverse, sometimes it concerns the beauty of forms that can be admired at a concours, sometimes it is the smell of rubber , old leather and gasoline at a racing event or trip in the sunset.
Or its a classic car you have great memories with or which your parents owned a longtime ago. Classic cars and supercars are an expression of the lifestyle that someone shares with other petrolheads, and which is immortal, enduring and always a lot of fun. If you are looking for a special car or need support in the evaluation and history of cars, please contact us at info@collectorscarworld.com
---