RM Sotheby's is pleased to announce the auction of the only Enzo delivered new by the Factory in Matte Nero Opaco via Sotheby's Sealed, opening on 5 December 2022 and closing 7 December 2022 without reserve.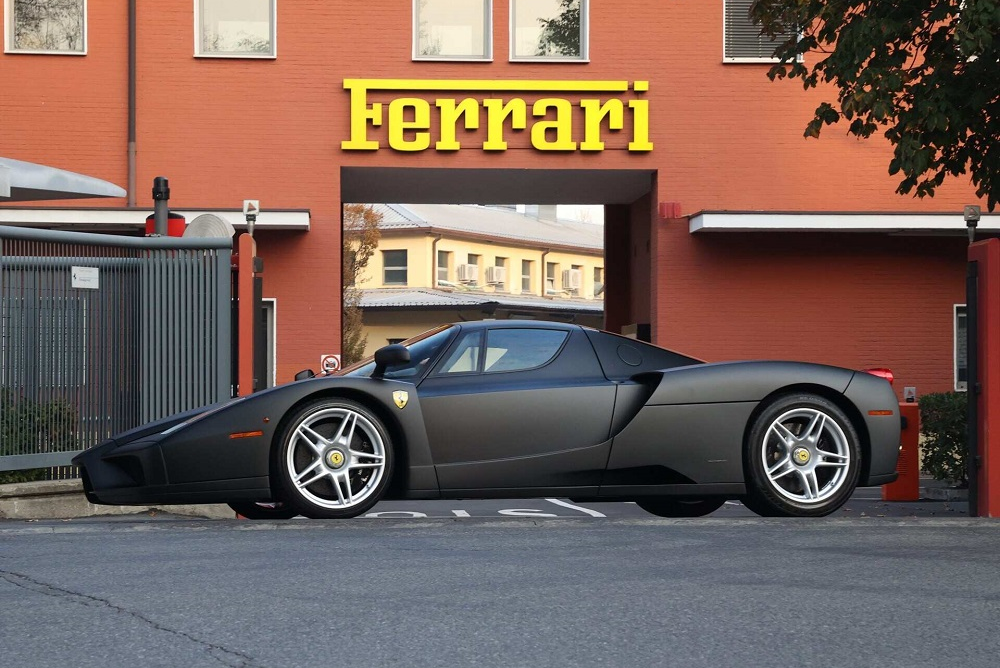 A major discovery in the Ferrari hypercar world
An unrepeatable opportunity to acquire what could be the most significant Ferrari hypercar that few knew existed; the only Ferrari Enzo to be delivered new from Maranello finished in Nero Opaco (Matte Black)
Utilizing influence only available to a member of the Brunei royal family, this example was the first Ferrari hypercar ever delivered by the Factory in Matte Black, a former crown jewel in the largest collection of one-off Ferraris the world has ever known
The final naturally aspirated V-12 Ferrari hypercar, a halo model built in homage to company founder Enzo Ferrari
Long hidden away from public eyes, the odometer reading is just 5,730 km at time of cataloguing
A masterpiece of modern design and a technological tour de force, this one-off Ferrari Enzo will constitute the ideal centrepiece of a leading collection of Maranello greats
Ferrari Classiche Red Book certified
---
Standing on the shoulders of giants
No other marque is so inextricably linked to the story of its creator as Ferrari. Built from little more than the will to win and a desire to be the best, the firm has grown from tuning and preparing Alfa Romeo's pre-war stable to become the world's premier producer of roadgoing sports cars, each success owed almost exclusively to Il Commendatore. The final hypercar built under his direction—the F40—pushed the boundaries of performance further than ever before, becoming the most iconic car of its generation. It would take fourteen years since his passing for a machine to come along that was worthy of dedicating to Enzo Ferrari's memory.
Such were the car's game changing levels of technology and performance that the Enzo wasn't just dedicated to the great man—it was named after him. Following in the footsteps of the firm's most lauded halo hypercars, the Enzo's beating heart was an all-new naturally aspirated 5,998 cc V-12 engine mounted amidships, with a 651-horsepower output that totally eclipsed that of its rivals. Power was channeled to the rear wheels via a paddle-operated "F1" automated manual gearbox designed by Graziano Trasmissioni, whose aggressive whip-crack upshifts combine with the engine's low-down torque and electrifying 8,200 rpm redline to create a truly momentous driving experience.
The rest of the car was every inch as special as the characterful drivetrain, which was housed in a cutting-edge chassis formed of carbon fibre and aluminum, and clothed in carbon composite body panels straight from the pen of Pininfarina's Ken Okuyama. Shaped by both extensive wind tunnel testing and the all-conquering grand prix car that had delivered Michael Schumacher to world championship after world championship, the futuristic design stepped away from the enormous rear wing that had marked its predecessor—the F50—and instead focused on delivering downforce through subtle ground-effect aerodynamics. Like the F50 and the halo models that had come before, the limited-edition Enzo raised the bar in terms of performance and styling, bringing with it a series of Ferrari firsts including carbon ceramic disc brakes, and becoming one of the most desirable and sought-after hypercars of the modern era.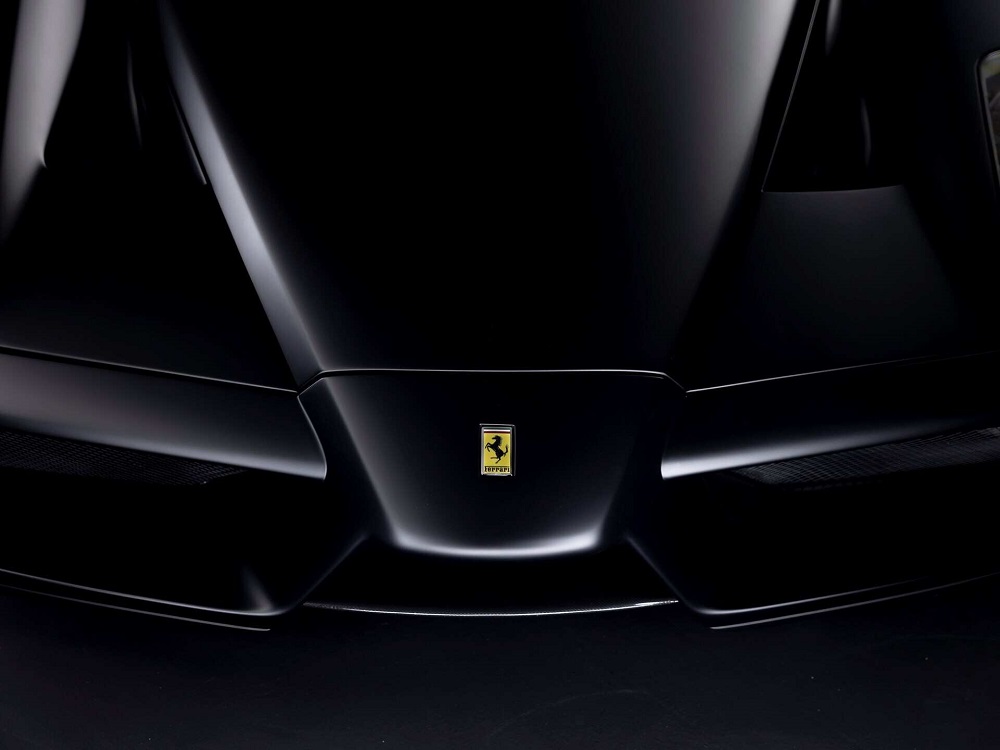 The Royal Enzo
With a published production of just 400 examples ever built, the Ferrari Enzo is a rare and coveted hypercar that would take pride of place in any collection. Astute collectors will notice that chassis 136069 is an order of magnitude more special.
The Enzo was introduced at a time in Ferrari's history when the color palate for road cars was still quite limited, especially compared to current Ferrari offerings. The vast majority of the examples were painted either red, yellow or black, with a handful of other cars selected in different shades of blue, silver, grey or white. While some of these colors were rare, it took very special influence and customer standing in order to be allowed to select a true one-off color during this era and it was only fitting that such a car was specified by a member of the royal family of Brunei, with a rich history in ordering factory one-offs and bespoke automobiles. With Nero Opaco (Matte Black) being one of the most popular Tailor Made colors in today's market, it is nearly unthinkable that almost two decades ahead of its time, this Enzo was the very first Ferrari hypercar delivered new by the Factory in this striking color.
Construction began on 8 June 2004, with the finished car leaving Maranello's workshops on 15 October. The groundbreaking hypercar was uniquely specified with Nero Opaco paintwork over a matching Nero leather interior with Nero carpets. This incredible triple black specification was further personalized with large-sized seats and Rosso instruments. The one-off car was kept at the family's London residence, where it made the occasional fleeting appearance rolling with menace around the streets of Hampstead, Mayfair and Knightsbridge, before later being brought over to the Asia-Pacific region.
Recently the car has been subject to a cosmetic restoration by Carrozzeria Zanasi, the official paint shop for all of Ferrari's Hypercars, Tailor-Made editions and Icona series cars. With receipts totaling over 110,000 €, Zanasi went through the cosmetics of the car extensively, replacing any necessary items such as the typical "sticky" switches, front and rear headlights, rear bonnet glass and a full repaint to the car's magnificent original Nero Opaco, among a number of smaller items.
Following a long line of V-12-engined flagship models that included the Ferrari 250 Testa Rossa, 250 GTO and F50, the Enzo undeniably had big shoes to fill. But it didn't just live up to expectations when it was unveiled in 2002—it forever raised the bar for all hypercars that would follow. A technological marvel in period, the passage of time has only crystallised the model's importance in Ferrari's history, cementing its significance by being Maranello's final naturally aspirated, non-hybrid V-12 hypercar.
Among the vintage car space, royal provenance is considered extremely desirable and is often a big value differentiator for those vehicles lucky enough to grace the various royal garages. Famous names from the 1950s and 60s such as King Leopold and Princess Lilian De Rethy in Belgium, among a number of others, helped put Ferrari on the map with the world's most elite collectors. With color and mileage typically being the two most important differentiators in the modern car marketplace today, it only makes sense that low-mileage Enzos boasting one-off color schemes are the most sought after, however, this Enzo is in a category of its own. With the combination of royal provenance, low mileage and a stunning specification only available for this client, this is an unrepeatable opportunity to buy the best.
If you are interested in more news click here.
---