Speedmaster Limited is offering this Ford Benetton B193 – Ford HB for sale. Complete and running car with starting equipment. F1 Podium Finisher. Driven by both Michael Schumacher and Ricardo Patrese. GP Winning design by Ross Brawn and Rory Byrne.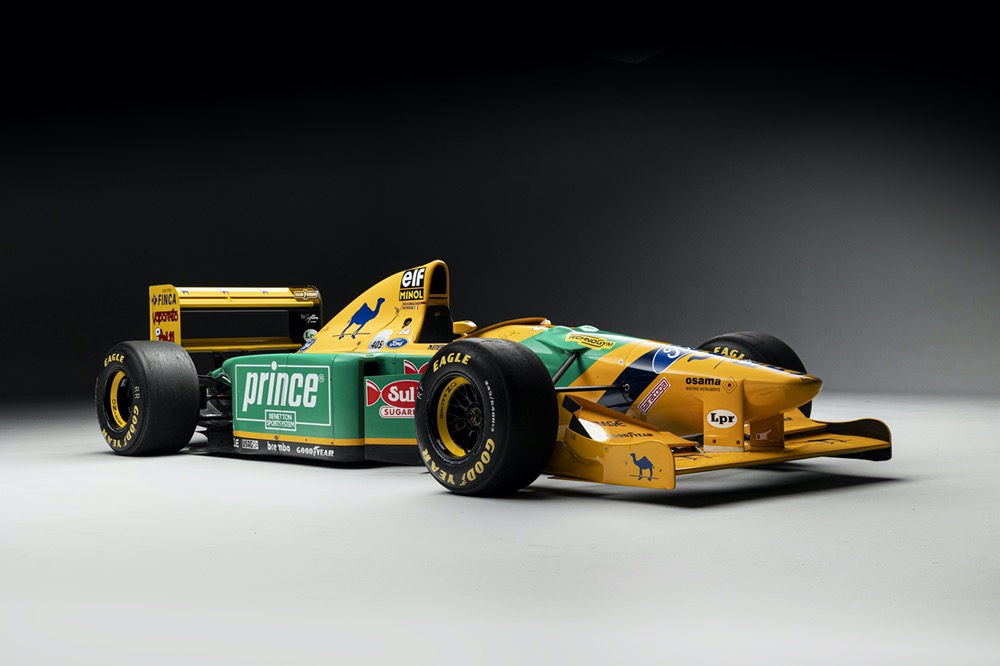 Ex Michael Schumacher and Riccardo Patrese Podium winning car. Driven by two giants of the sport – Ricardo Patrese who set a record competing in 16 years of F1 from 1997 – 1993, and the seven-times Formula 1 World Champion Driver, Michael Schumacher one of the great F1 drivers.
While the car was extensively test-driven during 1993, by both Benetton Formula 1 team-mates Michael Schumacher and Riccardo Patrese, it was most notably used in qualifying for that year's British Grand Prix by the legendary German superstar, who promptly qualified it third fastest – bettered only by the then-dominant Williams-Renaults of Alain Prost and Damon Hill – before returning to his own originally-assigned sister chassis (serial '05) for the race itself. This car – chassis 'B193B-04′ was raced by its regular driver Riccardo Patrese in that British Grand Prix in which he took a podium place in it by finishing third behind race winner Alain Prost's victorious Williams-Renault FW15C and Michael Schumacher, second, in the sister Benetton-Ford B193B, this was also a notable 2-3 finish for the team. Overall, the Benetton-Ford offered here contested five of that year's Formula 1 World Championship Grand Prix races, with Riccardo Patrese driving it home to points finish with fourth place in Spain, retirements in Canada, Monaco and tenth after an interrupted race in France were low points . Patrese again retired from the Monaco Grand Prix with an engine problem after having run as high as fifth place round the historic streets of Monte Carlo. The Benetton-Ford B193B had been designed under the direction of Ross Brawn and Rory Byrne, who subsequently became the technical brains behind Michael Schumacher's momentous tally of World Championship titles with Benetton (in 1994) and later with Ferrari. In 1993 there were only 3 cars/ teams that won Grand Prix – Williams who won the world championship, McLaren and Benetton with Schumacher and Patrese finishing 4th and 5th in the Drivers Championship and combining to finish 3rd in the Constructors Championship. This car – chassis '04' – was assembled around the very first carbon-composite monocoque chassis to be manufactured in the Benetton team's brand-new 85,000-square-foot Enstone factory, its 1992-season predecessors having been produced in their original ex-Toleman Formula 1 facility at Witney. In fact the team's winter work-schedule had been formidable. After the remodelled organisation had been consolidated through 1992 to end that year with a 'passive-suspension' car which was reliable and which offered consistent results, Benetton became immersed in high-tech development of an intensity unmatched by any rival team. They attacked on a broad front, their winter work embracing everything from automatic gearboxes to active-ride suspension and traction control, all at the cutting edge of F1 technology at the time.
While new Formula 1 regulations for 1993 mandated narrower tyres than hitherto, Brawn and Byrne concluded they needed a new car, instead of the heavily-revised 1992-series design that had been originally envisaged. Ross Brawn recalled: "We knew from the start that we would need to embrace all of the new technology. We weren't starting totally from scratch because we had good engineers with experience, but we knew that this would stretch us enormously and, to be honest, it was a bit more fraught than we had anticipated. But there was no turning back; we simply had to get on and do it".
Chassis '04' has been painstakingly preserved and prepared during its long current ownership. It harnesses an original Cosworth Ford HB V8 engine as used in period, and Benetton gearbox. The HB engine has been regularly inspected and maintained by leading specialist Dick Langford's respected LPE company which in period cared for all the HB customer engines. The engine has recently been back to LPE for rebuild and has a further 800 miles of running available before its next rebuild. The engine and car now run Motec electronic management system to enable safe and reliable operation. In addition the gearbox is regularly serviced and rebuilt after every event, the gearbox uses an air shift system rather than the more complex hydraulic systems from period.
The car is equipped with passive suspension – again for reliability and safety, and the sale includes starting and running equipment such as engine pre heater, starter and battery to enable the car to be driven and enjoyed by the new owner.
The car has been run at events such as F1 British GP, Goodwood Festival of Speed and Members meetings, Suzuka, Durban (where the car was driven by Jody Scheckter) and Car Fest, the 193 is a great entry to some of the best motoring events worldwide and is ticket to memorable events and experiences that money can't buy.
The car is accompanied here by a comprehensive documentation file including its full race and partial test history, and even preserving such fine detail as the precise advertising decal and livery suit which it carried in each of its events. Interestingly this was the last F1 car to run the iconic blue/yellow Camel branding.
Schumachers's own seat moulding for '04' is included with the sale and when Riccardo Patrese was reunited with this Benetton-Ford he signed both the chassis tub and his seat moulding within it. While Patrese's own seat-belts are included with the car, and have the correct adjustment position marked onto them with a relevant line and the initials 'RP', also included are another set of original seat belts marked for both 'RP and 'MS' – for Michael Schumacher – as used during testing and that fine qualifying run in the British Grand Prix at Silverstone.
One of only two Benetton-Ford B193B Formula 1 cars currently running anywhere in the world, this is a rare opportunity to purchase a complete and running 1990's era F1 car that is well maintained, relatively simple to operate and has reached the F1 podium.
Full race results 193-04
Spain Patrese Q5 P4
Monaco Patrese Q6 Ret engine
Canada Patrese Q4 Ret (cramp)
France Patrese Q12 P10 (extra pit for new nose L60)
Great Britain Patrese Q3 (used by Schumacher Q3 Patrese Q5) P3 Patrese
Specification
Chassis: Carbon Fibre Monocoque
Engine: Ford Cosworth HB V8 Series 4 – spring valve 660bhp@12300rpm
Brakes: Carbon – Carbon
Gearbox: 6 Speed semi-automatic paddle shift
Tyres: Goodyear 13in Slick / Wet Tyres
Weight: 505kgs
 Click here for further information
---
collectorscarworld is partnering with the most renowned classic car specialists and dealer-ships in the world. We always offer selected rare and sought-after collectors cars and supercars for sale and every day a special car is featured for one of our partners. The passion for classic cars is diverse, sometimes it concerns the beauty of forms that can be admired at a concours, sometimes it is the smell of rubber , old leather and gasoline at a racing event or trip in the sunset.
Or its a classic car you have great memories with or which your parents owned a longtime ago. Classic cars and supercars are an expression of the lifestyle that someone shares with other petrolheads, and which is immortal, enduring and always a lot of fun. If you are looking for a special car or need support in the evaluation and history of cars, please contact us at info@collectorscarworld.com
---