This 964 Carrera RS is a shining example of what a time-capsule RS looks like! Original paint in perfect condition, the leather interior with almost no signs of wear and the car retaining its factory engine and transmission!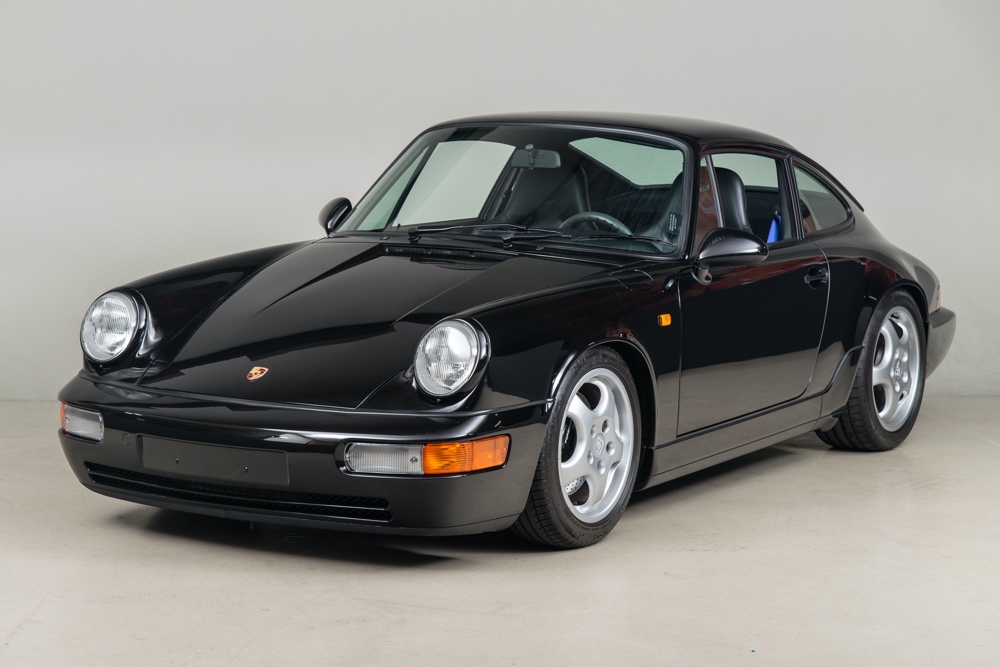 Porsche had two goals with the latest iteration of the Carrera RS: Remove weight and add power. By shaving 345 pounds from a stock 964 and bumping up the power to 260+ horsepower, Porsche introduced a limited edition 964 in 1992 that was worthy of the Carrera RS name. With a single-mass flywheel, twin plug engine, racing bucket seats and a stripped out interior, not only did it perform far better than a stock 964, but provided the driver with a direct physical connection to the driving experience. At only 2689lbs, by today's standards it is considered a featherweight car and one of the best-driving modern-era 911s.
This Carrera RS was ordered with a request for a standard German domestic market model in left-hand drive configuration with plans to immediately import the car to Japan. Painted in the stunning and extremely rare Black Metallic, the RS would clear Japan customs in an exempt status as a production left-hand drive vehicle and was then sold to its first owner in 1992. Even rarer than its paint color was one of its options: factory air conditioning. In a car that was touted as the lightweight edition, most were built without a/c. During the car's time in Japan, it had two owners who added very few miles to the odometer. In 2016, Jeff Smith imported the RS for David MacNeil, owner of WeatherTech. David owned the car for almost two years and serviced the car regularly before the RS arrived at Canepa for the first time in June of 2018.
Once it arrived, the 964 RS was inspected meticulously and noted to be in absolutely exceptional condition. Upon arrival at Canepa, each and every collector car for sale is put through an extensive and diligent process called the "Canepa Difference." This includes a major and comprehensive mechanical inspection where all systems are checked and serviced as necessary. They also receive an award-winning concours level detailing, a thorough cleaning of each and every surface that ensures that every car is a sight to behold. Finishing off with a foam-pad-only polish to enhance the paint finish, each and every car is a perfect example and a personification of Bruce Canepa's impeccable attention to detail.
This 964 Carrera RS is a shining example of what a time-capsule RS looks like. A regular customer of Canepa took note, purchasing the car in 2019 and kept it for approximately a year, adding close to 750 miles on the lightweight 964. Just recently did it arrive back at Canepa, in the same fantastic condition that it left in and given the same "Canepa Difference" attention that it received before. Immaculate throughout, this lightweight beauty is now ready for its next owner to tear up backroads or reside as a crown jewel in a collection.
About the 964 Carrera RS
In 1992, Porsche produced a super-lightweight, rear-wheel-drive only version of the 964 dubbed Carrera RS for the European market. It was based on Porsche's 911 Carrera Cup race car and harked back to the 2.7 and 3.0 RS and RSR models. It featured a revised version of the standard engine, titled M64/03 internally, with an increased power output of 260 bhp (194 kW; 264 PS) and lightweight flywheel coupled to the G50/10 transmission with closer ratios, asymmetrical Limited Slip Differential and steel syncromesh. It had a track-oriented suspension system with a 40 mm (1.6 in) lower ride height, stiffer springs, shocks and adjustable stabilizer bars without power steering.
A stripped-out interior was devoid of power windows or seats, rear seats, air conditioning, cruise control, sound deadening or a stereo system (optionally fitted) and new racing-bucket front seats were part of the package. The trunk hood was made of aluminum, the chassis was seam welded and sound deadening was deleted. Wheels were made of magnesium and the glass was thinner in the doors and rear window. The Carrera RS is 2689lbs, which is approximately 345 pounds lighter than the US version Carrera 2 model.
The Carrera RS was not sold in the United States because Porsche Cars North America felt the car's aggressive tuning was not suited to the American market. Little did they know, and in the following year they were forced by American buyers to create the slower RS America, which was still 264 pounds heavier than the European RS.
Click here for further information 
---
Report by canepa.com
---