Girardo & Co. is offering this Jaguar XJR-15 for sale. A highly original example, showing a mere 1,370 miles on the odometer. One of only 27 road-specification XJR-15s built by JaguarSport.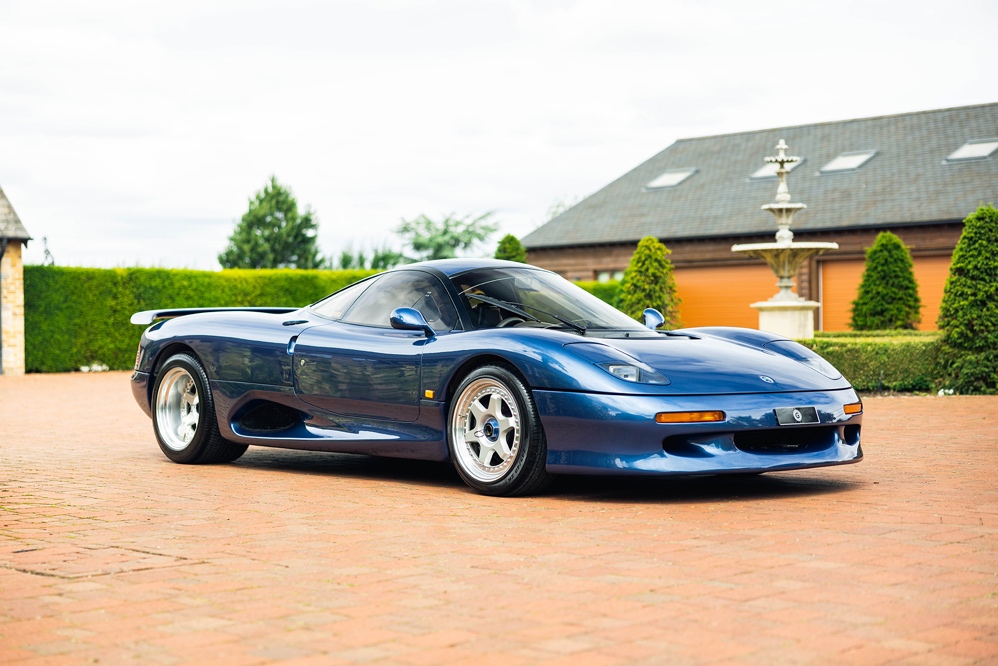 Benefitting from a comprehensive recommissioning, during which the FIA fuel bladder and tyres were replaced
The first road car built with both a chassis and body crafted from carbon-fibre, pre-dating the McLaren F1
The Jaguar XJR-15
Behind the wraparound windscreen, you're faced with a swathe of glossy carbon-fibre, black circular dials in an assortment of sizes and a grey leather-trimmed steering wheel with a concaved bottom arcing over your legs, themselves slightly offset to the left.
Twist the rudimentary master switch key 90 degrees to the right. Flick the three metal toggle switches for the ignition, injection and fuel pumps affixed to the carbon-fibre panel right of the instrument binnacle.
After a moment of listening to the stifled whirr as fuel is pumped towards the injectors, flick and hold the fourth toggle switch until the six-litre V12 catches with a rapturous, metallic bark. An exploratory prod on the surprisingly light throttle pedal reinforces this race-bred beast's competition beginnings. It's pure theatre.
The car in question is, of course, the Jaguar XJR-15 – the thinly-disguised, road-going version of the Le Mans-winning XJR-9 Group C prototype. Its brainchild was Tom Walkinshaw, the team manager who built and ran Jaguar's all-conquering endurance racers – a man with two World Sportscar Championships under his belt.
He shrewdly recognised a pedigree-filled prototype racer for the road would appeal to Jaguar's well-heeled clientele and established the subsidiary JaguarSport to build it. The XJR9's underpinnings – the carbon-composite monocoque, independent double-wishbone suspension and bulletproof six-litre V12 – served as the perfect place to start.
A certain Peter Stevens was drafted in to shape the elegant, feline coachwork. Said body was crafted from carbon-fibre, which made the XJR-15 the very first car with both a composite chassis and body, pre-dating the McLaren F1 – coincidentally (or not, as you may see it) another Peter Stevens design. This uncompromising approach to building the XJR-15 inevitably resulted in an eye-watering price tag. Regardless of how you specified your car, you weren't going to get much change from £500,000.
In a bid to raise publicity, Walkinshaw dreamt up the Jaguar Intercontinental Challenge, a championship exclusively for XJR-15s. The three races were curtain raisers for the Monaco, Silverstone and Spa-Francorchamps Formula 1 Grands Prix and, thanks to a million-dollar cash prize, attracted the likes of Bob Wollek, Vern Schuppan, Juan Manuel Fangio and David Brabham.
In spite of the series' success, finding buyers proved harder than Walkinshaw had originally imagined and just 51 XJR-15s left JaguarSport. Today, such a small figure is music to collectors' ears – by comparison, McLaren built almost twice the number of F1s (in their various guises) Ferrari built six times as many F50s.
You only have to look at the XJR-15's heady recipe of attributes to realise this is a great analogue supercar – a soul-stirring naturally-aspirated V12 engine bolted directly to the bulkhead, a manual gearbox, rear-wheel drive, nothing in the way of driver aids, and a dry weight of just over a tonne, which, when combined with 450 British horses, made for a scintillating driving experience.
Chassis number 021
JaguarSport built this XJR-15, chassis number 027, in 1991. One of 27 road-specification examples, which featured a five-speed synchromesh transmission, indicators, a slightly raised ride height and treaded tyres, this car was delivered new to Japan – a market with a particular soft spot for these British Big Cats.
Chassis number 021 remained in East Asia until 2014, at which point it was returned to its homeland and offered for sale by RM Sotheby's at its London auction. The car was acquired by its current custodian in 2017, reregistered in the United Kingdom and promptly sent to the renowned Jaguar specialist Forest Custom and Classics to be comprehensively recommissioned for road use.
The extensive and entirely documented works included the all-important replacement of the FIA-certified fuel bladder, rebuild of the fuel and water pumps, refurbishment of the pipework and the fitment of four new tyres. Upon completion, this XJR-15 had its original blue paintwork professionally detailed.
In the last four years, chassis 021 has only been used sporadically, as evidenced by the mere 1,370 miles on the odometer. Also notable are the revised and upgraded hinges and locks, which allow the radiators beneath the front bonnet and the engine bay to be accessed more easily. Girardo & Co. especially like the hand-written Jaguar Sport sticker on the rear-quarter window denoting the chassis, engine and gearbox numbers – telling of this XJR-15's extraordinary originality.
In the last two years, more light has been cast on these lesser-understood 1990s supercars and they're finally getting the recognition from collectors they deserve. Chassis number 021 is a beautifully original and, thanks to its recommissioning, a genuinely useable example of the Jaguar XJR-15, the first fully carbon-composite road car whose influence can be traced to the latest and greatest hypercars of today.
Click here for further information
---
collectorscarworld is partnering with the most renowned classic car specialists and dealer-ships in the world. We always offer selected rare and sought-after collectors cars and supercars for sale and every day a special car is featured for one of our partners. The passion for classic cars is diverse, sometimes it concerns the beauty of forms that can be admired at a concours, sometimes it is the smell of rubber , old leather and gasoline at a racing event or trip in the sunset.
Or its a classic car you have great memories with or which your parents owned a longtime ago. Classic cars and supercars are an expression of the lifestyle that someone shares with other petrolheads, and which is immortal, enduring and always a lot of fun. If you are looking for a special car or need support in the evaluation and history of cars, please contact us at info@collectorscarworld.com
---