Beautiful Aston Martin V8 Volante in outstanding condition!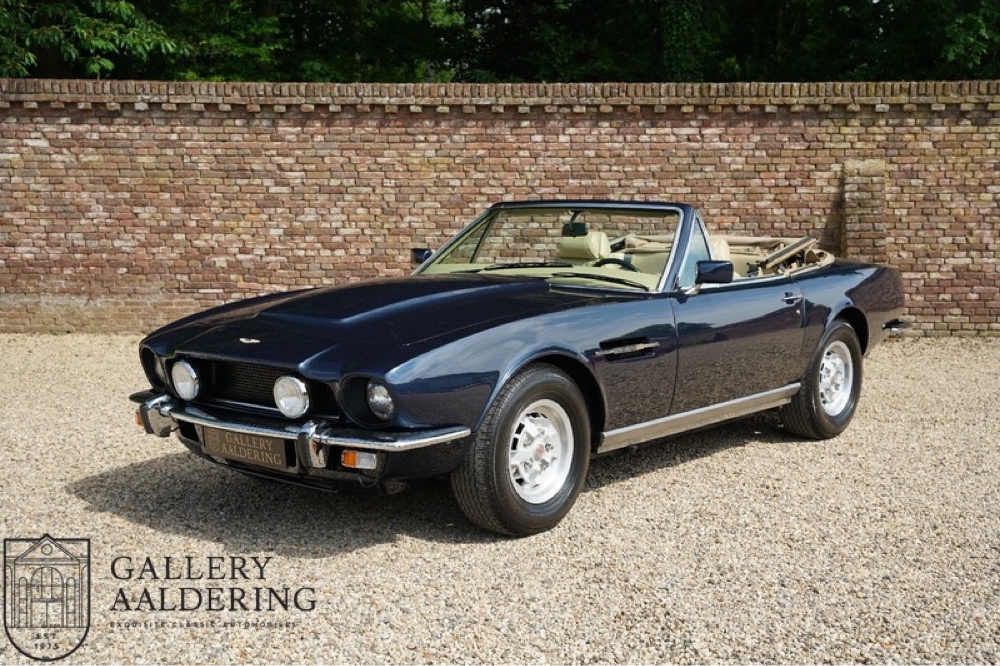 In 1980 this brilliant matching numbers Aston Martin was supplied from new in Beverly Hills, California, the USA. Looking at the mileage it probably did not travel much further than this enclave of the film stars with the clock standing at just 32,600 miles. It was preordained this Volante would end up in the heart of showbiz. Would it have been at all possible to buy a more "Hollywood" car in the '80s? The Aston Martin V8 Volante is absolutely a film star.
This convertible version of the Aston Martin V8 designated so beautifully by Aston Martin as a "Volante" was initially introduced in 1978. Whilst the coupé became a series 4, as Aston Martin had never built a convertible version of the V8 decided to classify the Volante as series 1. There's British logic for you then.
This example not only looks the part but was perfectly decked out from day one. The car comes with a highly sought after manual transmission. Did you know it took four months to build a Volante from start to finish? Despite the high ticket price profit margins were slim, meaning Aston Martin did not earn a lot out of a V8 Volante.
In 2019 the well-known Aston Martin specialist firm of Chris Shenton Engineering took this Volante under its wings. A number of minor ailments were attended to, like the poorly working hood mechanism, lighting problems as well as bigger items such as overhauling and re-calibrating the Weber carburettors, refurbishing the wheels, fitting of new fuel lines, removing the fuel tank, cleaning and re-installed it.
To top it all the Volante was taken back to bare metal and given its current beautiful blue finish. Before being resprayed the US lights were removed, the bodywork straightened out and the engine bay detailed. A new cooling system and a new battery were installed, the air-con re-pressurised as well as attending to a host of other minor issues. In short after spending over £40,000 Gallery Aaldering had an as good as new 1980 Aston Martin V8 Volante with a brilliant finish standing there.
It speaks for itself that from the outside the car looks fantastic. On the inside things are equally just as fine. When new it was ordered with beige trim to the top of the dashboard, carpets, leather seats and hood. The refurbished electric hood is original and does its job well. The original carpets and leather upholstery are a joy to behold. The mileage and fantastic maintenance have allowed for the development of a lovely patina in this beautiful cabin.
Naturally, all controls, instruments etc are all in good working order. Mechanically the car has been thoroughly overhauled, leaving us with the fantastic sound of the V8. The manual transmission is by courtesy of ZF and adds quite a bit to the pleasure of driving this distinguished British tourer. The suspension, the brakes, everything is in perfect balance.
It has probably made this car even better to drive than when it was new. No expense was too much when taking this car to its current top-level condition. To be totally honest; It's worth it! What she now requires is the next owner regularly taking her out, whilst enjoying that tremendous sound palette and the kind of ride only an Aston Martin can give you.
Click here for further information 
---
---