A company such as Porsche did not make a name for themselves by accepting the status quo.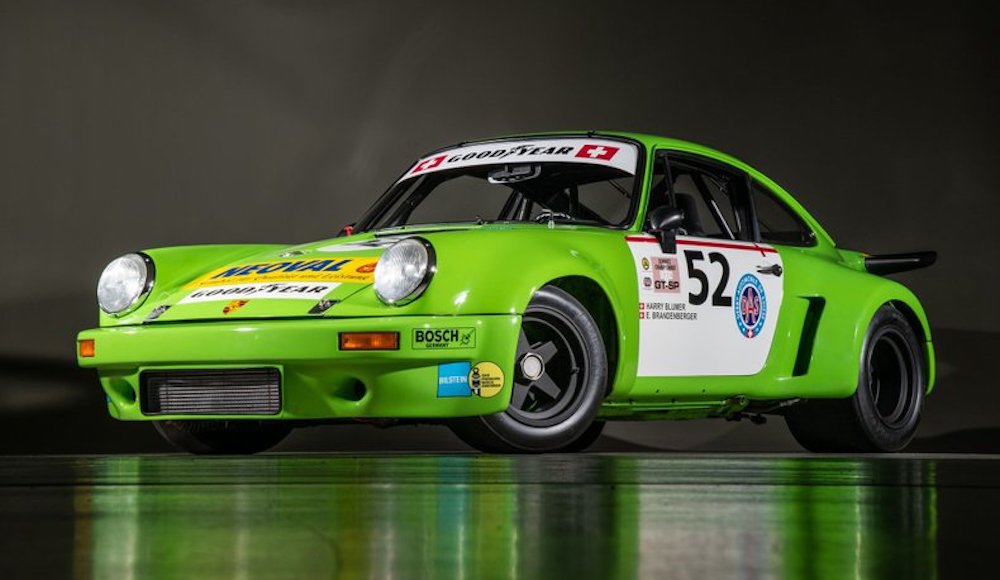 With their racing customers' insatiable appetite for performance and competition, doing simple upgrades would simply not do. Their 1973 Porsche 911 Carrera RSR 2.8 saw lots of success in the racing circuit, but with mounting competition Porsche knew they would need to design a car that broke the performance mold. Enter the 1974 Porsche 911 Carrera RSR 3.0: a more powerful, wider, meaner and more visceral race car that to this day is known as one of the best performing naturally aspirated 911 race cars ever designed by Porsche.
This bright green RSR 3.0's story began being purchased from AMAG by Garage Zbinden for their customer and the RSR's first owner, Harry Blumer in early 1974. The Swiss racer was heavily involved with Garage Zbinden from years of racing in a Porsche 911S and 911RS. Wanting a real race car, Blumer and his friend, Porsche Werks driver Herbert Muller, went to Weissach to order the RSR 3.0. Their primary objective for the 1974 season was to win the prestigious Swiss championship. Unlike many other championships, the Swiss winner had to participate in 5 sanctioned hill climbs in Switzerland, 5 circuit races, and 2 sanctioned airfield races in Switzerland. With a multifaceted racing series such as this, car setup and maintenance are crucial and a critical part of the winning team's strategy. According to notes, Blumer's success was largely due to Mr. Hans Ulrich Sharer, his mechanic from Zbinden.
The 1974 season would be successful for Blumer, taking numerous first-in-class finishes along with respectable overall finishes. Some of the locales for the races included Dijon, Hockenheim, Casale, Osterrichring, along with other Swiss local cities for hill climbs. Based on his success of more than 5 podiums, he won the Swiss national championship in 1974. With his 1974 season now complete, he sold the car to its next racing owner, Edwin Kofel. Kofel, also a Swiss racer, owned the car for 1975 and 1976, actively campaigning the car in the same championship. Over the two years, Kofel would amass a total of 14 podium finishes, with four of those being 1st in class in 1976. After the 1976 season, Kofel sold the car to Edy Brandenberger, the RSR's next future championship-owner.
Brandenberger would yield the most wins in a season for the RSR, with 1977 totaling a staggering 17 podium finishes, seven 1st-in-class finishes and nine 1st place finishes. With his incredible driving ability along with the RSR's performance, this RSR became a two-time Swiss National championship winner. Brandenberger's racing with the RSR was not over however, as he continued to race the car in 1978 and went on to score ten 1st place finishes and 14 total podium finishes. After the car's impressive consecutive racing seasons, it was placed into deep storage and would not emerge for almost two decades.
This RSR has a consistent, documented ownership until present time. The car was restored after its long storage sometime in the early 1990s and upon completion was sold to John Leggat of the USA. Leggat would own the car for almost 10 years before passing away and was subsequently sold to Phil Bagley. The car would go between a few collectors before arriving being purchased by Canepa in 2007.
Click here for further information!
Report by canepa.com
---