Gallery Aaldering is offering this amazing Lamborghini Islero for sale. This is a very fine, exceedingly rare and great looking car.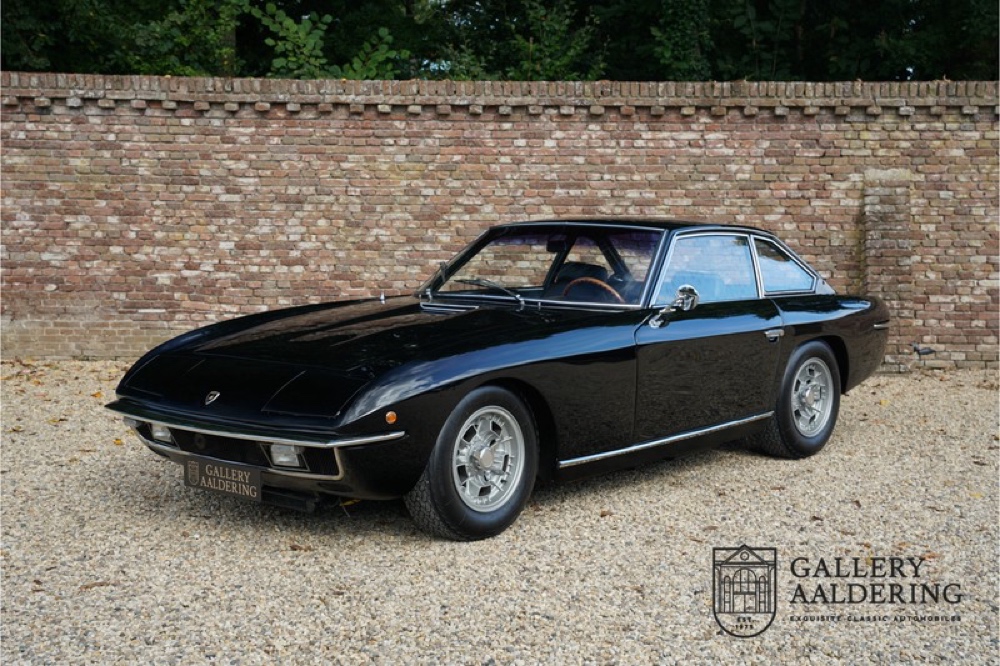 It is probably quite some time since you set eyes on a Lamborghini Islero unless you happen to be one of the 125 lucky owners that is. Lamborghini only built 125 of these vehicles in all. The bodywork came to us courtesy of Carrozzeria Marazzi. They used the excellent Lamborghini 400GT platform. Carrozzeria Touring was responsible for the 400GT design but had gone bankrupt in the meantime with many of its former designers finding a new home at the recently established Carrozzeria Marazzi. Mario Marazzi had also been part of the Touring stable. Our car was supplied from new on the 8th February 1968 by the Foïtek Lamborghini dealership based in Zurich, Switzerland.
Inside we find refurbished black leather and black carpets. The neat carpets have been fitted correctly. The well-maintained leather is delightfully supple. The wooden gear knob and steering wheel are similarly in great shape. The roof lining is in good condition. All gauges and controls work properly as expected.
The Islero bodywork has powerfully sculpted lines. Even stationary the car looks seriously fast, this car has been very well looked after. The paintwork has been resprayed and together with the brightwork and hubcaps look in great condition. The neat panelwork is properly aligned.
Mechanically this car has been extremely well maintained. The 4.0-litre V12 engine, therefore, runs perfectly. The engine develops 330 Ps and draws breath through six twin Weber carburettors. The 5-speed transmission was an in-house Lamborghini design that was quite advanced for its day, the gearbox having Synchromesh rings on each of the gears. The car's suspension is also a piece of art, having fully independent double-wishbone suspension with good quality shocks, giving the car fabulous road-holding. The Islero is a sporty Grand Tourer making no distinction between tackling your favourite mountain road or transversing European highways at speed.
Click here for further information
---
collectorscarworld is partnering with the most renowned classic car specialists and dealerships in the world. We always offer selected rare and sought-after collectors cars and supercars for sale and every day a special car is featured for one of our partners. The passion for classic cars is diverse, sometimes it concerns the beauty of forms that can be admired at a concours, sometimes it is the smell of rubber , old leather and gasoline at a racing event or trip in the sunset.
Or its a classic car you have great memories with or which your parents owned a longtime ago. Classic cars and supercars are an expression of the lifestyle that someone shares with other petrolheads, and which is immortal, enduring and always a lot of fun. If you are looking for a special car or need support in the evaluation and history of cars, please contact us at info@collectorscarworld.com
---