This 1967 Aston Martin DB6 Saloon is for sale with Adrian Johnson. It is finished in light metallic blue, with a parchment leather interior and blue carpets. It was subject to major expenditure several years ago, and has been regularly serviced and well looked after ever since.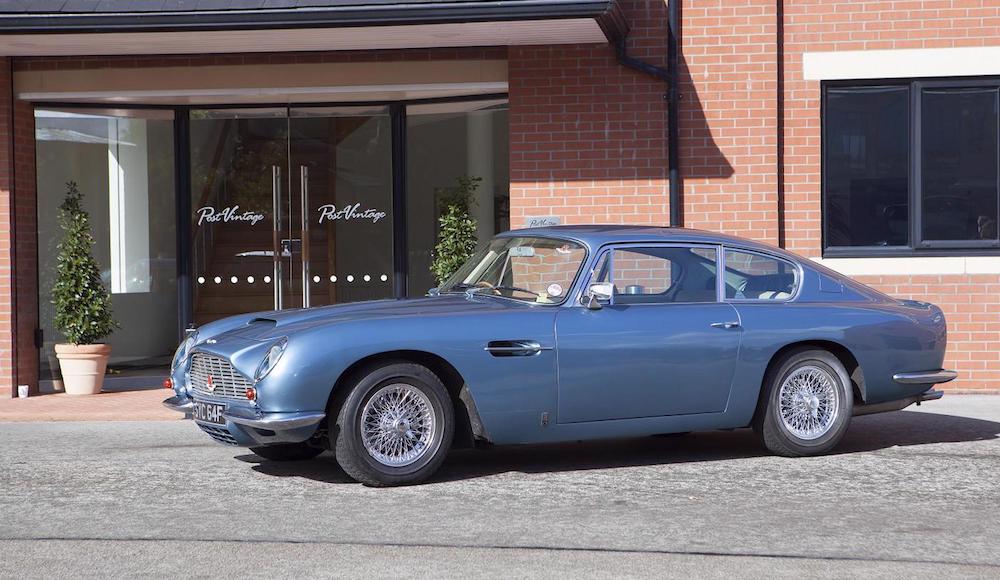 This car was first supplied to HR Owen on the 20th November 1967. It was originally finished in pacific blue with a natural trim and was the car was originally built as an automatic. Its original registration was SLR 460F, it was also previously registered in the UK as XUR 662F. The car spent some time in the United States with a Mr Brian Elliot Taverner. In 1983 he joined the AMOC with the car.
It was then re imported to the UK by Marksdanes Classic Cars in 1989, and also re-registered, the car underwent a full body and engine rebuild to the highest of standards with Marksdanes Classic cars which included installation of a manual gearbox, and the colour was changed to British racing green.
The DB6 was then bought by a John Lloyd on the 4th November 1989. In 1990 the car underwent an MOT where the recorded mileage was 59,877. On the 12 June 1990, the car then had a 1000-mile service, and a recalibration of its speedometer.
In 1991 the car was then submitted to a COYS auction and was sold to a Mr Fisher. The car underwent various service work and was looked after well whilst in the hands of Mr Fisher.
In 1999 the car was sold to a Mr John Sutcliffe. In 2000 The car was resprayed to a metallic blue and the tan leather interior was replaced to a parchment leather interior. It was then bought by a Richard Brown. Who then sold the car to David Hume in 2002.
Adrian Johnson acquired the car from David Hulme on the 4th September 2013. It was then sold to its current owner, on the 2nd October 2013. Since then the car has had regular service work, it has been well looked after and has had no major work done.
Detailed history and a build sheet accompanies the car.
Click here for further information!
Report by adrian-johnson.co.uk
---