The first time Cristiano Luzzago saw this beautiful Amilcar was in the early 2000s in the hillside house of Sandro Lanza near Biella.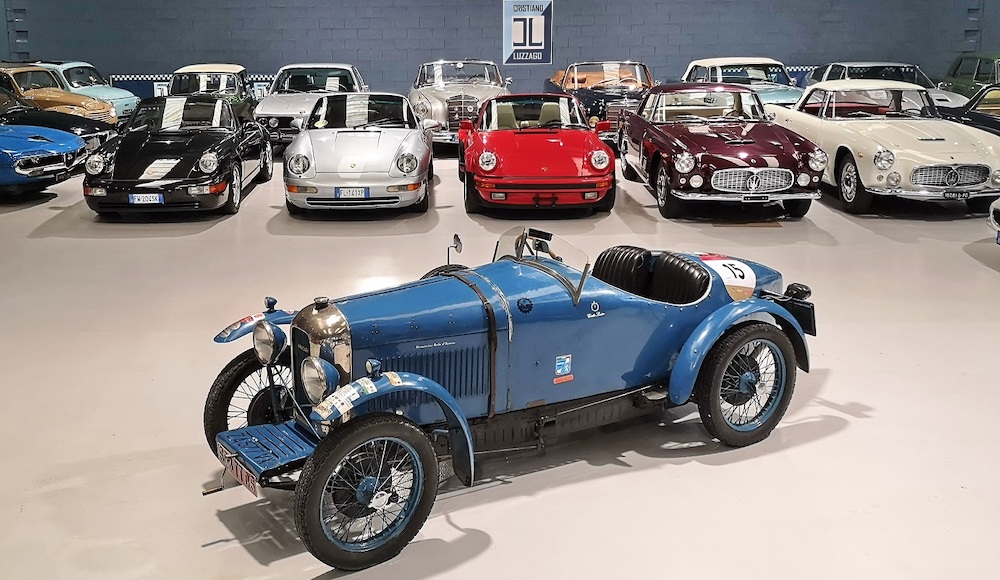 Lanza was a historic collector of vintage cars and the keeper of the Lancia Register. Of course, his collection was mainly dedicated to the Lancia brand.
Cristiano Luzzago remembers distinctly from the oldest Lambda, Dilambda, Astura, various Flaminia sedans and coupes, Aurelia B24 America and B20 of various series, Aprilia, Ardea, Flavia Vignale up to the more recent Stratos, on which the late Claudio Maglioli also intervened.
However, his great passion did not allow him to ignore other cars that had been milestones in the history of motoring.
In fact, in his splendid garage there were many other cars including the Conte Trossi's Packard Clipper, the Alfa Romeo 6c SS, the Jaguar Mk2 3.8 and this splendid Amilcar in totally original conservation conditions. Sandro Lanza bought the Amilcar in France in the 1960s when the collection of vintage cars in Italy was still far from being born. The car at the time was just over forty years old and was fairly recent. In practice, as if he was buying a car from the 1980s today.
When in 1969 she obtained the ASI homologation, she was classified as authentic and was assigned the registration number 0219! They were truly the beginnings of ASI and historic motorsport. Many cars of the Lanza collection were entrusted to me for sale but unfortunately over the years I have lost track of many.
Fortunately Cristiano Luzzago sold the Amilcar in 2004 to a collector friend of mine from Brescia and  member of my own club.
The new owner with great wisdom and collecting culture in all these years has kept the car in its original state without doing restoration work that would have compromised the exceptional state of authenticity.
Unlike Lanza who was a meticulous  caretaker but rarely drove it, the new owner has dedicated years of care and attention to maintaining  the mechanicals in perfect working order, allowing him to participate in important motoring events from the first days of possession until this year. .
With the same emotion as the first time, after years of assiduous courtship, Cristiano Luzzago finally managed to bring this fascinating history Amilcar back to the Blue Room.
Click here for further information!
Report by cristianoluzzago.it
---