In 2007, Volkswagen's 60th Anniversary celebrations in Hanover included a concert by rock music legends, The Who, whose set featured a performance of their 1967 hit, 'Magic Bus'. Although not about a Volkswagen, this classic track has become an anthem for all VW bus owners, and after the event the plan to create a 'real' magic bus was set in motion.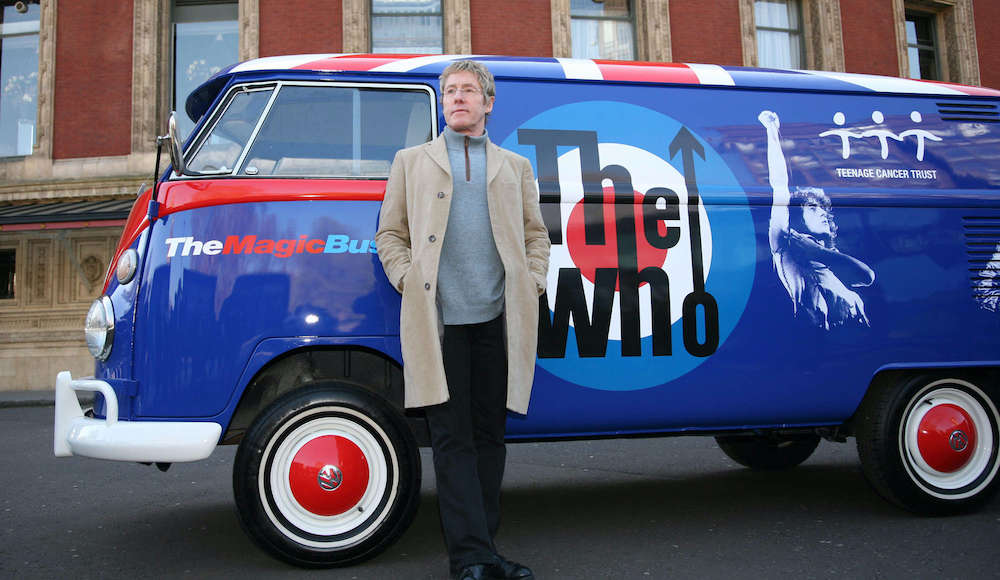 Lead singer Roger Daltrey is a long standing patron of the Teenage Cancer Trust, and with the help of Volkswagen Commercials AG, which donated the vehicle, the idea of creating a 'Magic Bus', which would be raffled to raise funds for the charity, became reality. The competition to win the bus aroused worldwide interest and raised over £30,000 for this very worthy cause.
The 'Magic Bus' is a 1965 Type 2, T1 left-hand drive panel van, which was sourced for Volkswagen by Bob Van Heyst, of BBT in California. Already partially restored by its previous owner, the Type 2 was transported back to its birthplace in Hanover, where the restoration was finished by VW specialists in the famous 'Old Timer' workshop. The bus then received its amazing custom artwork, which was executed by renowned graphic artist, Richard Evans. Richard is The Who's art director and has worked closely with the band for over 40 years on album covers and tour designs. Applied at the Volkswagen factory in Hanover, his images adorning the Magic Bus depict The Who's soon to be 60 year career at the forefront of popular music. In addition, Roger Daltrey and lead guitarist Pete Townshend have autographed the sun visors, whilst Richard Even's signature can be found on the interior side panel.
Its unique paintwork aside, the 'Magic Bus' is mechanically standard and fully road legal, while the dashboard is in its original 'un-chopped' form. The ride height remains unaltered and the vehicle, which has the classic 1,600cc single port engine, is reported as 'comfortable to drive'. Exported new to the USA in 1965, the bus still boasts its American specification 'towel rail' bumpers and 'elephant ear' wing mirrors. Features incorporated include the rock and roll rear seat, which folds down into a full- width bed with storage space underneath; a JVC CD stereo system with iPod and Bluetooth functionality, four Ministry of Sound speakers; and seven twin-anchor-point seatbelts. In appropriate 1960s style, the seats are upholstered in pale blue leatherette and embroidered on the backrests with The Who's iconic target logo. The additional ceiling locker is finished in red, white and blue, while the flooring consists of black and white vinyl tiles.
German model-makers Schuco produced a highly sought after limited edition 1/43 scale model of the 'Magic Bus' with Revell producing a detailed 1/24 scale kit in 2021, additionally there are numerous 'unofficial' items of merchandise available. The Magic Bus is well known and has featured at many events in the UK, picking up awards and enjoying multiple invitations to appear all over the country. It has also featured in magazines and books including the Volkswagen Camper and Commercial Magazine (Issue 37);The Chelsea Art Club's 2009 yearbook; and Camper Van Tastic.
Described as in generally very good condition, the Magic Bus is offered with a VW Certificate of Origin, current MOT/tax and Swansea V5C. Instantly recognisable, this is a unique vehicle that makes Ferraris and their ilk seem commonplace. It also turns heads like no other, continually eliciting waves and the 'thumbs up' from fascinated passers-by. Few, if any, vehicles will prove more fun to drive. In current ownership since 2012, the bus has been used by our vendor for further fund raising for the Children's Cancer Trust, has been serviced regularly, kept in dehumidified storage and is running and driving very well.
SPECIFICATION
Lot Number: 478
Make: VOLKSWAGEN
Model: TYPE 2 PANEL VAN 'THE MAGIC BUS'
Registration Number: APO 399C
Chassis Number: 215149119
Body Colour: Blue
Click here for further information
more information: silverstoneauctions.com
---