In 1965, Charles Lee Becker, president of Handy Andy, a grocery store chain based in San Antonio, Texas, celebrated his success by ordering a new E-Type Roadster.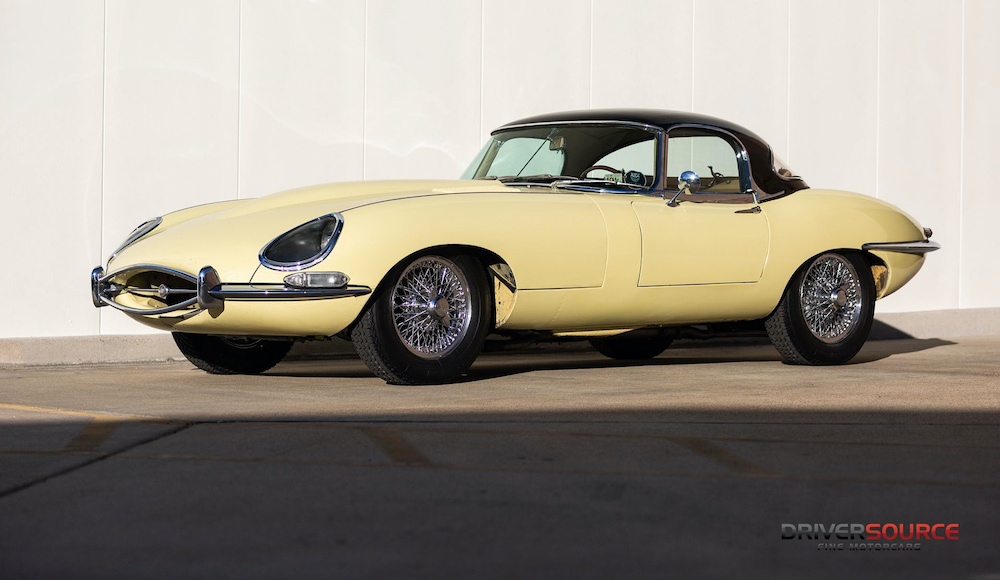 Completed on July 7, his car was finished in Pale Primrose Yellow with beige upholstery, a Fawn soft top, and a black hardtop.
Mr. Becker collected his E-Type in Coventry and enjoyed it for five years, driving the car almost 30,000 miles. In November 1970, he sold the Jaguar to Harold Richardson, a fellow San Antonian who served as the E-Type's faithful custodian for the next 34 years. Mr. Richardson kept a detailed logbook dating from 1970 through 1984, when the E-Type was parked with just 40,737 miles. The car remained in storage until his passing in 2004, whereupon it was sold to the previous owner, a collector with a passion for unrestored sports cars. In his care, the Jaguar was returned to running order and has benefited from sparing use. Today, the car retains the unmistakable characteristics of a well-kept, unrestored E-Type.
In late 2019, the Roadster was entrusted to Jeff's Resurrections – a Pebble Beach winning and multiple 99 and 100-point JCNA marque specialist to inspect, service and prepare the Jaguar for its next caretaker. The object was to lightly freshen, both cosmetically and mechanically, with attention to authenticity and originality. The largely original paint and body was cleaned, polished and perfected, complemented by new rubber gaskets throughout the exterior of the vehicle. The car's original upholstery was retired in place for correct matching carpeting, seat and arm rest material – while preserving the remainder of the cabin's trim, all electronics were sorted as well as the cooling system and ignition components with concours-correct replacement leads and associated parts. All fluids and filters were replaced with new, followed by Michelin XVS tires. Over $18,000 invested.
Click here for further information!
Report by driversource.com
---