Canepa is offering this Porsche 356C Outlaw for sale. The final iteration of the 356.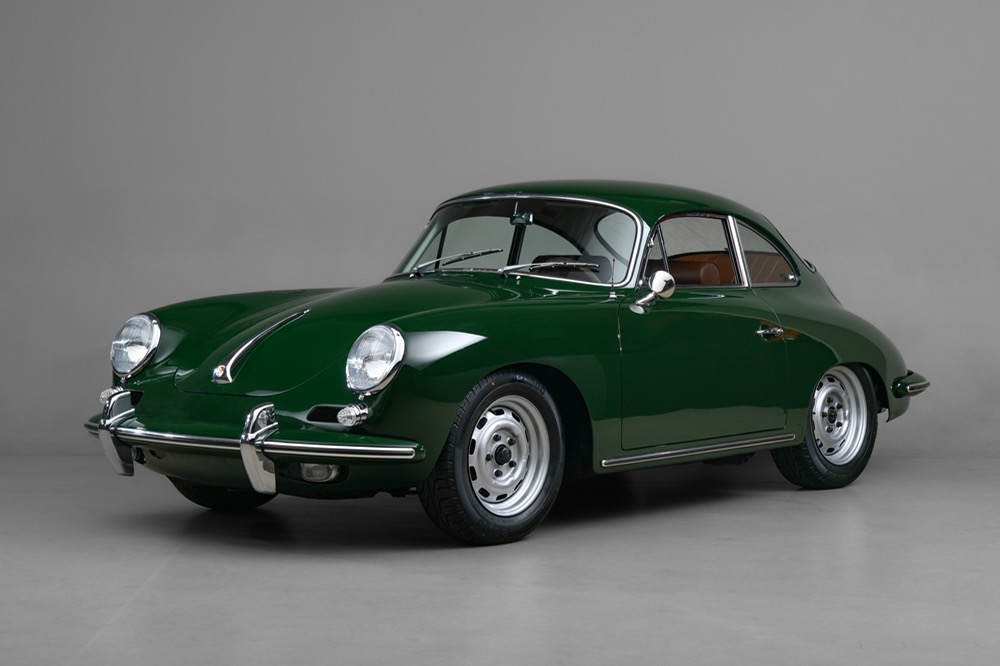 1964 Porsche 356C Outlaw
Classic Irish Green with Brown leather
1720cc, SC camshaft, Solex carburetors, 12 volt upgrade
6 x 15-inch steel wheels with 195/65 R15 Pirelli P6000 tires
Lowered suspension, Koni shocks
The final iteration of the 356
1964 marked the release of the final iteration of the 356 with the deliverance of the 356C. This update in the 356 now sported disk brakes all around, as well as optional SC specifications. The 356C was manufactured starting in July 1963 and ending in September 1965. By the time the 356C debuted in 1963, the 356 had undergone numerous updates and enhancements over the years and had nearly done away with what remained of its humble Volkswagen beginnings. The 356C is unquestionably the best and most complete design to date.
This 356C belonged to a dedicated 356 enthusiast who had owned the vehicle for nearly 55 years. He was the 3rd owner, who had just begun his journey as a devoted PCA member after purchasing the car in March 1967 for $2,750. Over his initial decade of ownership, the vehicle was a daily driver until he decided to garage the car for almost 20 years before giving it the restoration it deserved.
In 1999, this 356C began the process of a ground-up restoration spanning over three years by the late noted restorer, Gary Kempton. During this intricate restoration, a number of areas were addressed, including but not limited to bodywork, paint, chrome, interior, engine, transmission, suspension, and a 6v to 12v conversion. Midway through the process, it was decided that this 356C would receive notable upgrades, specifically a 1720cc big bore kit, SC camshafts, Solex carburetors, Koni shocks, 6-inch wheels wrapped in 195/65 R15 Pirelli P6000 tires, bespoke leather-wrapped steering wheel, and a beautiful-sounding Leistritz muffler. After receiving his vehicle in 2002, he enjoyed this 356C for almost two decades before selling it to its most recent owner in 2021.
Upon arrival at Canepa, every collector car for sale is put through an extensive and diligent process called the "Canepa Difference." This includes a major and comprehensive mechanical inspection where all systems are checked, serviced, and restored as needed. They also receive an award-winning concours-level detailing, including a thorough cleaning of each and every surface.
Extensive road testing and final adjustments were made to the 356C to constitute an engaging driving experience. What followed was a concours level detail (over 100 hours), including hand cleaning every area of the engine, transmission, chassis, engine bay, underbody etc., complete with careful detailing of every corner of the front trunk, interior, and exterior finishes and trim.
This is your opportunity to own an example of the final iteration of the 356, updated in subtle outlaw improvements to create a fun driving excitement every day.
Click here for further information
---
collectorscarworld is partnering with the most renowned classic car specialists and dealer-ships in the world. We always offer selected rare and sought-after collectors cars and supercars for sale and every day a special car is featured for one of our partners. The passion for classic cars is diverse, sometimes it concerns the beauty of forms that can be admired at a concours, sometimes it is the smell of rubber , old leather and gasoline at a racing event or trip in the sunset.
Or its a classic car you have great memories with or which your parents owned a longtime ago. Classic cars and supercars are an expression of the lifestyle that someone shares with other petrolheads, and which is immortal, enduring and always a lot of fun. If you are looking for a special car or need support in the evaluation and history of cars, please contact us at info@collectorscarworld.com
---