Pendine is offering this Jaguar MKII for sale. A genuine "Coombs" modified MKII.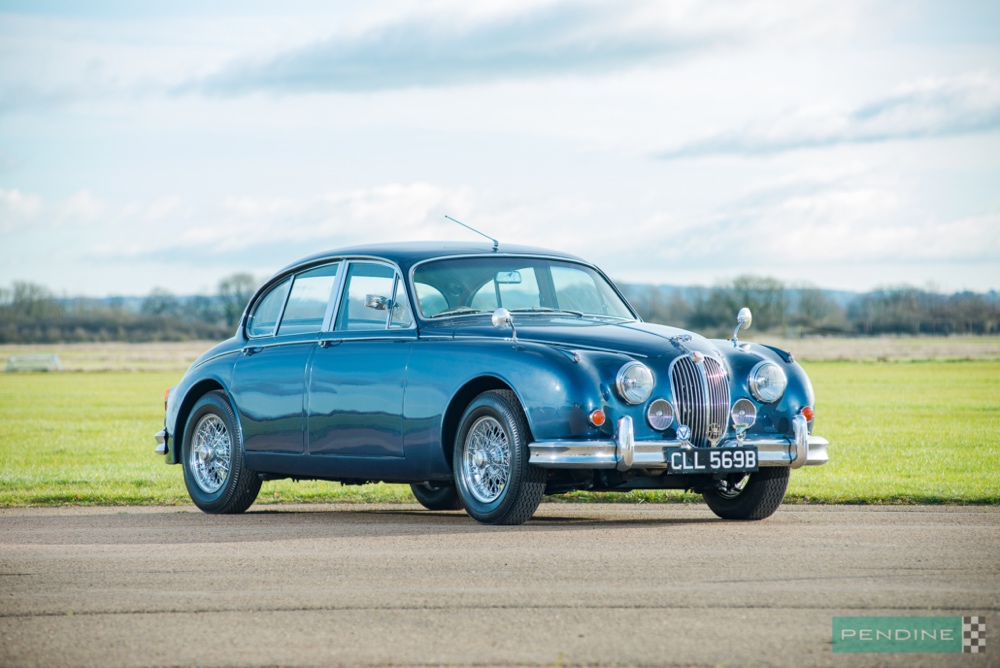 Much has been written about John Coombs over the years – team owner, raconteur, businessman – and as much has been written about the MKII Jaguar saloon cars he modified – race proven, and as quick as an E-Type to 100mph. For many, they are considered the ultimate incarnation of the Jaguar saloon.
This is a known Coombs MKII Jaguar, finished in its original colours of Opalescent Dark Blue with Light Grey trim.
Coombs upgrades were not 'all or nothing', more a tailored suit for the individual ordering the specific extras they wanted. As such, no two Coombs cars tend to be the same. On file is a letter dated 1977 from Ian Rothwell, confirming that he had owned the car. He bought it as a Coombs uprated car, and also sent it back to Coombs for further upgrades.
Leaving the Jaguar factory as a standard 3.8 MKII, it was modified in the first few months of its life by Coombs, including a gas-flowed head, 9:1 pistons, lightened flywheel, balanced crank, rods and clutch assembly, open trumpet carbs, manual choke, competition exhaust, lowered suspension with high rate front springs, strengthened rear spring location, high geared steering, anti-roll bar and an E-Type steering wheel.
When he bought it in 1970, Mr Rothwell returned the car to Coombs and had Koni adjustable shock absorbers fitted and flared the rear arches. He notes the top speed was around 138mph and lists lap times at race circuits, so he was obviously an enthusiastic owner driver.
There is a letter from John Coombs, then living in Monaco, confirming that this car was indeed modified by his workshop. Jaguar authority Paul Skilleter also inspected the car in 1991 with Dave Cooper, an ex-Coombs mechanic, and there is a letter confirming it is a genuine Coombs modified example.
Restored in the early 1990s, today this matching numbers example presents very well indeed. Further upgrades were fitted at the time of the restoration, including Coopercraft disc brakes and Competition wheels all round, making it a highly usable example.
Click here for further information 
---
collectorscarworld is partnering with the most renowned classic car specialists and dealerships in the world. We always offer selected rare and sought-after collectors cars and supercars for sale and every day a special car is featured for one of our partners. The passion for classic cars is diverse, sometimes it concerns the beauty of forms that can be admired at a concours, sometimes it is the smell of rubber , old leather and gasoline at a racing event or trip in the sunset.
Or its a classic car you have great memories with or which your parents owned a longtime ago. Classic cars and supercars are an expression of the lifestyle that someone shares with other petrolheads, and which is immortal, enduring and always a lot of fun. If you are looking for a special car or need support in the evaluation and history of cars, please contact us at info@collectorscarworld.com
---