Created to spearhead Mercedes-Benz's return to competition in the post-war era, the 300 SL debuted in the 1952 Mille Miglia, finishing 2nd and 4th overall. Wins in the Carrera Pan-Americana and at Le Mans followed, and the 300 SL was on its way to becoming part of motor sporting legend. Max Hoffman, the Mercedes-Benz importer for North America, believed there would be a market for a road-going version and managed to convince the factory that such a car would be a success.
Chassis no. 8500255
Attractive and rare 'triple black' livery
Restored in 1995
Present private ownership since 2007
Registered in Belgium
---
The first racers were open-topped but before the '52 season's end the distinctive 'Gullwing' doored Coupé had appeared. Unusually high sills were a feature of the multi-tubular spaceframe chassis, and while access was not a problem of the open car, the adoption of coupé bodywork required innovative thinking – hence the Gullwing doors.
Launched in 1954, the production 300 SL retained the spaceframe chassis of the racer and was powered by a 2,996cc, overhead-camshaft, inline six canted at 45 degrees to achieve a lower, more aerodynamic bonnet line. Using Bosch's innovative direct fuel injection, this state-of-the-art power unit produced 215bhp at 5,800rpm. A four-speed gearbox transmitted power to the hypoid bevel rear axle, while suspension was independent all round by wishbones and coil springs at the front with swing axles and coil springs at the rear.
Tested by the highly respected American magazine Road & Track in 1955, the 300 SL accelerated from 0-60mph in 7.4 seconds, going on to achieve a top speed of 140mph: outstanding figures for its day. It was, arguably, the world's first supercar. Its racing parentage notwithstanding, the 300 SL was and remains a thoroughly practical automobile, as civilised in city driving as it is exhilarating on the highway.
Clearly the 300 SL Coupé would be a hard act to follow yet the Roadster version, introduced just three years later, succeeded in bettering its closed cousin's already exemplary road manners. Built with conventional doors, the 300 SL Roadster was first exhibited at the Geneva Salon in May 1957 and was an immediate hit with the 1950s 'Jet Set' of royalty, actors, and socialites. The production of an open 300 SL involved altering the cockpit area, where the spaceframe was redesigned to permit lower sills for improved access. At the same time the rear suspension was changed to incorporate low-pivot swing axles.
The Roadster's neutral steering characteristics received fulsome praise from Road & Track in its 1958 road test: "With the low-pivot rear suspension and more adhesive tyres, the car handles beautifully under all conditions. This is a tremendous improvement over the gullwing models, which had a tendency to oversteer rather violently if pressed too hard." A 0-60mph time of 7.0 seconds and a top speed of 130mph were recorded, making the 300 SL Roadster one of the fastest convertibles of its time. R&T concluded: "There is no doubt that the 300 SL roadster is a truly great dual-purpose sports car, equally at home in traffic and the open road, or on the track", words that remain equally true today.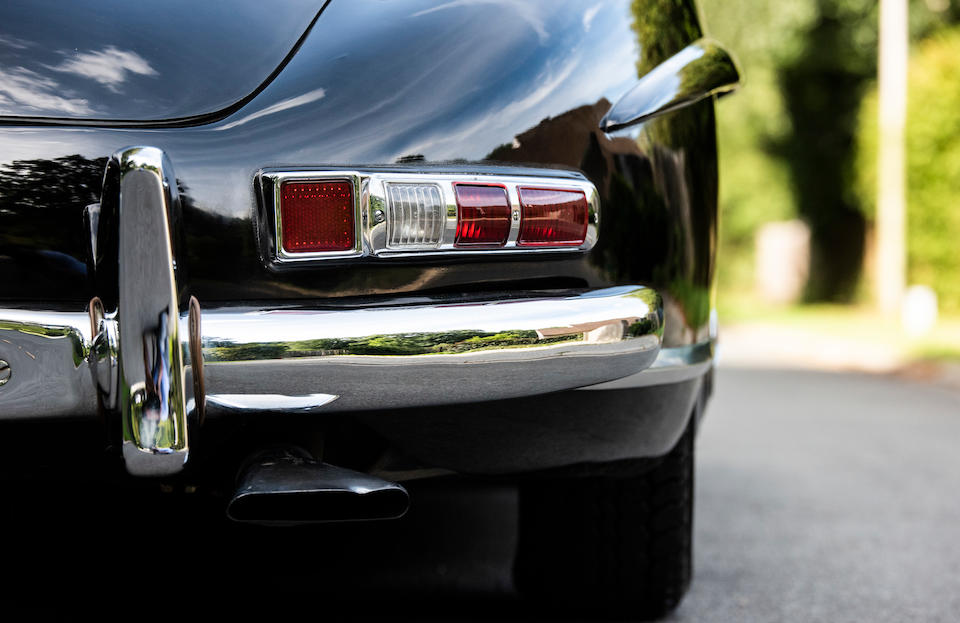 The 300 SL Roadster sold well for a car that cost more than a Ferrari 250 GT California Spyder, and would outlive the 300 SL Gullwing Coupé, which ceased production in 1957, by several years. Roadster production ceased in 1963 after 1,858 cars had been built, some 70% being exported to the USA, and today the model is both rare and highly sought after.
Delivered new to the USA, this beautiful 300 SL Roadster is finished in its rare original black exterior colour and has a matching black original Mercedes-Benz interior (though delivered new with a yellow interior as mentioned on the Datenkarte). This Roadster comes with an original Mercedes-Benz hardtop and has a slightly higher than standard final drive ratio (3.64:1 rather then the stock 3.89:1) for more relaxed cruising. The engine is a Mercedes-Benz Austauschmotor (replacement motor) non-stamped to NSL specification.
Restored in 1995, the Mercedes returned to Europe in 2007 and has formed part of the vendor's private collection ever since. Only some 7,000 kilometres have been covered since 2007 and the very desirable 'triple black' car is presented in nicely patinated condition. It comes complete with an original Mercedes-Benz tool kit, copy Datenkarte, owner's handbook, spare parts catalogue and Belgian Carte Grise, and has a valid technical inspection.
A beautiful example of the iconic 300 SL in Roadster form, this is a highly desirable motor car that would make an exhilarating yet extremely practical touring companion. Indeed, there cannot be many better ways of travelling to a classic event, taking part and driving home.
---
Report by bonhams.com
---