Now this is quite a special Jaguar. First of all, it is the rarest of all XK versions: The XK140 DHC. In total only 2789 units were made, and that makes it today the most sought after XK for collectors.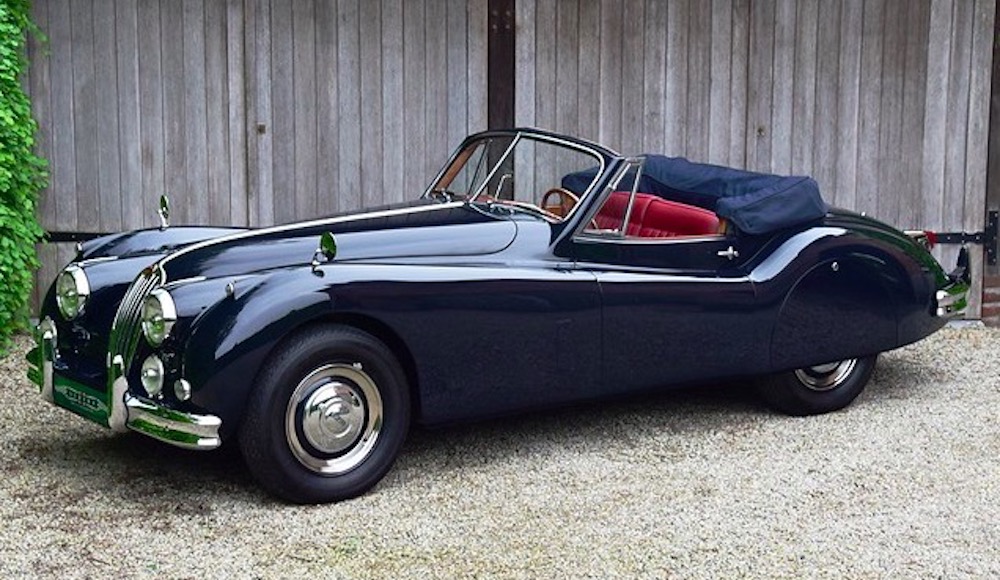 It combines the pure lines of the XK120, in combination with the more sophisticated underpinnings of the later XK150. Most importantly, it offers a much better driving position compared to the XK120, which is difficult to drive for taller people.
This example is completely restored and upgraded in 2010 by Hector Castro – HRC Jaguars in Denver (USA), and one of only three of these ultimate driving machines built by him. The aim was to create the best driving XK140 possible, with improved handling and performance, and a level of finish way above the standard. And how he succeeded.
First of all this XK140 is a rare version with steel wheels and the stylish rear spats, which shows the elegant lines of the bodywork even better. The paint quality is from the highest level, and the finish of the interior is on a par with a period Rolls-Royce. The veneer panels are mirrored and made out of rare and incredibly beautiful elm wood, and the leather is soft and beautifully trimmed as only seen in the very best restorations. The hood is made out of mohair, and has a wool headlining. The cabin is fully insulated and feels very cosy.
Technically, this car is even more impressive. The bespoke front wishbone suspension in combination with a hydraulic power steering offers great handling and a relaxed driving experience. The original engine is replaced by a 4,2 litre Jaguar straight six with straight port cilinderhead and two big SU HD8 carburettors, offering 250 bhp. Visually it is not noticeable as it all looks as factory, but the performance tells you another story… Furthermore, this XK140 has power front disc brakes, and also an improved cooling system with a high capacitiy aluminium radiator and thermostat controlled cooling fan. The stainless steel exhaust offers a great soundtrack, and driving this glorious XK140 is an unforgettable experience. A proper wolf in sheeps clothes.
Although we had previously some wonderful XK140's in stock, I have to say that this example is the best I have ever driven due to the hidden upgrades and the overall quality of the restoration. If you are looking for one of the best XK140 DHC available, then a testdrive with this great example won't disappoint you at all. And we didn't even mention that it is finished in one of the best colour combinations ever…..
Click here for further information!
Report by albionmotorcars.com
---