Competing against an elite field of over 200 entrants, the stunning 1956 Jaguar D-Type was awarded "Best of Show" at this year's The Quail, A Motorsports Gathering. The winner of the paramount award was announced during the annual gathering of automotive enthusiasts, industry principals, celebrities and motorsports greats on the beautiful grounds of Quail Lodge & Golf Club. The winning vehicle was inducted into the Rolex Circle of Champions alongside the event's individual class winners.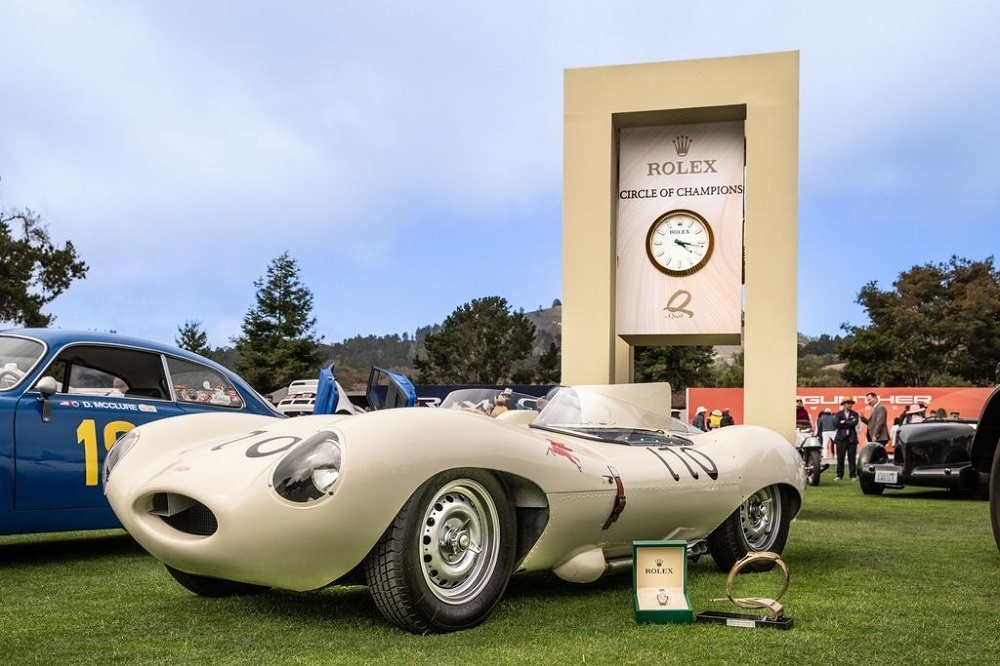 Owned by William Pope, the 1956 Jaguar D-Type, was selected for the highest honor due to its superb construction, design, attention to detail, workmanship and extensive restoration process. Jaguar took victory at Le Mans three years-in-a-row from 1955 – 1957 with the D-Type and it is rumored that only 75 examples were built.
Other prestigious award winners announced at 2022's The Quail, A Motorsports Gathering include:
Spirit of The Quail
1958 Alfa Romeo Giulietta Bertone Sprint Coupe
Dick Mcclure – California
Hagerty Drivers Foundation & Preservation Award
1972 Ferrari 365 GTB/4 Daytona
Stefano Natoli – California
Octane Choice
1959 Citroën Squall Prototype "The French BAT"
Thomas Hale – Connecticut
ArtCenter College of Design
1963 Chevrolet Corvette
Mike Vietro – California
50th Anniversary of the BMW M Division
1980 BMW M1
Benjamin Clymer – New York
All Things MINI
1965 Austin Mini Cooper 'S'
Eric Breslow – Nevada
70 Years of Jaguar and their Wins at Le Mans
1950 Jaguar XK 120 Alloy
Mark Miller – California
Pre-War Sports & Racing Cars
1929 Rolls Royce
The Hon. Sir Michael Kadoorie -Hong Kong
Post-War Sports 1945-1960
1956 Maserati A6G Zagato
David Smith – Washington
Post-War Sports 1961-1975
1964 ATS 2500 GTS
Stephen Bell – Colorado
Post-War Racing
1964 Alfa Romeo TZ
David Eichenbaum – Florida
Evolution of the Supercar
1995 Bugatti EB110SS
Allegra collection – Carlos DeQuesada – Connecticut
The Great Ferraris
1972 Ferrari 365 GTB/4 Daytona
Mike Regalia – California
Sports and Racing Motorcycles
1972 Ducati 750 Imola Racer
Moto Borgotaro – New York
Custom Coachwork
1934 Ford Model 40 Special Speedster
Bruce Wanta – Washington
Car Park Concours de Quailegance
1967 Oilstainlab "Half11"
Iliya and Nikita Bridan – Canada
Three featured classes were celebrated at this year's event. The "50th Anniversary of the BMW M Division" class showcased the best examples of street and racing vehicles from BMW's famous high-performance subsidiary. "All Things MINI" saluted the evolution and heritage of the original Mini Cooper and its many variants created by the legendary John Cooper. And "70 Years of Jaguar and Their Wins at Le Mans" commemorated the illustrious brand's seven wins at one of the world's premier and most challenging endurance races. The special class also marked Jaguar's first win at the 1951 24 Hours of Le Mans with the iconic Jaguar C-Type Roadster.
The Quail, A Motorsports Gathering was also the site of major debuts from the world's most exclusive luxury and hypercar manufacturers. Czinger debuted the Longtail 21C V Max, Gordan Murray unveiled the T.33 and T.50 supercars on American soil, while Rolls-Royce presented its new Phantom Series II. Specialty manufacturers Cyan Racing, Singer, RUF, Hennessey and Gunther Werks showcased new limited-production ultra-high-performance vehicles. Bugatti, Maserati, Lamborghini, McLaren, Acura, Cadillac, Lucid, Rimac and others also had their latest exotics, hypercars, luxury vehicles and electric cars on display.
Beyond the stunning vehicles and debuts, guests were treated to epicurean delights from five gourmet culinary pavilions and award-winning wine and champagne vendors. The Fireside Chat Series resumed with "Legends of the Hypercar Designer Forum," moderated by Chip Foose featuring Horacio Pagani, John Hennessey, and Professor Gordon Murray, and "Breaking Barriers: Women in Motorsports," moderated by Shelby Knick featuring Samantha Tan, Renée Brinkerhoff, and Lyn St. James.
Participants were also invited to attend the Bonhams Quail Lodge Auction, the longest-running auction held during Monterey Car Week.
"This year's The Quail, A Motorsports Gathering was our best yet," said Kai Lermen, General Manager of Quail Lodge & Golf Club. "The unique combination of the beautiful atmosphere of Quail Lodge & Golf Club, the most exclusive collector and modern cars worldwide, and extraordinary gourmet food and beverage make The Quail, A Motorsports Gathering one of the world's most renowned automotive lifestyle events. We look forward to next year's gathering when we will celebrate our 20th anniversary."
If you are interested in more news click here.
---