In its relatively short life, the French firm of Facel produced approximately 2,900 cars, all of which were stylish, luxurious and fast. Hand built, they were necessarily very expensive (the Facel II was priced in Rolls-Royce territory) and were bought by the rich and famous seeking something exclusive and distinctive. The list of owners includes royalty, politicians, diplomats and entertainers: Tony Curtis, Danny Kaye, Ringo Starr, Joan Fontaine and Ava Gardner being counted among the latter.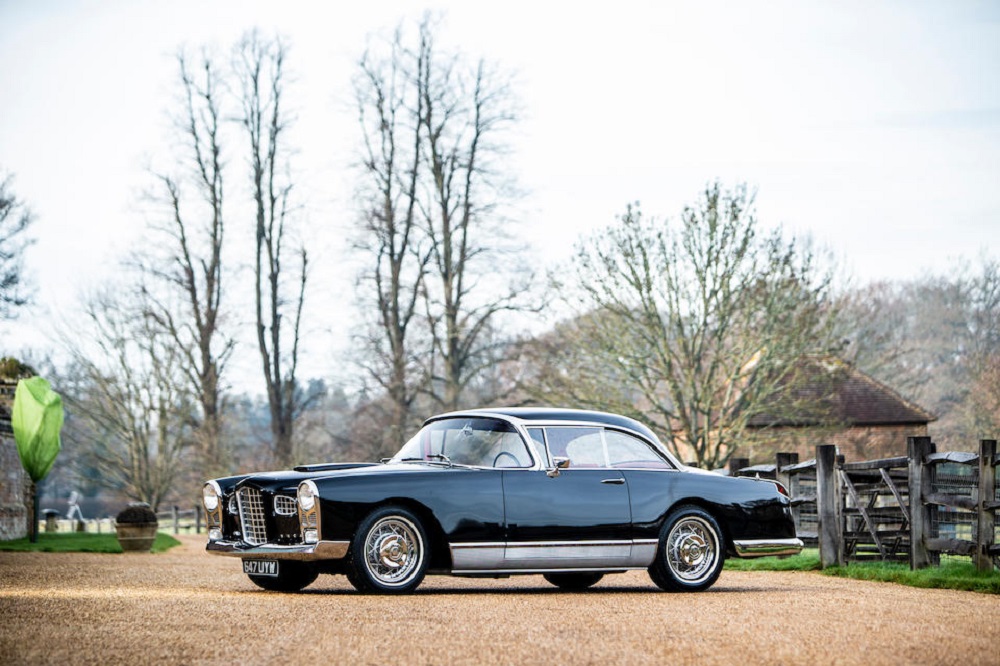 1956 Facel Vega FV2 Coupé
Chassis no. FV2 56056
•Fabulous Franco-American Grande Routière
•One of only 30 FV2s made
•Offered from an important private UK collection
---
Confirming there was high-performance substance behind Facel's unquestionable style, they were owned and driven by great motor racing figures such as Sir Stirling Moss, Maurice Trintignant and Rob Walker.
Founded by Jean Daninos in 1939, Forges et Ateliers de Construction d'Eure-et-Loir (FACEL) manufactured aircraft components and metal furniture. After the war the company supplied car bodies to Panhard, Simca and Ford France before branching out into automobile manufacture in its own right with the launch of the Vega at the 1954 Paris Salon. Government legislation had effectively killed off France's few surviving luxury car manufacturers after WW2, but that did not deter Daninos in his bold attempt to revive a great French motoring tradition. A luxurious Grande Routière, the Vega took its name from the brightest star in the Lyra constellation and featured supremely elegant coupé bodywork welded to a tubular-steel chassis. There being no suitable French power unit, Daninos turned to the USA for the Vega's, sourcing its 4.5-litre 180bhp De Soto Hemi V8 from the Chrysler Corporation, while there was a choice of two transmissions: push-button automatic or manual.
Improvements to the first FV model were not long in coming, the FV1, introduced in March 1955, featuring a lengthened wheelbase for increased rear seat room and a 4.8-litre De Soto Hemi V8 producing 200bhp. In September 1955 the FV2 arrived boasting a new wraparound windshield, a 250 horsepower motor and – for the first time – Facel's famous faux burr walnut dashboard, which was actually hand-painted steel.
One of only 30 FV2s built, this magnificent Facel is known to have been in the USA circa 1990 and since 2017 has formed part of an important private collection in the UK. It has the De Soto Hemi engine and automatic transmission, and is finished in black with red interior, the latter featuring Facel's famous wood-effect dashboard and a period-look RetroSound Model Two radio. A copy owner's manual is included in the sale. Large, imposing, of high performance and beautifully built, the Facel Vega has an on-road presence matched by few cars, before or since. Recently serviced and prepared for sale for the consignor by specialists In Holland.
---
Report by bonhams.com
---