"The C-type was the car which brought Jaguar international recognition. Yet this beautiful car was the first ever competition model from a company which was almost entirely new to international motor racing. Its originators had never previously designed a race car, nor had the C-type even turned a wheel in anger before it competed at Le mans. And it had been built in an extraordinarily short time." – Paul Skilleter, Jaguar The Sporting Heritage.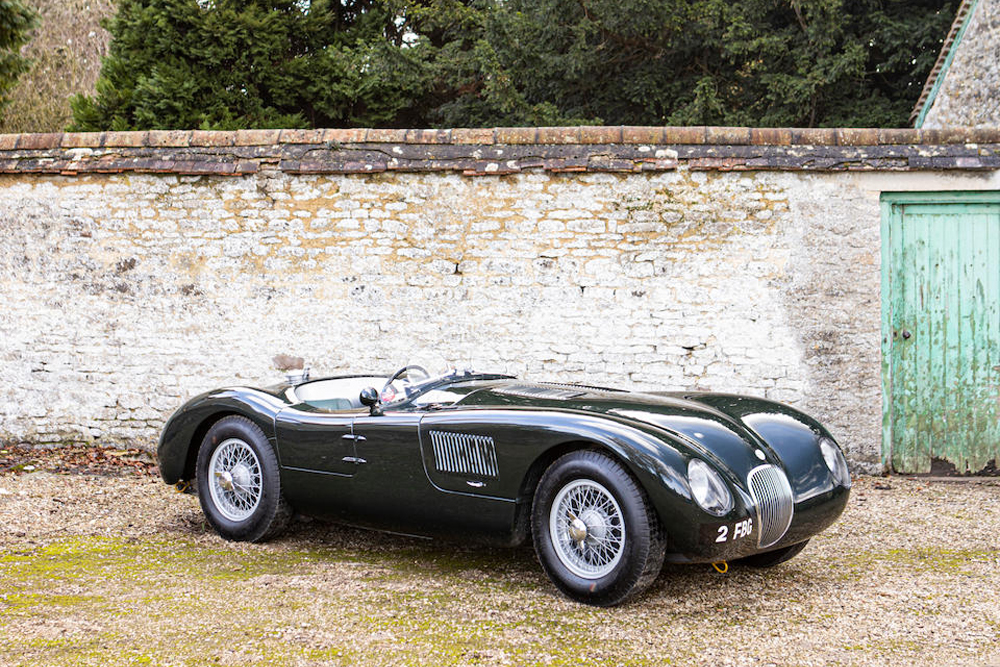 The Ex-Commander John "Jack" Rutherford
1952 Jaguar C-Type Sports Racing Two-Seater
Chassis no. XKC 014
Engine no. E-1014-8
3,442cc DOHC Inline 6-Cylinder Engine
2 SU Carburetors
160bhp at 5,000rpm
4-Speed Manual Transmission
Front Independent Suspension – Live Rear Axle
4-Wheel Drum Brakes
*Well-documented and authentic example
*Original US Delivered Car
*Raced at the 1953 Daytona Speed Week
*Sensitive older restoration
*Eligible for numerous events from Mille Miglia to Goodwood
---
Jaguar's new XK120 was the hit of the 1948 London Motor Show. Streamlined and slinky, it was the antithesis of the traditional look espoused by MG, Morgan and Singer. Customers gave it a warm welcome, validating Jaguar chief William Lyons' decision to start production in July.
In 1950, Lyons watched as a team of XK120s competed at Le Mans. While the cars performed well, one finishing in the top 12, he recognized that further work on the chassis would be necessary in order to be truly competitive. Thus began the C-Type project (C for "Competition"), an XK120 engine in a proper race-tuned tubular space frame chassis clad with an aerodynamic aluminum body.
The XK120C's quite astonishing debut victory in the 1951 Le Mans 24-Hour Race and its follow-up win in '53 established Jaguar's first purpose-built racing sports car as one of the all-time great competition automobiles. Jaguar built only 54 C-Types, a total that includes both works and production cars, and it is worth noting that the first three Formula 1 World Champions – Giuseppe Farina, Alberto Ascari, and Juan-Manuel Fangio – all bought them as road cars. It is not hard to understand why: at the time of its introduction the C-Type represented the state-of-the-art in racing car engineering and thus was one of the most advanced road vehicles in the world.
In July 1951, The Autocar fully described the XK120C with detailed drawings and specifications. By this time, the C-type had already achieved its first victory at Le Mans with a team comprising the first three cars made. Jaguar then put the C-Type into limited production. The specification of these production cars differed from the original three works cars only in minor details: e.g. different bonnet louvres, chassis channels not drilled, and 2″ SU H8 carburetors instead of the Le Mans cars' 1¾". Because these cars were largely sold to already well known competitors, their specifications differed from car to car depending on customer preference, while towards the end of production the A-bracket on the rear axle was changed to a single trailing arm.
Those multiple Le Mans wins in the 1950s, as well as numerous victories in the other great classic endurance events, coupled with superlative driving qualities that made it so attractive to three of the greatest drivers in history, have ensured a continuing healthy demand for replicas of Jaguar's rare and exotic sports-racer.
For many connoisseurs the discretely beautiful lines of the early-1950s Jaguar C-Type sports-racing car define that entire period, before the perhaps more extrovert and voluptuous curves of the D-Type replaced the early 'Competition' model. The original works-entered C-Type Jaguars won the Le Mans 24-Hour race in 1951, and after something of a hiccup with the long-nose or 'droop-snoot' variant of 1952 it was left to the ultimate, thin-gauge bodied, Weber-carbureted 'Lightweight' C-Type works cars of 1953 to win again.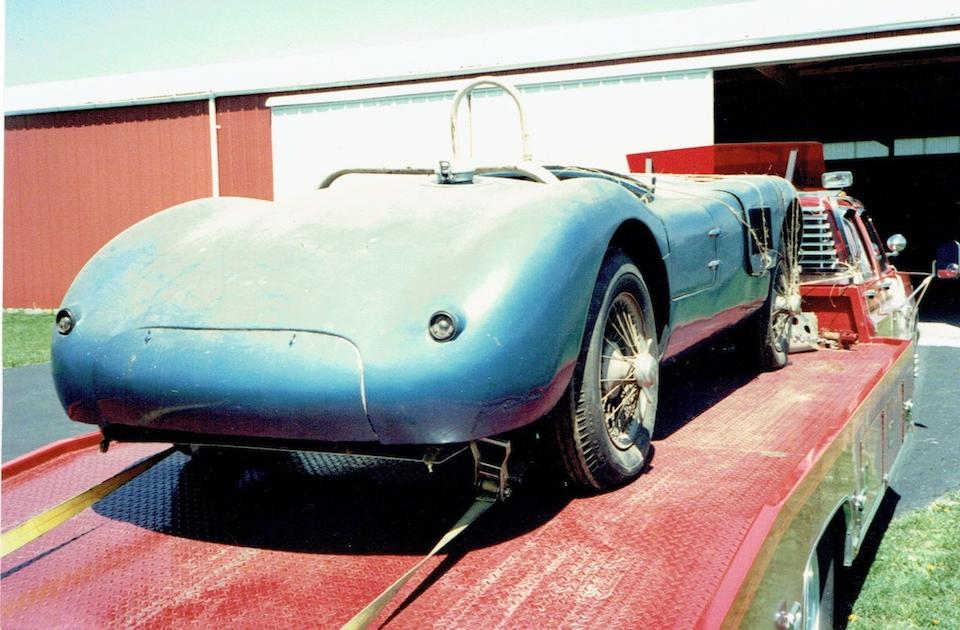 Some 54 C-Types were manufactured in all, the majority of course for customer sale, leaving the model more rare than examples of the replacement D-Type family, they are coveted for their all-round usability, perhaps the best summary of their characteristics comes from the period in which they were supplied, when Norman Dewis tested one for The Motor just two weeks after this very car had been sold. His sentiments, well quoted in Dr. Fred Simeone's reference work the Spirit of Competition are:
"The astonishing flexibility of the 120C is best appreciated by a study of the performance data. It is sufficient here to say that second and third gears cope with any situation from walking speed to 100mph. Within a very few hours of first acquaintance, the experienced driver feels well able to travel at speeds in excess of 120mph whenever the road traffic conditions render such motoring prudent.
The highest praise must be given to the steering characteristics of the Jaguar. This rack and pinion mechanism is not only light and responsive, but sufficiently high geared for the driver to change directions more by wrist action than by arm movement. Additionally, the car must be one of the truest 'straight line runners' the world has yet seen. Only on a significant straight could top gear be employed for any distance, and the demands made up on the brakes, particularly on a downhill section, were deliberately rendered excessive. Although the pedal pressure was high, brake fade was practically non-existent and at no time did the engine, despite severe thrashing, show the least loss of tune.
As the speed climbs beyond the 130 mark, the car does tend to feel a little light, but the curious sense of becoming faintly airborne is offset by no loss whatever in directional controls. At such speed there is no shake or even tremble in the body nor is there anything to indicate that much higher speeds would not feel equally safe to the occupants in the car."
He ends: "The driving of the Jaguar XK120C on the motor roads of Europe is in fact a great and memorable experience"
THE MOTORCAR OFFERED
'014' is an exceptionally fine example of the ground-breaking C-Type Model which has a known and uncomplicated history for its entire life, the larger part in this country where it was delivered new. It is notable particularly for the originality of its bodywork, which so many others had replaced in their careers. Where collectors seek the most authentic and yet best racing career of a car, for many this is a contradiction in terms, in that by definition the more actively campaigned a race car was and the harder it was driven to achieve wins, inevitably they experienced crashes, engine malfunctions etc. which today challenge their intrinsic purity. A car such as this led a more sheltered life, yet emerges from its passage of time largely unscathed and is all the more collectible for it.
The sports racing Jaguar was supplied straight through Hoffman's in New York to Commander John "Jack" Rutherford of Florida. Rutherford must have been a prominent client that Jaguar valued as he had been able to secure the very first left hand drive XK120 a few years earlier, having seen it race alongside his on Healey-Silverstone.
Dispatched from the Brown's Lane Works on October 7, 1952, Rutherford received his C-Type in the rather striking scheme of Cream, offset tonally by a Suede Green interior trim, its numbers correlated directly with the frame, receiving engine number E-1014-8, and body no. K-1014.
Jack Rutherford was straight out of the gate with his new racer taking it to Daytona Beach in February 1953, where he was timed at 134.07mph during the NASCAR Speed Week! Taking the top honors that week ensured that he was featured in a number of publications of the time including Car World and Car Life. Those magazines record Rutherford as a seasoned sportsman, who had been racing cars since 1909 and was best known latterly for his speedboat adventures through the 1930s.
Interestingly he retained the C Type through to 1960, long after it had been joined by a D-Type in his garage. At this point the original owner sold it to David S. Burtner who would campaign it for the next couple of years in the Mid-West, including at Road America in 1962. Perhaps the decade old racer was becoming a little behind the pace, or Burtner preferred America power, but at this point for the remainder of his racing days he would run the car with a Chrysler Valiant Slant Six motor and Borg-Warner transmission, with a Positration rear end. In this form he was entered to run at Watkins Glen in 1964 but appears not to have shown. Fortunately he retained the original engine which has never been separated from the car (the cylinder head is a late XK120 unit), and was part of the package that he sold to Ralph Steiger of Hamilton, Ohio.
Steiger is basically largely responsible for the car's authenticity for he owned the car more than 24 years and in an era when it might have been challenged in an effort to keep racing, he did not. He did some light refurbishment, but otherwise did no more than store it.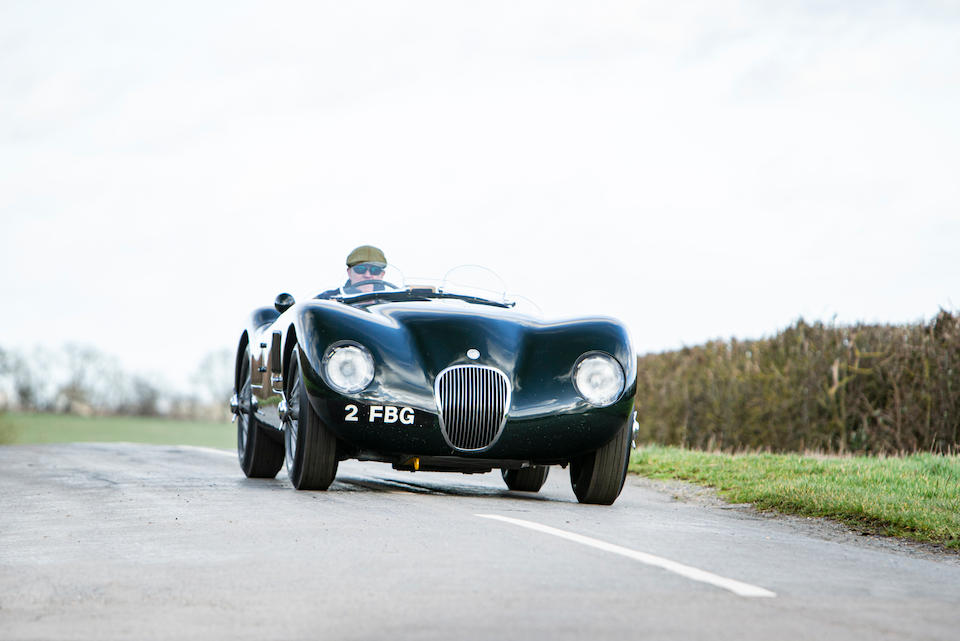 In 1986 he finally parted with '014' to a gentleman also in Ohio and after this it would pass to Burkhard von Schenk in Germany, leaving America for the first time. Von Schenk entrusted two of the most respect restorers of their day, Paul Jaye and RS Panels to a full restoration during which the original engine and gearbox were returned to the car. Jaye's reminiscences of this exercise, quoted in the extensive 'Jaguar C-Type, D-Type and Lightweight E-Type Register' reference work are that it was a nice original example with the only noted repairs being needed to compensate for repatriating the running gear. This is endorsed by a review of the car today, which is particularly rewarding as most notably it includes its original tagged hood (bonnet), a feature which owing to their vulnerability in racing is very unusual.
Road registered in the UK by Von Schenk in 1990, he actively raced and road toured the car extensively over the course of the next dozen years, before it was acquired and returned to the USA with "Mr. Lime Rock", Skip Barber in 2002.
After a number of years of mostly road use, Barber sold the car and subsequent ownership has included that of other noted collectors and racers Joel Loeb and Bill Jacobs. The current custodian, a noted European collector of top-drawer cars had long admired the model and secured it a few years ago. While in these hands it has been road toured, and in the last few years received a full carb and fuel supply service.
The C-Type is one of the greatest all-rounders of 50s and 60s sports racing cars, in period they ran at and won Le Mans, they ran in the Mille Miglia, at Goodwood, the Monaco Grand Prix in the years that it was a Sports Car race, then all over the USA, at Waktins Glen, Laguna Seca, Sebring, one even ran the Carrera Panamericana! That roster of events has propelled their eligibility for the series of retrospectives that follow in the footsteps of this evocative era.
Better still, they are an absolutely joyous car to drive, tractable, reliable and comfortable too, making them one of the most ideal entries for any of the longer distance tours. The legendary and resilient Jaguar six cylinder power plant has also been increasingly developed by the number of race-preparation shops here in the States and UK ensuring that they can both run competitively and go the distance if that's what you want to do.
Their stature can be further measured by the number of major collections in which an example resides today including the Simeone Foundation and The Keller Collection. In short if you want to tour the globe and be eligible for almost any historic event, you need go no further than buying an C-Type, and of the '54' number built and '46' number left, this is a top tier example.
---
Report by bonhams.com
---