Stunning single seat racing car "Ferrari 125 C Formula Libre Monoposto" for sale!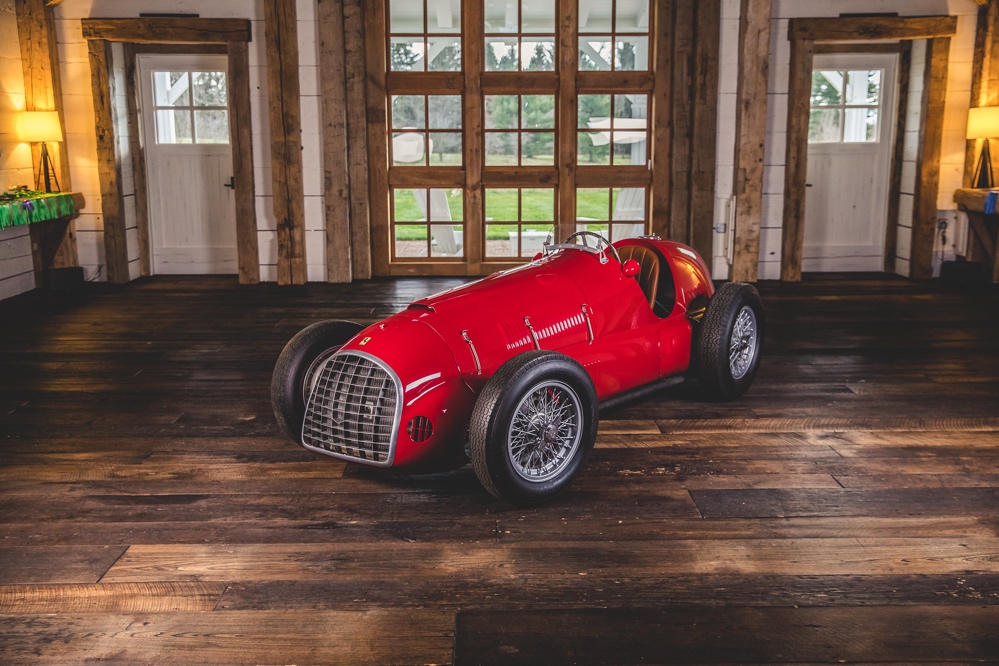 This single seat racing Ferrari was sold new in the summer of 1950 to Francisco "Chico" Landi, a native of Sao Paulo, and the very first Brazilian to compete in a Formula One Grand Prix race, the 1951 Italian Grand Prix.
With the wonderful assistance of noted Swiss Ferrari historian, Marcel Massini, we learn that the 125 C was shipped out of Italy on the S.S. Sestriere arriving in Rio de Janiero in time for "Chico" to race Nr. 106 at the Quinta da Boa Vista Formula Libre and take 1st place in its inaugural outing. Chico and Nr. 106 would go on to race throughout Brazil more than a dozen times over the next year and finish 1st no less than a remarkable seven times! Chico would also compete as a privateer in Formula One in a Ferrari 375. The very last race recorded for our Nr. 106 is in December 1952 in Rio where Henrique Cassisni would pilot the 125 C to yet another 1st place finish.
Like so many old race cars of the day, Nr. 106 would lay dormant and neglected for the next several decades, the original chassis being stripped of its original body and engine. Having found its way to the UK in the 1980s, the 125 C would eventually be sold to an acclaimed USA based collector, who commissioned a total rebuild with the lauded workshop Tony Merrick Racing and Restoration. Once completed with its new alloy body by Shapecraft Classic Motor Bodies, a proper supercharged (non-numbered) Ferrari V12 engine, and a 5 speed gated gearbox, Nr. 106 would see occasional use the next two decades while residing in its collection amongst numerous important racing Ferraris.
Some ten years ago Nr. 106 would change hands and move from one impressive Ferrari collection into another, where Copley Motorcars offers you the 125 C from today. Having been on mostly static display the prior two decades, an extensive overhaul to all systems was immediately commissioned, including a bare metal repainting in Rosso Corsa. The 125 C is not Classiche Certified. Further comprehensive sorting was recently completed by The Patrick Ottis Company. This work included changing over the exhilarating external starter to a more civilized, and safe, on-board starting system.
Formula Libre, unlike its more regimented and budget-busting F1 sibling, allowed for virtually any racing car to compete. No classes, no engine limits, no restrictions, just racing – Free Formula – a somewhat modern day run-what-you-brung that lives on throughout the racing world today.
125 C Formula Libre monoposto Nr. 106 is not for the faint of heart but is indeed a very usable tool for an accomplished driver, be it at The Monaco Historics, Goodwood Revival or Monterey Motorsports Reunion at The Weathertech Raceway. Copley Motorcars sees Nr. 106 too as an ideal collection mate providing wonderful perspective on the beginnings of Ferrari and looking perfectly suited sitting along side a 250 SWB, 288 GTO, Enzo and even today's single seater, the Monza SP1.
Click here for further information 
---
---