Gallery Aaldering is offering this Squire 1,5 Litre Short Chassis for sale. One of Nine. Last one built. Ownership since 1976.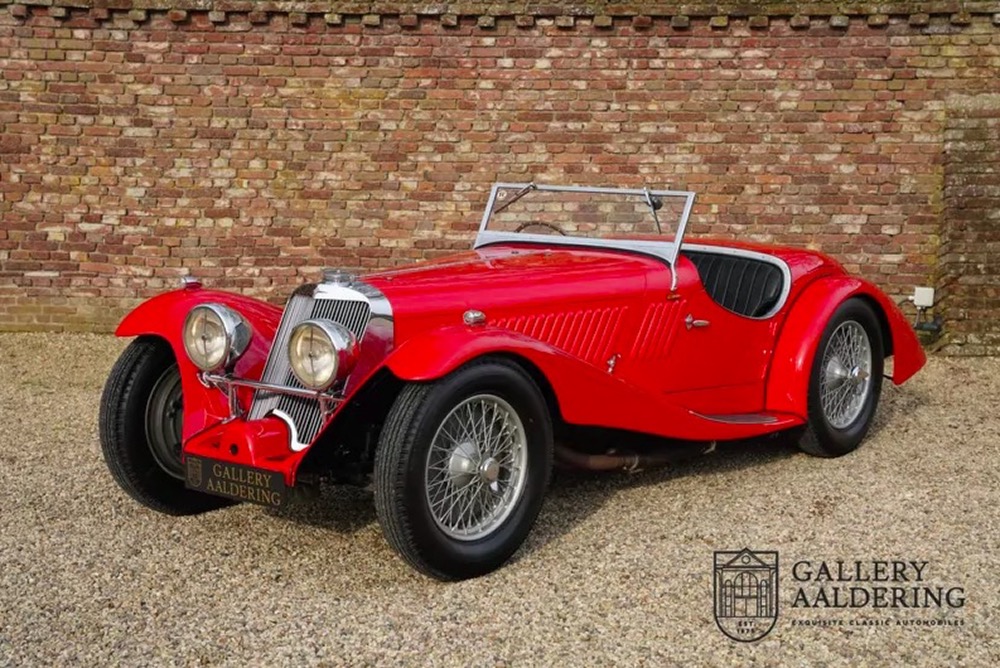 Quite an exceptional young man was the 1919 born Adrian Squire. When leaving school at 16 he had already finished a handwritten book about the "1 ½ Litre Squire", a car wholly sprung from his imagination. Ten years later the final product appears to be markedly similar to to what he had entrusted to paper as a teenager, especially in mechanical sense.
After a short apprenticeship at Bentley Motors and equally short career at MG in 1931 he started his own company 'Squire Motors'. Four years on and Adrian proudly presents The Squire Car, an elegant shaped sportscar considered one of the most charismatic of its time.
It is also quite expensive, with a price tag of £ 1,220 it is on a par with the likes of Alfa Romeo and Bugatti. Where the big brands use famous designers, Squire self drew the bodywork, which he had built by Vanden Plas. Under the bonnet the 110 hp strong 4-cylinder 1,496 cc with a David Brown supercharger is good for 160 km/hr. Road handling and brakes are also lauded; overall the car is so much more than the sum of its parts.
Price being the only thing holding sales back.
The first Squire client, the Hon. Sherman Stonor, bought a Squire and quickly replaced the bodywork with one by Markham of Reading. Lighter and simpler. Squire follows the example and with that the lightweight Squire was born. Besides being lighter it also has a more friendly price tag of £ 995. Five SWB and two LWB cars were built.
One of those long wheel based cars ends up with Val Zethrin. In 1936 the inevitable occurs with Squire Motors having to close its doors. Two more rolling chassis and parts were sold to Zethrin. He finished the cars in the following years, with the car know as 'Z 100' being the very last one. That is the car you see before you now.
With WW II causing considerable delay it takes until 1947 before the Z100 is registered for use on the road. Zethrin had more than enough parts to build the car as Adrian had intended, except for the supercharger. He solved that by fitting a Wade blower.
Initially the Squire had an open two-seater body but in hindsight Zethrin thought it to heavy and not quite to his taste. He replaced the wooden frame with a steel construction one. Once ready the project came to a halt and the frame landed up in a corner. That does not mean this was a worn out or intensively used car. At the time the bodywork was replaced the Squire had only clocked up around 500 miles (800 km).
In 1976 the car was sold to a Dutch owner who commissioned a well-known and expert bodywork specialist to fashion a new top. This one copied the original Vanden Plas design used in the mid-thirties. An exceptional piece of British automotive history that found its way into Gallery Aaldering's collection via father and son.
This 'Z100' is truly in wonderful shape. Ready for any concourse imaginable. The car's unique character makes it a very desirable collector's item, whilst driving it is one big treat. It was no exaggeration that English Motor Sport magazine wrote in 1936: "Even the straightest roads are nog without their fast bends… but on the Squire one can take them quite happily at 75. Even when we deliberately took sharp corners at what seemed to be an excessive speed the car declined to slide or show any signs of instability…"
This Squire handles beautifully. The fast 1.5 litre four-cylinder is attached to a Wilson pre-selector 4-speed. This was the design found back in racing cars of that time such as the ERA's and Mercedes-Benz Silver Arrows. Brakes too were highly praised by press and owners. The Squire designed brakes were built by Lockheed. The ingenious design allowed the Squire to come to a standstill in 10 metres from 50 km/hr. Most competitors did not come close.
For poor Adrain Squire the adventure only lasted a few years. When in 1936 Squire Motors closed he briefly worked for Lagonda before joining The Bristol Aeroplane Company. He died in 1940 when his hideout was struck during a bombing raid. With just nine cars built the brand has gained iconic status amongst pre-war car enthusiasts. Obviously it is seldom you will see a Squire for sale, without fail they are inextricably bound up as part of someones collection. Gallery Aaldering is very excited and proud to be able to present the very last Squire ever to be built.
Click here for further information 
---
collectorscarworld is partnering with the most renowned classic car specialists and dealer-ships in the world. We always offer selected rare and sought-after collectors cars and supercars for sale and every day a special car is featured for one of our partners. The passion for classic cars is diverse, sometimes it concerns the beauty of forms that can be admired at a concours, sometimes it is the smell of rubber , old leather and gasoline at a racing event or trip in the sunset.
Or its a classic car you have great memories with or which your parents owned a longtime ago. Classic cars and supercars are an expression of the lifestyle that someone shares with other petrolheads, and which is immortal, enduring and always a lot of fun. If you are looking for a special car or need support in the evaluation and history of cars, please contact us at info@collectorscarworld.com
---