Introduced at the Berlin Motor Show in February 1933, the Typ 380 (W22) was powered by a straight-eight overhead-valve engine of 3.8 litres capacity, while the chassis was an all-new state-of-the art design featuring independent suspension all round: by wishbones and coil springs at the front and swing axles at the rear. As such it represented a significant advance in roadholding and handling compared with the offerings of rival manufacturers, most of which still relied on beam axles and cart springs.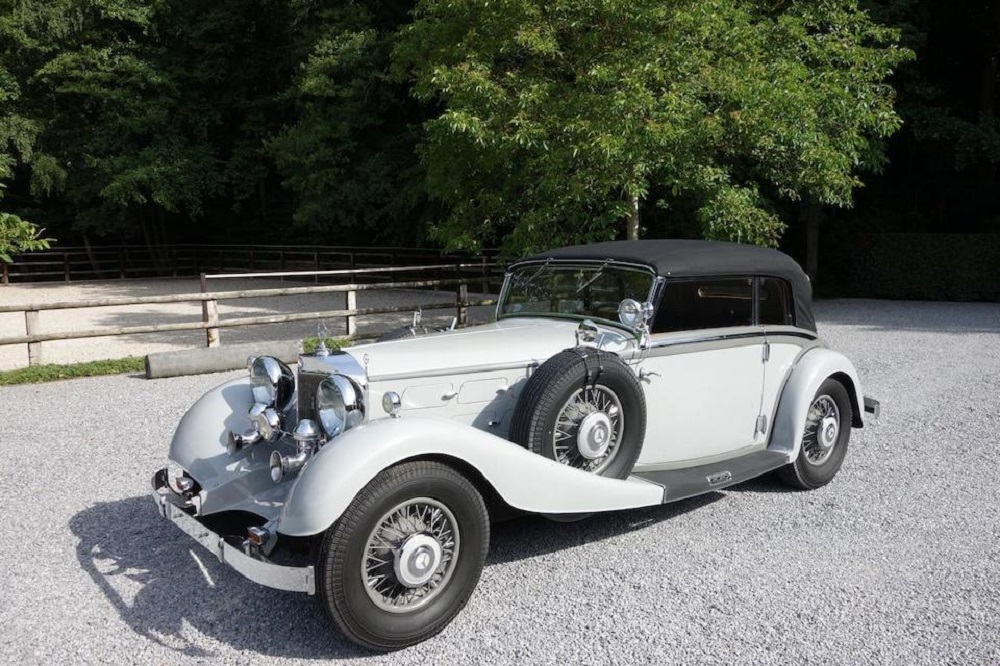 1934 Mercedes-Benz 380 K Cabriolet B
Chassis no. 95309
•One of only 154 made (all body styles)
•Delivered new to Spain
•Long-time owner for nearly 50 years
•Professionally restored
•Registered in Germany
---
In basic form the Typ 380 came with 89bhp on tap, while if specified with the optional Kompressor (supercharger), two types of which were available, maximum power was raised to either 118 or 138 horsepower. There was also a four-speed gearbox with synchromesh on the upper two ratios, plus hydraulic drum brakes on all four wheels. Despite being widely admired for its refined chassis and powerful engine, the Typ 380 ceased production in 1934 and is one of the rarer Mercedes-Benz models of the between-the-wars period.
According to the Daimler-Benz factory archives, only 154 examples of the Mercedes-Benz 380 K were manufactured in 1933 and 1934. This small number included all body types, so this Cabriolet B is indeed a rare specimen. Although details of the first decades of the car's life are obscure, it is known that chassis number '95309' was delivered on 9th January 1934 to its first owner in Barcelona, Spain with the beautiful Cabriolet B coachwork it still wears today, as confirmed by Mercedes-Benz Classic (details on file). Equipped with Kompressor, heater, an additional headlamp, and side-mounted twin spare wheels, the car has an impressive appearence from all angles.
By the early 1970s '95309' had found its way to the German classic car restoration company, Heinje-Sportwagen of Oldenburg. Never intending to re-sell the Mercedes, the owner, Mr Franz Heinje, restored it in his own workshops. No corners were cut during the restoration and the car is still in magnificent condition today. Franz Heinje kept the Mercedes for nearly five decades until his death. Needless to say that, owning a professional restoration company, Mr Heinje was always able to service, repair and maintain his pride and joy to the highest standard.
This rare Kompressor Mercedes comes with a letter dated 31.08.1976 from Daimler-Benz Archives to long-time owner Franz Heinje; German Kraftfahrzeugbrief; current German TÜV; and the aforementioned confirmation from Mercedes-Benz Classic Car Archives.
---
Report by bonhams.com
---