Grand Prix Classics is offering this Riley Monaco Beavis Special for sale.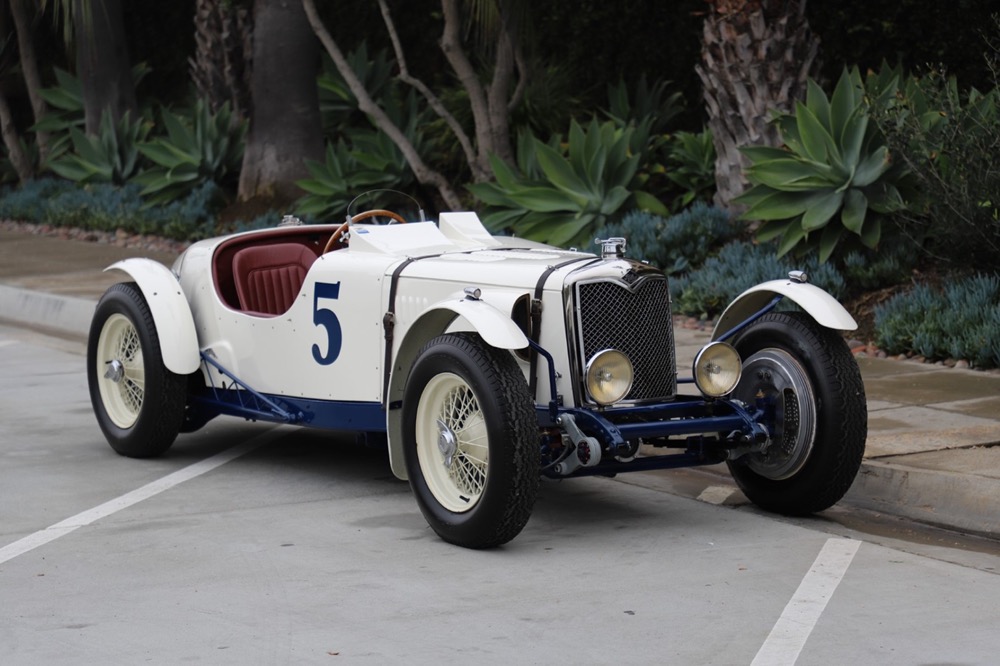 History: This great racing special started life as a 1929 Riley Monaco Sedan, first registered July 9, 1929 as chassis 606924, registration number VE1701. In the early 1950's it was built into a racing special by Joe Beavis of Woodlands, the Folly, Wheathamstead, Hertford, U.K.
Joe Beavis raced the car extensively in VSCC from the mid 1950's to 1965. Gerald Dicks acquired the car in 1965 and raced it in the VSCC with the 12/4 engine (in which style it ha remained since). It was then acquired by Robert-Nichols Welton of Gloucester and Royston, Hertford who rebodied it and raced it extensively in VSCC until 1978 when it was sold to Geoffrey Bradford of Welwyn Garden City, Hertford.
During the Beavis Riley Special's racing years in England, it participated in VSCC and A.C./Lagonda Owner's Club Races at Castle Comb, Silverstone, Oulton Park and Brands Hatch, winning the VSCC Coventry Trophy for the 1965 season.
In 1984 the car was acquired by David Gibb of Menlo Park, California, who imported it to the United States. He sold it to Ron Bennett in 1988, at which time, it underwent an extensive restoration. In 1992, it was sold to Larry Hale who raced the special in VARA and HMSA. The Beavis Riley Special has participated in the Monterey Historic Automobile Races in 1993, 1994, 1996, 1997, and 1998 and was selected from the Laguna Seca track by the Pebble Beach Concours Committee in 1994 to be displayed at the concours on Sunday.
The Riley Special has been featured in the Riley Register Bulletin (#44. 6/66) and the Christian Science Monitor (front page picture).
Condition: Restored in 1992 during the ownership of LA collector Ron Bennett. Then improved during the ownership of noted LA collector, Larry Haile. Beautifully turned out in white exterior finish. A low streamlined open cockpit and two seat body with boat tail style rear end and cycle fenders. The chassis was shortened and the rear half inverted to provide an underslung Brooklands racing style.
The engine is a 1500cc Riley 12/4 with hemispherical combustion chambers, twin cam shafts, and three main bearings. Fuel is delivered through four Amal carburetors (i.e. Freddie Dixon). The exhaust is a four into one with tubular headers and a Brooklands type exhaust. Horsepower is rated at 54hp at the flywheel and 75hp at the flywheel.
The rear axle ratio is a 5:25:1. Wheels are 16" center lock wire wheels (4.5" in width) with Dunlop L section tires.
Striking to look at and fun to drive. It has not been raced in 15 years, but recently received $8,000 of maintenance, including: full chassis and body nut and bolt, brake bleed and service, new master cylinders, brake fluid, radiator flush with new coolant, engine check, carburetor rebuild, fuel tank repaired with new fuel bladder, electrical repairs, engine tune and other misc. service work, full detail.
Ownership: Known and well documented from 1954 to present.
Documents: California title, copies of UK V5 Registration, UK Registration book back to the 1950's, Riley manuals for 1.5 and 1.0 liter.
Articles: Road tests and magazine articles on Riley, racing specials, Riley Motor Club. In Riley Registry.
Click here for further information 
---
collectorscarworld is partnering with the most renowned classic car specialists and dealer-ships in the world. We always offer selected rare and sought-after collectors cars and supercars for sale and every day a special car is featured for one of our partners. The passion for classic cars is diverse, sometimes it concerns the beauty of forms that can be admired at a concours, sometimes it is the smell of rubber , old leather and gasoline at a racing event or trip in the sunset.
Or its a classic car you have great memories with or which your parents owned a longtime ago. Classic cars and supercars are an expression of the lifestyle that someone shares with other petrolheads, and which is immortal, enduring and always a lot of fun. If you are looking for a special car or need support in the evaluation and history of cars, please contact us at info@collectorscarworld.com
---