Why I am so addicted to the Goodwood Revival? The answer is simple. Following H.G. Wells novel from 1895, time travels are possible. Goodwood is the place to take "new pictures from the past".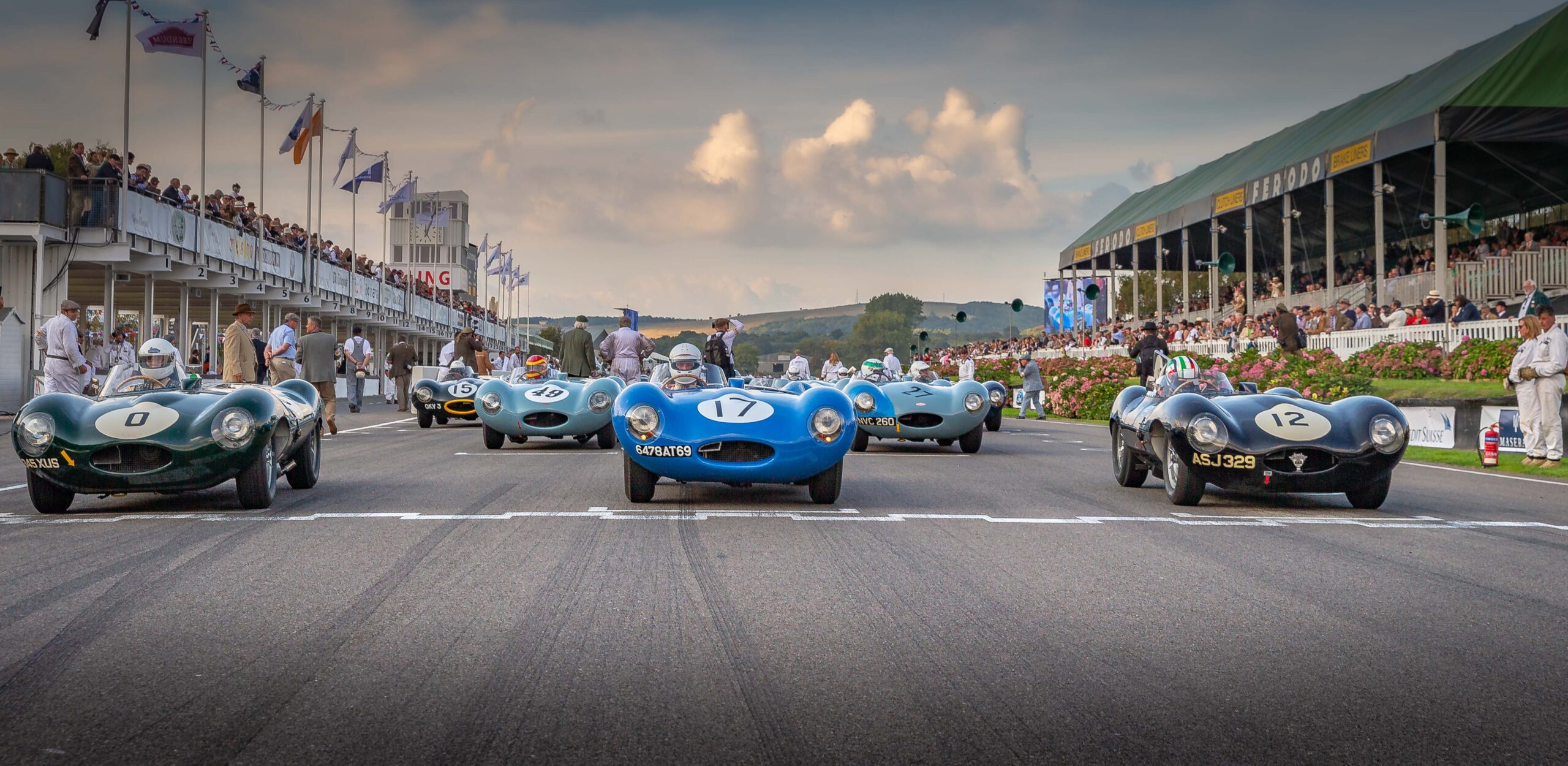 A unique opportunity to find thousands of people in historic clothes, cars and heroes from the golden age of motor sport at a racetrack with significant historic importance. A "film set" money can't buy. You will forget that something has been lost in modern motorsport. I feel honored to invite you to my very personal time travel over the last 10 years of this unique event."
The Goodwood Revival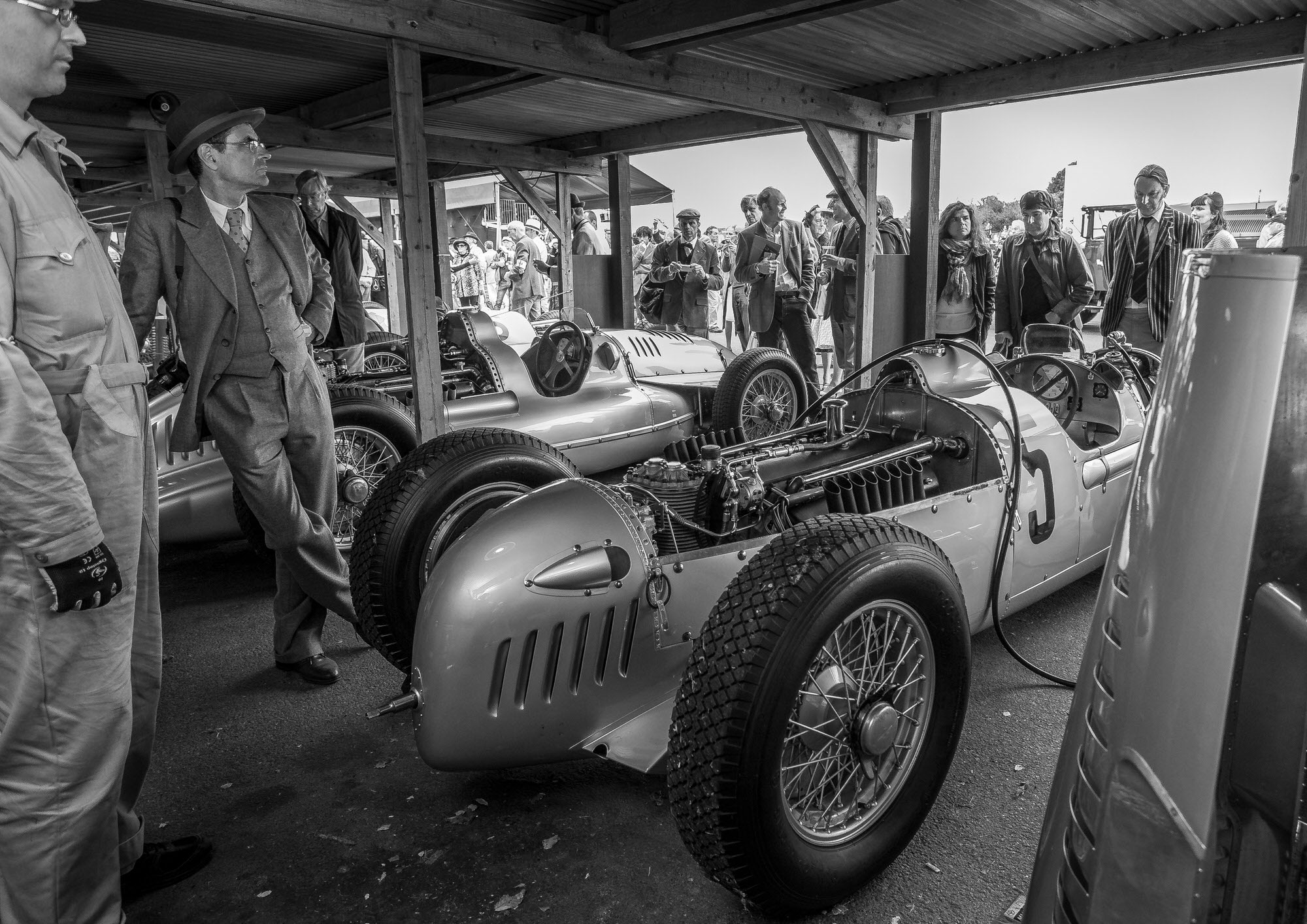 Dr. Frank, Head of Audi Classic, Revival 2012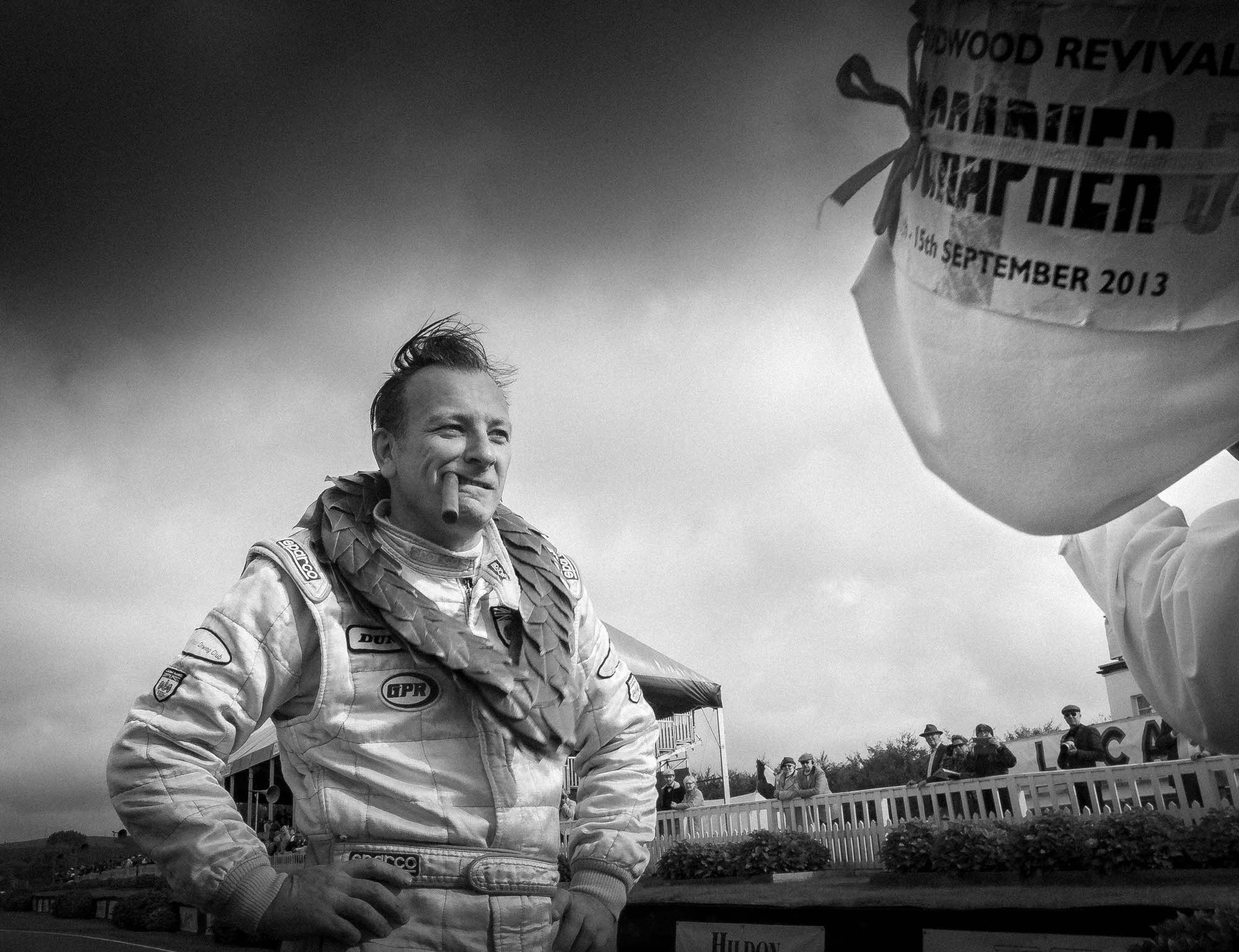 Calum Lockie, Winner Goodwood Trophy 2013; Maserati 6CM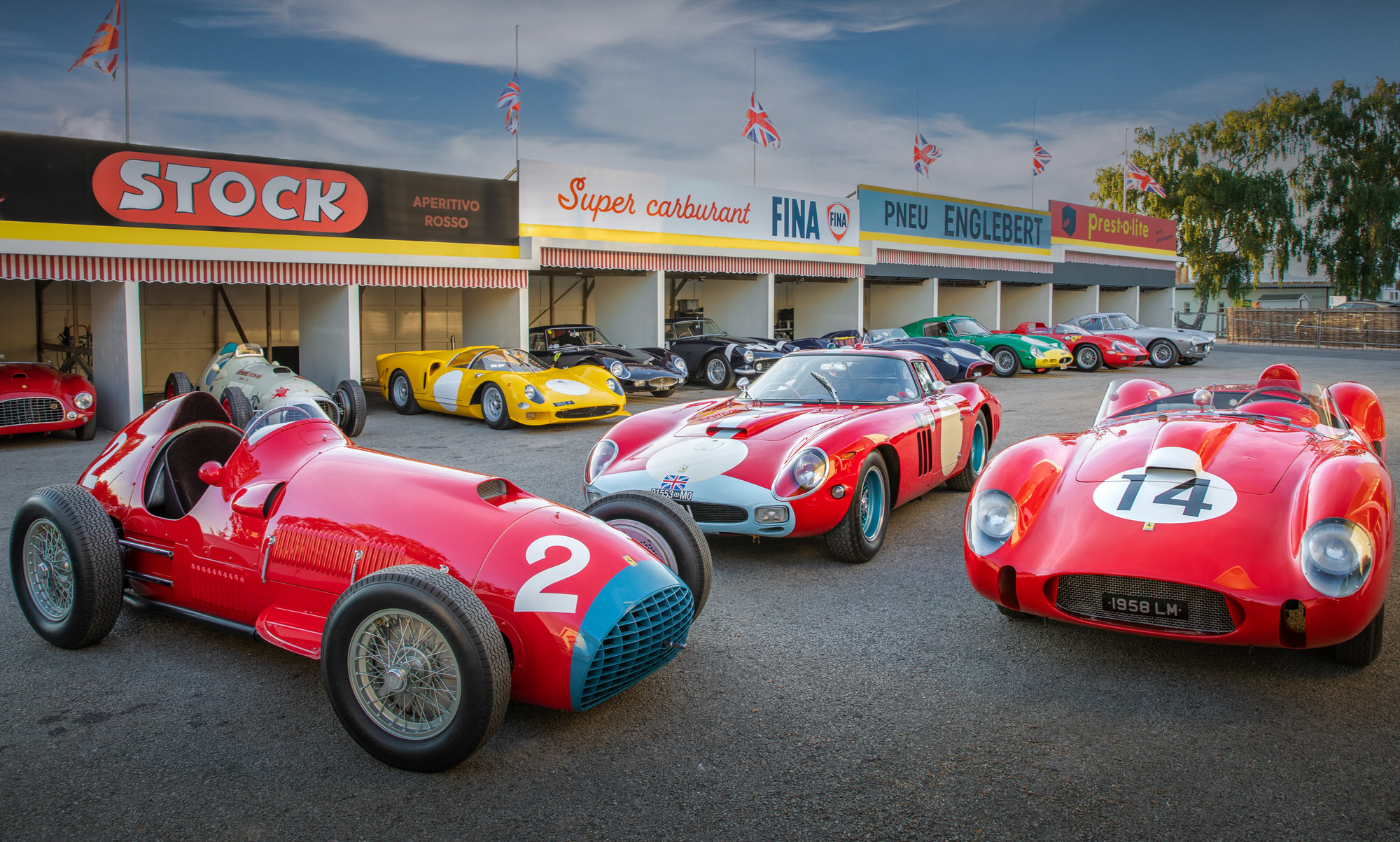 12 important historic Ferraris – No 14:250 TR, Le Mans Winner 1958 , Owner: Michael Kadoorie/Hong Kong; center: 250 GTO by Lord Bamford, Member House Of Lords and owner J.C. Bamford Excavators. Photo from 2022 to celebrate 75th Anniversary of Ferrari.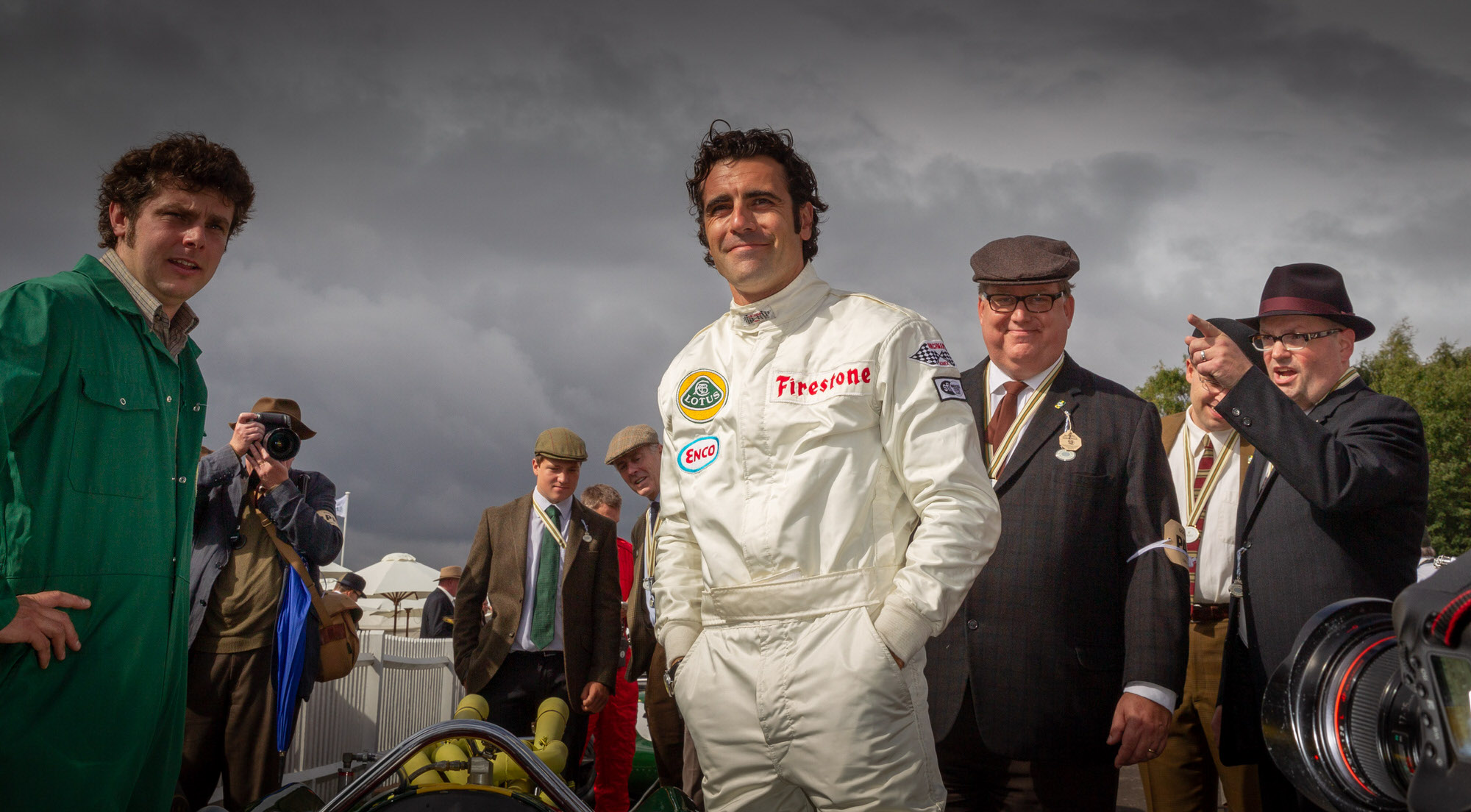 Dario Franchitti, 4 times Indycar Champion and 3 times Champion Indy 500, Revival 2013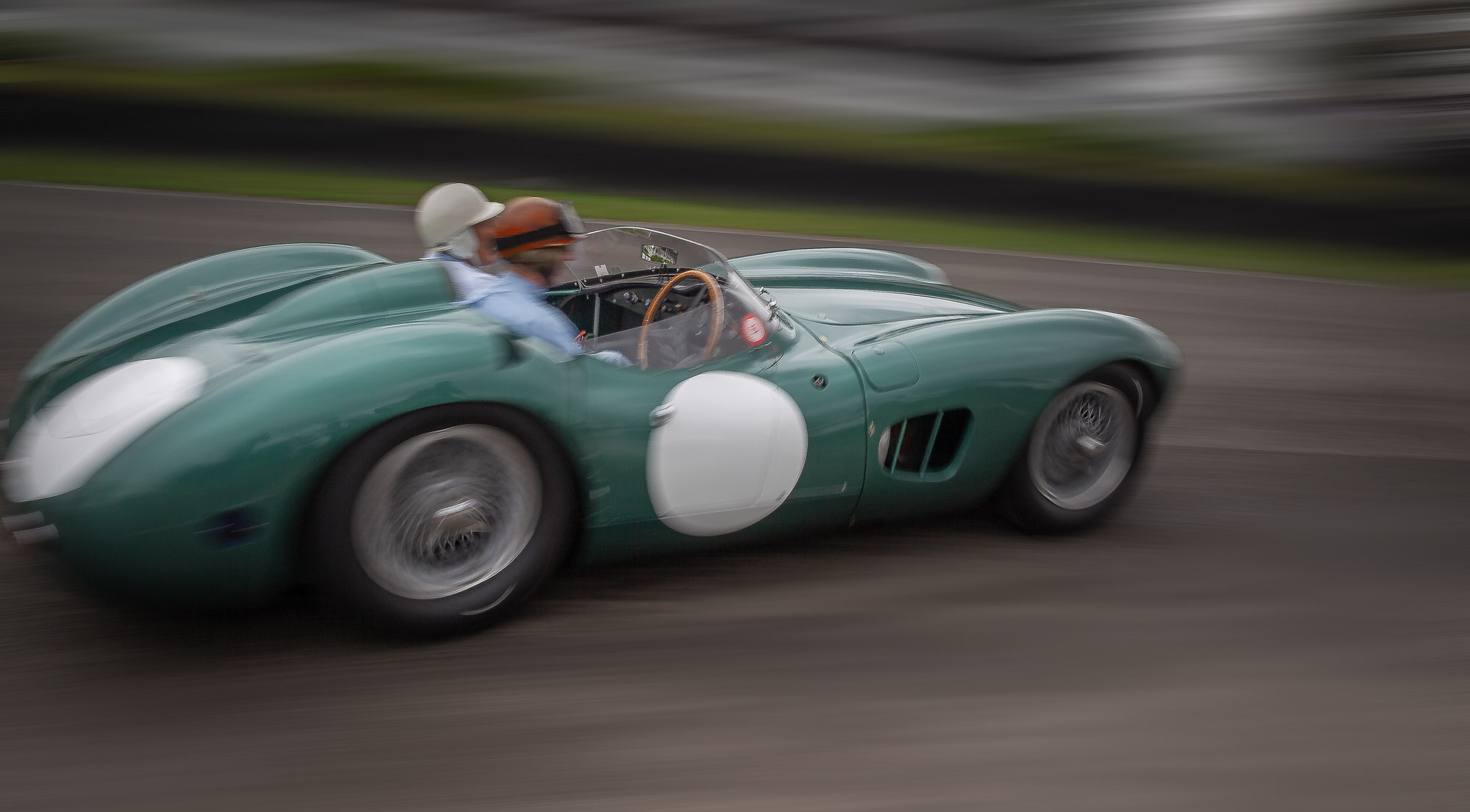 Stirling Moss & Tony Brooks in the Le Mans winning Aston Martin DBR1, Revival 2013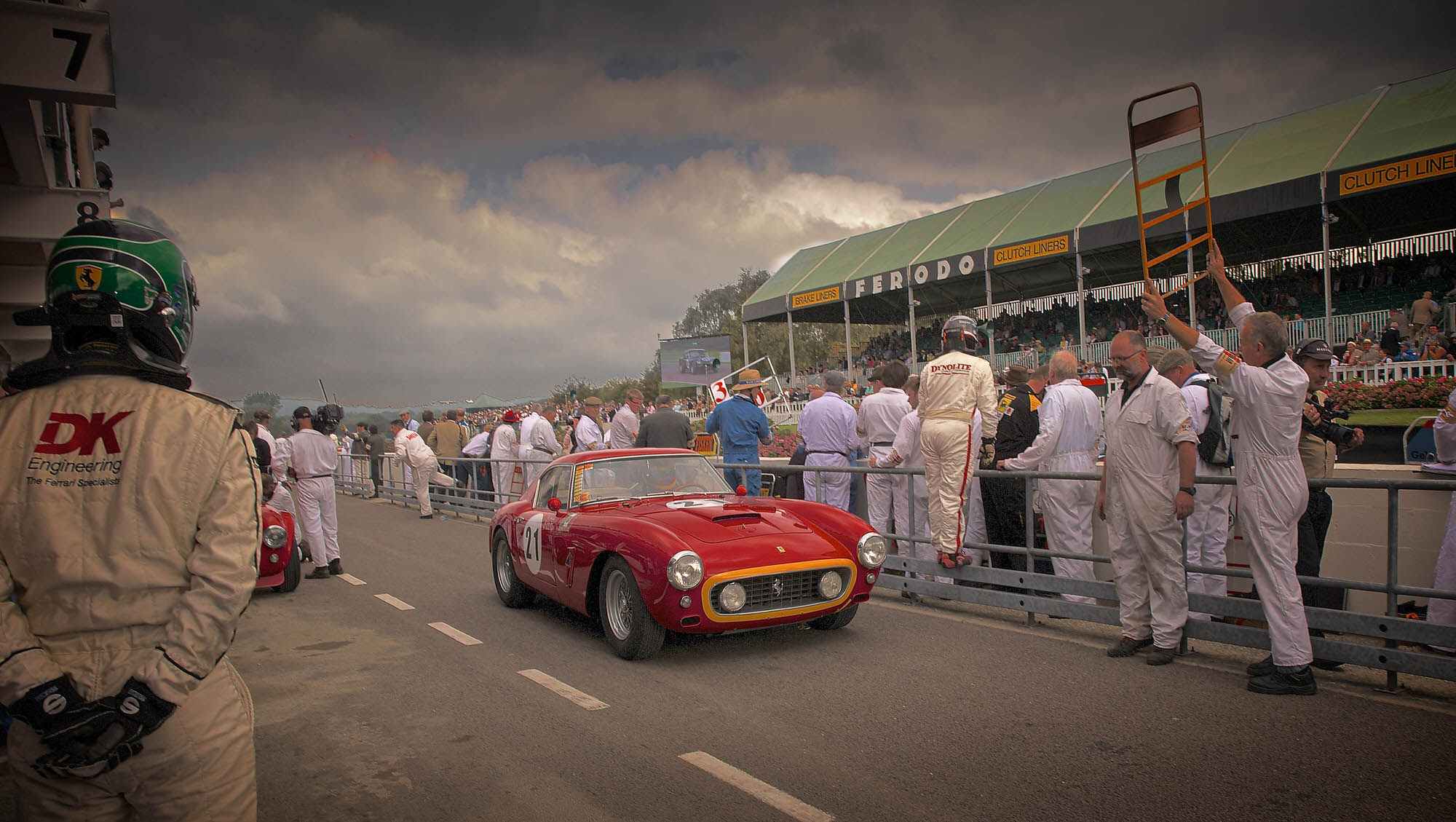 James Cottingham Ferrari 250 SWB, Revival 2014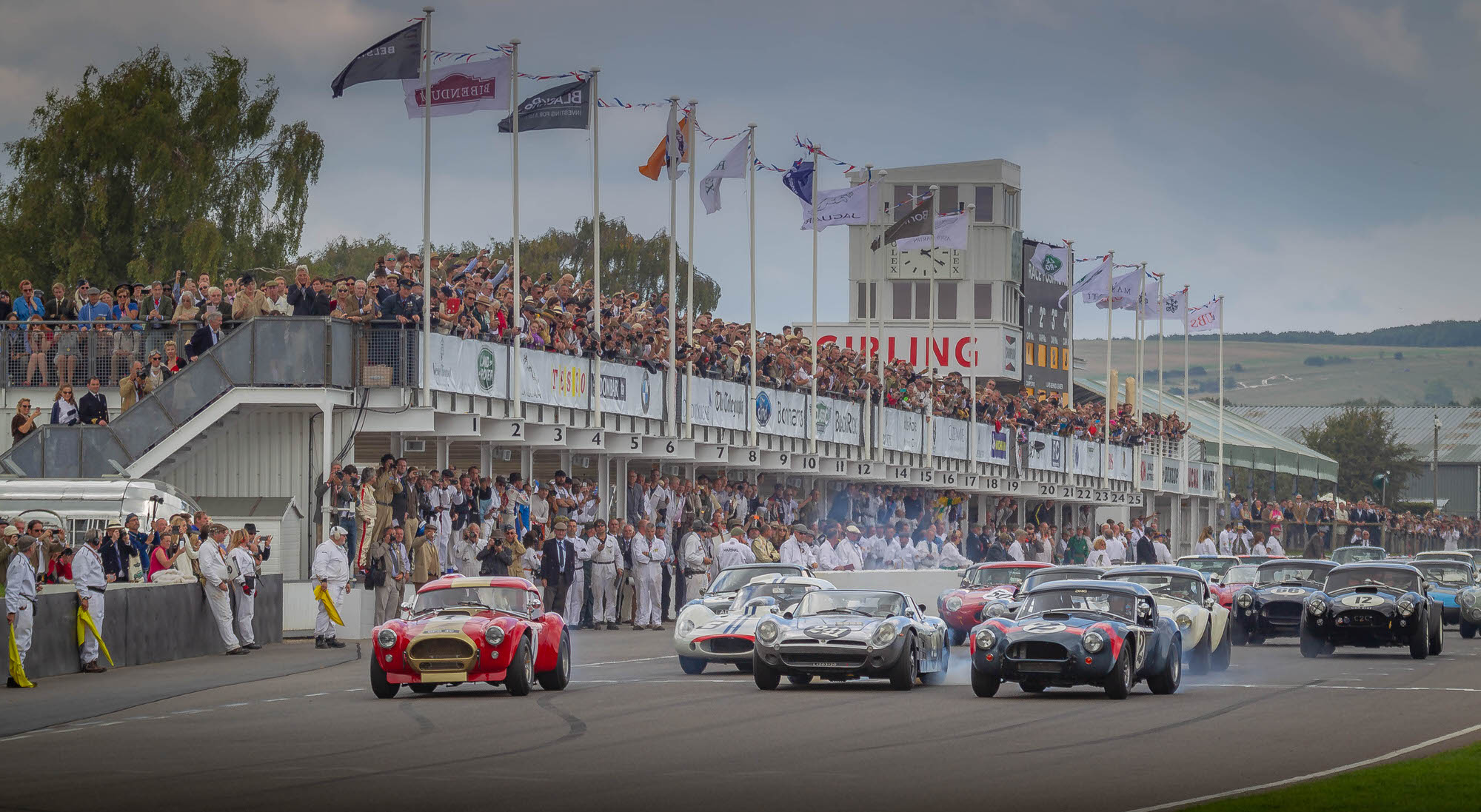 Start Royal Automobile Club TT Celebration, Race 2014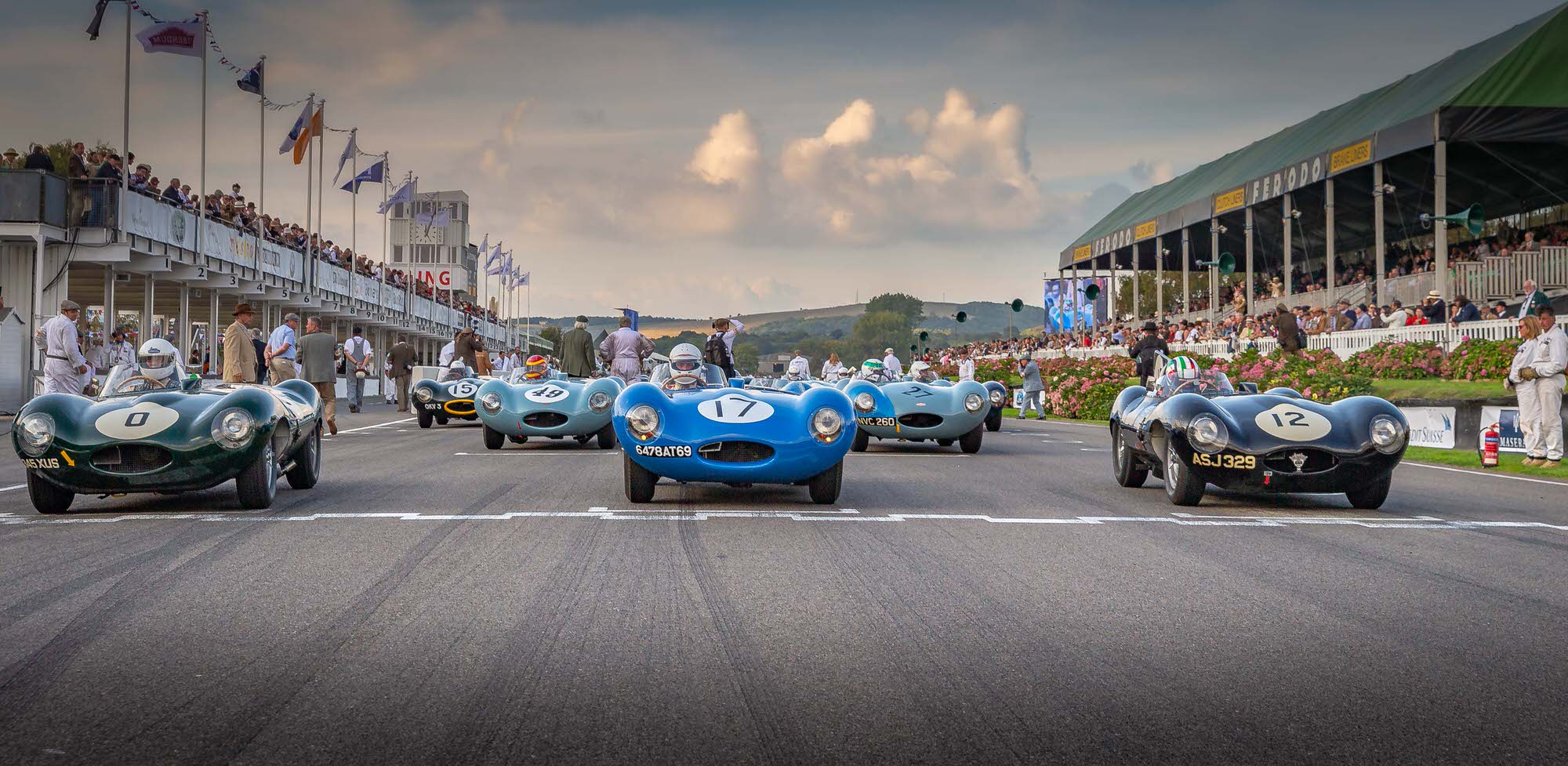 Jaguar D-Type Celebration; Revival 2014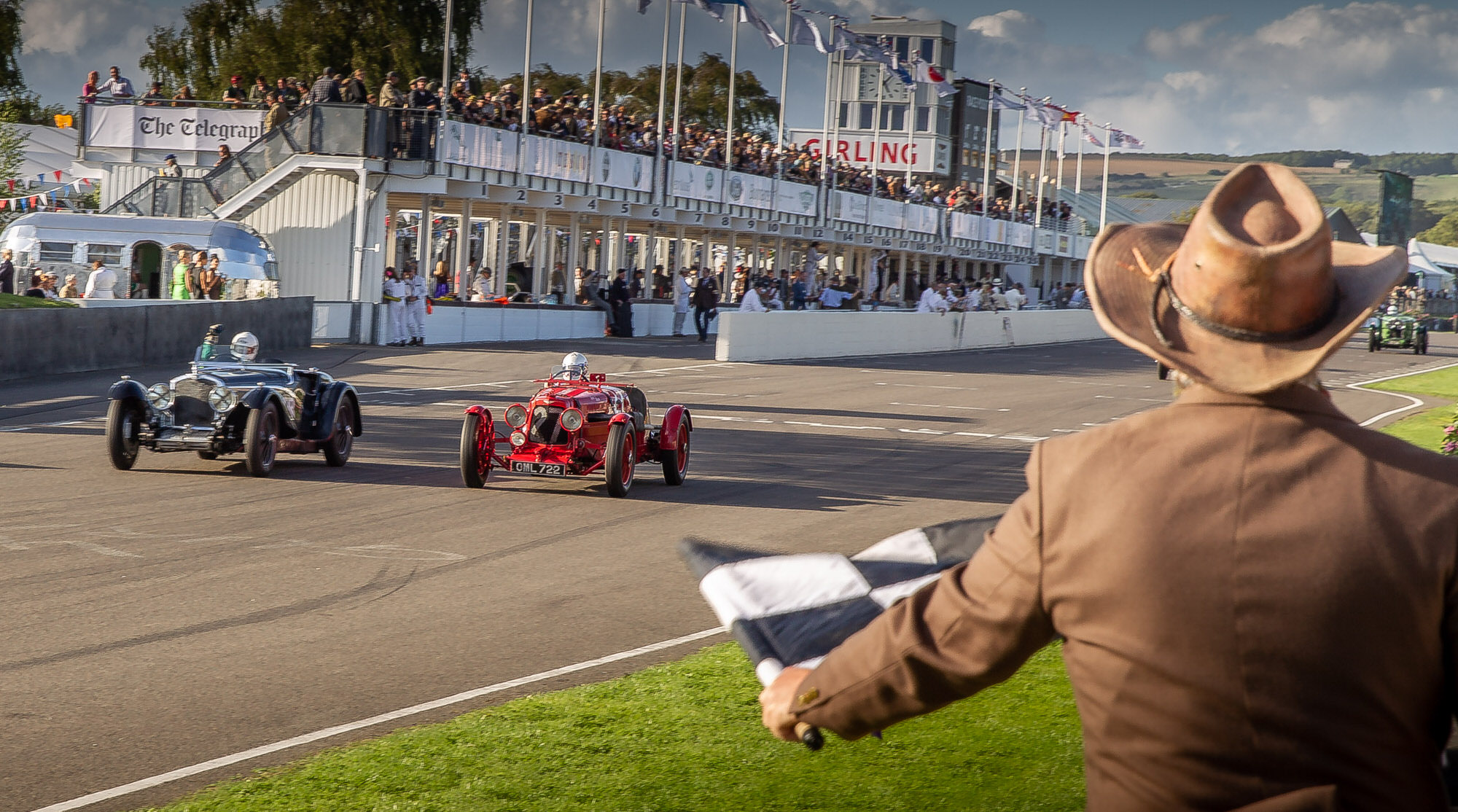 Revival 2015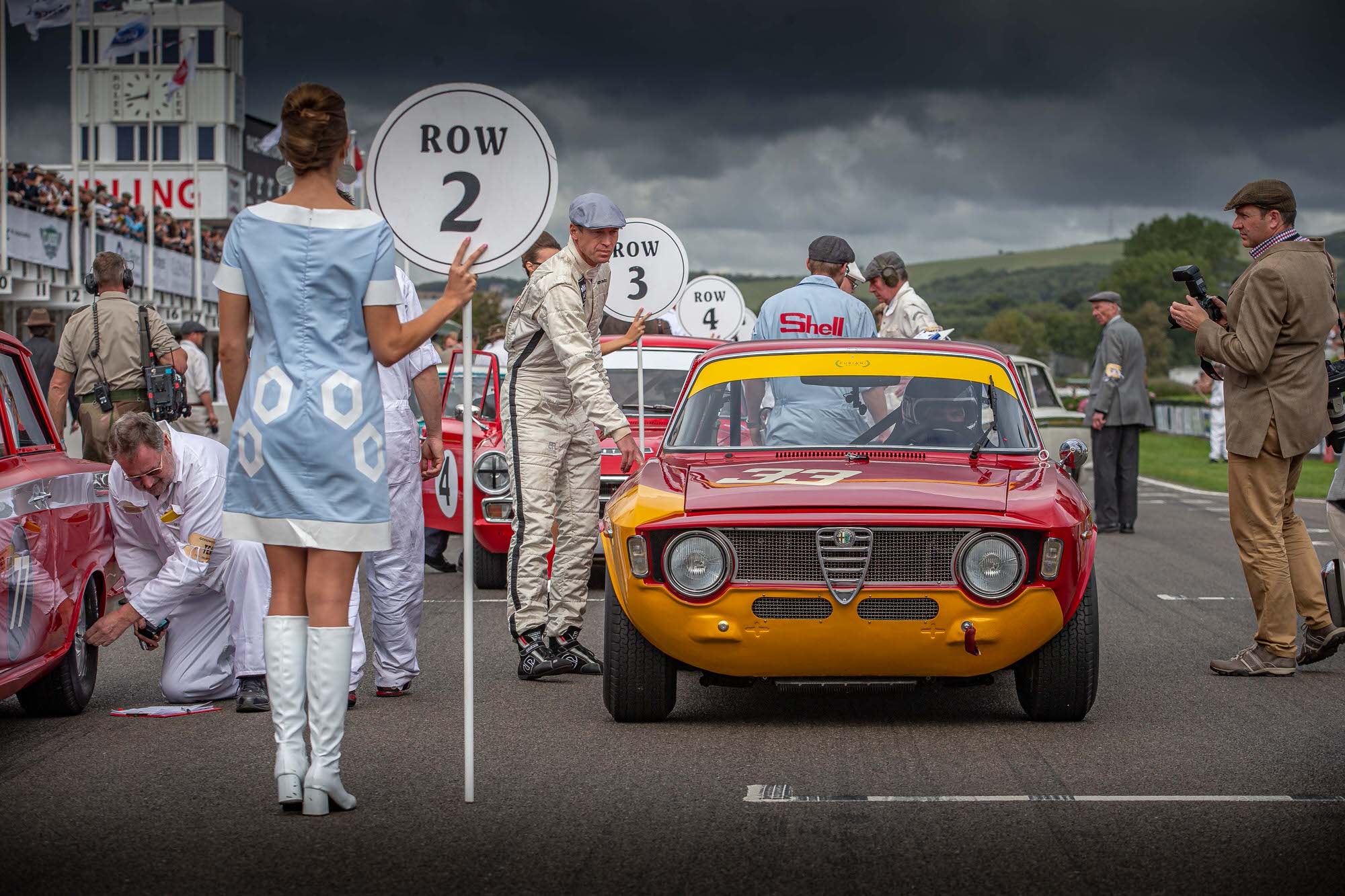 Frank Stippler , Alfa Romeo GTA , Revival 2015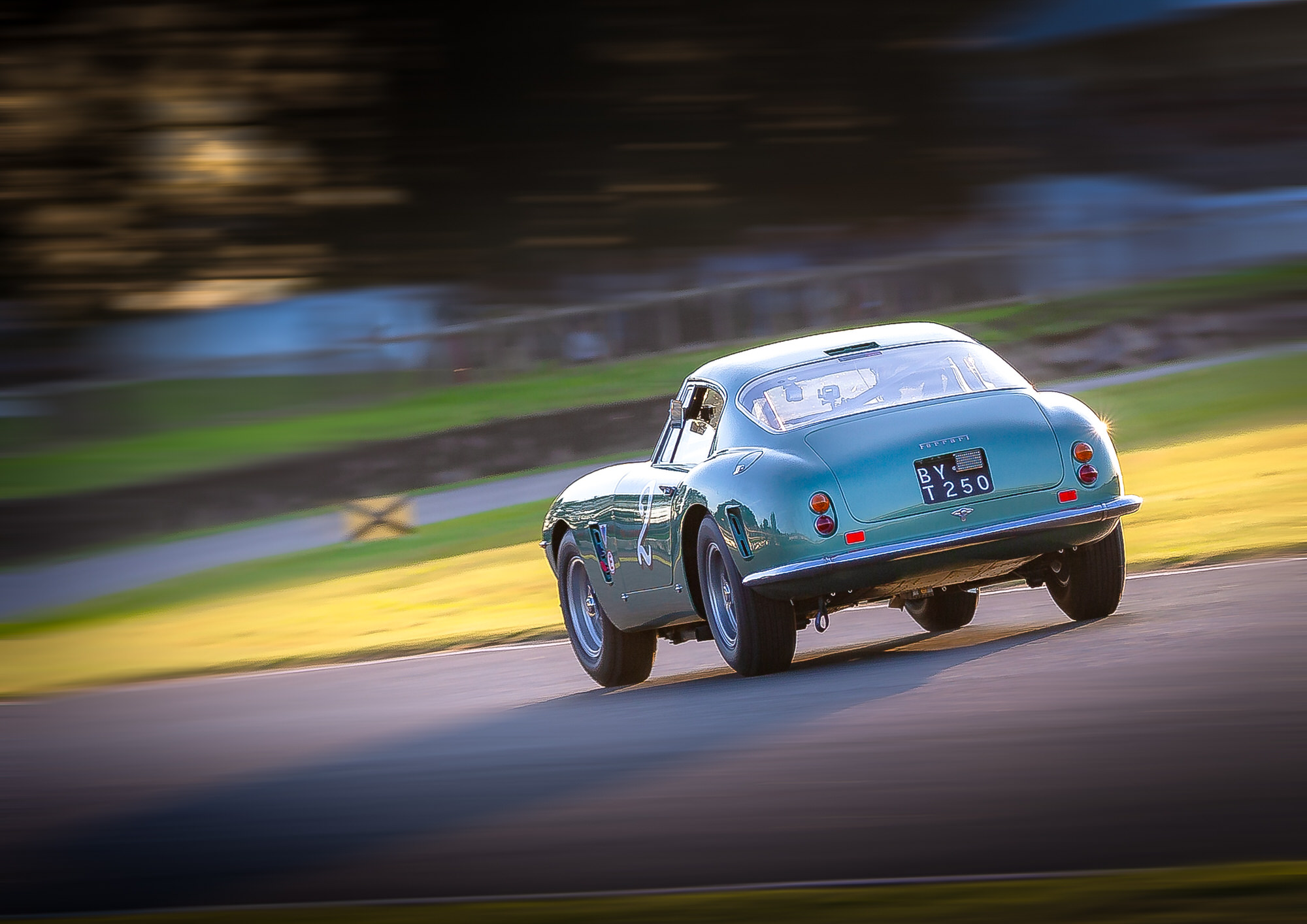 James Cottingham Ferrari 250 SWB, Revival 2019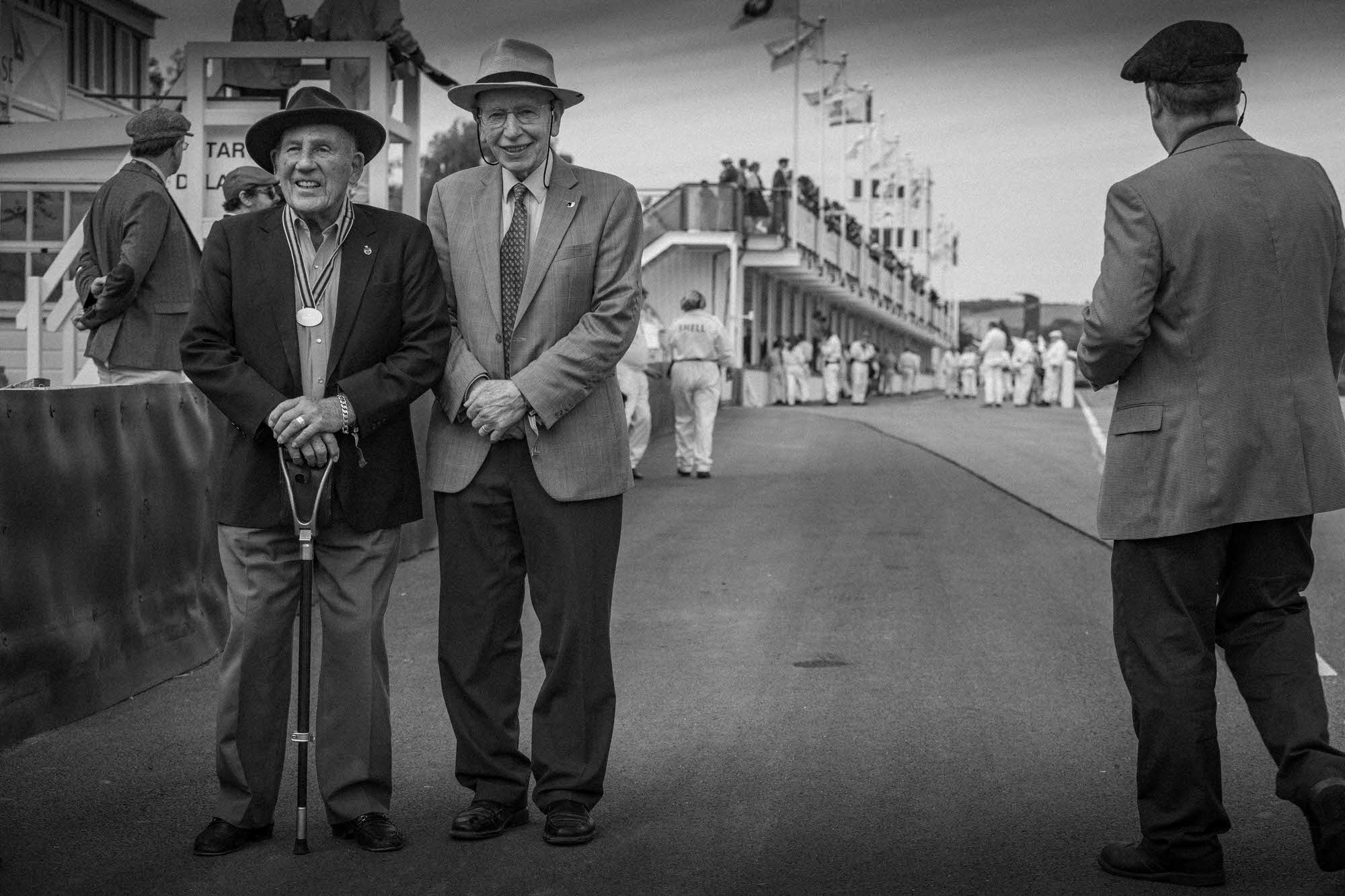 In Memoriam Stirling Moss & John Surtees , Revival 2015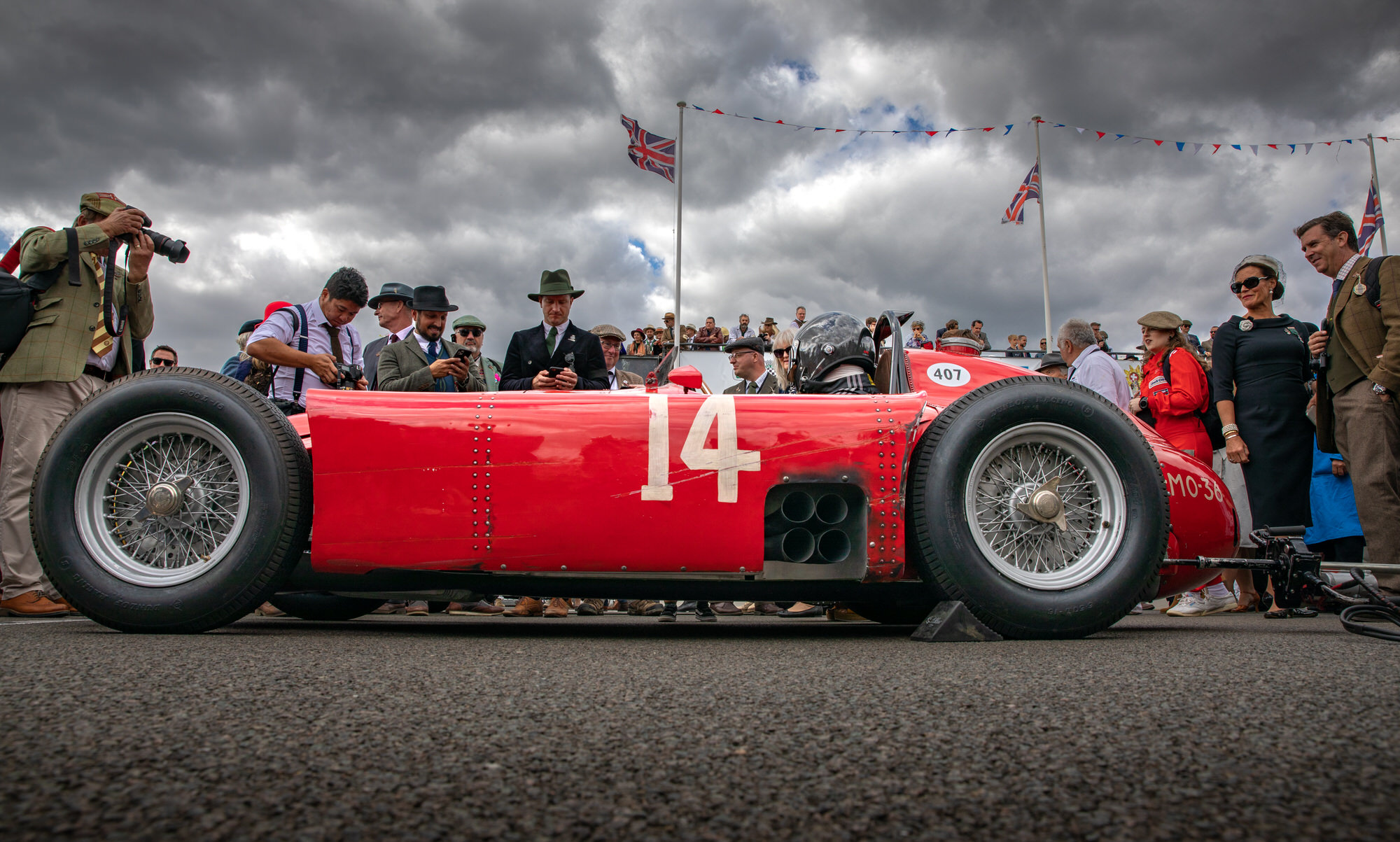 Lucia/Ferrari D 50 , Revival 2022; 75th Anniversary Ferrari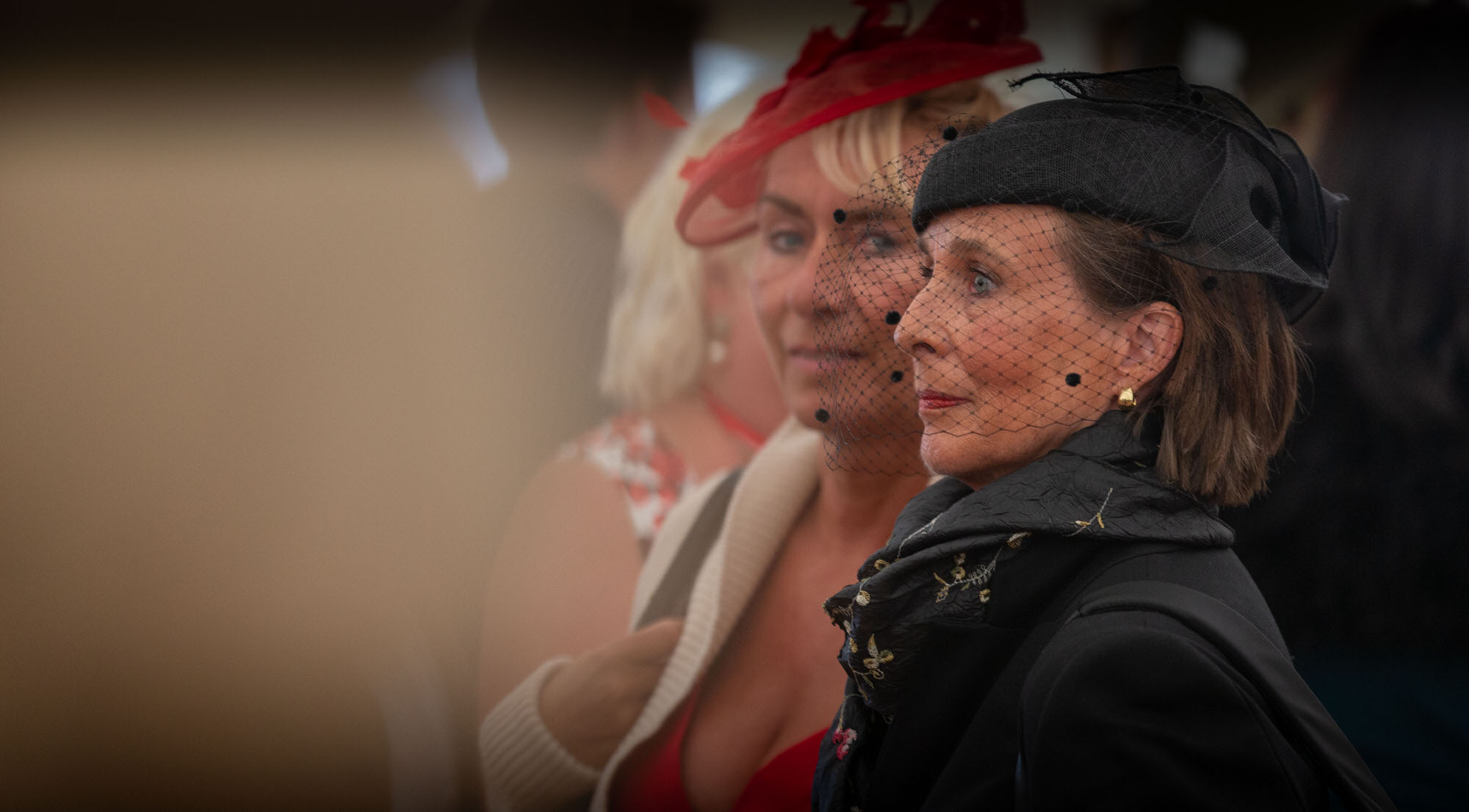 My wife (in black), Revival 2016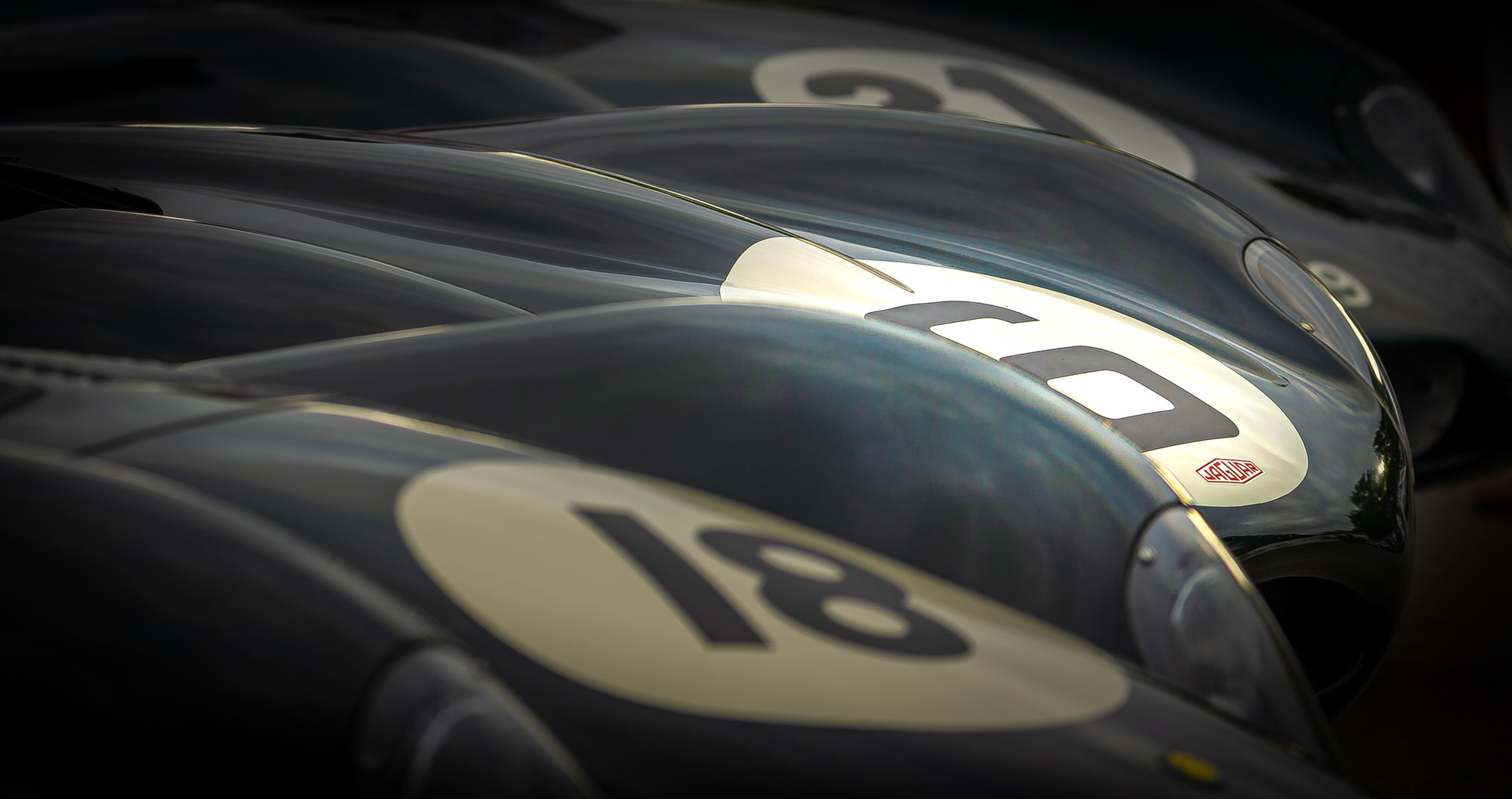 D-Types; Revival 2014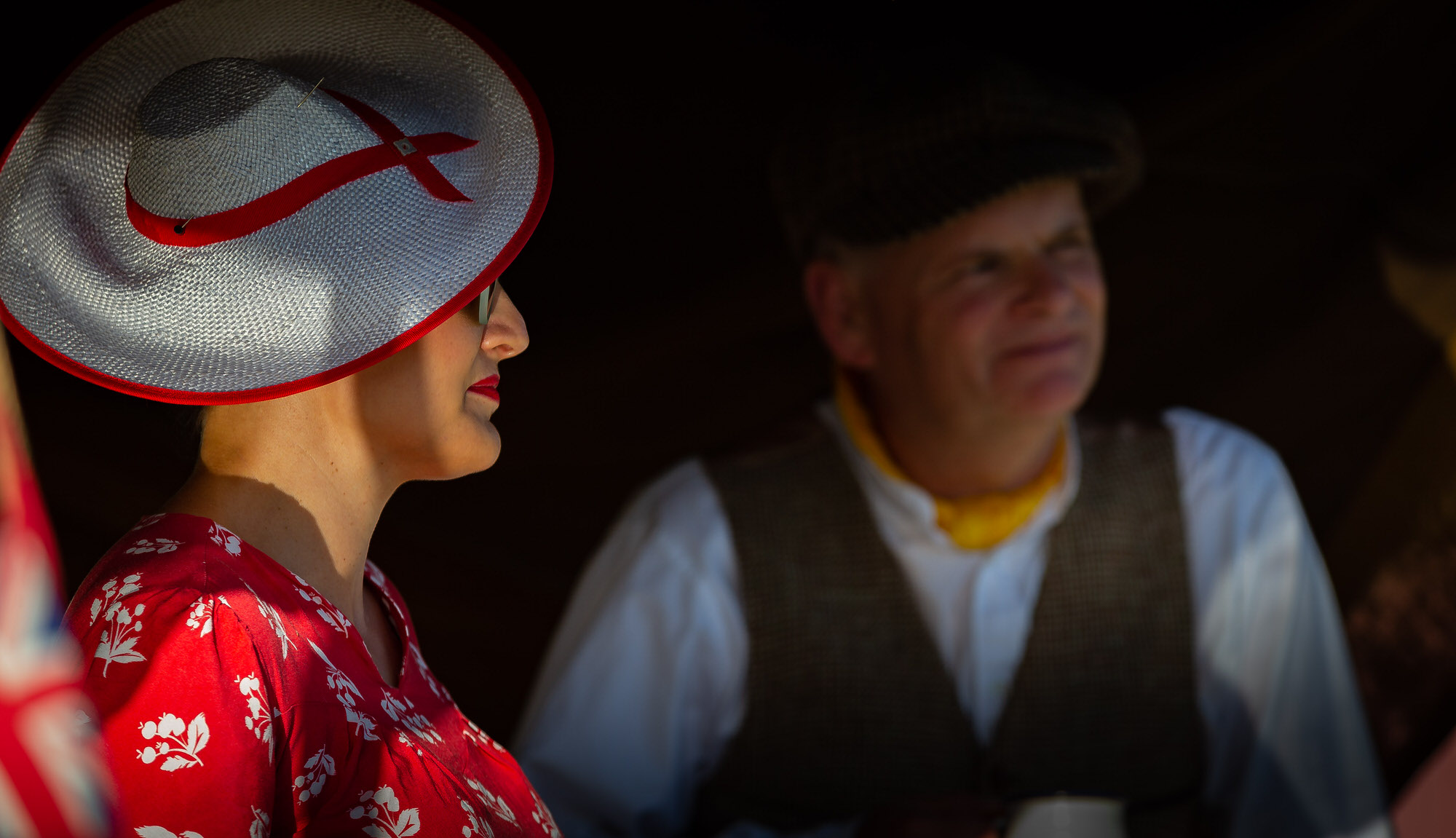 Unknown
Tom Kristensen interviewed by the voice of Goodwood (Henry Hope Frost, who died to early in an tragic accident near the race track) , Revival 2014.
This award-winning photo had been selected by Lord March for the IGPG competition as the best Goodwood photo of the year. In the same year I had been nominated as IGPG Photographer of the year.
And in 2020 with Ian Skelton for the second time.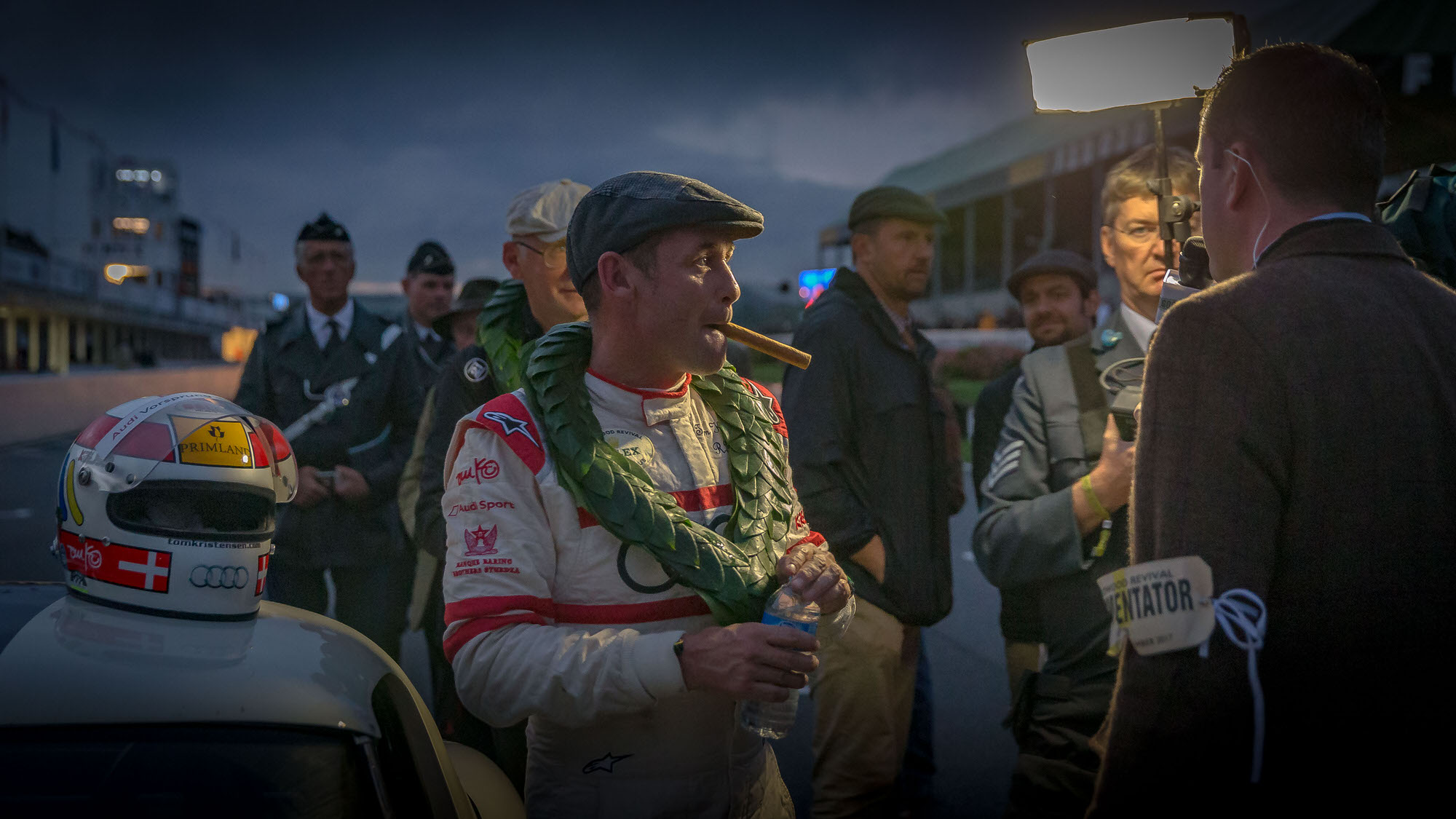 Actress and singer CC Mason from the USA with selfie; Revival 2017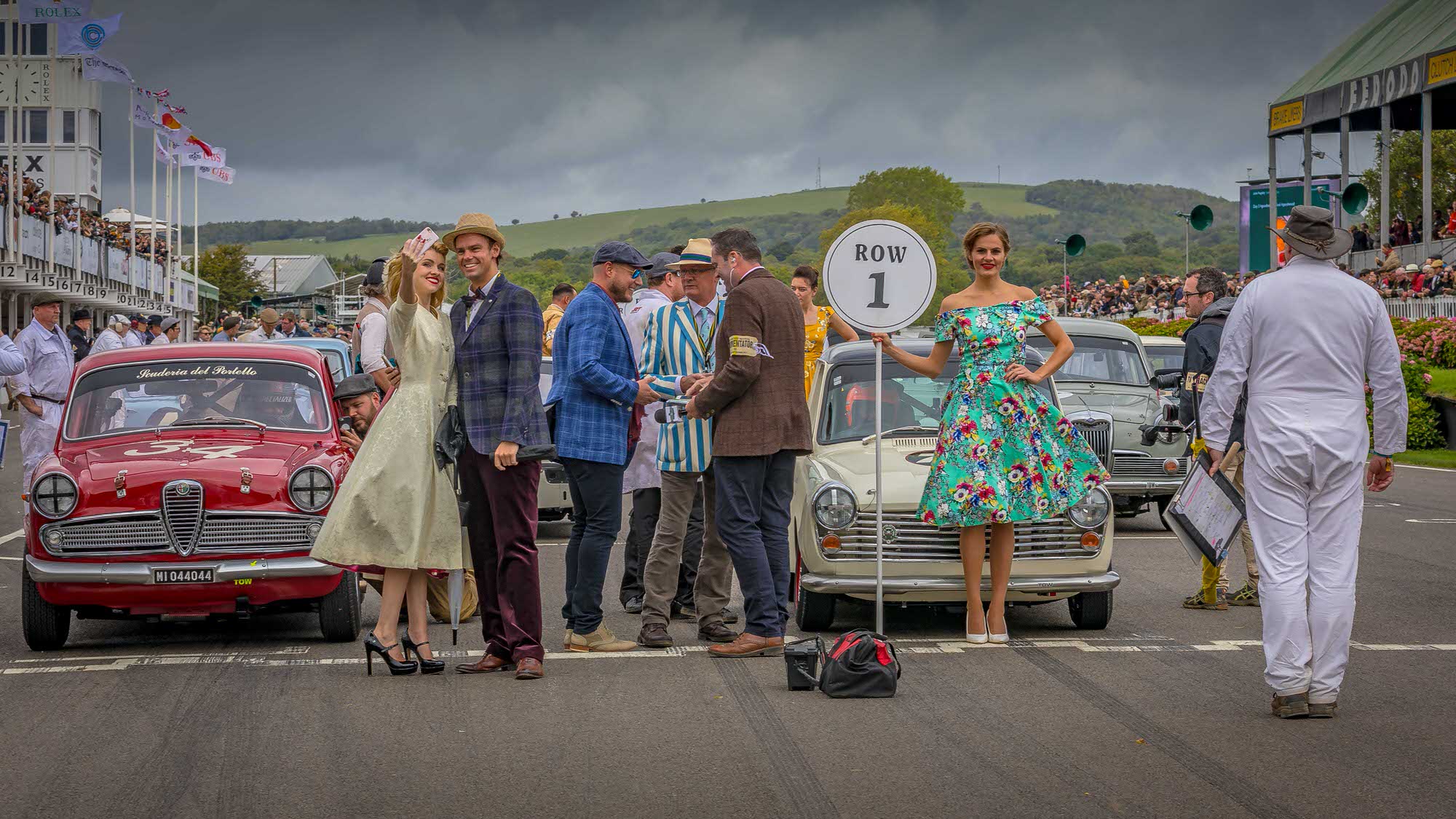 Grid girls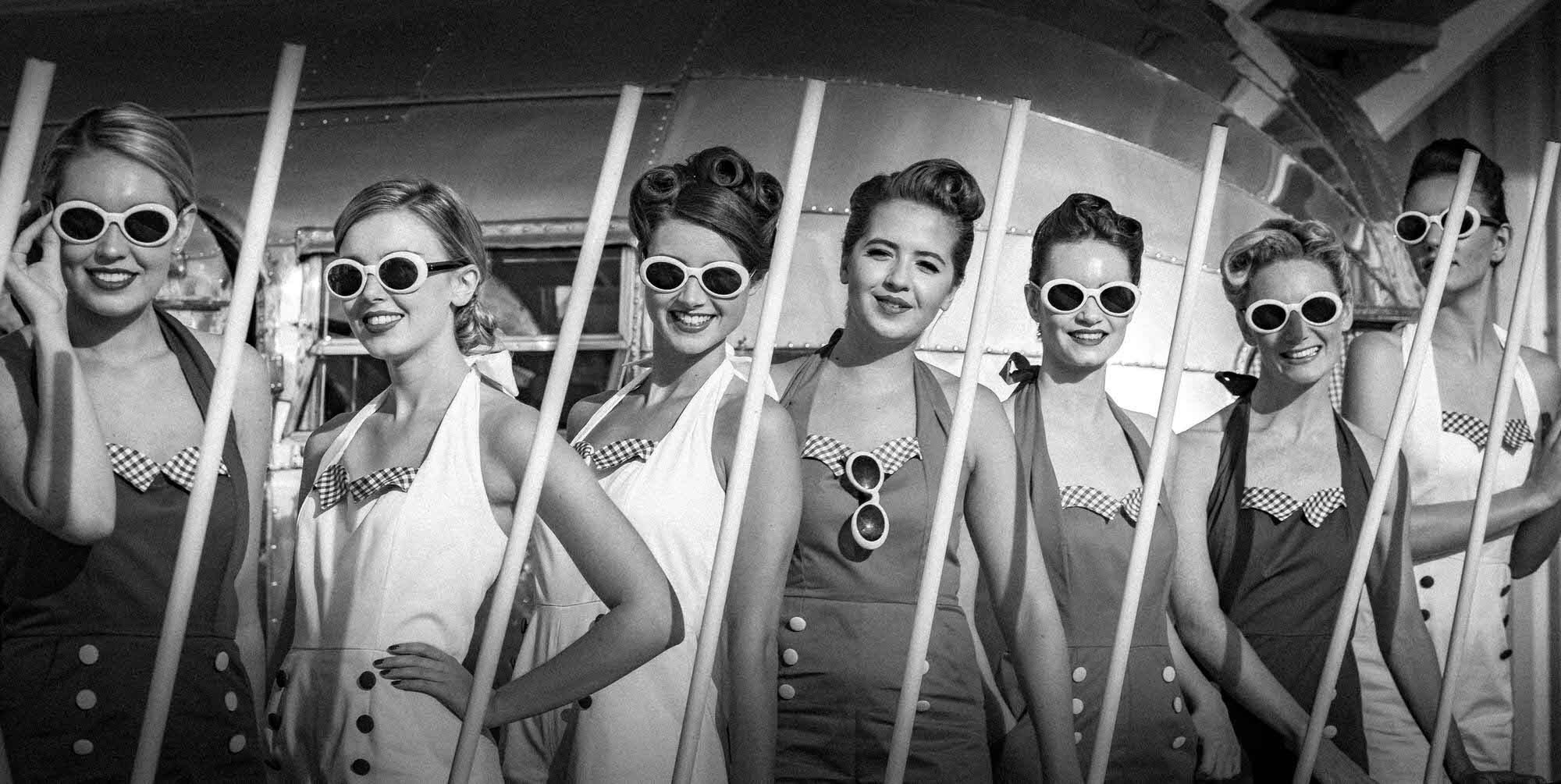 One of the IGPG winner photos, 2020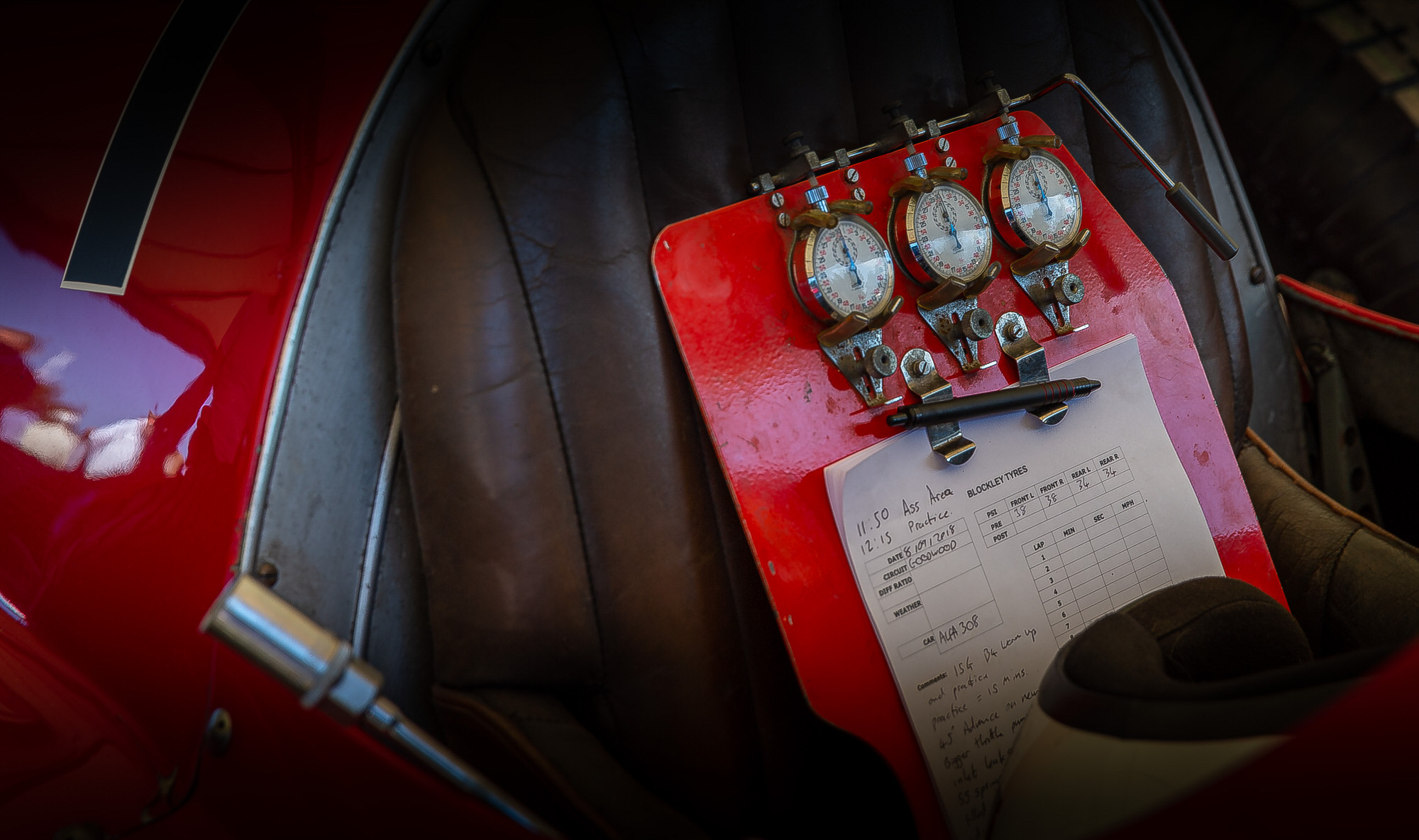 James Cottingham Ferrari 500 TRC; Revival 2018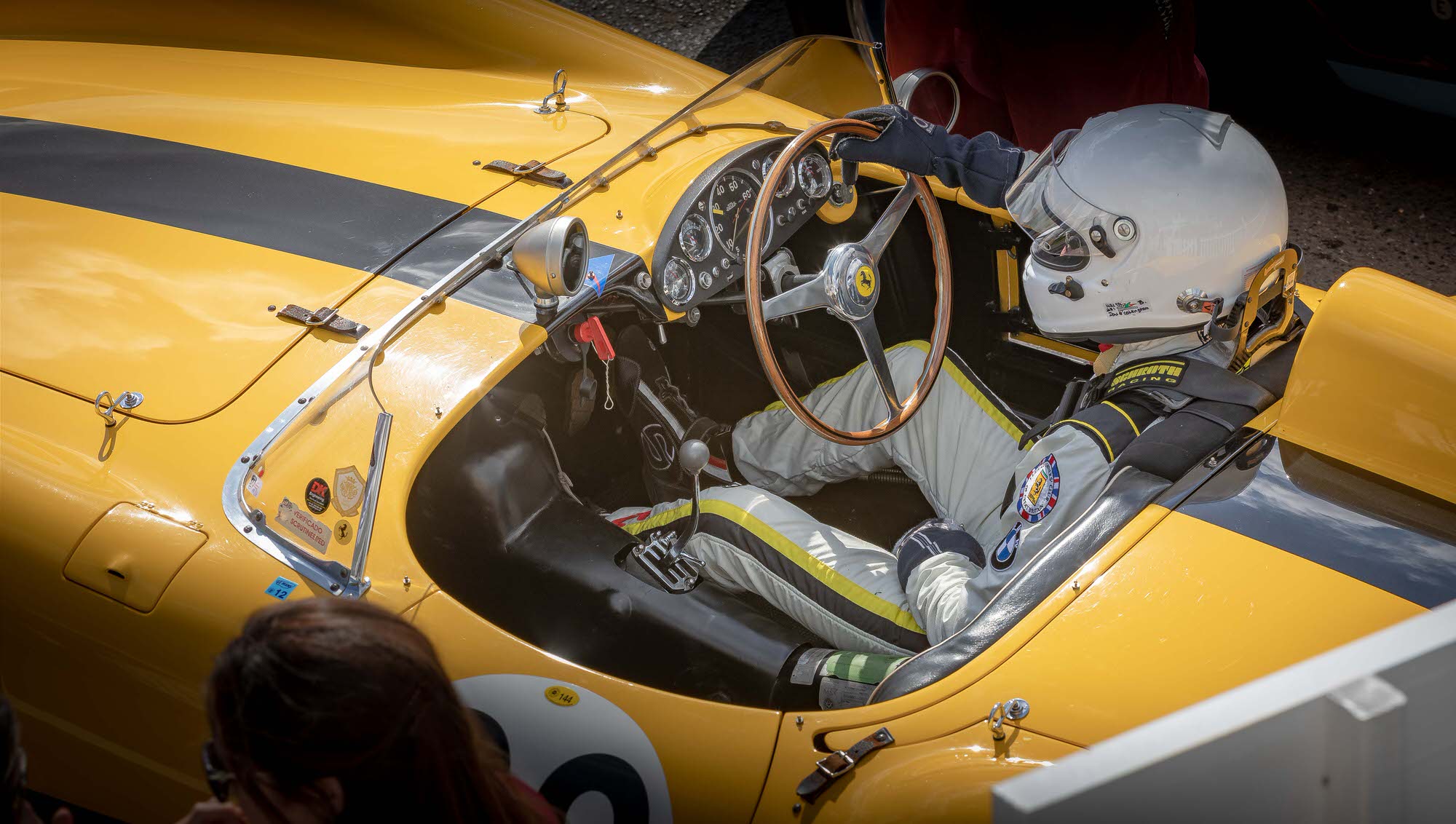 Revival 2018; railway station at the entrance of the infield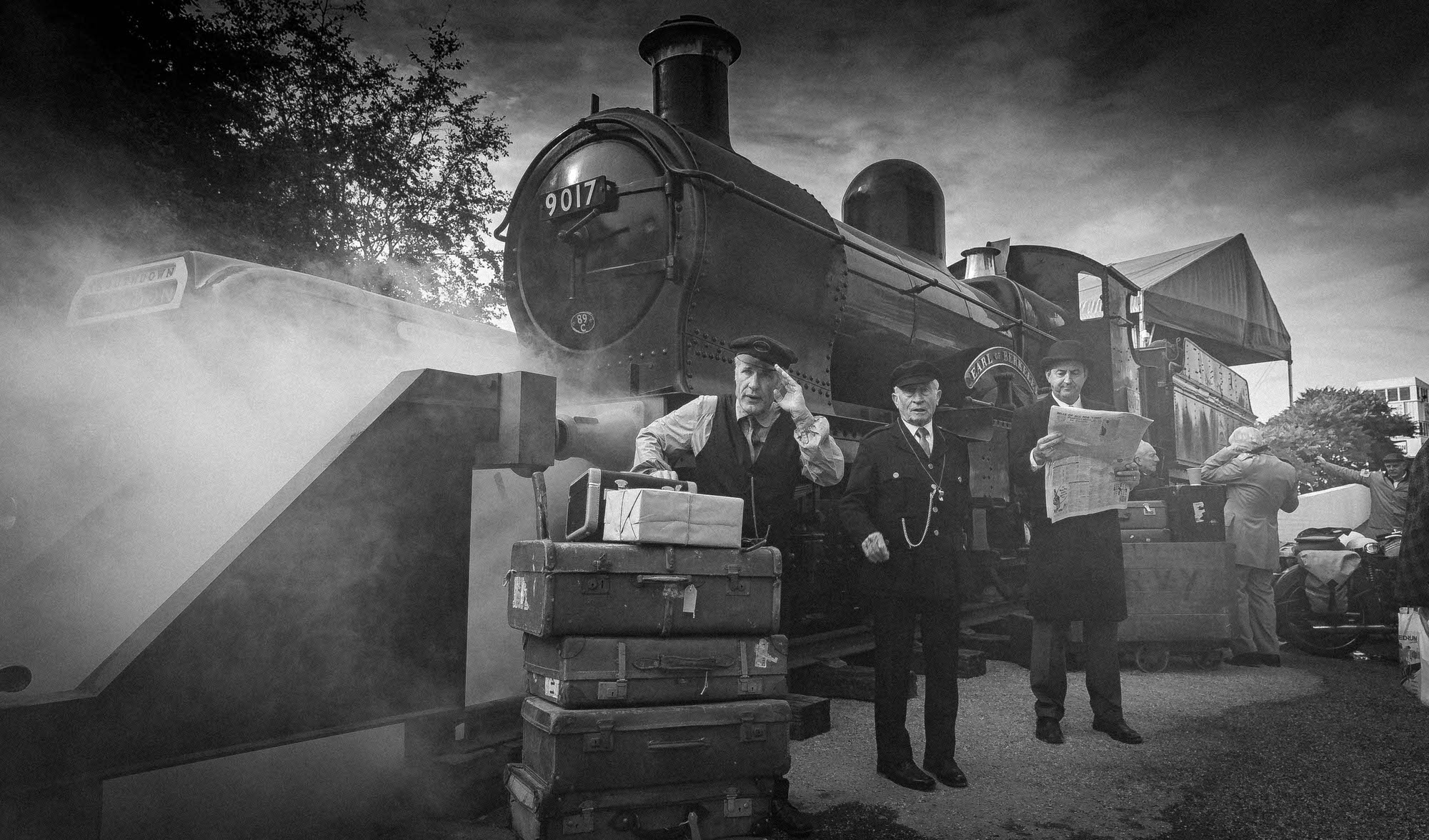 Calum Lockie, winner 2018, Goodwood Trophy; Maserati 6CM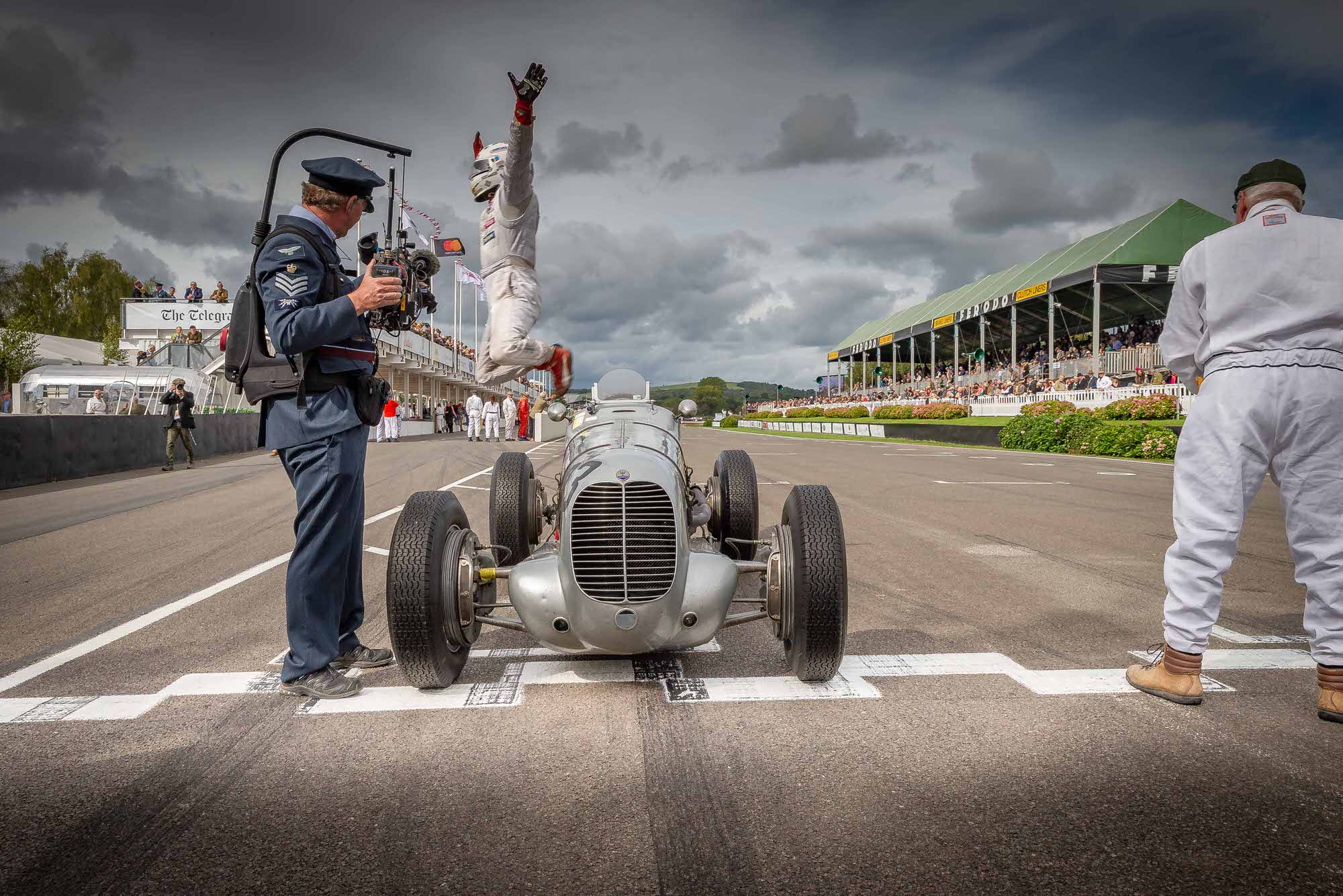 Gareth Burnett, Alta Sport 2 Liter, Revival 2019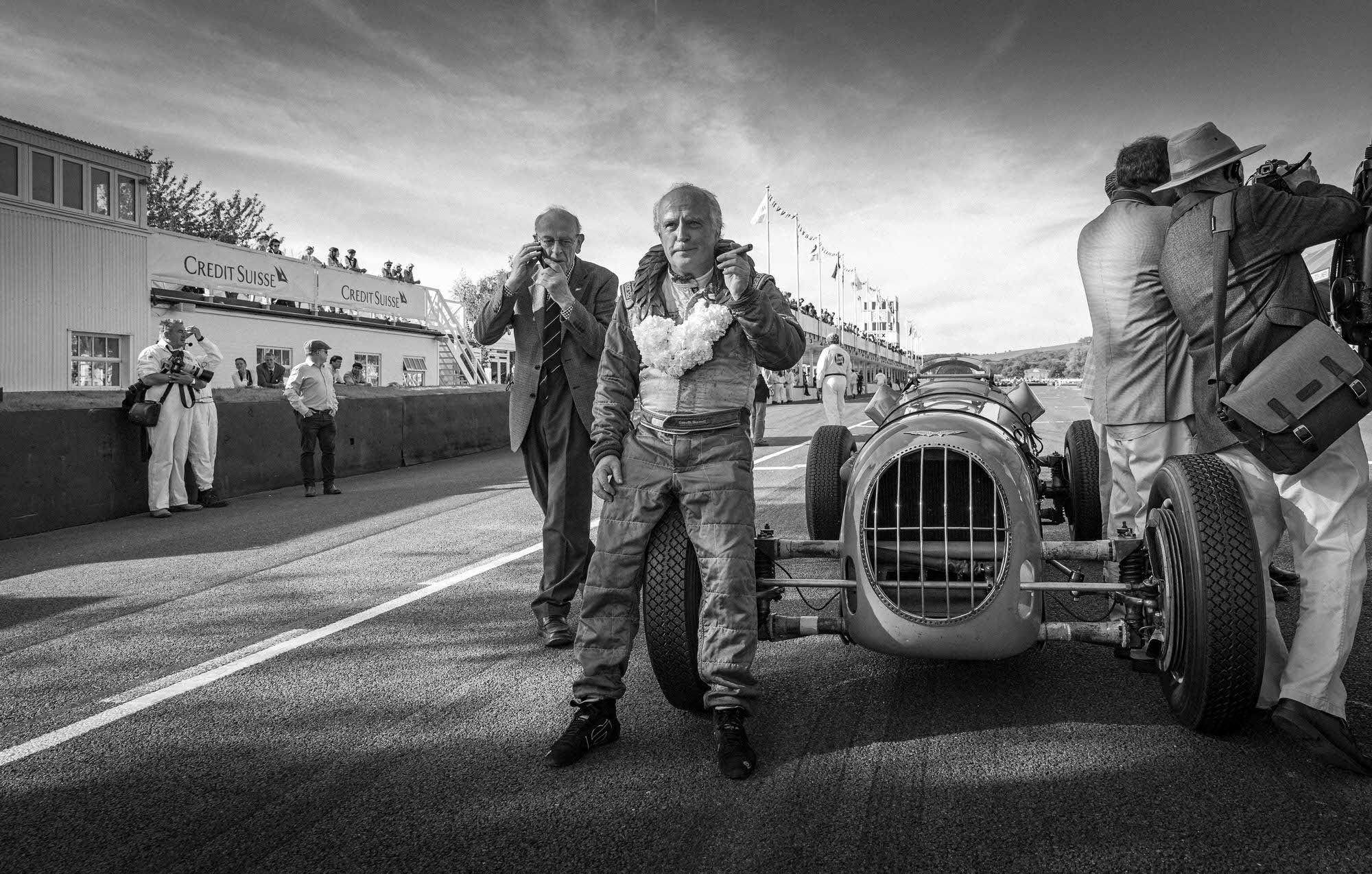 Julian Bronson Ferrari 290 MM; Revival 2019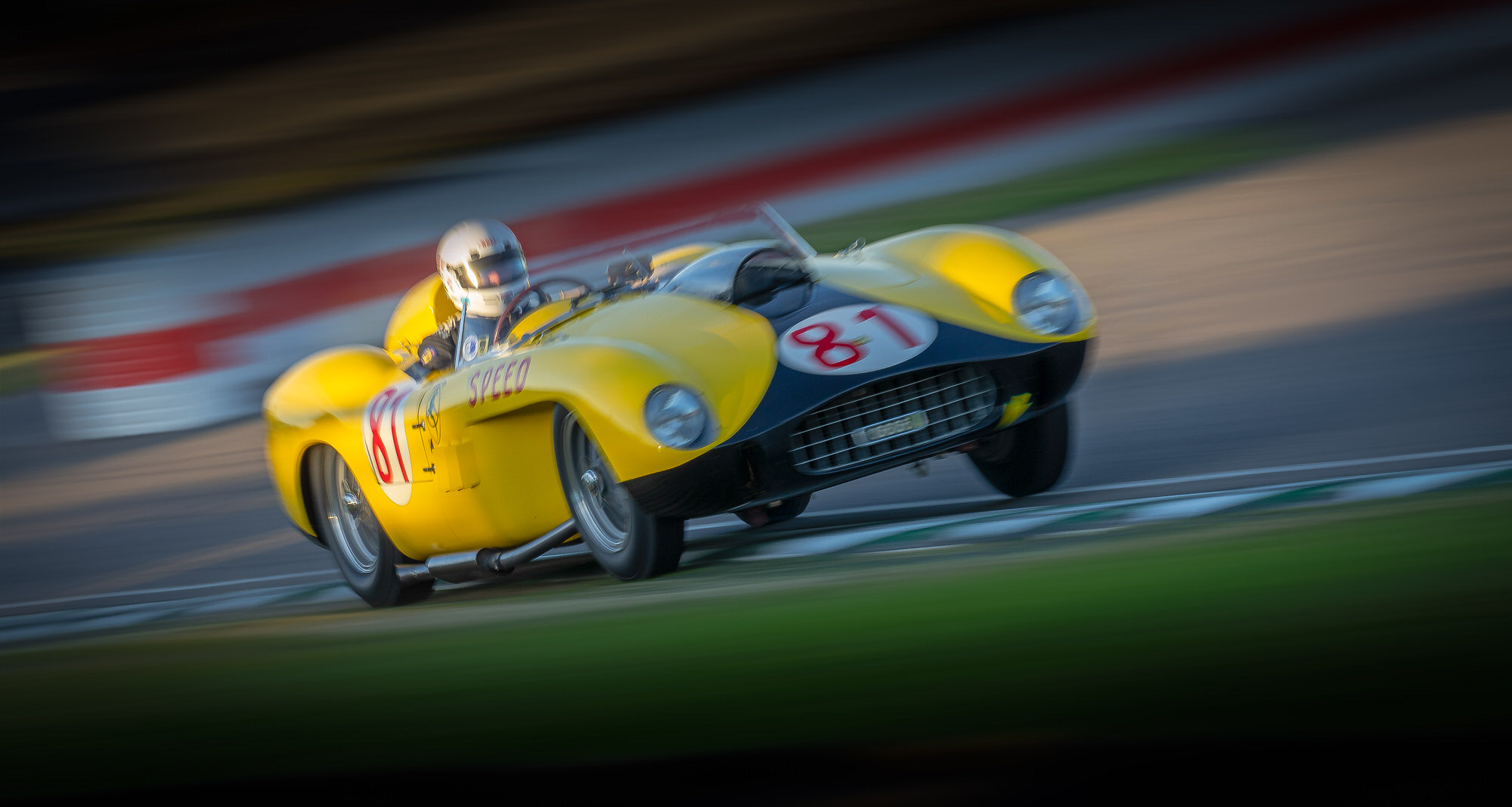 Grid Girls; the one in the middle I meet every evening in my favourite pub "The Fox goes free" in Singleton ; she had been a friend of the owner and she recognized me by the photo, that I gave her. One of the winning photos in 2020.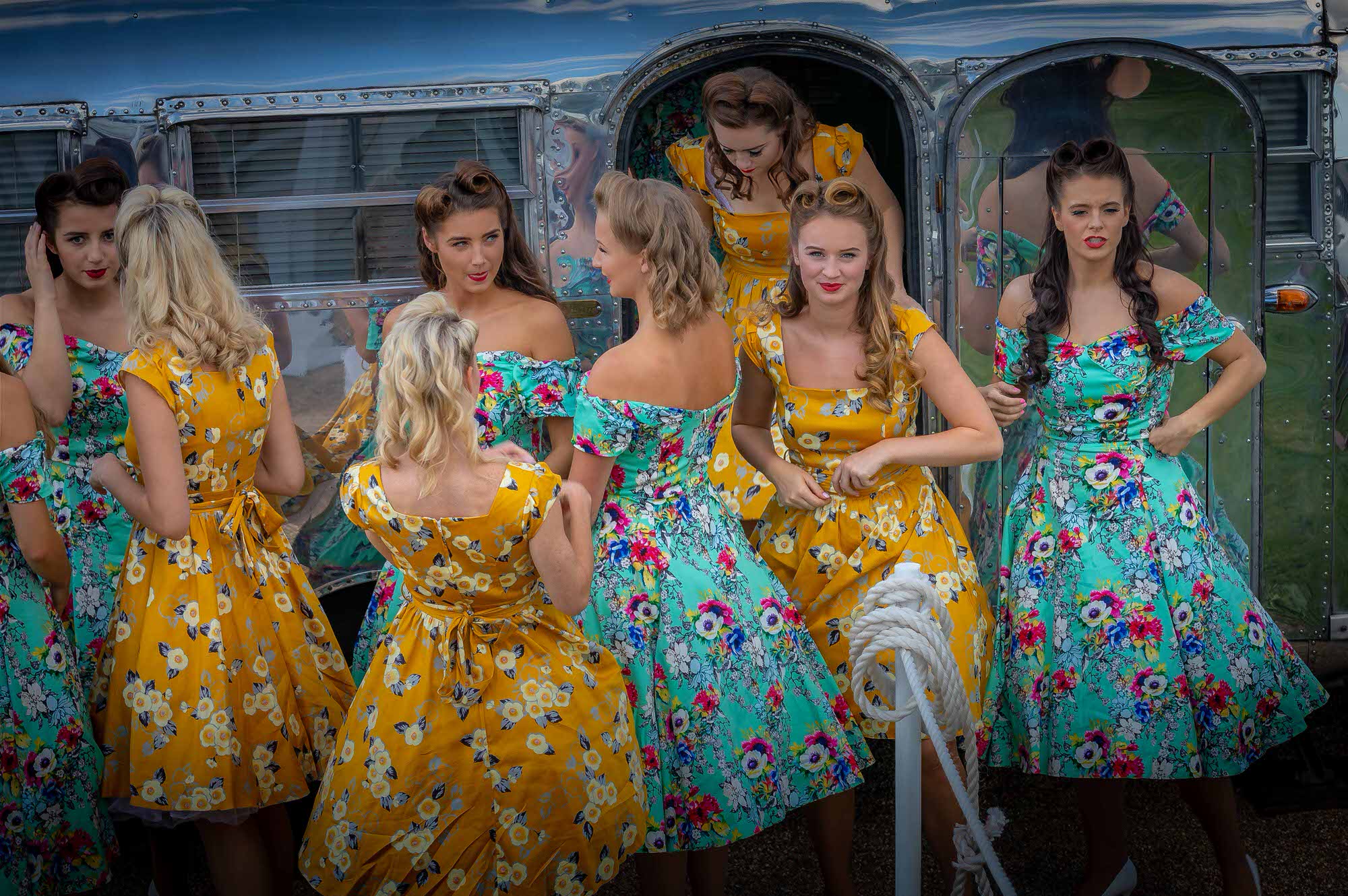 Auto Union Silberpfeile, Revival 2012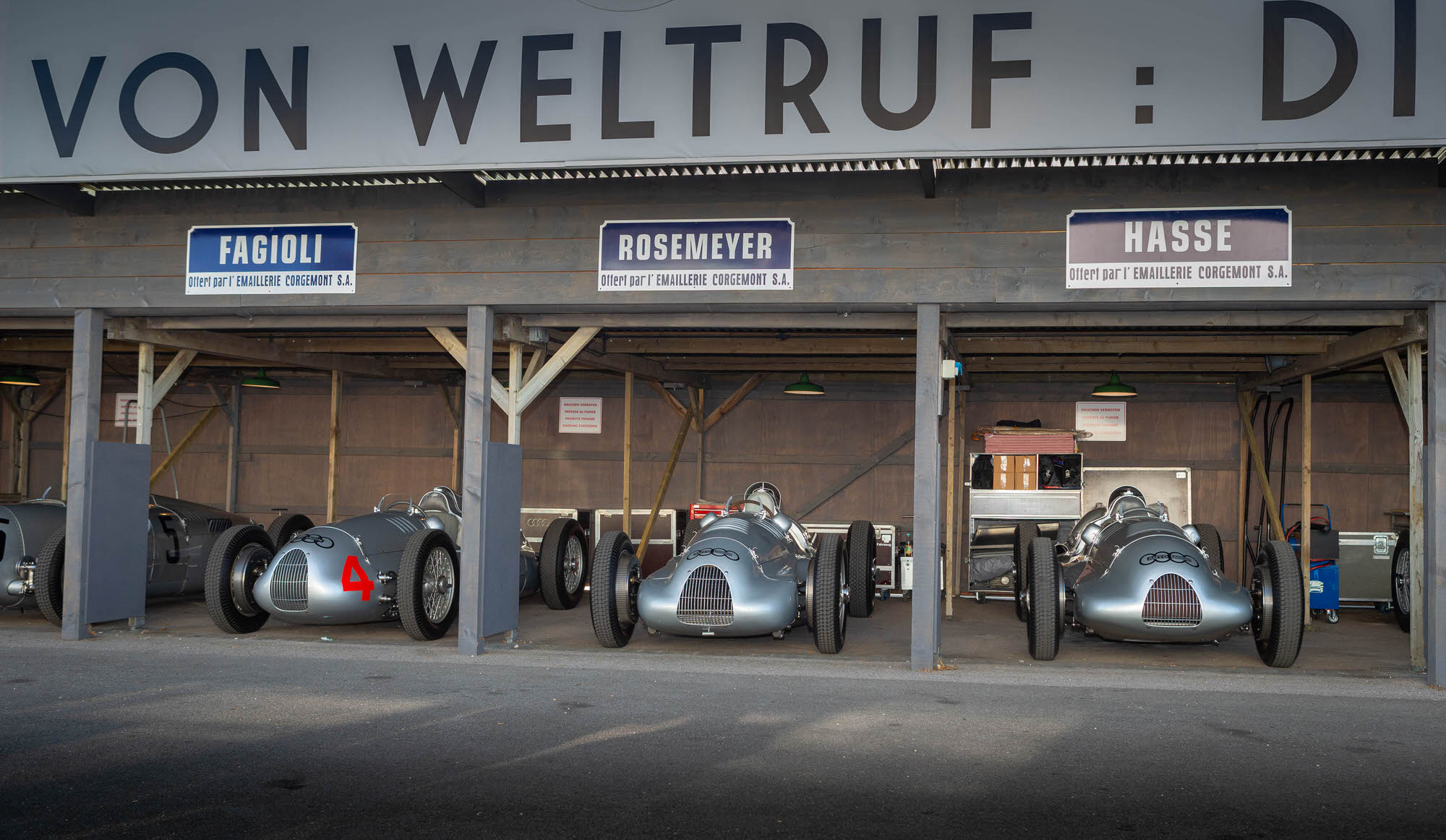 Maserati Tipo 151, Revival 2012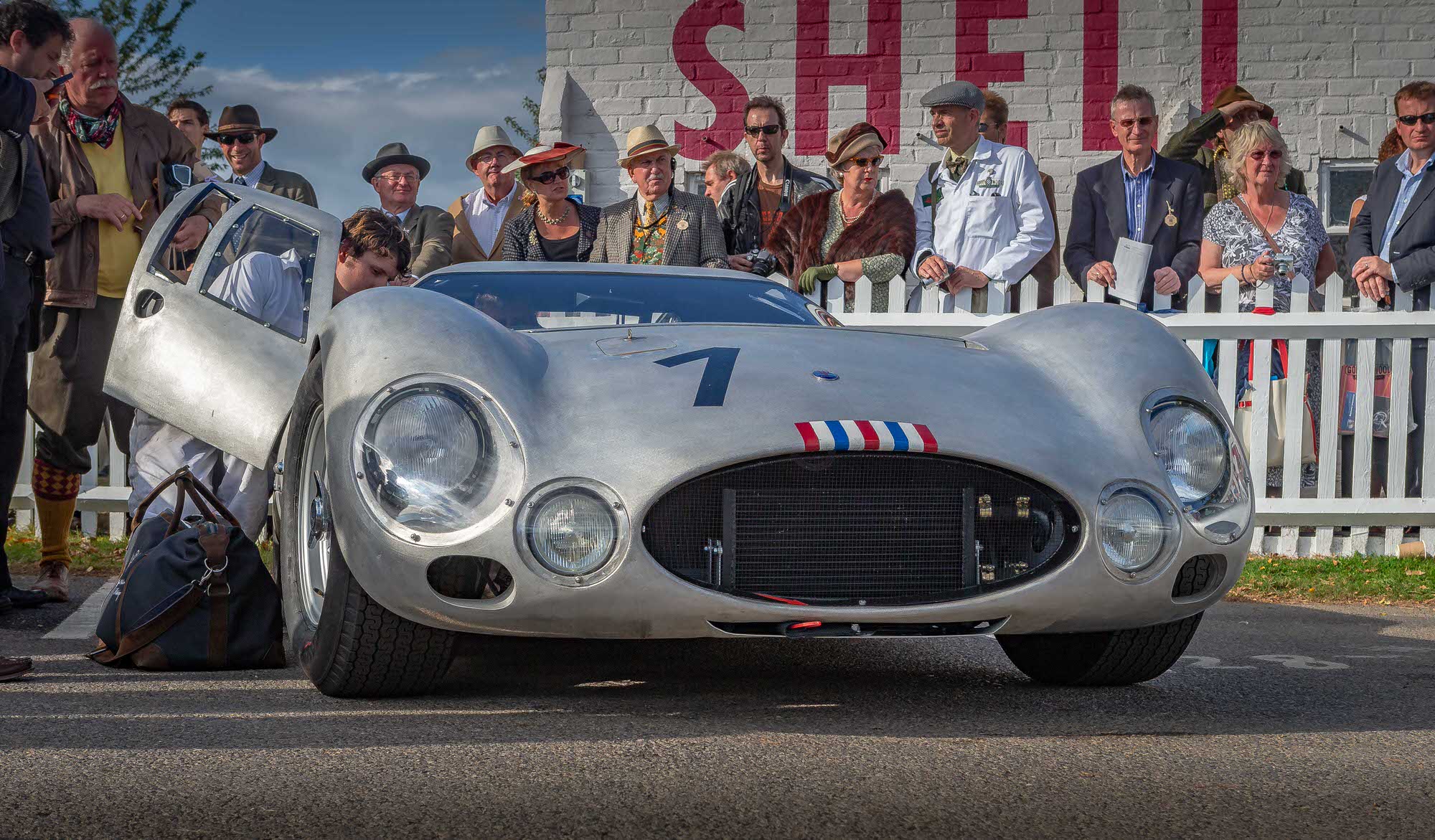 Ferrari 875, a very rare 4-cylinder car , Revival 2011; the first owner has contacted me to tell me a great story ( see William Edgar Archive) – he was William Edgars father !!!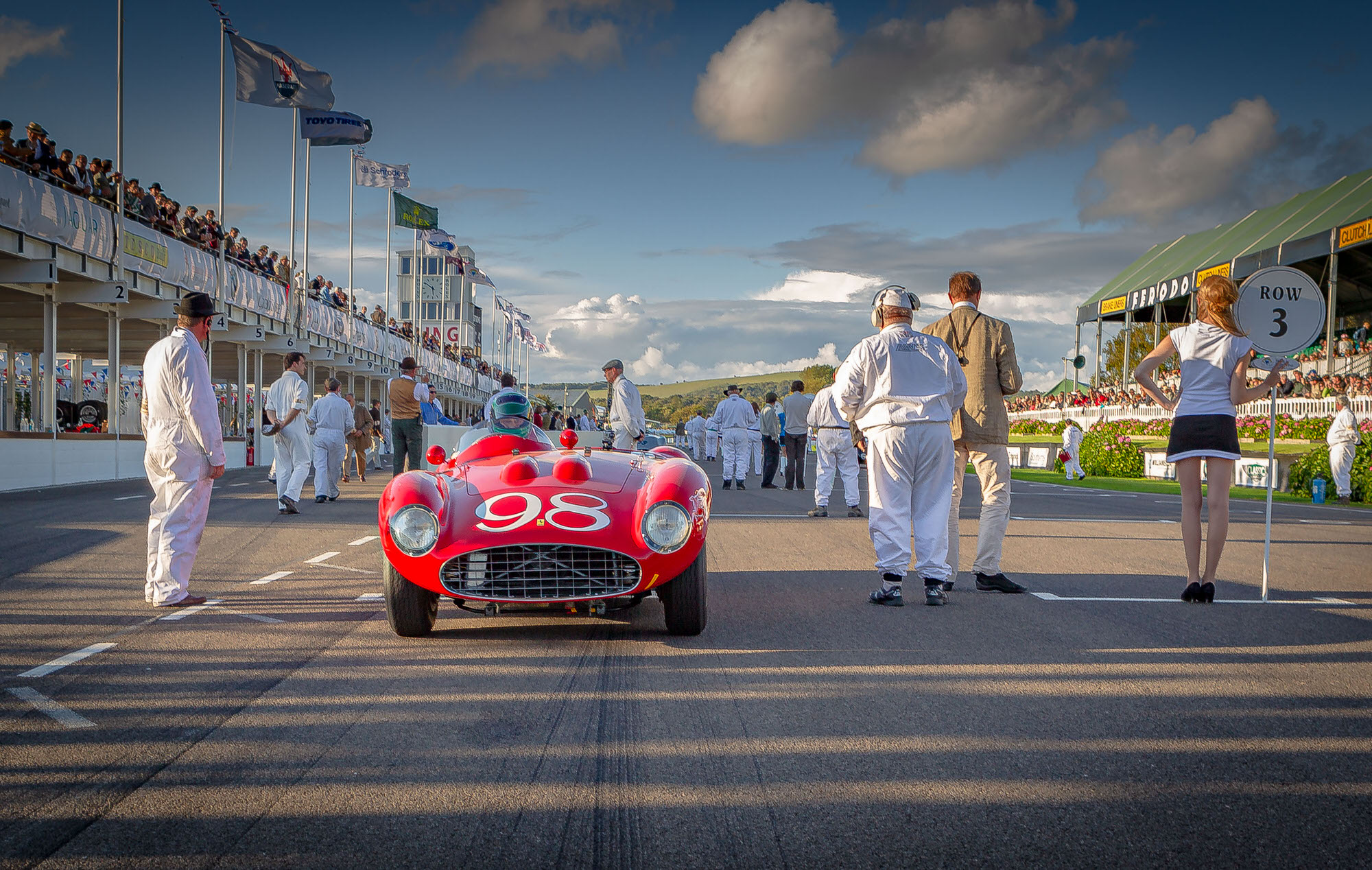 Settrington Cup für Austin J 40 , pedal cars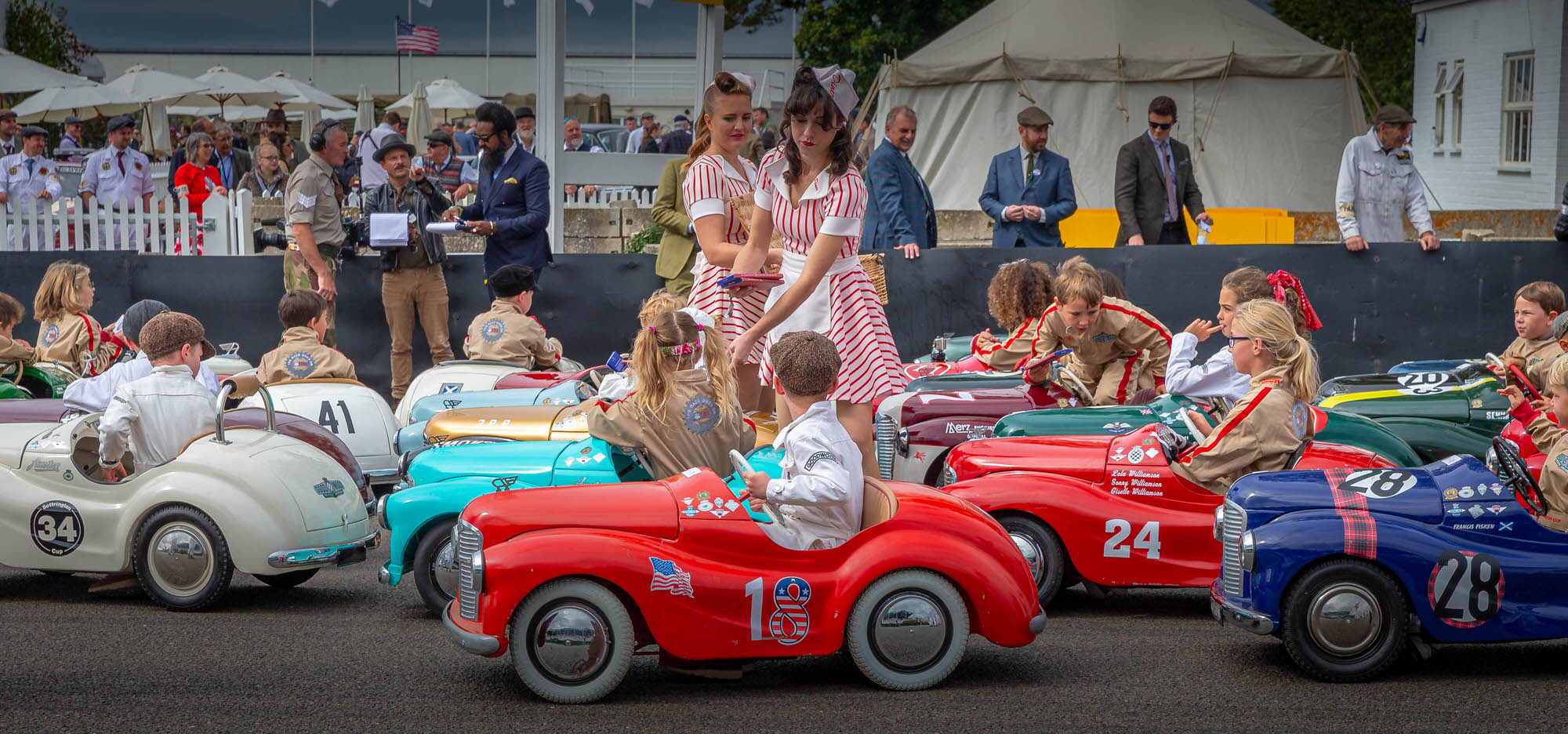 Unknown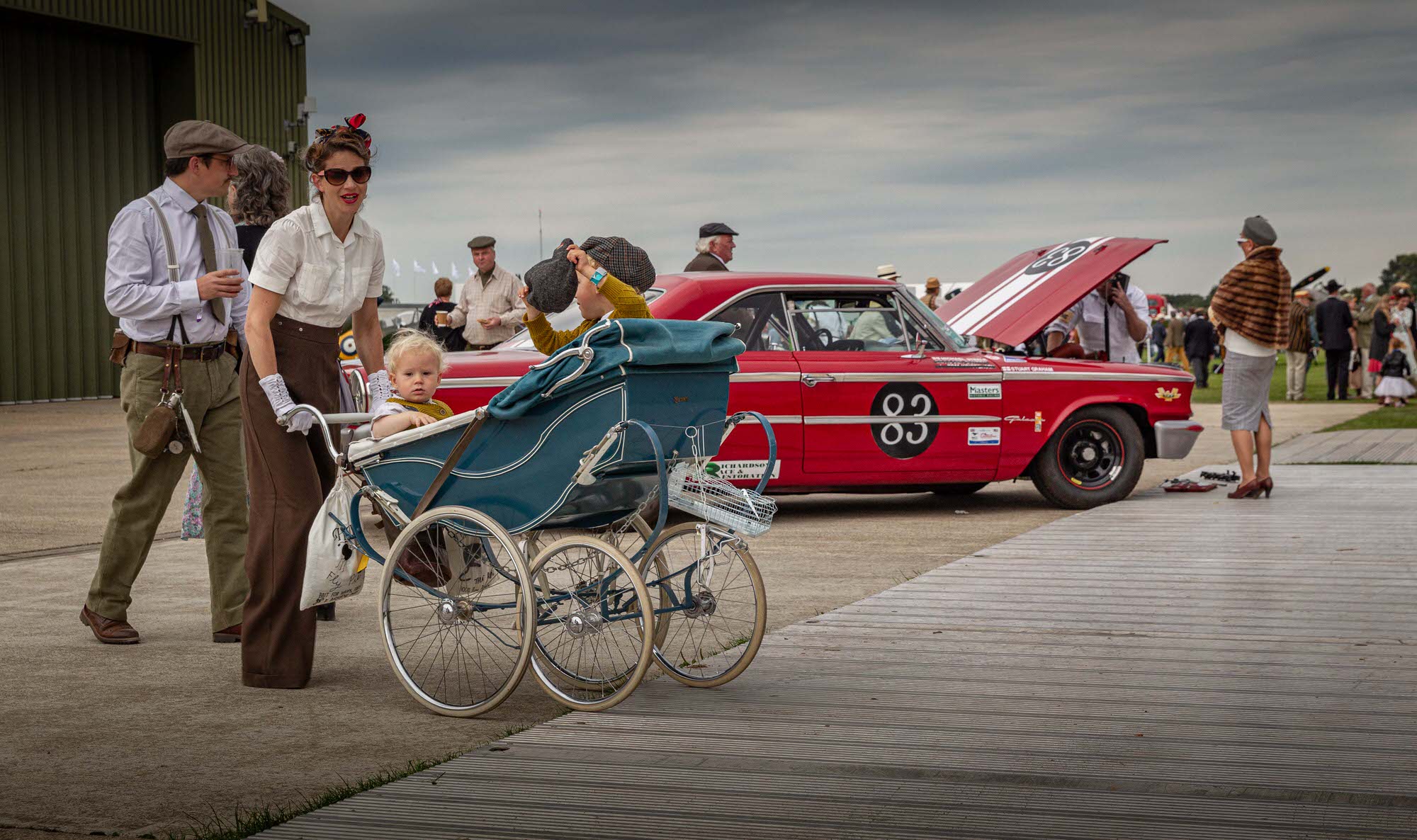 Tire shredding Cobra burnout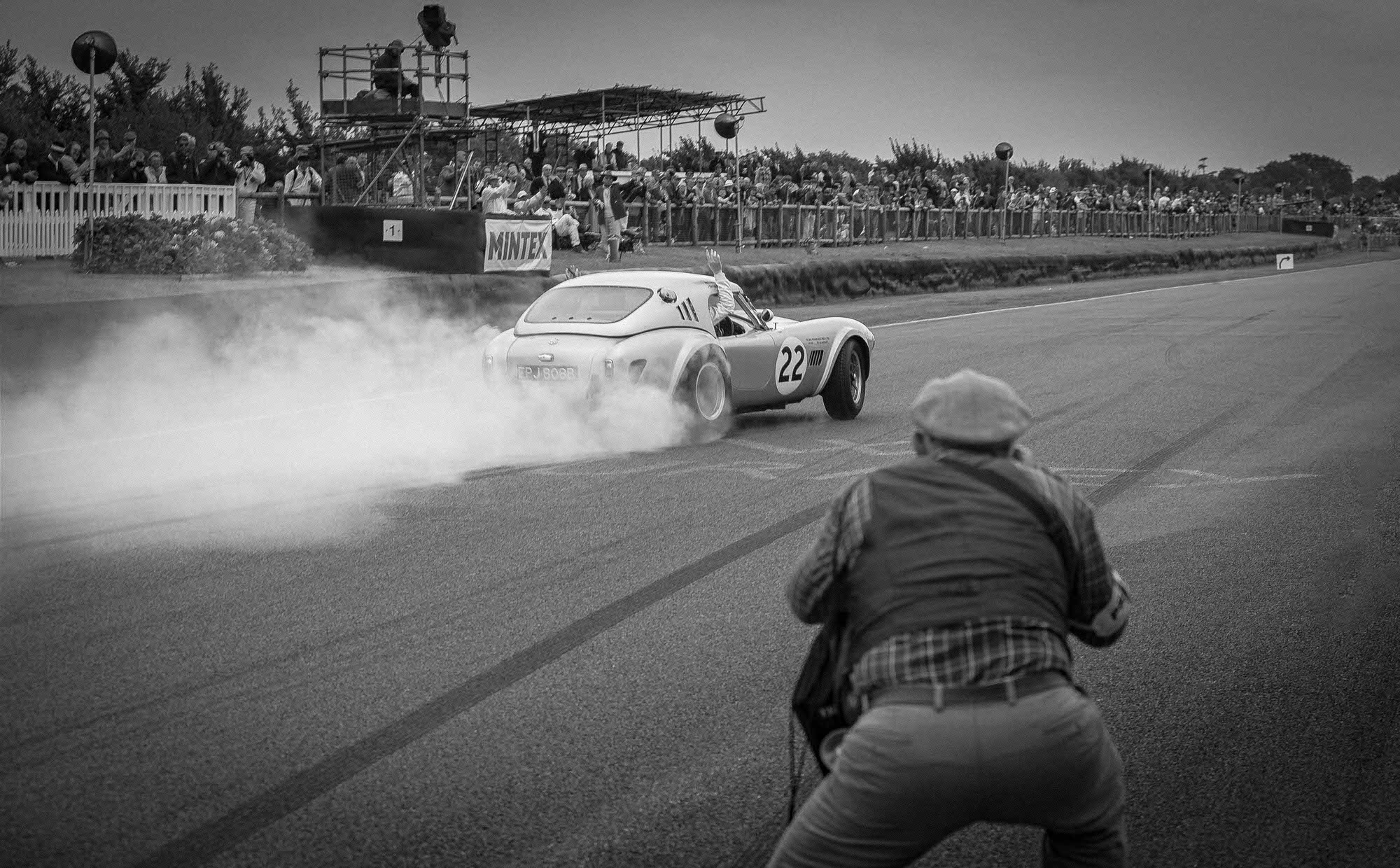 Unknown film team.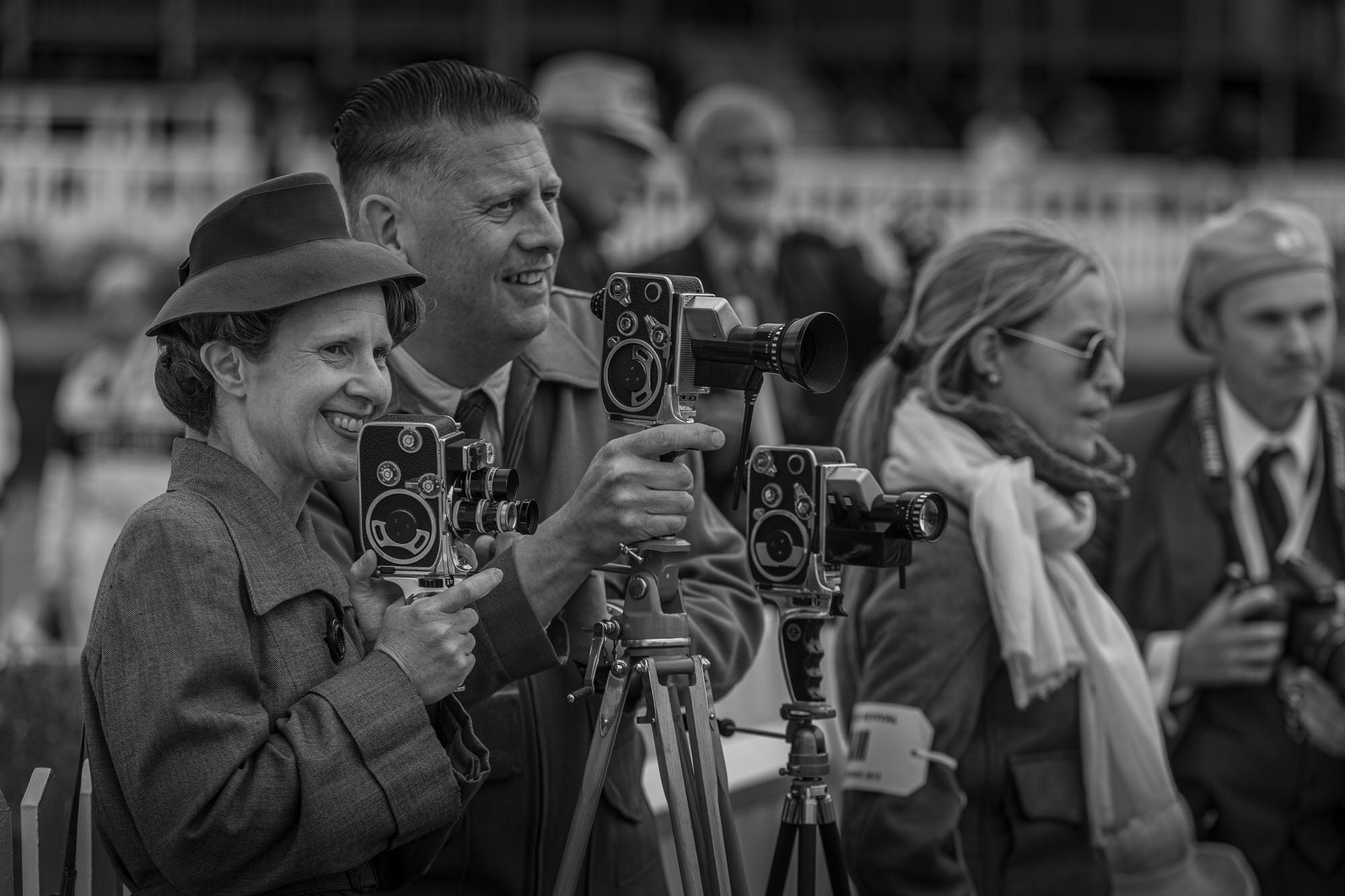 Jim Clarks Lotus 38, winner Indy 500 ,1965
Clive Chapman and the Classic Team Lotus with the Indy 500 winning Lotus 38 from Jim Clark; this photo should be now in the office of Clive Chapman, who bought it…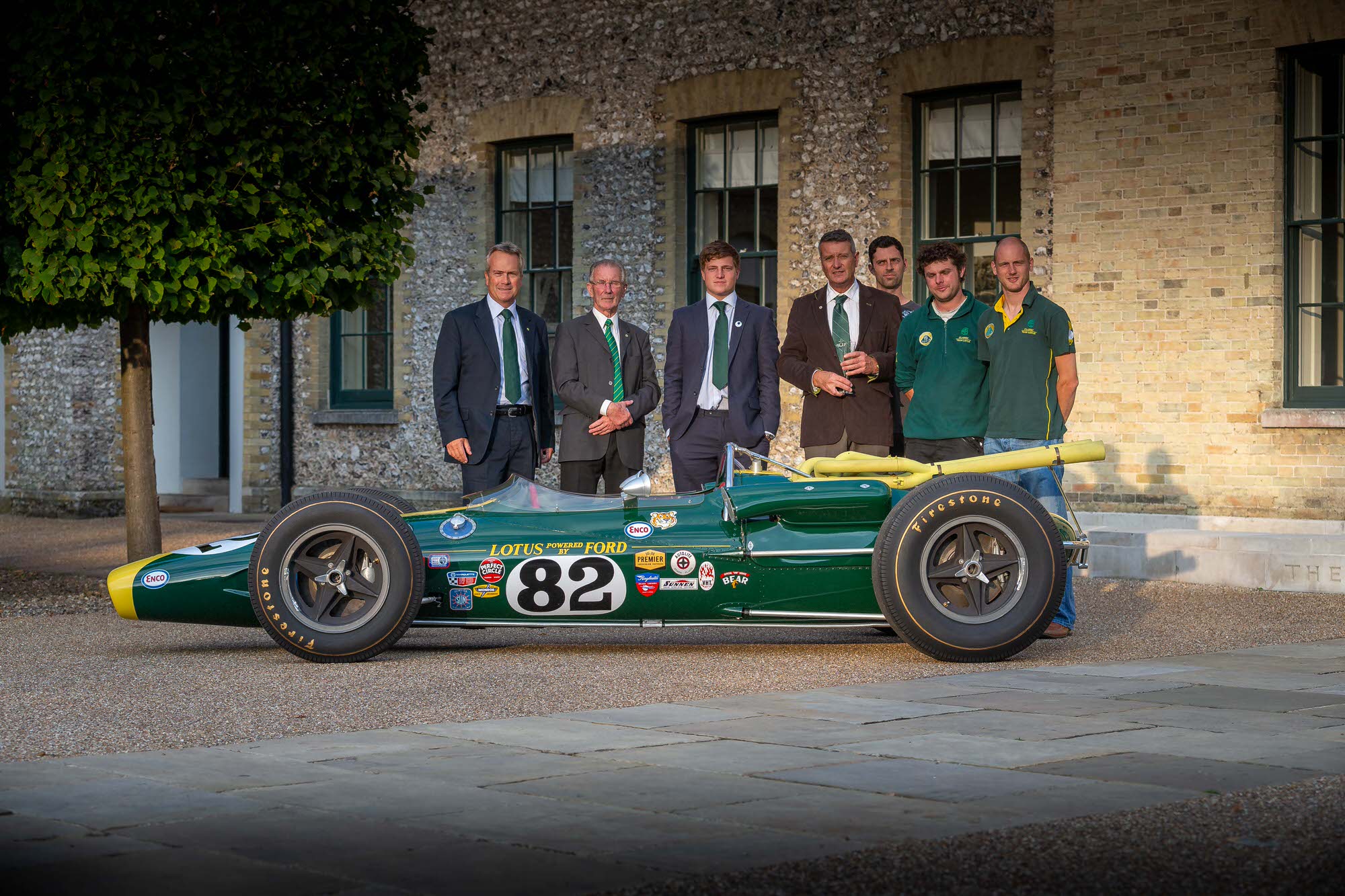 James Wood (on the right rear wheel), who presented the Ferrari 375 Grand Piston Ring Special at the 75th Anniversary of Ferrari
The only Ferrari , who had been entered for the Indy 500 , but DNF in the qualification – today it belongs to the Louwman Museum.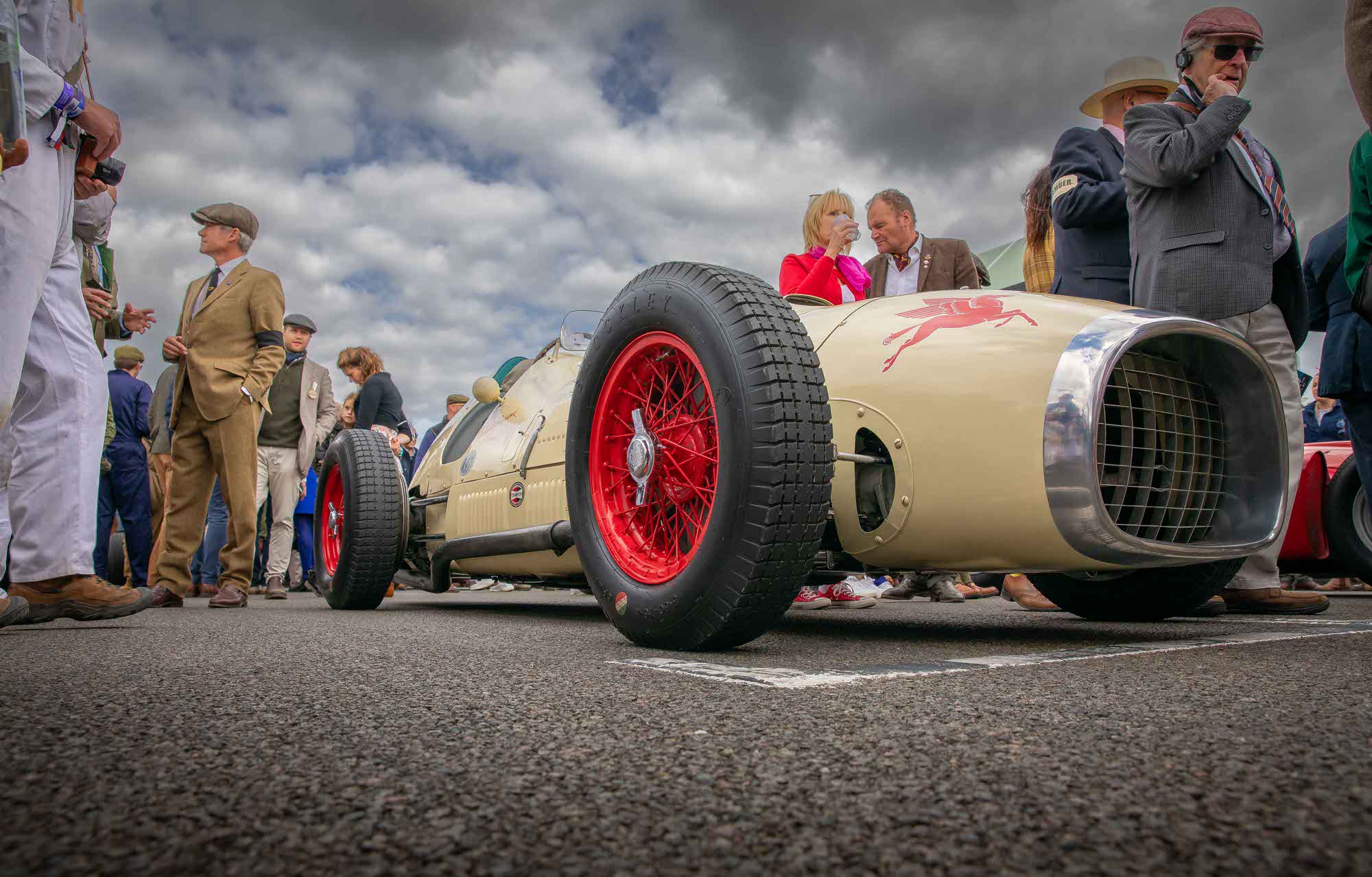 Yoga Asanas for the diaper-free , small art inlay for the entertainment of the exclusive teammembers of the Freddy March Spirit of Aviation Party , the night before the Revival 2022