Paul Tarsey for Historic Racing News wrote an interesting article on Mike Hawthorns inexplicable, tragic accident , which we want to share with you.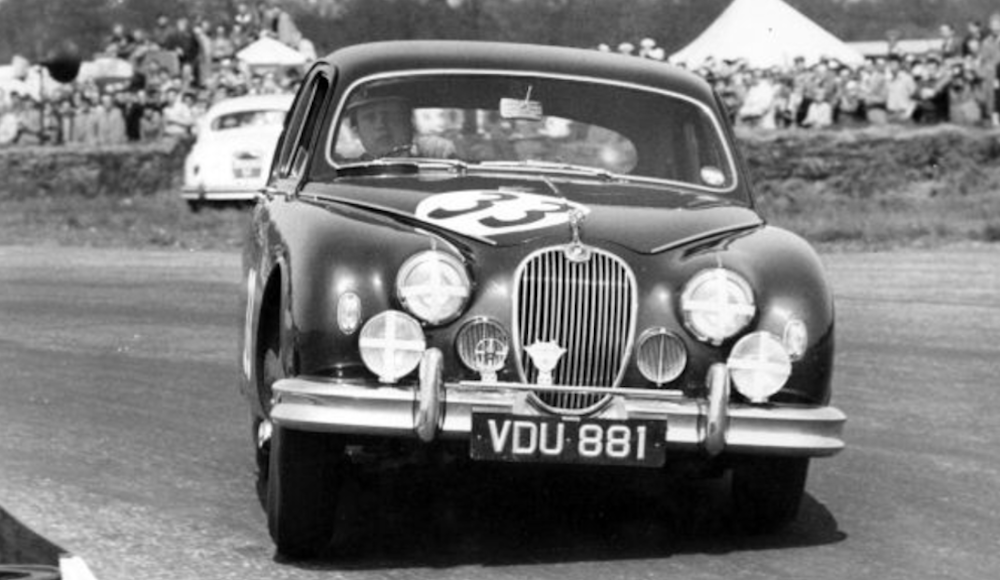 Britain basks in the reflected glory of a new Formula One world champion. The champion is loved by many, reviled by some but nonetheless a star wherever he goes. Sound familiar?
Well, this was the scene this time 60 years ago, with Mike Hawthorn having recently captured the World Championship, being feted by the great and the good of the nation's institutions. Indeed on the 19th January John Michael 'Mike' Hawthorn was guest of honour at the National Sporting Club dinner where, somewhat incongruously to our modern day sensibilities, he was presented with a cocktail cabinet to mark his achievement! In typical Hawthorn style he invited the packed room to come and see him sometime and help him to empty it!  Nobody in the room could have known that he had 60 hours left to live.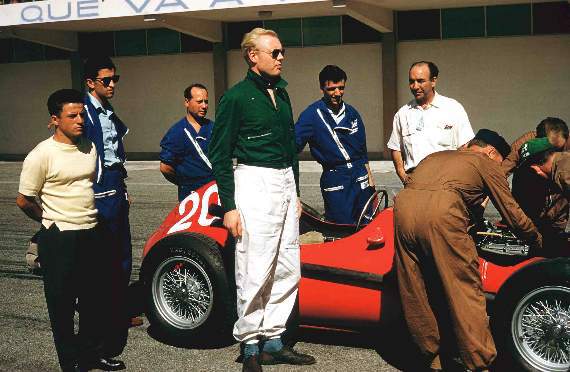 Hawthorn was, by modern standards, an 'interesting' character. An only child, he was doted upon by his parents and enjoyed a privileged upbringing, being sent to the upmarket Ardingly College in Sussex. By the standards of 2019 he might be described as boorish. He demonstrated the traits of snobbism which were prevalent at the time and also displayed the kinds of xenophobia and chauvinism which were very prevalent in daily life. This was shown by his referral to Stirling Moss (behind his back) as Moses, his way of highlighting his Jewish ancestry. We interviewed a lifelong Farnham resident a few years ago. She recalled seeing Hawthorn pour a pint of beer over a fan who had the temerity to ask for an autograph when in a local pub. Different times indeed, for that would have been all over social media in modern times, with all the accompanying comments!
This should all be seen in context though. The war was only recently over and human life had inevitably been seen as cheap during that time. War brings out both the best and the worst in people and the men just a few years older than Mike had spent years in combat with fellow Europeans and hence memories were still held in sharp focus. Indeed, had he been that few years older he would be the personification of the RAF fighter pilot, with a pint of bitter in one hand and his trusty pipe, smoking away in the other. His boyish good looks and devil-may-care attitude made him a hero to many and a role model for the 'bright young things' seeking adventure.
But there was another side to J.M.Hawthorn. He had been diagnosed with kidney disease and, at the time of his death, this was becoming worse by the month. In the 1950s there were certainly no transplants, Christiaan Barnard's ground breaking first heart transplant wouldn't happen until the end of 1967. But there were no dialysis machines either because although Willem Kolff had piloted the concept in the 1930s, the clinical use of dialysis machines was still five years away. The disease caused him to have off-days when he was racing and had even caused blackouts, but he chose not to share the information with anyone but his closest confidants, not least for being afraid of losing both his driving licence and his racing permit.
'Golden Boy' was an interesting character in many ways. Maybe because of his illness he found it difficult to establish deep friendships. Much has been made over the years of his closeness to 'Mon Ami Mate' Peter Collins and indeed the two were inseparable over a race weekend, particularly when they both drove for Ferrari. But they rarely socialised away from the racetrack. Mike had many acquaintances and was very much the centre of attention in the lounge bar of his favourite pub, the Barley Mow at nearby Tilford.
He had been pilloried by the press and much of public opinion for avoiding National Service. This was a requirement of all young men at the time to devote two years of their lives to working in the Army, Airforce or Navy. Mike was seen as, what would be termed a few years later a 'draft dodger' although there may have been health issues which kept him at home, which he may have chosen not to disclose to the public. There was also always a cloud which hung over his reputation after the Le Mans disaster in 1955 which killed 87 people. Although exonerated by the public enquiry, many felt that he had been at the very least, partially culpable for the catastrophe. These attacks by the press hurt Mike and he carried this to his death.
One of the must-have attributes any racing driver possess is a competitive spirit and Mike had that by the ton. This probably explained why every trip from his home in Farnham was nearly always a race. Undoubtedly he would be a magnet for every jack-the-lad who wanted to blow off a Grand Prix driver but Mike was rarely the model of self-restraint that maybe he should have been.  Which is why perhaps he had such a fine cavalcade of road cars ; Riley Sprite, Alfa Romeo 8C and a Lancia Aurelia B20 all came and went, but were frequently supplemented by loan cars from manufacturers like Ferrari and Jaguar. One of which was a Jaguar 'Mark 1' 3.4 litre which bore the registration number VDU 881. It was this car in which Hawthorn was to lose his life.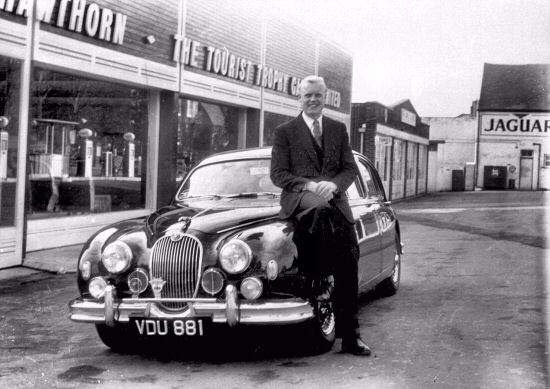 On the morning of 22nd January 1959 Mike Hawthorn was chatting on the forecourt of his Tourist Trophy garage in Farnham, Surrey, prior to taking a drive to an appointment in London, 40 miles to the northeast. He had inherited the business from his father and the thriving business was assisted by the reputation of its proprietor, indeed by now the signboard above the garage proclaimed "Mike Hawthorn's Tourist Trophy Garage".
As Hawthorn stood on the forecourt a grey Mercedes 300SL slowed down in the road outside.  R.R.C. 'Rob' Walker, owner and entrant of many Grand Prix cars and patron of Stirling Moss, spied Mike and, making eye contact, gave a large, light hearted V sign! He then drove off in the direction of Guildford at some speed. This was obviously like a red rag to a bull to the super-competitive Hawthorn and he leapt into his Jaguar to make chase.
Inevitably the reigning world champion closed in on the Mercedes, Rob saying, in his characteristic mahogany tone, "I wasn't used to a Jaguar catching me like that"! The road between Farnham and Guildford, known as the Hog's Back, is a long and fairly straight piece of trunk road which has always been a magnet for speed freaks and these two drivers were as mad about speed as anyone. By the time they got to Guildford the Jaguar was ahead.
In 1959 a by-pass was different from our expectations today. The recently built Guildford by-pass had four lanes, two in each direction, but no barrier between the two directions of traffic and is joined from the Hog's Back just south of Guildford by a long left handed bend. The weather in Guildford that lunchtime was horrible. Heavy rain was made all the more unpalatable by high, gusty wind and the two cars joined the bypass (the A3) with a typical amount of traffic for a weekday lunchtime (bearing in mind we are talking about 1958 levels and not what you would see today).
The next bend on the road was a long right hand bend and Walker watched in horror as the tail of the Jaguar stepped out as traction was lost by the rear wheels and the car swapped ends. It clipped the tail of a lorry travelling in the opposite direction before heading backwards across a grass verge and colliding side on with a tree.
The irony of the collision with the tree, which was not a large one, was that it was the only one for several hundred yards, unlike the area which is covered with vegetation today. The damage to VDU 881 was catastrophic though. The impact was between the front and rear doors on the left hand (passenger's) side and, this was long before seat belts, Hawthorn was thrown about the inside of the car. His lifeless body was found lying across the rear seat.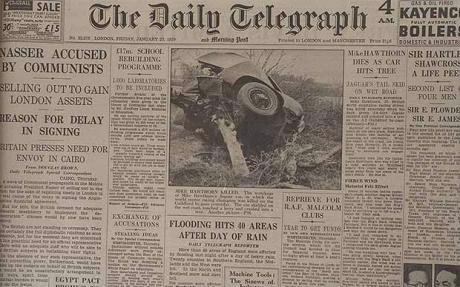 It can clearly be imagined what a huge story this was. The reigning World Champion, newly retired, was dead. Immediately the stories started that Hawthorn and Walker were racing but Walker denied this for several years, saying it was coincidence that he had been on the same piece of road at the same time, but the bigger question was just why and how the hugely experienced Hawthorn had lost control.
The Jaguar was, by all accounts, far from standard. Although it was owned by Jaguar Cars Ltd it had been modified at various times in its life. Indeed it had raced at Silverstone, driven by Hawthorn in 1958 and had 'disappeared' from its home at the Tourist Trophy Garage for two weeks before, probably for preparation by Jaguar's competition department. Hawthorn was also suspected of having his own modifications done in Farnham, although this would be in contradiction to the way a loan car would normally have been treated. Nonetheless, these petty details may not have worried the cavalier Mike Hawthorn.
The first possibility for the cause of the accident would be human error. Whilst we all like to believe that our heroes are invincible, even the very best do sometimes make mistakes and the wet road and strong, gusty wind may have just caught Mike of guard. In addition, VDU 881 was shod with Dunlop's new radial tyre. Mike Hawthorn had, of course, used these tyres on the D Type at Le Mans but in very different conditions. Early radials did not share the progressive breakaway of their crossply equivalents, which is why the four wheel drift was so prevalent in racing, instead they maintained their grip for longer but then broke away quite suddenly.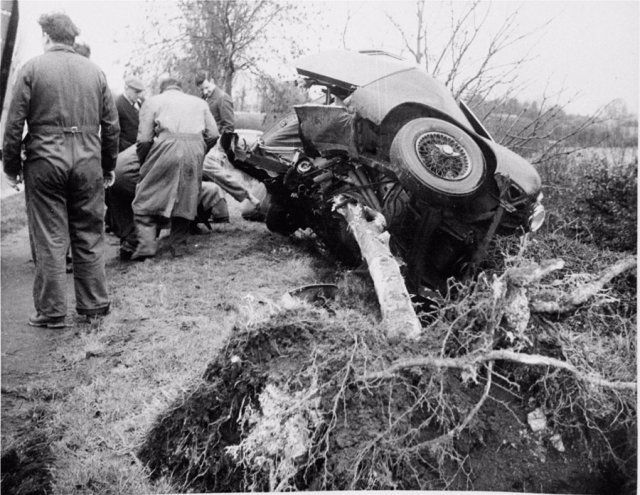 Some have blamed the car. There was talk of a hand-throttle being fitted (a sort of early day cruise control) but there was no evidence found to support this theory. That Mike Hawthorn, world champion would be using a hand throttle whilst dicing on the Guildford bypass is far-fetched although there has also been the theory that this somehow failed in some way. With no evidence that this was even fitted, even after the police inspection of the wreckage, this would seem unlikely.
The third possibility is something to do with Mike's health. By now he was aware that his condition would be terminal, possibly in the near future. The pain and the blackouts were indeed attributed by some to his reasons for retirement, indicating that perhaps the situation was worse than most people suspected. Did he black out? Was he overcome with nausea as his car scrabbled for grip?  We shall never know.
Mike Hawthorn died on 22nd January at approximately midday. He was 29 years old.
Report by Paul Tarsey for historicracingnews.com
---